People flock to Florida for a variety of reasons. Besides the near-eternal sunshine, Florida has other factors that make it an attractive place to live, work, and start a business. One significant benefit of Florida is that there is no state income tax, which is a plus for workers and businesses.
But is Florida a good place to start a business, and can you do it with little to no money? Let's look at why Florida is a good place for new businesses and how to start a business in Florida with no money.
Key takeaways
Florida residents aren't subject to state income tax.
Sole proprietorships, LLCs, and S corporations are exempt from state income tax.
Florida's corporate income tax is lower than many other U.S. states.
The fees for licenses and registering your business in Florida are low.
How to start a business in Florida with no money
Florida is a popular place to start a business. According to the U.S. Census Bureau, almost 12% of new business applications in the U.S. between January 2021 and January 2022 were filed in Florida.
There are several factors that make Florida an attractive place for budding entrepreneurs to start a business. The state offers tax advantages for businesses and their employees.
Florida has no state income tax for individuals.
It exempts sole proprietorships, limited liability companies (LLCs), and S corporations from paying state income taxes.
The 5.5% income tax levied on Florida corporations is low compared to many other states in the U.S.
Starting a business in Florida with no money is possible if you have a good business idea and take the proper steps to get your business off the ground. With the right business idea, your business could attract the financial support from investors it needs to thrive. Here are the steps to take to start a business in Florida with no money.
1. Decide on a business idea
When you decide to start your own business, focus on a field you are passionate about that could also be profitable. Finding a viable business idea may take some research. You'll want to know the following:
Who are your target customers and what are their buying habits?
Is there a need for your product or service in the area your business will serve?
Who are your competitors?
How many competitors are in your market?
For example, tourism is a massive industry in Florida, so you may want to consider an idea that caters to travelers. Other top industries in Florida include aerospace and aviation, manufacturing, security, and information technology.
2. Develop a business plan
Once you've settled on the type of business you want to start in Florida, create a business plan that outlines how your business will operate and grow. Your business plan should include details such as your business name, startup costs (if any), how many employees you plan to hire, what products and services you will offer, an analysis of your target market, your marketing strategy, and some short- and long-term goals.
Having a business plan is essential if you want to start a business in Florida with no money because potential investors will use it to decide whether they want to invest in your business.
3. Decide on a business structure
You'll also need to determine how to structure your business. In Florida, all businesses are required to register as a legal entity. The different business entities include a sole proprietorship, partnership, limited liability company (LLC), or corporation. Your attorney or accountant can help you determine the best structure.
The advantage of registering your business as an LLC or corporation is that it can help protect your personal assets if your business is sued. File Articles of Organization for an LLC and Articles of Incorporation for a corporation. The filing fee for an LLC in Florida is $125 and the fee for a corporation is $70.
Tip
If you decide to go with an LLC, you'll also need to name a registered agent. A registered agent receives legal correspondence on behalf of your business. There are services available to act as your registered agent.
4. Register your business
All business entities except sole proprietorships must apply for a federal Employer Identification Number (EIN) from the IRS. Also referred to as a tax ID number, you'll need an EIN if you plan to hire employees or open a business bank account.
In Florida, you'll need to register your business with the Florida Department of State. Many professions must also register with the Florida Department of Business and Professional Regulation. You may even be required to register the business with the county where it's located.
You may also need to register a fictitious name, also known as a DBA (doing business as). A DBA allows you to do business under a name other than your legal name. Most businesses won't operate as John Smith or whatever your legal name is, so this is also an important step.
5. Get licenses, permits, and insurance
There are other business licenses and permits you may need before you open your business. You must register your business with the Florida Department of Revenue for tax purposes. The DOR provides a New Business Start-Up Kit that includes information on Florida's sales tax, use tax, corporate income tax, and reemployment tax.
If you plan to sell products, you'll need to register for Florida sales tax. If you plan to hire employees, you must register for reemployment tax, which is Florida's unemployment compensation.
You'll also need to get business insurance coverage. Business insurance can help protect you and your business if you get sued. It provides liability coverage if someone is injured or property is damaged at your business. Although you aren't required to have business insurance, it's important to have it so you don't have to pay out of pocket for claims.
Florida business owners must carry workers' compensation insurance if they employ four or more full- or part-time employees. Workers' compensation insurance helps cover medical expenses and wages if an employee is hurt on the job.
6. Start marketing your business
Before opening the doors to your new business, start marketing it to potential customers. Your business plan should include a plan for marketing outreach that includes advertising and events to attract people. Advertising is the best way to promote your new business, but it will cost you, so be sure you've planned for the expense.
Ways to find funding for your business
Although it is possible to get the process moving for starting a business in Florida when you have little to no money, you will eventually need to explore funding options so you can purchase the inventory or equipment that you need to operate the business. Here are a few ideas on where to find business financing when you start a business in Florida with no money.
Get seed money from family, friends, and other investors. Many successful business owners have launched their businesses with a loan from a family member or friend.
Borrow from your credit line or retirement fund. Tarte cosmetics founder Maureen Kelly maxed out her credit cards to launch the business, which she eventually sold for $135 million. However, be cautious about taking this route. You could end up in debt for years. Borrowing from your retirement fund will cost you in taxes and penalties, not to mention lost interest you could have earned on those funds.
Tip
You could also apply for a
business credit card
. As with all credit cards, it's best to use it responsibly.
Look into Small Business Administration (SBA) loan programs. The SBA offers several loans to help small business owners. Loan amounts range from about $50,000 for a microloan up to $5 million for a 7(a) loan. SBA small business loans tend to be easier to get than conventional loans, and they offer lower interest rates and longer terms.
Look into Crowdfunding. Through websites such as Kickstarter and GoFundMe, you may be able to raise the money to get your business going. With crowdfunding that isn't strictly donation-based, you give back to your contributors by either repaying them with interest, giving them shares in the company, or offering them products or services.
FAQ
What is the easiest business to start with no money?
The easiest business to start with no money is a service-type business that doesn't require you to hire employees, purchase inventory, or rent office space. These businesses need a minimal amount of overhead costs. Some possibilities include freelance writer or editor, blogger, social media consultant, graphic designer, virtual assistant, SEO specialist, and web designer. The key is to figure out how to make money without spending money.
How hard is it to start a business in Florida?
Starting a business in Florida is relatively easy. Once you decide what kind of business you want to start and create a business plan, you need to register the business, get the necessary licenses and insurance, and you're on your way.
To help you along the way, the Florida Department of Revenue has put together a New Business Start-up Kit with the information you'll need on taxes. The Florida Small Business Development Center (SBDC) is also a helpful resource.
How much money do I need to start a business in Florida?
You can start a business in Florida with little to no money, but you will eventually need some funds to pay for your licenses and fees. It costs about $125 to register as an LLC in Florida and about $70 for a corporation.
Bottom line
The Sunshine State is growing rapidly, so it's a good time to start a business in the state. If you don't have a lot of money, that shouldn't prevent you from opening your own business.
It's possible to start a business in Florida with no money and there are several options for financing if your business needs it. You may also want to start an online business or a home-based business that has minimal overhead to help you save on costs.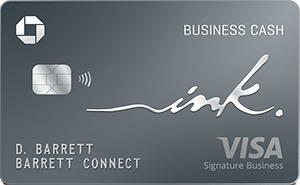 4.8
FinanceBuzz writers and editors score cards based on a number of objective features as well as our expert editorial assessment. Our partners do not influence how we rate products.
Current Offer
Earn $900 bonus cash back after you spend $6,000 on purchases in the first 3 months from account opening
Rewards Rate
5% cash back on the first $25,000 spent in combined purchases at office supply stores and on internet, cable and phone services each account anniversary year; 2% cash back on the first $25,000 spent in combined purchases at gas stations and restaurants each account anniversary year; and 1% cash back on all other purchases