State Farm is a well-known auto insurance provider that has an outstanding rating for its financial strength and the services it provides. State Farm offers several discounts for its auto insurance clients and appears to be doing a great job at ensuring the satisfaction of its customers.
But would you be able to save money if you get your auto insurance policy from State Farm? Read on to learn the answer and whether it's a good fit for you in this article.
In this State Farm auto insurance review
State Farm auto insurance: Is it worth it?
Pros
Cons

A++ rating from insurance rating agency AM Best
Offers usage-based discounts
A network of more than 19,000 insurance agents across the country

Not available in Massachusetts or Rhode Island
Potentially higher rates than other insurance companies for drivers with poor credit or a history of accidents

Our verdict: State Farm offers affordable auto coverage and has a variety of discounts, especially for people with good driving records or looking for multiple policies from one company. Its insurance might be a good fit for student drivers, people with multiple vehicles or policies, and people with a clean driving record and good credit.
What is State Farm?
State Farm is an insurance company founded in 1922 by G.J. Mecherle, and is headquartered in Bloomington, Illinois. In 2021, State Farm was the leading auto and homeowners insurer in the United States with more than 87 million policies and accounts.
It continues to be one of the country's largest insurance companies and offers multiple types of coverage in the home, auto, and life insurance categories.
State Farm has more than 19,000 independent agents and 53,000 employees. In 2021, State Farm handled more than $7 billion in claims and had an above-average customer service reputation.
In the J.D. Power U.S. Insurance Shopping Survey for 2021, which measures overall customer satisfaction, State Farm tied with Liberty Mutual for first place in the category of large insurers.
Celebrating its 100th birthday in 2022, State Farm restated its commitment to its founding values of providing honest car insurance coverage at fair prices.
Year founded
1922
Types of coverage

Liability protection
Collision coverage
Comprehensive coverage
Medical payment
Personal injury protection
Uninsured/underinsured motorist
Emergency road service coverage
Rental car and travel expenses
Rideshare insurance
Additional coverage options for motorcycles, RVs, classic cars, sports cars, commercial auto, and more

Discounts available

Multiple vehicles discount
Policy bundling discount
Safe driver discount
Discount for accident-free drivers
Defensive driving course discount
Safe vehicle discount
Anti-theft feature discount
Discount for vehicles with passive restraint
Good student discount
Discount for students away at school
Drive tracking app and discount
Training and discount program for drivers under age 25

Where you can use it
Available on the State Farm website and the following State Farm apps on Android and iOS:

State Farm mobile app
Drive Safe & Save app
Steer Clear app

Customer support

Customer service number: 1-800-782-8332
Available via mobile app or website

Availability
Available in 48 U.S. states and the District of Columbia. Not available in:

Massachusetts
Rhode Island
What insurance does State Farm offer?
People considering State Farm for their auto insurance have various policy options and add-ons to help them customize a policy to fit their specific needs. As you consider the best way to save money on car insurance, balance the total cost with coverage options so you have proper protection.
Liability and protection coverage
State Farm offers several types of auto insurance coverage to protect you and other drivers in an accident, including:
Liability coverage: Liability insurance helps to pay for medical expenses, property damage liability, or vehicle repairs the other driver in an accident might need if you're found liable.
Collision insurance: Helps pay for repairs or replacement of your car if you are hit by another vehicle or object. Collision insurance might be required if your car is leased or financed.
Comprehensive insurance: Assists in covering damage caused by something other than a collision, including theft, fire, vandalism, storms, or if you hit an animal, among other things. Comprehensive insurance might also be required if you lease or finance your car.
Medical payments coverage: If you or your passengers are injured in an accident, this coverage helps to pay your medical bills along with your existing health insurance.
Personal injury protection (PIP): This coverage is similar to medical payments coverage, but in addition to bodily injury, it might also cover lost wages or services like house cleaning if you aren't able to take care of normal tasks due to a car accident.
Uninsured or underinsured motorist coverage: Uninsured motorist coverage kicks in if you're involved in an accident with someone who doesn't have insurance or doesn't have enough coverage to pay for your medical or repair bills.
Emergency coverage
State Farm also has several additional coverage types that aim to make your life easier on the road. These coverage options include:
Emergency road service coverage: Helps cover the cost of roadside assistance you may need on the road, such as towing to a repair facility, delivery of gas, a new tire, and more.
Car rental and travel expenses: This coverage helps you with the costs you may incur if you're in an accident away from home, such as renting a car or staying in a hotel.
Additional auto coverage
Lastly, the insurer provides coverage for commercial usage of your car and protection for vehicles other than traditional cars:
Rideshare insurance: This additional coverage is designed for people who drive for rideshare companies such as Lyft or Uber. It extends the personal coverage you may have on your vehicle.
Additional types of coverage: State Farm insures vehicles other than normal cars, such as motorcycles, off-road vehicles, motorhomes, travel trailers, classic cars, sports cars, and commercial vehicles.
Auto coverage availability
While State Farm offers many types of auto insurance, figuring out how to get car insurance for an affordable price might be tricky if you have bad credit or are working to boost your credit score. It may help to shop around to compare their insurance rates to their competitors.
Additionally, it's important to note that not all coverage types are available in all states. If you live in Rhode Island or Massachusetts, you may not be able to find coverage through State Farm at all.
Additional insurance products
Like many insurance companies, State Farm offers additional discounts to people who bundle multiple policies with the same company. The insurance products that could be bundled with State Farm auto coverage include:
Homeowners insurance.
Renter's insurance.
Condo insurance.
Life insurance.
Multiple auto policies.
State Farm auto insurance: how cheap is it?
While getting the right car insurance for your needs and having a manageable deductible is essential, the monthly insurance cost is also a significant consideration when researching car insurance. State Farm offers several discounts that may help you keep your auto coverage affordable.
How to find discounts
State Farm offers discounts based on your driving record, how many insurance policies you have, and even if your car has anti-theft features.
Discounts based on your insurance policies with State Farm include:
Multi-policy discount: If you also have a home, condo, renters, or life insurance policy with State Farm, you may receive an additional discount for bundling it with your auto policy.
Multi-car discount: This discount applies if you're a policyholder with two or more cars insured with State Farm.
State Farm encourages you to be a safe driver through the discounts it offers:
Safe driver discount: New State Farm customers who have had no moving violations or at-fault accidents for three or more years may be eligible for this discount for being a good driver.
Accident-free discount: If you insure a car with State Farm for three or more continuous years without an accident, you might be eligible for a discount. The discount might be bigger the longer you go without an accident.
Defensive driving course discount: Depending on where you live, this discount may apply if drivers on your policy under age 21 or over age 55 have taken an approved driver's education course in the last three years.
If your vehicle is equipped with certain safety features, State Farm rewards you with discounts:
Vehicle safety discount: Car models produced in or after 1994 might receive this discount since their production followed higher safety standards. Eligibility depends on the make and model of your car.
Passive restraint discount: This discount may apply to vehicle models from 1993 or older with factory-installed airbags or other passive restraint systems that meet federal safety requirements.
Anti-theft discount: If your car has an alarm or other approved anti-theft device, you might receive an additional discount.
If you have a teen driver on your policy who is attending school, they might qualify for the following discounts:
Good student discount: Any drivers under age 25 who are full-time students and meet specific educational criteria may receive an additional discount.
Student away at school: This discount might be available if you have a student who attends school more than 100 miles from home and the car they use stays at your residence for the school year.
Lastly, State Farm has two discount programs to help drivers save money by monitoring their driving habits. These programs are:
Drive Safe & Save: This is a usage-based discount that provides a small initial discount for signing up. If you practice safe driving habits over time, you may receive a discount of up to 30% when you renew your policy. This program uses a phone app or a device that connects to your car to monitor your driving habits.
Steer Clear: State Farm offers training to encourage safe habits for drivers younger than 25. Participants watch videos and take courses through the Steer Clear app. Then, they would practice with a family member who logs into the app to provide feedback. Upon completion of the program, the young driver receives a certificate to send to their State Farm agent to implement the discount.
Even though State Farm offers many discounts, drivers with poor credit or accident history may find its premiums higher than other insurance companies. Comparing auto insurance rates across multiple companies is always a good idea as you search for the best car insurance company.
Don't get dazzled by potential discounts that you may not qualify for. Although they might help you save money, if your base State Farm rate is higher than another insurer, it may not be a good deal, even if you qualify for multiple insurance discounts.
How to maximize savings
There are many factors that affect car insurance rates, including your driving record, age, gender, car safety rating, credit score, marital status, and where you live.
These factors affect how much you pay for insurance, as does the amount of coverage you select and the deductible amount. While most states require at least a minimum amount of insurance or have financial responsibility laws, beyond that, the amount of coverage you choose is up to you and your budget.
Changing your coverage amount or deductible may help you save money on your monthly insurance payments. You could also work on raising your credit score and improving your financial picture to qualify for better premium rates.
Avoiding speeding tickets or fender benders may also positively affect your insurance rates and make you eligible for more discounts.
Do your research and ensure that whatever coverage you select meets your state's requirements and covers you financially for accidents or other damage that may happen.
How to get an insurance quote from State Farm auto insurance
Getting a car insurance quote from State Farm is straightforward and could be done online using their website or mobile app. If you'd prefer to speak with a person, you could use the State Farm website to find an agent near you and call to request a quote.
However, note that you may have to contact an agent directly for any specialty quotes, such as motorcycle, RV, or commercial vehicle insurance.
Collect the information needed
State Farm needs certain information to provide you with a quote, including some information about you:
Driver name and date of birth.
Driver's license number and state.
Ticket and accident history.
License suspension information.
And some information about your vehicle, including:
Year, make, model, body style, and vehicle identification number (VIN).
Mileage.
Ownership and name of the registered owner.
Date of purchase.
Prior insurance carrier and expiration date.
Garaged address.
Go through the quote process
When you're ready to get a quote with State Farm, simply follow these steps:
Request a quote: Begin the quote process on State Farm's website.
Enter your personal information: State Farm asks for information such as your address, age, gender, and date of birth, as well as if you ever served in the military.
Add your vehicle information: Enter the make and model of your car, how old it is, whether you own or lease it, and how many miles you drive every year.
Provide your current car insurance information: State Farm asks for details about your current car insurance, when it expires, and your current coverage limits. State Farm will tailor your quote to meet your current insurance needs, but you could make adjustments during the quote process.
Search for bundling opportunities: If you own or rent a home, you could bundle additional policies with your State Farm car insurance for additional savings.
Provide your contact information: Fill in your email address and phone number and select your preferred method of contact.
Click Get My Quote: Click the button to reveal your monthly payment along with your six-month premium and any discounts you qualify for.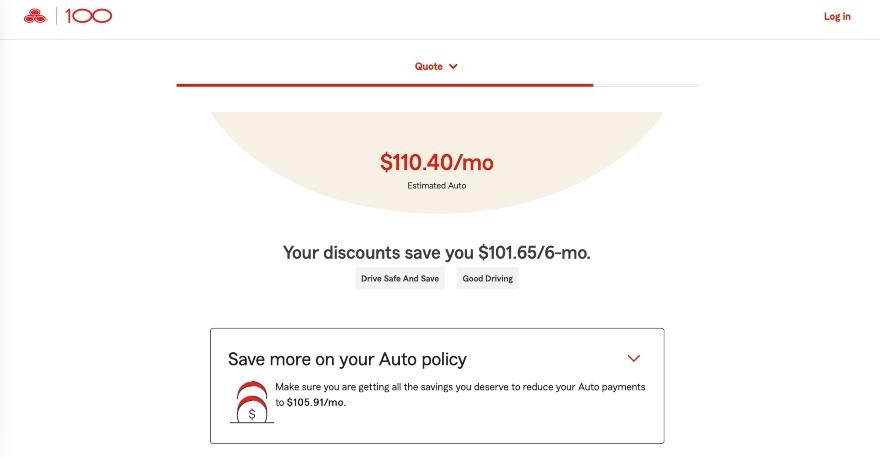 FAQs about State Farm auto insurance
Is State Farm good at paying claims?
Although every claim is different, State Farm has earned an A++ financial strength rating from AM Best, a credit rating agency that rates insurance companies. This means that State Farm has a strong ability to pay claims.
State Farm received a J.D. Power Auto Claims Satisfaction rating of 892 out of 1,000 in 2021, compared to an industry average of 880. This rating measures customer satisfaction with the claim experience they had.
You could file a claim on the State Farm app or website and have a representative contact you for assistance if necessary. Its website and app allow you to upload photos, track a claim, and select a mechanic or body shop without having to go through the phone.
Is State Farm a good auto insurance company?
State Farm has received high industry rankings from multiple sources, including the J.D. Power U.S. Insurance Shopping Survey for 2021. The company offers various discounts and programs to help you save money. Its insurance policies are available in every state except Massachusetts and Rhode Island.
Is State Farm overpriced?
State Farm offers competitive rates that might be lower than its competition in some cases. Insurance rates vary based on several factors, including your driving history, location, and vehicle make and model. Be sure to compare rates and coverage options among several companies before signing up for auto insurance.
Bottom line
State Farm is an auto and home insurance industry leader and has a century of experience in the insurance industry.
Not only does State Farm have longevity, but according to the National Association of Insurance Commissioners (NAIC), State Farm is one of the biggest auto insurance providers in the U.S. and has several strong financial and customer satisfaction ratings.
While it's always wise to compare premiums and coverage offerings, State Farm may be a good choice for many people based on their average rates, customer service history, and industry standing.
Methodology
FinanceBuzz researches a number of factors in each auto insurance provider to create our reviews. These factors include cost and discounts, complaints and customer satisfaction, coverage, and ease of use. We also gather information from sources such as J.D. Power, AM Best, the National Association of Insurance Commissioners (NAIC), and the Better Business Bureau to ensure we provide the most useful information to our readers.
You could save up to $500 with some companies
Compare dozens of providers in under 5 minutes
Fast, free and easy way to shop for insurance
Quickly find the perfect rate for you