For years, retirees have moved away from the city where they lived during their working lives and headed for a new home.
Some seniors want to live in a place with a warm year-round climate. Others may seek a place with a lower cost of living because they want to retire comfortably. And some just want to try something new.
Regardless of the reasons, many people are leaving certain states and settling in a new state. Here are the five states retirees are leaving and where they're going instead.
Resolve $10,000 or more of your debt
Credit card debt is suffocating. It constantly weighs on your mind and controls every choice you make. You can end up emotionally and even physically drained from it. And even though you make regular payments, it feels like you can never make any progress because of the interest.
National Debt Relief could help you resolve your credit card debt with an affordable plan that works for you. Just tell them your situation, then find out your debt relief options.
How to get National Debt Relief to help you resolve your debt: Sign up for a free debt assessment here. (Do not skip this step!) By signing up for a free assessment, National Debt Relief can assist you in settling your debt, but only if you schedule the assessment.
SPONSORED
New Jersey (Leaving)
New Jersey has a few things going against it when it comes to retirees staying put, but the top reason is its high cost of living.
The average home value for a house in New Jersey was $494,792 in September compared to the national average of $348,539, according to real estate website Zillow.
Taxes could also be a factor in retirees moving. Social Security isn't taxed in New Jersey, but retirement account withdrawals are partially taxed. 
The state also has one of the highest average property taxes in the country, with homeowners paying an average of $8,796 per year.
Illinois (Leaving)
Illinois is another state where retirees are packing up and heading elsewhere.
More than 24% of outbound moves from Illinois were due to retirement, with only 10% of incoming residents relocating due to retirement, according to a 2022 survey by United Van Lines.
The state does have a lower cost of living than other states, but residents of Chicago, the state's biggest city, see the opposite of that. The city has a cost of living that's 19% higher than the national average, according to RentCafe.
Oregon (Leaving)
Oregon saw an overall increase in the number of people moving to the state in 2022, but most of those inbound moves were for job changes and not retirement, according to United Van Lines.
One reason for the outbound moves by retirees may be a budget issue. The state has a cost of living that's 12% higher than the national average, which could make it difficult if you live on a fixed income.
Taxes could also be an issue as withdrawals from retirement accounts are fully taxed in the state.
Earn $200 cash rewards bonus with this incredible card
There's a credit card that's making waves with its amazing bonus and benefits. The Wells Fargo Active Cash® Card(Rates and fees) has no annual fee and you can earn $200 after spending $500 in purchases in the first 3 months.
The Active Cash Card puts cash back into your wallet. Cardholders can earn unlimited 2% cash rewards on purchases — easy! That's one of the best cash rewards options available.
This card also offers an intro APR of 0% for 15 months from account opening on purchases and qualifying balance transfers (then 20.24%, 25.24%, or 29.99% Variable). Which is great for someone who wants a break from high interest rates, while still earning rewards.
The best part? There's no annual fee.
Maryland (Leaving)
Another state with a high cost of living is Maryland, with costs coming in 22% higher in the state compared to the national average.
Housing could also be an issue. The average home in Maryland costs $405,031 compared to the national average of $348,539.
Maryland is also the only state with an estate tax and inheritance tax, which could be a factor for retirees concerned about estate planning issues.
Minnesota (Leaving)
Minnesota may not be tax-friendly to retirees, which may be contributing to older residents leaving the state.
The state fully taxes withdrawals from retirement accounts and pensions you may have as part of your benefits package, according to a study done by SmartAsset.
The state also suffers from simply being a northern state. Summers can be pleasant in the state, but the average temperature in January in Minnesota is only 16 degrees. That chilly weather could be pushing retirees to warmer states.
So where should you go instead? Here are some places retirees are headed to enjoy a retired life.
Florida (Going to)
Florida is usually one of the most popular destinations for retirees due to its warm weather and attractions for retirees.
While Florida can reach a high of 90 degrees on average in the summer months, you can expect pleasant temperatures in the 70s during the winter when northern states deal with cold and snow.
The state is also tax-friendly for retirees. There's no state income tax, and retirement account withdrawals, Social Security, and pensions are not taxed either.
North Carolina (Going to)
Do you know what a "halfback" is? It's a retiree who moved from the Northeast to Florida and then moved "halfway back" by settling in places like North Carolina. 
The year-round moderate climate misses the extreme cold of the northern states and the intense heat and humidity of Florida summers.
The cost of living is lower in North Carolina than the national average, especially for housing, which could be a big factor for retirees. The average home value in North Carolina is $321,505, making it cheaper than the national average of $348,539.
Arizona (Going to)
More than 34% of residents moving to Arizona cited retirement as one of the reasons for their relocation, according to United Van Lines. That puts the state in the top 10 for those citing retirement as a reason for their move.
The state has warm, dry weather and is tax-friendly to retirees who don't want their Social Security or pensions taxed.
It's also close to California, making it appealing to residents who want to move somewhere close to their former home but with a lower cost of living.
Wyoming (Going to)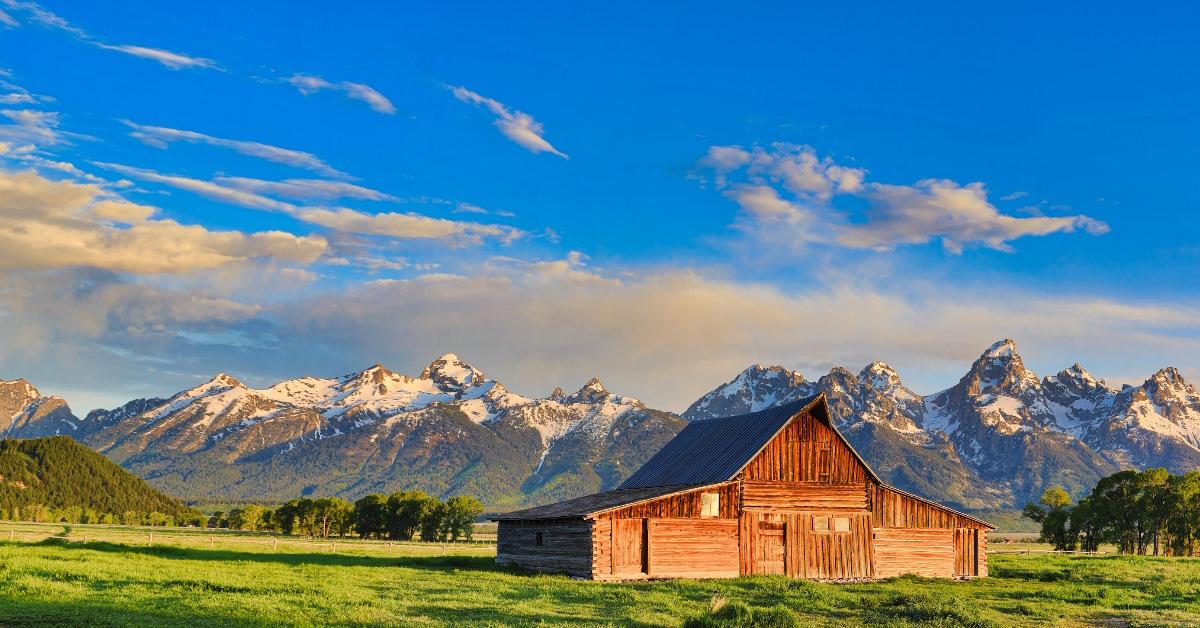 You may be surprised to see a cold-weather state like Wyoming on the list, but it does have appealing aspects for retirees. 
In fact, 42% of inbound movers cited retirement as the reason they headed to Wyoming, topping the United Van Lines survey of people moving around the U.S.
The state is tax-friendly for retirees as it doesn't tax Social Security, pensions, or retirement account withdrawals.
It also has a low cost of living compared to the national average, with housing costing 18% less and utilities costing 16% less than the national average.
Delaware (Going to)
Another state high on the United Van Lines list of moves due to retirement was Delaware, with almost 40% of respondents moving there because they're retiring. 
The mild climate in the coastal area, combined with outdoor activities and picturesque small towns, makes Delaware desirable for retirees.
The state doesn't tax Social Security and only partially taxes pensions and retirement accounts, making it more friendly for retirees than other states that may have higher taxes. And there's no sales tax.
Bottom line
You have 50 states to choose from for your retirement, so make sure you think about what really matters to you.
Remember to include moving expenses as part of your retirement budget, particularly if you plan to make a major move when you stop working.

You can also avoid wasting money by factoring in travel expenses to visit different places to retire before you pack your bags. 
Spending a week or two to scope out your potential new home may prevent you from moving to a new place only to find it's not right for you.
FinanceBuzz is not an investment advisor. This content is for informational purposes only, you should not construe any such information as legal, tax, investment, financial, or other advice.
National Debt Relief Benefits
No upfront fees
One-on-one evaluation with a debt counseling expert
For people with $7,500 in unsecured debts and up