Whether you need to stock up the pantry in preparation for the kids being home for the summer or you're tired of overpaying for the snacks you enjoy yourself, Target is the place to be.
In addition to quality products and stylish home furnishings, Target can also help you save on groceries — including snacks for the whole family.
Here are the 15 best snack deals at Target you don't want to miss.

Editor's note: These are the prices as of May 12. Prices are subject to change and may also vary by location.

Earn 2% cash rewards at grocery stores and Costco
The Wells Fargo Active Cash® Card Rates and fees is a powerful rewards card that allows you to earn unlimited 2% cash rewards on purchases — including on groceries, even at warehouse stores like Costco.

New cardholders can also earn a one-time cash rewards bonus — $200 cash rewards bonus after spending $500 in purchases in the first 3 months!
If you're looking for a powerful rewards card that offers an extended intro APR period, look no further, the Wells Fargo Active Cash® Card checks that box too!
This card also offers an intro APR of 0% for 15 months from account opening on purchases and qualifying balance transfers (then 19.99%, 24.99%, or 29.99% variable). Which is great for someone who wants a break from high interest rates, while still earning rewards.
The best part? There's no annual fee.
Click here to apply for the Wells Fargo Active Cash® Card now.
White Corn Tortilla Bowls
Price: $3.99
Target's Good & Gather brand of chips is excellent — and also priced lower than the big brand you typically buy.
For example, if you typically purchase Tostitos Scoops, make the switch to White Corn Tortilla Bowls from Good & Gather. They're less expensive and have nearly the same flavor.

Pepperidge Farm Milano Double Dark Chocolate Cookies
Price: $3.99
For many people, it's hard to find a generic for their true favorites as good as Pepperidge Farm's Milano Double Dark Chocolate Cookies. That little bag is like a present waiting to be opened.
Target often has discounts and sales on the brand, offering pricing as low as $3.89 for a package. Look for these to go on sale throughout the year.
Peanut Butter Chocolate Trail Mix
Price: $4.49
Here's a fantastic snack to keep in your desk for a pick-me-up.
Favorite Day Peanut Butter Chocolate Trail Mix includes tiny peanut butter cups, peanuts, and chocolate-covered cereal squares, all in a bite-size mixture.
For less than $5, this bag will give you the boost you need mid-day. You can also try other varieties, including the Monster Trail Mix.
See if your groceries could be making you money
Everything's more expensive now. Coffee. Gas. Groceries.
And if these sharp price spikes have been hurting your bank account, you're probably looking for any chance to save … or at least cut back.
Here's a little trick to help: Download Acorns, and you could start saving and investing for the long run with every morning coffee, gas station fill-up, or grocery store run.
With Acorns and the Round-Ups® feature, your daily purchases get rounded up to the next dollar. The "spare change" difference gets invested in expert-built investment portfolios2 … 100% on autopilot. Just shop like normal, and you can start saving and investing.
BONUS: Set up Recurring Investments and Acorns will give you a $20 bonus after you make your first successful Recurring Investment (minimum $5).
Classic Hummus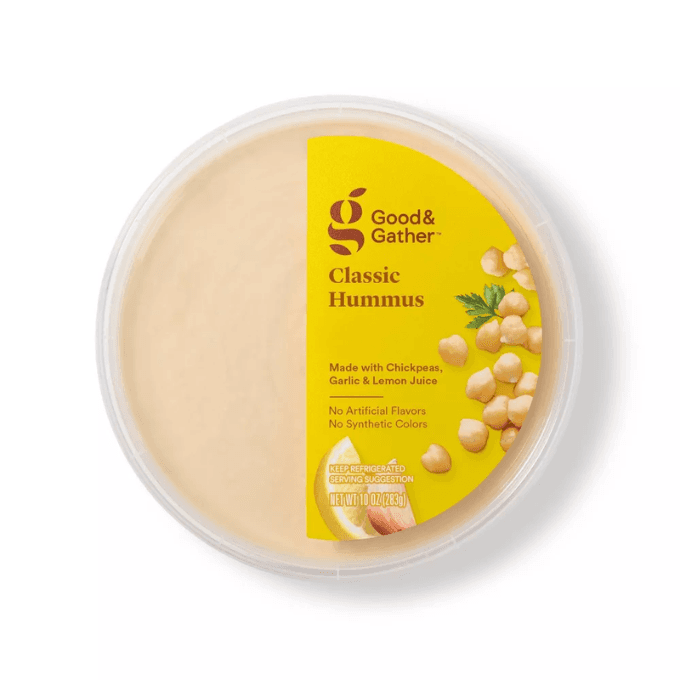 Price: $3.49
The blend of lemon and garlic in the Classic Hummus from Good & Gather will make this one of your favorite snacks, especially with some crisp, fresh veggies or chips for dipping.
It's also more affordable than what you would pay for more well-known hummus brands.
Sargento Balanced Breaks
Price: $3.49
Look at the Target Circle savings tool whenever you're shopping for snack deals. There are often numerous options.
For example, the retailer recently offered 75 cents off Sargento Balanced Breaks, a healthier snack-on-the-go option (and this is a three-pack).
Target tends to keep several varieties in stock, including the cheese and crackers version and those with nuts.
Quaker Chewy Dipps Peanut Butter
Price: $5.49
One of the nice things about picking up snack or lunch items for the kids at Target is that you can buy value packs to save money.
For a little more than $5, you can purchase a box of 14-count Quaker Chewy Dipps Peanut Butter bars. They are a kid-approved favorite after-school snack, too.
Hot Honey Cashews
Price: $3.99
Here's another must-have in the Good & Gather brand. Hot Honey Cashews are full of flavor, though they're not too spicy.
Cashews tend to be a more expensive nut, but depending on where you live, you'll spend under $4 for this package. Pack some with a few slices of cheese for the perfect lunch on the go.
Ritz Crackers
Price: $3.99
There's something special about Nabisco Ritz Crackers. And when you look for deals on snacks at Target, you'll likely find a few great offers on the original version and others.
For example, they may offer a 2/$6 offer or a buy-one-get-one. Most often, a box will cost around $4. Watch for these to go on sale throughout the year.
Chobani Flips
Price: $1.49
Have you tried Chobani Flips? They're single-serve Greek yogurts that let you flip over a portion of goodies into the yogurt right before you dig in.
A solid option is the S'mores S'mores, a great choice for a protein-packed snack the kids will not recognize as such.
These are often on sale at Target, sometimes as low as four for $5. Watch the weekly ad for these savings.
Free gift set with your first purchase at Grove Collaborative
To kick off your first order of $20 or more at Grove Collaborative, they're offering you a free household product set worth up to $55.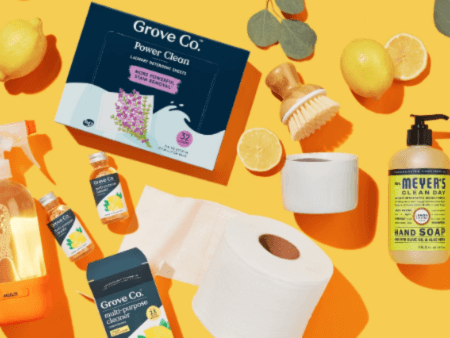 Here's how it works:
Choose your free starter set from the list (sets go up to $55 in value!)
Build your first order of $20 or more and checkout to claim your free set
It's that easy.
Upon completing your first order, Grove will ship you your free set. When you're ready for more products, Grove offers 200+ vetted brands that are good for the environment and affordably priced.
Enter your email and make your first $20 purchase to get started
Mini Sweet Peppers
Price: $3.19
A healthy snack at Target is the Good & Gather Mini Sweet Peppers. You'll find Target Circle deals on them from time to time to keep costs lower.
These are perfect for lunches or afternoon snacks (spread a bit of cream cheese or dip them in your favorite chip dip for extra flavor).
KIND Healthy Grains Oats & Honey Granola
Price: $8.49
A family-size package of KIND Oats & Honey Clusters Granola will cost around $8.50 on sale at Target. This is an excellent choice for those looking for a healthier, fiber-filled snack.
It's often discounted or has a manufacturer coupon available to further lower the cost. For May, we found them on the Target Circle app for 25% off.
Organic Sweet & Salty Kettle Corn
Price: $2.49
A single serving of Good & Gather Organic Sweet & Salty Kettle Corn has about 50 calories with no artificial flavors to muck it up. That's a good thing, since you'll want to eat the entire bag.
What's more, you'll often find it on sale for around $2.50 — less than a bag of SkinnyPop Popcorn.
SOLELY Organic Mango Fruit Jerky
Price: $1.69
Here's a snack you can easily keep in your car or purse that's priced at under $2 in most cases.
SOLELY Organic Mango Fruit Jerky is a clean food, and one that offers a nice, chewy texture. There's no added sugar, and it's 100% vegan.
Fruit jerky of other forms tends to lack any nutritional value and comes at a higher cost. Other flavors, like pineapple, are available too.
Siete Fuego Kettle Chips
Price: $3.99
Always check out all options when Target runs a brand-wide discount.
For example, during the early portion of May, some stores ran a 15% discount on all Siete products, which included its healthier version of cookies and Siete Fuego Kettle Chips.
Pricing ranges widely, but you can mix and match the brand's offerings to find great deals for your family.
Rico's Premium Salsa de Queso Aged Cheddar Cheese Sauce
Price: $3.59
Don't forget to look in the dry goods and can section for some excellent deals.
If you need a can or two of Rico's in the pantry for nachos, Target often offers discounts and savings, like weekly ad savings or Target Circle discounts.
Bottom line
Target pricing is not the same across all locations, but nearly all will run deals on your favorite brand-name and off-brand goodies.
If you want to save money on groceries at Target, shop when there's a discount and stock up your pantry.
And be sure to check out the weekly ads paired with manufacturer coupons, as well as the Target Circle app for adding savings options.