Trader Joe's is a one-stop shop for bargain hunters looking for unique selections. The retailer even offers seasonal exclusives that some customers wait an entire year to buy again.
With so many exciting options, Trader Joe's is a great choice when you need to stock your fridge with affordable foods the whole family will love.
As the summer heats up this month, cut your grocery costs by nabbing these products from Trader Joe's.
​​Editor's note: These are the prices as of June 28, 2023. Prices are subject to change and may vary by location.
Get a protection plan on all your appliances
Did you know if your air conditioner stops working, your homeowner's insurance won't cover it? Same with plumbing, electrical issues, appliances, and more. Not being able to make repairs could leave you in a bad situation — but a home warranty could protect you against surprise expenses.
Whether you're a brand-new homeowner or you've owned your home for years, a plan from Choice Home Warranty could pick up the slack where homeowner's insurance falls short.
If a covered system in your home breaks down, you can call their hotline 24/7 for assistance to get it repaired. They have a network of over 15,000 technicians that can assist you, making sure any issue can be taken care of swiftly — without breaking the bank.
Not sure if it's for you? Rest easy: they were named one of the "Best Home Warranty Companies" by US News 360 Reviews and were awarded Best Company's 2020 Consumer's Choice Award. For a limited time, you can get your first month free when you sign up for a Single Payment home warranty plan.
Organic Plain Cream Cheese Spread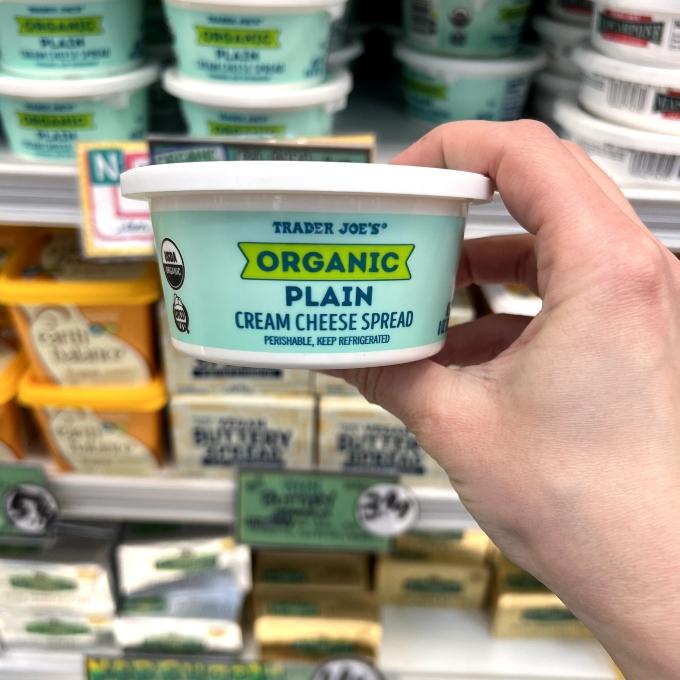 Price: $3.49
This cream cheese spread makes it simpler to enjoy a classic dairy treat.
Spread this on toast, bagels, or other breakfast pastries for a smooth, rich flavor. You can even add fresh fruit and make a fruit dip.
Vanilla Cardona Goat's Milk Cheese
Price: $5.49
Get a rich, creamy goat's milk cheese at a bargain price.
This cheese has been rubbed with vanilla sugar for a hint of sweetness. You may want to snag a few on your shopping trip to last you all summer.
Fruit & Cream Yogurt Cups
Price: $3.49
Savor some smooth yogurt with sweet ingredients, like vanilla and blueberries.
These creamy yogurt cups are a convenient on-the-go treat. Trader Joe's also offers other flavor varieties, such as strawberry and peach.
Stop overpaying when you shop online
Shopping online has its perks. It's super convenient, but it can be time consuming to find the best deals. Instead of hunting for coupon codes (that don't always work!) and opening tons of browser tabs comparing prices, you can try Capital One Shopping.
Capital One Shopping makes saving money effortless. Just add the browser extension and when you check out, it'll scour the internet for coupon codes to help you save cash. And before you check out at 25+ major retailers, Capital One Shopping will notify you with a friendly pop-up if the item you're buying is available cheaper somewhere else.
Capital One Shopping is free to use and won't show you ads. Add it today and stop overpaying!1
Orange Peach Mango Juice
Price: $2.99
Here's a tropical blend that'll help keep you cool and hydrated this July.
This juice mixes orange, peach, and mango for a summertime drink like no other. You can even make it a punch at your next party by adding a scoop of sherbet and some seltzer water.
Non-Dairy Oat Beverage Unsweetened Vanilla
Price: $3.99
Trader Joe's has added another flavor to its oat beverage line.
This unsweetened vanilla adds just the right amount of sweetness to your cereals, smoothies, and more. And this price is hard to beat elsewhere.
Curry Chicken Salad
Price: $4.99
Enjoy the taste of curry chicken in a delectable chicken salad.
Trader Joe's combines sweet and spicy for a unique chicken salad that may soon become your go-to favorite. Plus, you can easily make a delicious sandwich for your lunch at a low cost.
Fresh-Squeezed Limeade
Price: $2.99
Is there anything better than freshly squeezed juice on a hot summer day?
This limeade packs a powerful citrusy punch, perfect for those days lounging by the pool or beach. Buy a few bottles for your fridge and pack them in your cooler to easily take anywhere this July.
Bellwether Farms Crème Fraîche
Price: $4.99
Enjoy a taste of France from the comfort of your own home.
This fridge staple is a European treat you can add to fresh fruit dishes or cobblers for a cold, creamy topping. You can also incorporate it into summer soups and sauces.
Mango 100% Juice Smoothie
Price: $2.99
Enjoy this fruit juice smoothie on its own, or mix it into your favorite drinks.
This is a wonderful summertime sip made with mango, apple, orange, and other fresh flavors. And since it's made with fruit juice, it's a good source of vitamin C.
Earn 2% cash rewards at grocery stores and Costco
The Wells Fargo Active Cash® Card(Rates and fees) is a powerful rewards card that allows you to earn unlimited 2% cash rewards on purchases — including on groceries, even at warehouse stores like Costco.

New cardholders can also earn a one-time cash rewards bonus — $200 cash rewards bonus after spending $500 in purchases in the first 3 months!
If you're looking for a powerful rewards card that offers an extended intro APR period, look no further, the Wells Fargo Active Cash® Card checks that box too!
This card also offers an intro APR of 0% for 15 months from account opening on purchases and qualifying balance transfers (then 20.24%, 25.24%, or 29.99% variable). Which is great for someone who wants a break from high interest rates, while still earning rewards.
The best part? There's no annual fee.
Click here to apply for the Wells Fargo Active Cash® Card now.
Egg Wraps
Price: $4.69
Here's a wrap option that's both gluten- and dairy-free.
You can use this low-carb, high-protein egg wrap for recipes like quesadillas or breakfast burritos. You may also want to try them with fresh fruit, chocolate, and cream as a crepe.
Whole Milk Kefir Mango
Price: $3.69
This Trader Joe's exclusive adds a summer spin to a classic dairy drink.
Enjoy this mango kefir, with its tropical flavors and richness. You can pour a glass or mix it into your breakfast smoothie for added creaminess.
Fresh Mozzarella Cheese Pearls
Price: $4.49
Snacking on mozzarella cheese just got easier.

These bite-sized pearls give you bursts of fresh mozzarella in a handy, on-the-go package. You can even use these for topping a homemade pizza or fresh pasta.
Mango Jicama Slaw
Price: $5.49
This slaw might become your new summer party favorite.
With mango, jicama, cabbage, and a spicy, citrusy vinaigrette, you can elevate various meals with this tropical topping. Try it with fish tacos and burgers or by itself.
Mexicali-Inspired Salad
Price: $5.49
This Mexicali-inspired salad is a fusion of flavors, perfect for packing your fridge with a healthy and tasty meal option.
Since this salad is ready to eat, you can pack it for work or a picnic on the beach during your vacation. Just make sure you buy enough on your next Trader Joe's trip!
Blueberry Fields Hard Cheese
Price: $10.99/lb
Don't miss out on this summertime exclusive.
This cheese is a like a sharp fontina with a blueberry puree, perfect for barbecues or charcuterie board parties. Pair it with your favorite Trader Joe's crackers, or mix it into your spinach salad.
Vegan Caesar Dressing
Price: $3.99
If you love Caesar dressing but want a plant-based option, Trader Joe's has you covered.
This vegan Caesar dressing is excellent for topping salads, marinating proteins, or making pasta salad. And since it has no anchovies, even non-vegans can enjoy this tasty topper.
Summerhill Goat Milk
Price: $3.99
Have you tried goat milk?

If not, this affordable option might make you reconsider trying this creamy, protein-packed milk. It also has less lactose than cow's milk, so those with sensitivities might want to grab a bottle on their next visit.
Bottom line
With all of these classic summer flavors and recipes, you could keep your family fed exclusively with items from Trader Joe's and beat the high cost of groceries while you're at it.
But since many items are seasonal, you'll want to keep your eyes out for these products before they leave the shelves.
You can also search the Trader Joe's website for fun summer recipes using some of these products.
Lucrative, Flat-Rate Cash Rewards
Current Offer
$200 cash rewards bonus after spending $500 in purchases in the first 3 months
Rewards Rate
Earn 2% cash rewards on purchases