They say time is money — so what happens if you're spending a lot of time in airport lines?
In recent years, it's become possible to speed up airport wait times through programs like TSA PreCheck and Global Entry. However, these are government programs that can get you into a shorter line.
What if you could simplify the process even further? That's the idea behind CLEAR, a private company that provides a way for you to speed through airport security even faster.
Here's what you need to know about CLEAR.
What is CLEAR?
CLEAR is a company that can help you speed up the travel document check at airports or get expedited entry at various concert venues or sports stadiums. You'll pay an annual fee to access CLEAR through a CLEAR Plus membership.
The idea is that your identifying documents are connected to your biometric data — in this case, your fingerprints and irises. Instead of going through a line and handing over travel documents to a TSA agent, you go up to a CLEAR kiosk that reads your fingerprints and irises and verifies your identity that way.
Because all it takes is a quick check-in at the screen, you can save time as you go through the airport security checkpoint. You still have to go through the physical security screening, but the lines are shorter with CLEAR and the document verification step is streamlined.
With a CLEAR Plus membership, you can also use the CLEAR lines that might be located at sports and entertainment venues. By going through that line, you can avoid longer screening lines.
If you don't like waiting in line, CLEAR can be a way to speed up the process and make it less cumbersome.
CLEAR vs. TSA PreCheck vs. Global Entry
First of all, CLEAR is a private company and not a program administered through the U.S. government, as both TSA PreCheck and Global Entry are. However, CLEAR is SAFETY Act certified and authorized by the Department of Homeland Security to operate at select airports and other locations.
In addition, CLEAR isn't meant to replace TSA PreCheck or Global Entry. Instead, it works in tandem with these government programs.
CLEAR can expedite the document verification process at airports or stadiums. After your identity is confirmed with your fingerprints and eyes, you still need to move through the regular security screening.
TSA PreCheck is designed to expedite travelers through the physical screening process at airports. TSA PreCheck members can leave their shoes on and, in many locations, keep their laptops in their bags. It's a faster way to get through screening. The lines are often shorter and the process quicker.
Global Entry is meant for those coming through U.S. Border Control and Customs checkpoints. In applicable locations, it allows for expedited customs experiences and a shorter line.
While you don't need TSA PreCheck or Global Entry to join CLEAR Plus, it can help you move even quicker through airports. Some credit cards offer free TSA PreCheck, which can reduce your overall costs. So, you may wish to use the perks offered by one of your credit cards to offset this cost.  
Often, CLEAR checkpoints are located near TSA PreCheck lines. So if you have TSA PreCheck and CLEAR Plus, you can simply walk up to the CLEAR pod, use your fingerprints and eyes to verify your identity, and then go through the faster TSA PreCheck physical screening. Your best results are likely to come when you use CLEAR Plus in conjunction with TSA PreCheck/Global Entry. You can compare TSA PreCheck vs. CLEAR and better see how the programs are complementary. 
If you're on the other end of the spectrum for repeated delays and multiple passes through secondary security screening at the airport, you might want to educate yourself on the DHS Travel Redress Inquiry Program (DHS TRIP) and find out what a redress number is. 
Where is CLEAR located?
CLEAR can be found at airports and other venues around the country. However, it isn't in all airports and venues, so before you sign-up it's a good idea to make sure it's available at destinations you're likely to visit.
It's also worth noting that some airports, including New York's JFK, have PreCheck + CLEAR Super Lines that are even more exclusive. These lines allow you to move ahead even quicker, with dedicated TSA PreCheck lines for those who also have CLEAR Plus.
Airports with CLEAR
Atlanta, GA (ATL)
Detroit, MI (DTW)
Newark, NJ (EWR)
Austin, TX (AUS)
Fort Lauderdale, FL (FLL)
Orlando, FL (MCO)
Baltimore, MD (BWI)
Houston, TX (IAH)
Phoenix, AZ (PHX)
Birmingham, AL (BHM)
Houston, TX (HOU)
Salt Lake City, UT (SLC)
Boston, MA (BOS)
Las Vegas, NV (LAS)
San Antonio, TX (SAT)
Chicago, IL (ORD)
Los Angeles, CA (LAX)
San Francisco, CA (SFO)
Cincinnati, OH (CVG)
Miami, FL (MIA)
San Jose, CA (SJC)
Cleveland, OH (CLE)
Minneapolis, MN (MSP)
Seattle, WA (SEA)
Dallas, TX (DAL)
New Orleans, LA (MSY)
Washington, DC (DCA)
Dallas, TX (DFW)
New York, NY (JFK)
Washington, DC (IAD)
Denver, CO (DEN)
New York, NY (LGA)
White Plains, NY (HPN)
Stadiums with CLEAR
American Airlines Arena (Miami, FL)
Globe Life Park (Dallas, TX)
Staples Center (Los Angeles, CA)
AT&T Center (San Antonio, TX)
Madison Square Garden (Manhattan, NY)
Sun Trust Park (Atlanta, GA)
Avaya Stadium (San Jose, CA)
Minute Maid Park (Houston, TX)
Target Field (Minneapolis, MN)
Banc of California Stadium (Los Angeles, CA)
Oracle Park (San Francisco, CA)
T-Mobile Park (Seattle, WA)
Century Link Field (Seattle, WA)
Oriole Park at Camden Yards (Baltimore, MD)
University of Texas (Austin, TX)
Citi Field (Queens, NY)
Nationals Park (Washington, DC)
Yankee Stadium (Bronx, NY)
Comerica Park (Detroit, MI)
Progressive Field (Cleveland, OH)
Coors Field (Denver, CO)
RingCentral Coliseum (Oakland, CA)
How much is CLEAR?
A CLEAR Plus membership costs $189 per year (which works out to $15.75 per month). It's also possible to add up to three adults to your account for $70 each per year. If you have kids under 18, they don't have to have a separate membership cost; they can come through the CLEAR line with your free of charge.
If you're interested in trying CLEAR Plus, you can get two months free. It's also possible to get a free CLEAR membership that covers only entrance at event venues. The free version won't let you get through airport checkpoints, but it does let you bring one guest with you through the expedited lines at events.
How to enroll in CLEAR
Joining CLEAR Plus is fairly straightforward. You can get started in about five minutes, and use CLEAR instantly once you're done.
It's possible to start the process online, but you do have to finish with in-person enrollment at a CLEAR location. You answer questions to verify your identity and provide a valid photo ID and make your payment. Valid forms of ID include:
US Driver's License
US Passport or US Passport Card
US Military ID
US-issued Permanent Resident Card
State Issued ID
You'll also have to be fingerprinted and they'll take a picture of your irises for the biometric data. Once that's done and you've made your CLEAR Plus membership payment, you can immediately start using CLEAR.
Once that's done, simply present your boarding pass and use your biometrics, and you're on your way.
Should you enroll in CLEAR?
Before you enroll in CLEAR Plus, it's a good idea to determine how much you're likely to use the service. If you frequently travel through airports that have CLEAR and you don't like waiting in line more than absolutely necessary, getting CLEAR Plus can make a lot of sense. On the other hand, if you don't see a lot of CLEAR stations in places you frequent, it might not be worth the cost.
If you already have TSA PreCheck and want to shave off more time, it can be a worthwhile purchase when you use locations that offer CLEAR. Let's say you travel once a month and CLEAR saves you 30 minutes each trip. Roundtrip, you get an extra hour of your time back, adding up to 12 hours saved per year.
And if time is money, those extra 12 hours could add up. If you make $50,000 per year, for example, that dozen hours is worth $288 at your hourly wage.
Even if you only travel half that, the time you save is still worth $144 — which is almost enough to offset the cost of a year-long membership to CLEAR Plus. Add in the time you save from standing in line at events, and CLEAR could be worth quite a lot.
Reserve powered by CLEAR
It's worth noting that some airport locations have another type of CLEAR lane called "Reserve powered by CLEAR." You don't need a paid CLEAR Plus membership to use this lane since it's free to join. But you do have to make a booking ahead of time.
The Reserve lane is supposed to get you through the general security line quicker. Keep in mind that you still have to show your ID to a TSA officer, and you'll be routed through standard TSA screening. So if you have TSA PreCheck, you might want to avoid the Reserve lane so you're routed through PreCheck screening.
FAQs
Can I add family members to my CLEAR account?
Yes, you can. Up to three adults can be added for $70 per year to your CLEAR Plus account, and you can bring children under 18 with you free of charge.
How do I renew my CLEAR subscription?
Your CLEAR Plus subscription automatically renews each year. You can cancel your membership and receive a pro-rated refund.
How long does it take to get approved with CLEAR?
About five minutes, plus the time it takes to complete your enrollment in person.
Can I connect CLEAR to frequent flyer programs?
Do you have to take your shoes off with CLEAR?
You might have to if you don't have TSA PreCheck. CLEAR only speeds up the document screening, while TSA PreCheck is focused on the physical screening.
Does CLEAR do a background check?
CLEAR uses LexisNexis as a way to verify your identity. Questions are based on public records, so you should be able to answer them and prove who you are.
Easy-to-Earn Unlimited Rewards
Earn 25,000 online bonus points after you make at least $1,000 in purchases in the first 90 days of account opening - that can be a $250 statement credit toward travel purchases
Earn 1.5 points per $1 spent on all purchases
Longer intro APR on qualifying purchases and balance transfers
No foreign transaction fees
Earn unlimited 1.5 points per $1 spent on all purchases, with no annual fee and no foreign transaction fees and your points don't expire.
25,000 online bonus points after you make at least $1,000 in purchases in the first 90 days of account opening - that can be a $250 statement credit toward travel purchases.
Use your card to book your trip how and where you want - you're not limited to specific websites with blackout dates or restrictions.
Redeem points for a statement credit to pay for travel or dining purchases, such as flights, hotel stays, car and vacation rentals, baggage fees, and also at restaurants including takeout.
0% Introductory APR for 15 billing cycles for purchases, and for any balance transfers made in the first 60 days. After the intro APR offer ends, 18.24% - 28.24% Variable APR will apply. A 3% fee applies to all balance transfers.
If you're a Preferred Rewards member, you can earn 25%-75% more points on every purchase. That means instead of earning an unlimited 1.5 points for every $1, you could earn 1.87-2.62 points for every $1 you spend on purchases.
Contactless Cards - The security of a chip card, with the convenience of a tap.
This online only offer may not be available if you leave this page or if you visit a Bank of America financial center. You can take advantage of this offer when you apply now.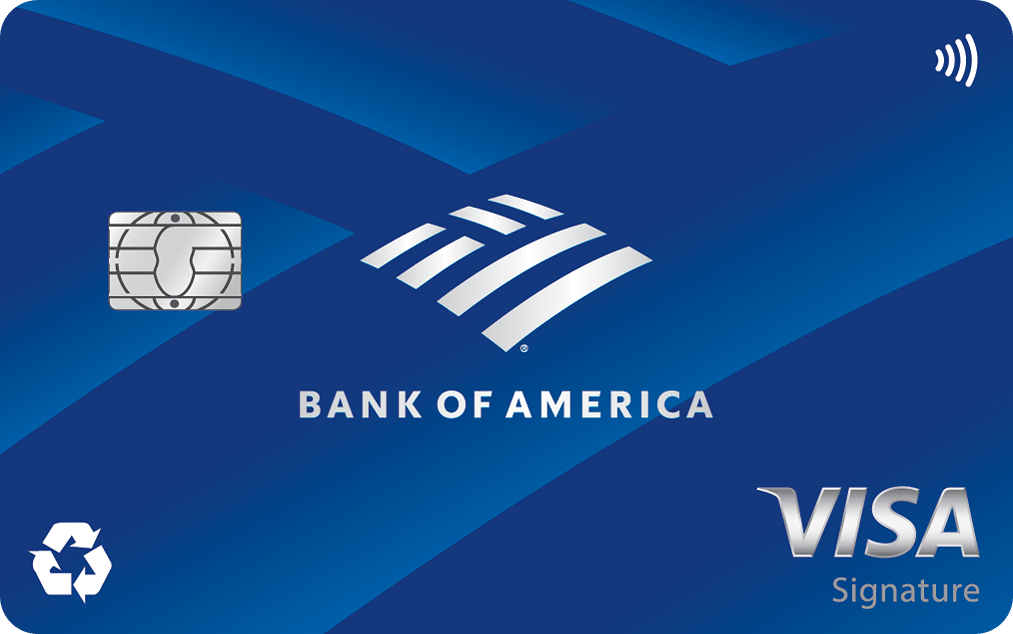 Apply Now
on Bank of America's secure website
Read Card Review
Intro Offer
Earn 25,000 online bonus points after you make at least $1,000 in purchases in the first 90 days of account opening - that can be a $250 statement credit toward travel purchases