On a recent trip, a canceled flight led to long lines at service desks as a planeload of passengers tried to get their travel issues resolved. My experience, though, was completely different because my travel companion — the person who booked our tickets — had Gold Premier status with United Airlines.
Rather than waiting in line, we were offered specialized services by a representative with a tablet. We received upgraded seats on the next available flight and a simple form to fill out for reimbursement for the hotel we had to stay in.
This experience, while much more pleasant than what the general run of stranded airline passengers deal with, pales in comparison with the attention and care given to those who belong to United Global Services, an elite invitation-only club. Here's how United Global Services works, the benefits it offers, and how to qualify.
What is United Global Services?
Other airlines offer elite designations for the most loyal — or highest spending — passengers, and United is no exception. United Global Services is an ultra-luxury status offered by United Airlines. In fact, the program is so secretive that few details about the status have been publicly released.
But according to reports, the only way to enjoy United Global Services is to be invited. When you belong to this exclusive club, you get the first crack at seat upgrades, easier rebookings, and even expedited (and sometimes luxury) transfers through airports.
Each year, United looks at how many miles or how much you've spent with the airline. There aren't public guidelines that explain how to get accepted on a yearly basis, but reports suggest that you need to spend at least $50,000 in Premier Qualifying Dollars (PQDs) and at least 150,000 in Premier Qualifying Miles (PQMs).
This is a yearly status that must be renewed annually by invitation from United Airlines. The only way to reach lifetime United Global Services status is to have flown at least four million qualifying miles.
There are also reports that United grants this United Global Services to certain corporate partners, so company executives and other VIPs can get access to the benefits of the program.
7 benefits of United Global Services
While United hasn't released the specific benefits, and it's difficult to confirm everything that's included, there are some high-end perks to achieving United Global Services status. Reports suggest that you can look forward to:
1. Upgrade priority
Looking to upgrade your seat? As a member of this elite club, you get the first chance. If you've booked an economy class ticket, especially on a transcontinental flight, you can get bumped to the front of the line for an upgrade — resulting in a much more comfortable flight.
2. Companion status
If you have a significant other that lives with you and is also a MileagePlus member, and you get your status through the Million Miler program, they can share your Global Services status. They get their own credentials and don't even have to be flying with you in order to reap the benefits. This benefit isn't quite the same as a regular United status match, but it does benefit you and your significant other.
3. Special companion pricing when you buy a cash ticket
As a United Global Services member, you can get a lower-cost ticket for a companion when you pay cash for your own ticket. With this benefit, your companion can book their own fare at the saver level, getting a break on the cost. There are no restrictions on the class level of the ticket booked. It's a great way to bring someone with you, no matter why you're traveling.
4. Expedited check-in
Depending on the airport, it's possible to get your own private check-in. There are dedicated check-in areas at Newark, San Francisco, and Chicago-O'Hare, designed to speed things up for Global Services members. On top of that, members get special access to the security line, allowing them to speed past everyone else — even in the TSA PreCheck line.
5. Priority boarding
With this status, you're the first to board, no matter where you're sitting. That means plenty of overhead bin space and a chance to get settled.
6. Special attention
United Global Services members get extra attention at every step of the way when traveling. There are agents monitoring their flights so that they can help you make your connections. They will even meet you at the gate and whisk you away if you're running short on time.
In fact, at some airports, you might not have to run through the airport. If you have a tight connection, you could get a transfer via Mercedes-Benz using the roadways between gates. This service is reportedly available at Denver, Houston, Los Angeles, Chicago-O'Hare and San Francisco.
7. Dedicated phone line
You almost never have to wait on hold if you reach this status. A dedicated phone connects you to agents ready to help you with rebooking canceled flights and resolving other issues. Rather than waiting in line at a service desk, you can simply make a phone call.
Other ways to get elite perks on United
While United Global Services status is an enviable benefit, the average flier likely won't reach it in their lifetime. However, there are ways to enjoy other elite perks on United, including free checked baggage or the Excursionist Perk. You might not be chauffeured to your next flight in a Mercedes-Benz, but you can still simplify air travel in other ways.
As a member of the MileagePlus program, you can achieve Premier status at Silver, Gold, Platinum, and even 1K. It's also possible to get similar perks without Premier status if you have certain United co-branded credit cards. These would be some of the best airline credit card options if you are a frequent United traveler. 
Here are some of the ways to access perks that can boost your ability to earn rewards and earn award travel faster.
Premier Silver
In order to reach this MileagePlus status, you must have 25,000 Premier Qualifying Miles or 30 Premier Qualifying Segments, plus $3,000 in Premier Qualifying Dollars. Once you reach this status you receive:
Complimentary Economy Plus access at check-in
One free checked bag
Eligibility for complimentary Premier Upgrades
Earn 7X miles on every flight, helping you earn free flights faster
Only pay $75 for a same-day flight changes
Discounted membership to CLEAR ($109), helping you speed through security lines
Premier Gold
After you reach 50,000 PQM or 60 PQS, plus spend $6,000 PQDs, you can access Gold status benefits, which include:
Complimentary Economy Plus access at booking
Two complimentary checked bags
Eligible for Star Alliance Gold status, benefiting you on partner airlines
Earn 8X miles on every flight
No charge for a same-day flight change
Discounted membership to CLEAR ($109)
Premier Platinum
Travel enough to earn 75,000 PQM or 90 PQS, plus spend $9,000 PQD, and you could get access to the following benefits:
Complimentary Economy Plus for you and up to eight companions
Three complimentary checked bags
Two Regional Premier Upgrades
Earn 9X miles on every flight
No charge for a same-day flight change
Discounted membership to CLEAR ($109)
$50 discount on United Club annual membership
Premier 1K
With this level, achieved after 100,000 PQM or 120 PQS, plus $15,000 PQD, you start to see a little more attention with perks like:
Free drink and snack in Economy
Three complimentary checked bags
Six Global Premier Upgrades and two Regional Premier Upgrades
Earn 11X miles on every flight
Pre-boarding access
No charge for a same-day flight change
Free annual membership to CLEAR
$100 discount on United Club annual membership
United℠ Explorer Card
With the United Explorer Card, you get some of the benefits available at the Premier Silver level and even receive Priority boarding — something that's normally not available until you reach higher tiers with the regular Premier program. Some of the benefits of the United Explorer Card include:
Two United Club one-time passes when you open the account, and at your cardmember anniversary
Free checked bag
Priority boarding
2X miles on dining (including eligible delivery services), hotel stays (when booked with the hotel), and United Airlines purchases and 1X miles on everything else
Up to $100 credit for Global Entry or TSA PreCheck
Earn 50,000 bonus miles after spending $3,000 on purchases in the first 3 months
The card comes with an annual fee of $95 (waived first year). This is a much cheaper and easier way to get access to a few perks without meeting the flying requirements of the Premier program. And, thanks to the bonus miles, you can earn award travel quickly.
FAQs
Can Global Services members use United Club?
Yes, according to reports. Additionally, United Global Services members can access Global First Lounge locations with an international business class ticket, rather than needing the typical international first class ticket.
Is Global Entry the same as Global Services?
No. Global Entry is a program run by U.S. Customs and Border Protection, allowing you to speed through customs upon returning to the United States. You must apply for Global Entry through the U.S. government.
How many United Global Services members are there?
That information isn't publicly available. However, it's a very exclusive club and you can only join after receiving an invitation from United.
Can spending on United co-branded credit cards help me reach Global Services status?
Spending on your credit card does not earn PQDs. However, with certain credit cards, you can receive elite perks that make travel easier — even if it isn't membership in this secret club.
Bottom line
Chances are, most regular travelers will never be invited to receive United Global Services status. However, that doesn't mean you can't travel with some measure of style. If you're loyal to United and fly somewhat frequently, it's possible to earn a few extra perks and upgrade your travel experience. While you won't get Global Status with your credit card purchases, there are plenty of reasons to use a co-branded card. Simply compare offers to find the best travel credit card to meet your needs.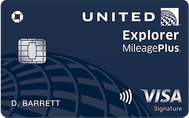 United℠ Explorer Card
Current Offer
Earn 50,000 bonus miles after spending $3,000 on purchases in the first 3 months
Rewards Rate
2X miles on dining (including eligible delivery services), hotel stays (when booked with the hotel), and United Airlines purchases and 1X miles on everything else