Back in 2016, United Airlines updated its award chart and removed its old stopover policy. At the time, it stated that its previous stopover policy was confusing, and it hoped to make things simpler with the Excursionist Perk.
While the list of airlines that allow free stopovers on award bookings has diminished over time, it's nice that United still offers free segments on a round-trip booking.
If you've heard of the Excursionist Perk and have wondered how it works, here's what you need to know to take advantage of it.
What is the United Excursionist Perk and how does it work?
The Excursionist Perk was created by United as a way to make free stopovers easier to book.
All award flights with United MileagePlus miles (both round-trip or multi-city) are booked as a series of one-way flights, and you can get one — and only one — of those segments (generally the middle one) for free if you follow the rules set by United.
Excursionist Perk rules
The official rules of the Excursionist Perk can be read on United's website, but the basic idea is you'll need to book an itinerary with at least three segments to make it work. You can then get a middle segment for free (minus taxes and fees) with the Excursionist Perk if you meet the following conditions:
Your itinerary starts and ends in the same MileagePlus region.
Your Excursionist Perk segment (also known as your free stopover segment) must be in a different region than the one you start and end in. So, for example, if your itinerary starts and ends in North America, your Excursionist Perk segment could happen in Europe, which is in a different region.
The award type and class of the Excursionist Perk segment stays the same as the segment just prior. So, if your first segment is in economy class, then the Excursionist Perk segment will also be in economy class.
If you have a longer itinerary with more than four segments and there is more than one segment in the middle that could qualify for the Excursionist Perk (being in a different region), only the first eligible segment qualifies.
Booking trips with the Excursionist Perk (examples)
Breaking down the rules of the Excursionist Perk helps, but in case those guidelines are as clear as mud (meaning not clear at all), let's walk through a couple of sample itineraries to spell things out.
First, to book a trip with the Excursionist Perk, head to United's website, click on "Advanced Search" and choose "Multi-city" as the trip type.
Then, enter the city pairs you want to fly and choose the available flights that work best for you. If you've followed the rules above, one of your segments should price out as free.
Sample itinerary 1: An easy booking
Let's put it into action by going through a sample itinerary:
| | | |
| --- | --- | --- |
| Segment 1 | Chicago (ORD) to Stockholm (ARN) | 30,000 miles |
| Segment 2 | Stockholm (ARN) to Paris (CDG) | 0 miles |
| Segment 3 | Paris (CDG) to New York (JFK) | 30,000 miles |
Since the entire itinerary starts and ends in North America, which is defined as a single region by United, the segment from Stockholm to Paris can take advantage of the Excursionist Perk and therefore will cost zero miles.
This is also a good time to note that open jaw flights have no bearing on the availability of the Excursionist Perk. You'll just have to ensure that you start and end in the same region to qualify.
Hopefully this straightforward example gives you a basic understanding of how to book an Excursionist Perk stopover award.
Remember that the Excursionist Perk segment doesn't need to have anything to do with the other flights on your itinerary. Open jaw flights — even multiple open jaw flights — are fine. The thing to keep in mind is, it has to be the first segment after a paid segment that is in a different region than your starting region.
Sample itinerary 2: A slightly-more-advanced booking
If you're interested in a more advanced booking with the Excursionist Perk, here's a trip that can help walk you through the process.
| | | |
| --- | --- | --- |
| Segment 1 | Washington DC (IAD) to Chicago (ORD) | 10,000 miles |
| Segment 2 | Addis Ababa, Ethiopia (ADD) to Johannesburg, South Africa (JNB) | 0 miles |
| Segment 3 | Los Angeles (LAX) to San Francisco (SFO) | 9,000 miles |
Normally 17,500 miles for intra-Central/South Africa, the middle segment between Ethiopia and South Africa prices out as a free stopover with the Excursionist Perk.
So, by paying for two low-cost, intra-U.S. flights in miles (19,000 miles total), you can get a five-hour flight that would normally cost 17,500 miles for free (minus taxes and fees).
As mentioned above, the fare class of the Excursionist Perk will be the same as the paid segment immediately before it. So if you were to upgrade your first flight to business class in this example, you'd be able to take the five-hour intra-Africa stopover flight in lie-flat business class, which can normally run 30,000 miles one-way.
How to earn more United MileagePlus miles
While you can always earn United MileagePlus miles from flying on United, credit card welcome offers can also be a good way to earn a generous stash of United miles. Many credit cards offer large enough welcome bonuses that can cover at least one round-trip flight.
United credit cards
These cards earn United miles directly, making them the best airline credit cards if you're one of United's biggest fans. The cards also offering United-specific perks, such as increased award availability and free checked bags:
Chase credit cards
Maybe you don't travel exclusively, or even a lot, on United. In that case, you'll want to seek out one of the best travel credit cards for your needs that can also help out with United. For example, you can also earn also Chase Ultimate Rewards and transfer them to United 1:1 when you want to book a flight.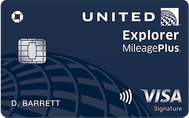 United℠ Explorer Card
Current Offer
Earn 60,000 bonus miles after spending $3,000 on purchases in the first 3 months
Rewards Rate
2X miles on dining (including eligible delivery services), hotel stays (when booked with the hotel), and United Airlines purchases and 1X miles on everything else