United Airlines is one of the largest airlines in the world and partners with more than 35 other carriers worldwide, giving you plenty of options regardless of where you want to fly. But if you're looking for a touch of luxury as you get from Point A to Point B, upgrading your ticket might be the way to go.
Leveling up to a higher fare class can be expensive, though, and learning how to get a United upgrade with miles can save you hundreds of dollars. Here's what you need to know.
How United upgrades work
United Airlines offers four different types of upgrades:
MileagePlus Upgrade Awards: A United member can request this type of upgrade using their miles.
Complimentary Premier Upgrades: If you have Premier status with the airline, you can get an instant upgrade or be put on a waitlist where space is available on select United, Star Alliance, and United Express-operated flights. 
Regional Premier and Global Premier Upgrades: These upgrades are reserved for the airline's Platinum and 1K members. You'll receive two Regional Premier Upgrades as a Platinum member; and two Regional Premier and six Global Premier Upgrades if you're a 1K member. Each reward type is a one-way upgrade but can be used for more than one flight segment.
Depending on when you achieved the status level, you'll have up to 24 months to use your upgrades.
Star Alliance Upgrade Awards: As with MileagePlus Upgrade Awards, you can use your miles to get upgrades on many flights operated by United's Star Alliance partners.
What to know about upgrading with United miles
MileagePlus Upgrade Awards, which you can earn using miles on United or Star Alliance flights, are available to all United members, regardless of whether you have a special status with the airline.
These upgrades are available on all flights, including both domestic and international routes. You can use your miles to upgrade an economy fare to a Premium Plus seat in the main cabin or to the next higher cabin. However, the upgrades are not available on basic economy tickets and deeply discounted fares, and neither are flights booked with miles.
You can get a United upgrade with miles during the booking process or after you've already paid for your ticket. However, the sooner you request your upgrade, the more your chances are of getting it. Consider submitting the request while booking your flight or as soon as possible after booking.
If you paid the full fare on your original reservation, there is no extra cost when using your miles other than taxes. Also, you can use your miles to request an upgrade for a friend or family member, whether or not they're on your reservation.
How much does it cost to get a United upgrade with miles?
The cost of a MileagePlus Upgrade Award is based on several factors, both in terms of miles and the co-pay including:
Region of travel
Requested seat type
Fare class
Your Premier status at the time of the request
For example, I searched for a flight from Los Angeles to Chicago and could upgrade from economy to first class with as little as 15,000 miles and a $75 co-pay each way (with a discounted fare). But on a flight from Los Angeles to Berlin, upgrades from economy to business class cost as much as 20,000 miles and a $550 co-pay each way on a discounted fare.
If you have some flexibility with your trip and haven't already booked it, consider researching a few different itineraries to see if you can get a lower price.
3 things to consider before you request an upgrade with United
If you're looking to get a better flight experience, it's important to set the right expectations. Here are some things to keep in mind:
It's not a guarantee: If there aren't any spaces available for your upgrade, you may be waitlisted. If this happens and you don't get upgraded, you'll get a refund of any miles, co-pay, and taxes you paid when you submitted your request.
Priority for the waitlist is based on the type of upgrade, your status, and fare class, whether you have a United credit card (and how much you spend), and when you made the request.
You may get less than what you ask for: If you have multiple segments on your flight, it's possible that you won't get an upgrade on every one. In spite of this, United will typically consider your MileagePlus Upgrade Award as used even if you get the upgrade on only one segment. In other words, if you're hoping for an upgrade for the entire reservation, you may be disappointed.
The only exception to this rule is if you request an upgrade to United Polaris business class and none of your segments are upgraded, even if you are upgraded to first or regular business class.
You may be charged a co-pay: If your original fare was discounted, United may require what they call a co-pay along with your miles. There is an exception in some regions, however, if you're a Premier member.
How to get a United upgrade with miles during the booking process
If you already know you're going to request an upgrade while you're booking your flight, now's the best time to do it. Make sure you're logged into your MileagePlus account first, then select "Advanced search."
Enter the details of your itinerary and choose "MileagePlus Upgrade Awards" for your upgrade type. You'll then see the price in miles and co-pay under the fare price and can compare different options.
If the seat is available at the time of booking, your request will be confirmed immediately. If not, you'll be placed on a waitlist.
How to get a United upgrade with miles after booking
If you've already booked your flight and have since decided to upgrade, you have three options to request one:
Request an upgrade online through your MileagePlus account. Simply pull up your reservation and submit your request through that page.
Call United's reservation line at 1-800-864-8331 or your designated Premier line if you have Premier status.
Speak to a United representative at the check-in counter or the gate at the airport — this works only if it's within 24 hours of your scheduled departure time.
Once you submit your request, you'll be automatically placed on a waitlist that will be cleared as upgrades become available.
How United credit cards can help you earn upgrades faster
United-branded credit cards can make it easier to get an upgrade, primarily because they give you the chance to rack up miles faster than if you were just flying regularly with the airline. This means that your normal purchases at the grocery store, gas station, and restaurants can all help you earn miles that you can use towards valuable upgrades.
The United℠ Explorer Card, for instance, offers 2X miles on dining (including eligible delivery services), hotel stays (when booked with the hotel), and United Airlines purchases and 1X miles on everything else. Plus, you can earn 60,000 bonus miles after spending $3,000 on purchases in the first 3 months, along with plenty of other travel perks.
Unfortunately, none of the United co-branded credit cards allow you to earn Premier Qualifying Miles, which can help you gain Premier status. However, if you already have Premier status, most of the best airline credit cards from United make it possible to get Premier upgrades even on award tickets — meaning you don't have to pay out-of-pocket for the base fare.
The bottom line
United MileagePlus Upgrade Awards come with a lot of terms and conditions, so it's important to know what to expect when you're requesting a United upgrade with miles. And depending on your itinerary, moving to a better seat or cabin can cost you a lot in terms of miles and a co-pay.
Take some time to research your options and consider the best one for you, including choosing the best travel credit card from United. Then determine whether you truly want to upgrade or save those miles for a free flight. Also consider whether a potential co-pay could put you over your budget along with checked bag fees and other costs.
There's no one right answer to how you should use your miles — you've earned them, so do what's best for you and your situation.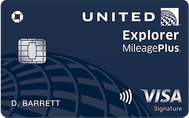 United℠ Explorer Card
Current Offer
Earn 60,000 bonus miles after spending $3,000 on purchases in the first 3 months
Rewards Rate
2X miles on dining (including eligible delivery services), hotel stays (when booked with the hotel), and United Airlines purchases and 1X miles on everything else