Getting your first credit card in the mail can be very exciting. It's a major step forward into adulthood for teens, students, and young adults. It opens up doors for being able to buy things you may not be able to afford with cash. And it's the beginning of building a credit history that will follow you throughout your life.
Once you are approved for your first credit card, you want to make sure that you start off strong as a cardholder. That means understanding your responsibilities once you receive your card, and learning how to spend wisely, and how to use your new credit to your advantage. This article takes a closer look at what you need to know as a new cardholder.
How to use a credit card for the first time
Congratulations! You've been approved for a credit card. Now what? After you're approved, you should get your new card in the mail within a few days. The envelope you get will include your card, information about your limit and benefits, and usually a hard copy of the terms and conditions you agreed to when completing your application.
You will likely find a sticker on your card with a phone number to call or a website to visit where you can activate your card. The bank wants to make sure that the card has gotten to the right person and it will not be useable until you activate it. Some cards don't require activation, so make sure to read the paperwork that comes with your card so you know what you need to do.
You'll find a space on the back of your card for your signature. Sign your card right away. I recommend using a Sharpie, as signatures in pen wear away easily and you'll have to re-sign the card. Many merchants will check for a signature on your card, so make sure you have one there at all times.
Once all this is done, log into your online account so you can familiarize yourself with the website, test that your username and password work, and know where to go when you have questions or want to make a payment. If you applied online, you likely already created an online account, but if you didn't, now is a good time to do it.
Finally, use your card! Having a credit card is good for building credit, as it establishes that you have a certain amount of revolving credit. However, your score will not go up if you don't make purchases with your card. That's not to say that you purposely go out and charge purchases you won't be able to pay off right away. Doing this can actually hurt your credit score. Rather, you want to show that you can use your available credit responsibly, keeping your card balance low, and making regular, on-time payments.
6 tips for responsible credit card use
Now that you have a credit card, it's time to establish a few good habits to use credit responsibly and help build a good credit score.
Keep tabs on your credit reports

One of the benefits of living in this digital age is that you can easily keep an eye on your credit scores and activity on your credit reports. There are three credit bureaus in the U.S. that keep a record of your credit history and assign you a score: Equifax, Experian, and TransUnion.

You can request a free, full credit report from each annually, but you can also track your day-to-day score and report activity, either through each bureau's website or using an app, such as Credit Karma or Credit Sesame. These services will notify you of changes to your scores, when someone looks at your report, and even give you tips for building your credit. Making this kind of monitoring a habit early on will help you stay financially healthy and address any suspicious activity right away.

Spend wisely

Responsible use of credit is a major factor in credit scoring. The bureaus want to see a balance of no more than 30% of your available credit being used at one time. That means if you have a credit limit of $1000, you should keep your balance below $300.

Add the card's app to your phone

Many credit cards have an app you can use to manage your account and make payments. This is a really great thing, as you can set up reminders, easily keep track of your transactions, and pay your balance whenever and wherever you are. Check and see if your card has an app, and if so, install it for quick account access.

Set payment reminders in your calendar

One easy way to make sure you pay your monthly bill on time is to set up calendar reminders. Whether you use the calendar on your laptop or smartphone, add a monthly event for your payment due date and set up a reminder for the day before. This ensures you'll get a notification that reminds you to pay your bill on time.

Pay off your balance each month

Paying off your balance monthly is a simple way to keep your credit usage below 30%. It also shows the bureaus that you can spend responsibly and within your means. Paying in full each month is a good habit to get into and will help keep your finances healthy.

Keep your balance low

Life happens and sometimes it's not practical to pay off your credit card every month. If you find yourself in this position, aim to keep your balance as low as possible. Again, 30% of your total limit should be your goal. But even if you can't hit that mark, try to pay down as much as you can.

Making a minimum payment will keep your account current, but it doesn't shave much off your balance. See if you can add more to the minimum on your bill whenever possible so that every payment keeps lowering your balance.
Some great first credit cards to consider
| | | | |
| --- | --- | --- | --- |
| Card name | Rewards rate | Annual fee | Best for... |
| Discover it® Cash Back | 5% cash back in quarterly rotating categories (including gas stations, grocery stores, restaurants, and Amazon.com), up to quarterly maximum, and 1% cash back on all other purchases | $0 | Those new to or looking to build credit, looking for a cash back card, want free credit tools. |
| Chase Freedom Flex℠ | 5% cash back on rotating quarterly categories (on up to $1,500 spent) and travel purchased through the Chase Ultimate Rewards portal; 3% cash back on drugstore purchases and dining at restaurants (including takeout and eligible delivery service); and 1% cash back on all other purchases | $0 | Those with some credit history and looking to build on that, wanting cash back rewards, and no annual fee. |
| Bank of America®️ Customized Cash Rewards Credit Card for Students | 3% cash back in a category of your choice and 2% cash back at grocery stores and wholesale clubs (on up to $2,500 quarterly for these two categories combined); and 1% cash back on all other purchases | $0 | Students looking to build a credit profile and get cashback rewards. |
The bottom line on spending with a credit card
Try to think of credit cards as tools for building a strong financial future. The benefits of using credit can be really great, but you have to do so wisely if you want to avoid pitfalls along the way.
Credit bureaus want to see that you can spend responsibly. Learning how credit works and what you can do to ensure you don't overextend yourself is a strong step in the right direction. Always keep this in mind while you shop for cards and with every swipe you make.
Easy-to-Earn Unlimited Rewards
Earn 25,000 online bonus points after you make at least $1,000 in purchases in the first 90 days of account opening - that can be a $250 statement credit toward travel purchases
Earn 1.5 points per $1 spent on all purchases
Longer intro APR on qualifying purchases and balance transfers
No foreign transaction fees
Earn unlimited 1.5 points per $1 spent on all purchases, with no annual fee and no foreign transaction fees and your points don't expire.
25,000 online bonus points after you make at least $1,000 in purchases in the first 90 days of account opening - that can be a $250 statement credit toward travel purchases.
Use your card to book your trip how and where you want - you're not limited to specific websites with blackout dates or restrictions.
Redeem points for a statement credit to pay for travel or dining purchases, such as flights, hotel stays, car and vacation rentals, baggage fees, and also at restaurants including takeout.
0% Introductory APR for 18 billing cycles for purchases, and for any balance transfers made in the first 60 days. After the intro APR offer ends, 17.99% - 27.99% Variable APR will apply. A 3% fee applies to all balance transfers.
If you're a Preferred Rewards member, you can earn 25%-75% more points on every purchase. That means instead of earning an unlimited 1.5 points for every $1, you could earn 1.87-2.62 points for every $1 you spend on purchases.
Contactless Cards - The security of a chip card, with the convenience of a tap.
This online only offer may not be available if you leave this page or if you visit a Bank of America financial center. You can take advantage of this offer when you apply now.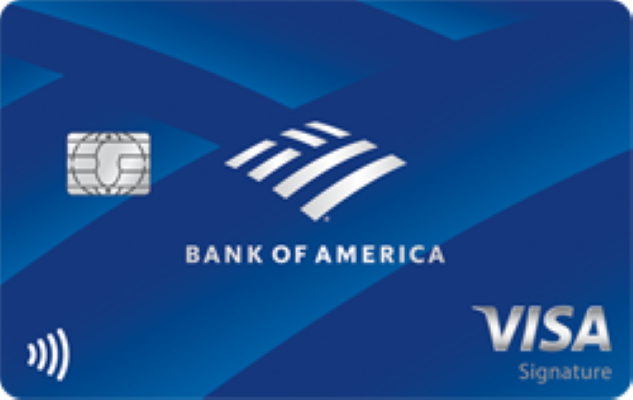 Apply Now
on Bank of America's secure website
Read Card Review
Intro Offer
Earn 25,000 online bonus points after you make at least $1,000 in purchases in the first 90 days of account opening - that can be a $250 statement credit toward travel purchases