Whether you're planning a weekend getaway to Cancun, an epic adventure in Argentina, or a bucket-list trip to Paris, Aeromexico may be a good choice for your flight. As Mexico's flagship airline, based in Mexico City, Aeromexico Airlines flies to destinations all over North America, in addition to offering international routes in Europe and Asia.
Depending on where you're off to, you may need to check a bag or two when flying Aeromexico. Here's a look at what to expect and some ways to get around shelling out cash to stow your bags.
What's Aeromexico's baggage policy?
Carry-on luggage
Aeromexico allows for one carry-on bag and a personal item (such as a purse or laptop bag), no more than 21.5 inches x 15.7 inches x 10 inches per piece. Liquids in your carry-on must be in three-ounce containers and fit within one clear, transparent, resealable one-quart plastic bag. The allowed weight varies based on your fare and destination:
Basic fare: 22 lbs. combined
Classic, AM Plus, Chase Premier fares: 33 lbs. combined on flights within Mexico
International flights: 22 lbs. for all fares
Travelers with infants
Allowances for travelers with infants depend on where you're flying from and to. For example, flights from the U.S. to Mexico allow one bag and two additional items, such as a stroller, diaper bag, or bassinet. Flights within Mexico only allow two items in total.
Valuables
Aeromexico recommends that items of value (jewelry, art, documents, etc.), fragile items, electronics, medicines, and perishables be packed in carry-on baggage. Smart bags with removable batteries are checked at both the counter and the gate and may be allowed on board with the battery taken out.

Medical devices
Wheelchairs, crutches, orthopedic devices needed for travel, medications, syringes, and oxygen concentrators are allowed in the plane cabin, though some may require medical documentation. Wheelchairs with built-in batteries will need to be checked, however.
Prohibited items
Prohibited items include hoverboards, firearms or ammunition, Samsung Galaxy Note7 tablets, flammable items of any kind, enamel paints, acids, and corrosives. Check out the complete list of restricted items.
Checked luggage
Like many airlines, Aeromexico flights have different checked baggage allowances based on where you're traveling to and from and the type of ticket you have. In addition, you will pay more if you wait to check your extra bags until check-in. If you pre-pay for additional bags when you purchase your ticket or sometime prior to your flight, it could save you money.
Dimension and weight limits
Checked bags should have max linear dimensions of 62 inches, and there will also be a maximum weight allowed. Weight limits depend on flight origin, destination, and ticket class. For example:
Main Cabin Ticket from U.S. to Central America: 50 pounds
Clase Premier Ticket from U.S. to Central America: 70 pounds
Main Cabin Ticket from the Caribbean to South America: 50 pounds
Clase Premier Ticket from the Caribbean to South America: 70 pounds
Baggage allowance
Aeromexico domestic flights beginning and ending in Mexico allow for one free checked piece of baggage with a Main Cabin ticket and two free bags with a Clase Premier ticket. However, a Main Cabin flight from the USA to Mexico doesn't include any free checked bags. 

If you choose this fare, your first checked bag will cost you $30 USD, the second will be $55, and the third will be $180. Any additional pieces of luggage can be checked for $200 USD each. If you were to purchase a Clase Premier ticket for the same flight, you'd be able to check two bags for free. Additional bags could also be checked for the same fees listed above.
The fees for additional bags will vary depending on your departure and arrival locations, as well as your fare. For example, if you have a Classic ticket and your origin or destination is in Central America, the Caribbean, Peru, Ecuador, or Colombia, then the fee to hand over your bag at check-in will be $40. If your origin or destination is in Brazil, Argentina, or Chile (including all international connections), then the fee will be $50.
The Aeromexico website has a tool to help you figure out your baggage allowance for your specific trip. Enter where you're flying from and your destination to see how many bags you can bring for free, how many will have charges, and what weight limitations you may have.

Oversized baggage
Bags that are larger than the allowed weight and dimensions are charged based on weight, volume, and both origin and destination. Musical instruments and sports equipment that fall within the dimensions allowed for carry-on can be brought into the cabin as part of your carry-on allowance. 
Larger instruments or equipment can be checked for $75 for flights within Mexico and $150 for all other flights (both of those prices are in USD, not MXN). Their site also mentions that there will be a cost increase for excess baggage and sports equipment during the high season. 
How to avoid checked bag fees on Aeromexico
If you're not loving the sound of these excess baggage fees, you're not alone. Luckily, there are a few ways to get around having to pay for your bags.
1. Only pack a carry-on
This may be an obvious strategy, but it's also an effective one. If you find yourself booked for a flight that will have you paying upwards of $30 per bag, start thinking about what you really need to bring with you.
Leave bulky toiletries, such as shampoo and conditioner, at home and get just enough for your trip when you land. Economize your space right, and you can save yourself from having to check any bags at all.
2. Join Club Premier
Aeromexico's customer loyalty program is called Club Premier and works slightly differently than most other airline programs. Yes, you earn points when you fly, but you can also score points with cruises, car rentals, hotel stays, and shopping through specific websites.
When you accumulate enough points, you can qualify for Aeromexico Club Premier Gold, Platinum, or Titanium levels. One free checked bag when flying to the U.S. or Canada comes with each level, and as little as 50,000 Qualifying Premier Points will get you to the first tier (Gold).
Earning points is easier than you may think. In addition to using Club Premier when you book various travel arrangements, you can also earn miles when you fly with Delta.
Aeromexico and Delta are both founding members of the SkyTeam Alliance, and flights with any of the airlines within the group will add to your Club Premier stash. You can also transfer points from some travel credit cards to your Club Premier account and earn points if you use a co-branded credit card (more about both of these later).
3. Buy a premium ticket
As mentioned above, baggage fees will depend on where you're flying and what class of ticket you've purchased. Basic economy and some Main Cabin tickets only include carry-on privileges, but most Clase Premier fares come with at least one free checked bag.
If you know you'll check one or more bags, do the math and see if purchasing a higher-class ticket could offer savings on baggage fees.
4. Get a co-branded credit card
U.S. Bank offers three co-branded Aeromexico Visa cards: the Aeromexico Visa Signature, Aeromexico Visa, and Aeromexico Visa Secured. Each comes with a complimentary checked bag benefit, and you earn Club Premier miles when you use the card. New cardholders can also get a welcome bonus of thousands of miles.
These are the best airline credit cards for flying with this airline or its partners. They also come with many additional perks that vary depending on which one you have. Benefits can include complimentary and $99 companion certificates, bonus miles for renewing your card (low annual fees apply), double miles earned on gas and groceries, and a free upgrade every year.
5. Use a general travel card
The best travel credit cards are a great option for getting around baggage fees. Some, like the Chase Sapphire Reserve®, give you an annual allowance for travel expenses by covering airline fees. 
Also, you can check and see if it's possible to transfer points from any of your other rewards cards to Club Premium, then use those points to pay for your bags. Aeromexico has partnerships that allow customers to transfer points from select cards to Club Premier. 
For example, Aeromexico is an Amex transfer partner. So you could earn American Express Membership Rewards will a valuable rewards card like the American Express® Gold Card and then use those to book travel on Aeromexico. 
The best part is, though, Amex rewards also transfer to a lot of other airlines. So, for example, you could choose to fly on British Airways or Delta Air Lines. Unlike with a co-branded airline credit card, you won't be limited to just one airline. For more details, read our Amex Gold Card review.
Aeromexico is also partnered with other rewards programs like Citi ThankYou points, Capital One Venture, and Marriott Bonvoy. All of these programs also have credit cards associated with them. You'll want to compare credit cards to find the best one for your needs. 
FAQs about Aeromexico baggage fees
What does AeroMexico charge for bags?
The fees for carry-on and checked baggage on AeroMexico depend on your route and class. If you're flying from the U.S. to Mexico in the main cabin, you'll get two free carry-ons with your ticket, but they can weigh no more than 22 pounds combined, and each piece must measure 21.5" x 15.7" x 10" or less. 
Your first checked bag will cost $30, and your second checked bag will cost $55. Additional baggage costs even more per bag.
By becoming a Chase Sapphire Reserve cardmember, you can use your annual $300 travel credit to cover these fees and enjoy your trip with less worry.
How much baggage is allowed on AeroMexico?
Baggage allowances on AeroMexico vary by route and class. If you are flying from the U.S. to Mexico in the main cabin, you are allowed two carry-on bags. All checked baggage will cost extra. 
You can bring up to 10 checked bags, but the more you bring, the more you'll pay, and starting with the eighth bag, your luggage will be checked as cargo. Clase Premier passengers get two checked bags free.
Does AeroMexico have free baggage?
When you fly from the U.S. to Mexico on AeroMexico in the main cabin, you'll get two carry-on bags included free of charge. Clase Premier passengers get two free checked bags in addition.
A great travel rewards card, such as the Capital One Venture Rewards Credit Card, can help you enjoy free checked bags without paying for first-class seats. Either use your Capital One miles to receive a statement credit toward the fees or transfer your Capital One points to your Club Premier account and increase your status level.
Does AeroMexico allow a carry-on?
Yes. You get two free carry-ons with your AeroMexico ticket. Your carry-on bags must weigh no more than 22 pounds combined and each piece should measure 21.5" x 15.7" x 10" or less.
How much is the overweight baggage fee on AeroMexico?
Baggage weighing over 50 pounds will incur an additional charge. For flights from the U.S. to Mexico, bags up to 70 pounds will cost $100 extra, while bags between 71-99 pounds cost $200 extra. Bags weighing more than 99 pounds must be sent as cargo.
How early can I check my bags on AeroMexico?
You can pay for your baggage by logging into your booking on the website or app any time after booking. You'll likely save money by paying for your baggage before you get to the airport.
Bottom line
Traveling these days can be expensive, but there are also more options than ever to keep your fees down and even earn rewards in the process. Knowing what to expect and where there are opportunities to save can help you make great choices when you're looking to get away from your day-to-day grind.
Easy-to-Earn Unlimited Rewards
Earn 25,000 online bonus points after you make at least $1,000 in purchases in the first 90 days of account opening - that can be a $250 statement credit toward travel purchases
Earn 1.5 points per $1 spent on all purchases
Longer intro APR on qualifying purchases and balance transfers
No foreign transaction fees
Earn unlimited 1.5 points per $1 spent on all purchases, with no annual fee and no foreign transaction fees and your points don't expire.
25,000 online bonus points after you make at least $1,000 in purchases in the first 90 days of account opening - that can be a $250 statement credit toward travel purchases.
Use your card to book your trip how and where you want - you're not limited to specific websites with blackout dates or restrictions.
Redeem points for a statement credit to pay for travel or dining purchases, such as flights, hotel stays, car and vacation rentals, baggage fees, and also at restaurants including takeout.
0% Introductory APR for 15 billing cycles for purchases, and for any balance transfers made in the first 60 days. After the intro APR offer ends, 18.24% - 28.24% Variable APR will apply. A 3% fee applies to all balance transfers.
If you're a Preferred Rewards member, you can earn 25%-75% more points on every purchase. That means instead of earning an unlimited 1.5 points for every $1, you could earn 1.87-2.62 points for every $1 you spend on purchases.
Contactless Cards - The security of a chip card, with the convenience of a tap.
This online only offer may not be available if you leave this page or if you visit a Bank of America financial center. You can take advantage of this offer when you apply now.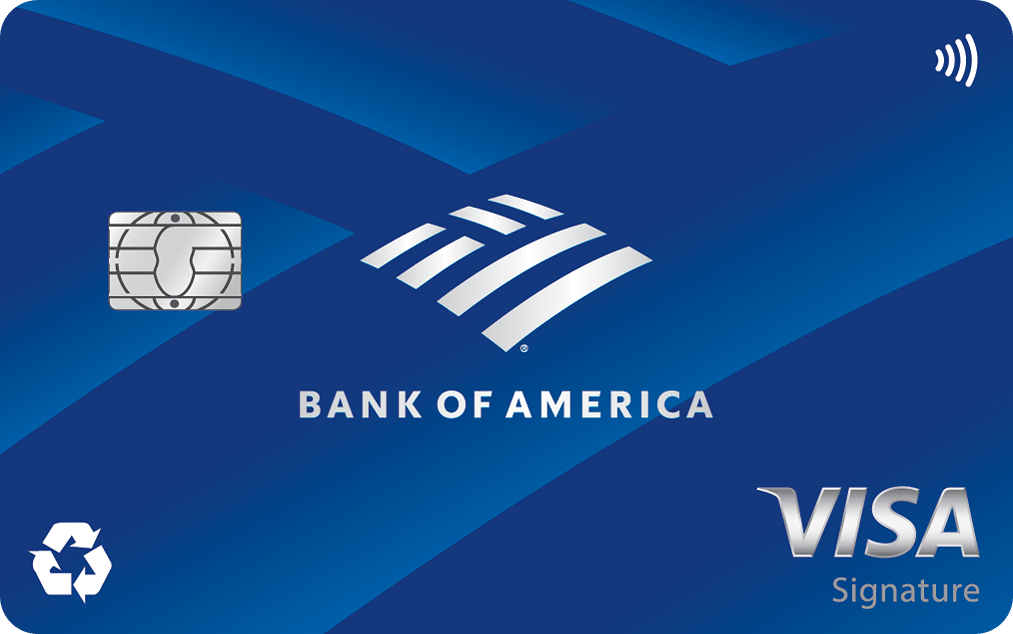 Apply Now
on Bank of America's secure website
Read Card Review
Intro Offer
Earn 25,000 online bonus points after you make at least $1,000 in purchases in the first 90 days of account opening - that can be a $250 statement credit toward travel purchases