If you were one of the thousands of travelers who spent part of your spring on hold with airlines and travel agents trying to get a refund, take comfort that you weren't alone. The latest numbers from the U.S. Department of Transportation show enormous increases in consumer complaints in the travel industry, especially around refunds.
Key findings
Consumer complaints against U.S. airlines rose 965% in April 2020 compared to the previous year.
Issues around refunds accounted for 94% of these complaints.
United Airlines received the most overall complaints while Frontier Airlines saw the most complaints per passenger.
Consumer complaints against travel agents grew by 6,882% year over year. Expedia, CheapOair, and Justfly.com led in complaints.
Number and types of complaints
In April, according to the most recent numbers released by the DOT, consumer complaints about U.S. airlines were up 965% compared to April of last year. Foreign airlines saw more than a 2,200% increase in complaints. For travel agents, it was even worse. Complaints were up over 6,800%.
Overall, issues with refunds accounted for 94% of complaints. In mid-March, thousands of flights were canceled as airlines and travelers reacted to the global coronavirus pandemic. Travel restrictions were put in place, forcing airlines to ground their planes. And many travelers no longer wanted to take flights, even if they were still scheduled to fly.
In April alone, over 130,000 flights were canceled by the largest U.S. airlines. Southwest Airlines canceled 48,707 flights that month, which accounted for 51.6% of its total monthly flights. Allegiant Air canceled 5,298 flights, which accounted for 84.7% of its total monthly flights.
With an unprecedented amount of flight cancellations, airlines were inundated with requests for refunds. As the data proves, some companies were stingier than others about giving full refunds to their customers. United Airlines (2,822) and American Airlines (1,268) received the most total complaints, while Southwest (551) and JetBlue Airways (475) received much less. This is despite the DOT mandating passengers should be refunded in the case of a flight cancellation.
For comparison, there were 17,387 refund complaints in April 2020 versus just 98 in April 2019. And as air travel decreased, other types of complaints saw drops. Complaints around flight problems went down 70% and baggage complaints were down 54%.
Airlines with the most complaints
If you were among those changing your travel plans in April, your experience getting a refund varied greatly depending on which airline you had booked. The airlines that weren't as accommodating with refunds received the most complaints. United accounted for 35% of all complaints against U.S. carriers.
The airlines with the most total complaints were:
United Airlines
American Airlines
Frontier Airlines
Delta Air Lines
Southwest Airlines
JetBlue Airways
When taking the airlines' relative size into account, Frontier Airlines had the most complaints per passenger with 2,129 complaints for every 100,000 enplanements. United (1,241) and Hawaiian Airlines (1,016) had the next highest complaints per passenger.
Most complaints per passenger
Frontier Airlines
United Airlines
Hawaiian Airlines
JetBlue Airways
Allegiant Air
Spirit Airlines
Findings show the overall complaints per passenger on U.S. airlines went from just under one (.99) per 100,000 in April 2019 to 271 per 100,000 a year later. So why did some of these airlines have so many complaints? We can look to something known as the Airline Quality Rating for answers.
If you take a look at Airline Quality Rating studies in past years, you can get a general idea of the performance and quality of an airline. The AQR takes into account multiple factors, including consumer complaints and mishandled baggage.
Frontier has consistently ranked in the bottom half of AQR rankings for the past seven years. United has done even worse, ranking in the bottom half of AQR rankings for the past 12 years. As such, it's not surprising to see these two airlines with high numbers of complaints.
In general, United's refund policy hasn't been consumer-friendly during the coronavirus pandemic. It made multiple policy changes that made it more difficult to receive a refund and/or keep track of how to receive a refund. But it wasn't the only ones. A prevailing lack of information on refund policies and outright refusal to offer refunds has caused increased complaints across the board.
United is among many airlines — including Delta Air Lines, American, and Southwest — now facing class action lawsuits for refusal to issue refunds for flights canceled during the COVID-19 pandemic.
Complaints against travel agencies skyrocket too
Airlines aren't the only companies who saw a huge uptick in complaints. Travel agencies also saw complaints skyrocket, with refunds making up 91% of the complaints. Expedia (565) led the pack with the highest number of complaints, with CheapOair (258) and Justfly.com (255) following.
Because it's ultimately up to the airline to issue a refund, travel agencies may be unfairly taking some of the flak. Agencies have to reach out to the airline regarding the possibility of a refund and then discuss the outcome with the traveler. This can be a long and difficult process when airline refund policies continue to change.
However, it certainly doesn't help when travel agencies are overwhelmed by a flood of refund requests they aren't equipped to handle. This can cause response times and communication to vary, increasing overall stress levels as travelers await the return of their money.
The travel agencies below all saw more than 100 complaints in April, 2020:
Know your rights when it comes to refunds
What rights do consumers have?
As the DOT states, passengers may be entitled to refunds if these situations apply:
Canceled flight: If a flight is canceled for any reason by the airline, you're entitled to a refund.
Schedule change or significant delay: Depending on the airline, you may receive a refund if the airline makes a significant schedule change or flight delay.
Fully refundable ticket: If you have a fully refundable ticket, you're eligible for a full refund if you decide not to travel.
It should be noted that you might not receive a refund if you initiate the cancellation of a flight and don't have a fully refundable ticket. If you want a refund instead of travel credit, you typically have to wait for the airline to cancel your flight.
What should you do if you feel an airline or travel agency is violating those rights?
Being proactive is the best way to get your refund if you're eligible for one. If an airline or travel agency is refusing to give you a refund even when you're eligible, you should continue to reach out to them. You can contact them by social media, email, and telephone. Make sure you have all your trip information handy and any details from previous chats or emails with the company.
If a representative over the phone isn't budging, you can always request to speak to someone else, preferably someone higher up in the company. Cite the DOT's stance on refunds and how your situation complies with guidelines released by the airline itself.
At the end of the day, you could also consider getting involved with a class action lawsuit against a certain airline or file a complaint with the DOT. This may not guarantee you a refund, but it's better than nothing.
Can travel insurance offer greater protection?
Coronavirus and travel insurance don't mix very well. In most cases, standard travel insurance will not provide trip cancellation or trip interruption coverage for events related to COVID-19. Travel insurance doesn't typically cover foreseeable or expected events, so the global coronavirus pandemic wouldn't be covered, at least not anymore. Standard travel insurance also wouldn't provide coverage if you decide not to travel because of fears or concerns about COVID-19.
Although "Cancel for Any Reason" travel coverage may cover you in the case of COVID-19, you'd have to make sure that's the case by looking over your specific contract. Certain contracts may contain exclusions for events like pandemics.
What if you booked with points vs cash?
Maybe you paid cash for your flight or used rewards from using one of the best travel credit cards. A canceled award trip doesn't mean you've lost your points or miles forever. Whether you booked with points, miles, or cash, the refund policy should be the same. You'll have to check the specific airline's policy to see how they handle refunds, but if you're eligible for a refund, you should be able to receive your points or miles back or the money back on the credit card used for the purchase. If not, you may get travel credit with the airline.
If you booked your trip using Chase Ultimate Rewards points through the Chase travel portal, you can get help from Chase to get a refund. As a third-party site that uses Expedia, Chase would still have to go through the actual airline to see whether you're eligible for a refund. But it'll work with the airline on your behalf to get you any eligible refunds or credits.
Masks and social distancing are the next hurdle for airlines
Months after the COVID-19 outbreak, we can see that April may have just been a warm-up for the airlines when it comes to complaints. Air travel is beginning to pick up, which could mean an increase in airline complaints.
Specifically, airlines are struggling with how to handle social distancing and mask-wearing protocols. American Airlines has announced they will begin booking flights at full capacity, which will not alleviate passenger concerns of staying apart from each other. Allegiant Air is one of the last major U.S. airlines to announce the requirement of face masks for all passengers — nearly two months after JetBlue adopted its face mask policy.
As you can see, airline policies regarding COVID-19 are being unevenly enforced. Passengers are sure to take note and respond accordingly, including with filed complaints. Nobody knows what travel after coronavirus will look like, but we can already see how it has changed since March.
Methodology
We compiled this data using the Air Travel Consumer Report issued by the U.S. Department of Transportation in June 2020. Consumer complaint data in this report was compiled by the Office of Aviation Consumer Protection.
Easy-to-Earn Unlimited Rewards
Earn 25,000 online bonus points after you make at least $1,000 in purchases in the first 90 days of account opening - that can be a $250 statement credit toward travel purchases
Earn 1.5 points per $1 spent on all purchases
Longer intro APR on qualifying purchases and balance transfers
No foreign transaction fees
Earn unlimited 1.5 points per $1 spent on all purchases, with no annual fee and no foreign transaction fees and your points don't expire.
25,000 online bonus points after you make at least $1,000 in purchases in the first 90 days of account opening - that can be a $250 statement credit toward travel purchases.
Use your card to book your trip how and where you want - you're not limited to specific websites with blackout dates or restrictions.
Redeem points for a statement credit to pay for travel or dining purchases, such as flights, hotel stays, car and vacation rentals, baggage fees, and also at restaurants including takeout.
0% Introductory APR for 18 billing cycles for purchases, and for any balance transfers made in the first 60 days. After the intro APR offer ends, 17.99% - 27.99% Variable APR will apply. A 3% fee applies to all balance transfers.
If you're a Preferred Rewards member, you can earn 25%-75% more points on every purchase. That means instead of earning an unlimited 1.5 points for every $1, you could earn 1.87-2.62 points for every $1 you spend on purchases.
Contactless Cards - The security of a chip card, with the convenience of a tap.
This online only offer may not be available if you leave this page or if you visit a Bank of America financial center. You can take advantage of this offer when you apply now.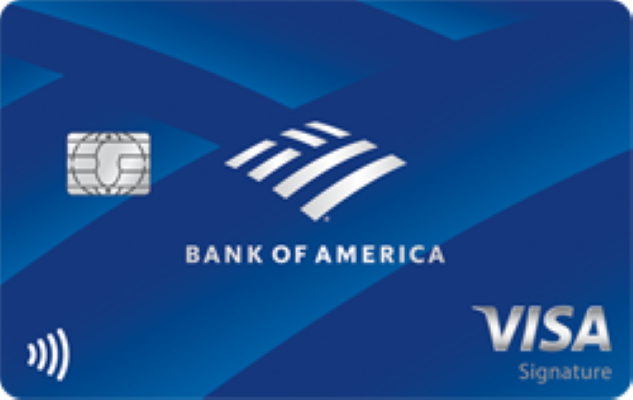 Apply Now
on Bank of America's secure website
Read Card Review
Intro Offer
Earn 25,000 online bonus points after you make at least $1,000 in purchases in the first 90 days of account opening - that can be a $250 statement credit toward travel purchases