Five canceled trips. Since the coronavirus pandemic started, I've had to cancel five of my planned trips this year and change yet another. I have a few trips still planned, but I feel like I may soon have to reschedule those as well.
Quite frankly: This all sucks. I know my canceled award travel trips are probably nothing compared to what some of you out there are dealing with during this pandemic, but this upheaval of our lives has really made me miss traveling.
Not being able to look forward to a trip has been really different and hard for me. And the general uncertainty of when and how we might be able to travel after coronavirus is a little crazy-making. Nobody knows when we'll be back out there or how travel will change, but we can definitely assume traveling will be different.
Here are three of the most common questions travelers have about travel after coronavirus — and my thoughts and predictions on each.
When will we travel again?
That's the big question, right? When can we actually get up in the air again? The answer to this question will vary depending on whom you ask, but hopefully, the simple answer is "soon." The way coronavirus is affecting travel is unprecedented, and we as travelers need to adjust and take it day by day.
Let's break it down and take a seperate look at when I think we'll start to see increased flights for domestic, international, and business travel:
Domestic travel
For domestic travel within the U.S., I feel like we're starting to make moves back toward some semblance of normal. TSA travel numbers show less than 100,000 people passing through security checkpoints on certain days in April of this year. But now a month later, in May, we're seeing those numbers rise above 200,000, with spikes above 300,000 happening close to Memorial Day weekend.
That's nothing compared to the same days a year ago, with numbers over 2 million, but it indicates a trend toward traveling again. Personally, I've already seen a lot of people going places, with planes at 60 to 80% capacity. That may seem like a pretty high passenger load right now given that coronavirus concerns continue, but as restrictions continue to loosen around the country, people are just ready to start flying again.
Obviously, domestic travel isn't what it used to be. Numbers are definitely down; routes have changed; and there are a lot of parked planes out there. But the planes and routes that are running are filling up pretty fast.
As the year moves on, I expect we'll see the numbers of people getting on domestic flights continue to rise. We saw traveler numbers at airports triple in just one month between April and May, so it's a safe bet that the popular summer season will see a huge uptick in travel, and numbers may continue to rise throughout the year. I doubt any number this year will match what we were seeing last year, though.
International travel
International travel is harder to figure out. We're seeing places around the world make announcements that they'll be opening up for the summer — including Spain, Greece, Iceland, and parts of Mexico — and my gut tells me we're probably going to see more countries and regions follow that trend.
Most international travel hot spots rely heavily on the tourist dollar to survive. They need tourist money and summer is the biggest season for them. Some countries and destinations will feel like they have to open up just to survive economically. And typically, we (Americans) find summer to be the perfect time to travel.
That's because we've got older kids graduating and doing gap years; younger kids out of school so families are traveling; and the summer season is just plain beautiful. Throw in some news (whether true or false) about the creation of a possible coronavirus vaccine and coronavirus cases dropping, and people might be more open to traveling internationally this summer.
And if countries start to ease up restrictions and there's no major outbreak of coronavirus, you'll probably see most countries open by the end of the year. That means many of us could be traveling overseas again by December.
Business travel
I think it's going to be quite a while before we see business travel go back to where it was before COVID-19. I don't think many people realize the amount of business travel that was happening before the virus hit, but it was a lot. According to the Global Business Travel Association, the business travel sector may lose a potential $820 billion because of the pandemic's impact.
We're probably going to see a pretty big reduction in business travel for a while, maybe for years to come, though it depends on the economy. If the recession Americans are fearing happens, then travel overall will be down.
I also think there will be a long-term impact on companies and people realizing you don't have to travel for every little thing. Working remotely from home has shown people how easy it is to jump on a video call or use other remote work tools to get something worked out versus having to meet in person.
Working from home may not completely kill the need for business travel, but it could drop the workload for a certain employee from 90 trips a year to 60 trips a year, for example. And with how things have changed globally, I don't know whether there's a need to completely revert to how we used to do business. Which means business travel may just downshift to a new normal along with the rest of us.
What will travel after coronavirus look like?
We can't be sure how things will look with travel after coronavirus, but with what we're seeing right now in the travel and hotel industries, we can expect a few things to be different.
Air travel
If you've seen the artist's renditions of what travel on a plane could look like, there have been plexiglass dividers, seats turned forward, seats turned backward, and so on. But I personally don't believe we're going to have any plexiglass dividers between passengers on airplanes.
I think it would cost the airlines too much money and take too much time to put all that in place. The airlines are already suffering and it wouldn't be viable for them to go through with some of the things we've seen aircraft interior designers come up with.
I do think some other protective measures will be put in place. We've already seen most major airlines add the requirement that passengers wear a mask. I also think it would be reasonable for airlines to require people to apply hand sanitizer before they get on the plane, which could easily be supervised by a flight attendant on both international or domestic flights.
Seat spacing has also been talked about, such as leaving the middle seat open, but it doesn't make too much sense practically. The World Health Organization advises maintaining a distance of at least 3 feet from other people to prevent the spread of COVID-19, though many people are opting for 6 feet instead. Leaving just the middle seat open doesn't allow for that 6-foot buffer from another passenger and probably pushes the boundaries of even being 3 feet apart. I don't see seat spacing happening because it's too hard to create a protected environment in such a small space, and airlines would lose too much money.
Thermal cameras might be seen in both airports and hotels. They're a quick way to see whether someone has a high temperature, which would indicate a fever and the possibility of coronavirus. They're also non-intrusive and they've already been used in many places around the world. I was living in Southeast Asia when SARS was a thing and there were thermal cameras in every airport. People already have experience with them, especially internationally, so it shouldn't be too hard for everyone to catch on and start implementing this technology.
Hotels and Airbnbs
For stays in different types of lodging, you can expect some serious changes. Airbnb already announced a new booking policy, which is part of a new enhanced cleaning initiative from the company. The new initiative is optional, but Airbnb will give any host who opts in to the guidelines a special callout on their listings.
Airbnb hosts who opt in will have to schedule bookings at least 24 hours apart. This will give hosts a chance to do a full clean between guest stays so they can adhere to Airbnb's strict new cleaning protocol. You can expect hotels to also adopt new cleaning policies and gaps between guest stays too.
It's nice to know that companies are putting new policies in place, but the problem is you don't necessarily know how well they'll be followed. Hotel workers already have a tough job, working for low pay to do so many tasks in a day. Who's going to make sure the cleaning policies and guidelines are being followed?
And how will the hotel check-in process work? Hotel employees are handing credit cards back and forth with customers, as well as personal IDs. Are they going to be wearing gloves they switch out after each interaction? Will the employees have to sanitize credit cards, ID cards, and/or key cards? And is the manager going to sit out front and make sure these rules are being followed every single time? It's going to come down to the individual person, and not everyone is going to be perfect.
With Airbnb, there's even less oversight. Who is enforcing the cleaning rules with Airbnb hosts? Nobody. You can put in an optional 24-hour policy between bookings, but plenty of Airbnb hosts are also on other sites like Vrbo. So they just book someone from Vrbo in between two Airbnb bookings. A lot of Airbnb hosts are hurting economically right now, so they'll want as many bookings as possible.
If you're choosing between a home rental or a hotel, remember that hotels have a lot more people passing through, which makes it harder to keep things 100% clean, but they might also have more managerial oversight. Some hotels may also have thermal cameras and other protective measures.
Overall, there's no way to be completely sure the cleaning standards are acceptable at either a hotel or Airbnb. For extra precaution, you can always bring your own disinfecting wipes and hand sanitizer anywhere you travel. Wipe down surfaces yourself if you think it will help or just give you more peace of mind.
Will we go on different types of trips after COVID-19?
Now, and for the foreseeable future, we can expect to travel a little differently. Even if international locations open up, a lot of people will still remain hesitant about booking trips to overseas destinations. If you're feeling cautious, it makes a lot more sense to stick to the U.S. rather than head off on an international trip. So we can expect domestic travel to increase a lot.
Even with domestic travel, people are still going to stay away from flying, which means road trips are going to skyrocket in popularity. I never thought I was much of a road trip person, but recently I've come to enjoy them a lot more. Plus, gas prices are seeing record lows, with more than a dozen states reporting prices under $1 per gallon. I rented a full-size SUV recently for $30 for the day and then filled it up for 99 cents per gallon. If there was ever a time to go on a road trip, it would be right now.
Along that same line, more people are getting interested in RVs, campervans, and other similar vehicles. If you're trying to avoid other people but still want to travel, it seems like the perfect solution. You get to travel to different places, potentially save money staying at RV parks, and you don't have to risk staying in a hotel or Airbnb.
Just watch out because everyone seems to have the same idea, so don't think you're going to be alone in hitting the open road. In a recent survey by MMGY Travel Intelligence, 45% of respondents said they are more likely to travel by car and 68% said they feel safest when traveling by personal vehicle. And in our own FinanceBuzz survey on summer travel, 27% of respondents said they'll take a road trip instead of flying. So the road may not be as open as you would've hoped.
It's the same thing with popular tourist destinations. A lot of us have seen the photos from around the world of empty streets in extremely popular locations. But those places aren't going to stay empty. They probably aren't empty right now. You're going to find plenty of people at the Eiffel Tower and other iconic landmarks. It's just how it is.
If you want to travel somewhere safely with minimal interaction from other people, what should you do? I'd recommend avoiding the hot spots. There are beautiful national parks without crowds that could be amazing to visit. For road-trip-friendly stops, there are plenty of drive-through destinations you can hit up around the country. Get creative and start exploring!
Bottom line on travel after coronavirus
There's no doubt about it, travel after coronavirus is going to be different. We don't know how long the changes will last or if some of them may become permanent. What we do know is that we'll still be able to travel, which is the important thing. In the meantime, I'm going to keep my eye on flight deals, but if I book anything I want to make sure I'm covered.
If you're in the same boat, make sure you know how coronavirus and travel insurance work. There are some flexible policies in place for flights and other travel plans, but it doesn't hurt to have extra coverage. Although the best coverage may be not making any plans at all.
For those of you who are planning on waiting a while longer before you book any trips, there's nothing wrong with that. It's OK to be cautious. Just keep earning points and miles and take advantage of limited-time bonuses on some of the best travel credit cards, such as the Chase and Amex COVID-19 perks. And if you're totally going stir crazy, here are some quarantine vacation ideas to help pass the time.
If you're interested in all things travel, including travel after coronavirus, come have a friendly discussion with us in the FinanceBuzz Elite Facebook group. We'd love to hear your thoughts and opinions on what's going on with travel and share our general travel experiences with one other.
Easy-to-Earn Unlimited Rewards
Earn 25,000 online bonus points after you make at least $1,000 in purchases in the first 90 days of account opening - that can be a $250 statement credit toward travel purchases
Earn 1.5 points per $1 spent on all purchases
Longer intro APR on qualifying purchases and balance transfers
No foreign transaction fees
Earn unlimited 1.5 points per $1 spent on all purchases, with no annual fee and no foreign transaction fees and your points don't expire.
25,000 online bonus points after you make at least $1,000 in purchases in the first 90 days of account opening - that can be a $250 statement credit toward travel purchases.
Use your card to book your trip how and where you want - you're not limited to specific websites with blackout dates or restrictions.
Redeem points for a statement credit to pay for travel or dining purchases, such as flights, hotel stays, car and vacation rentals, baggage fees, and also at restaurants including takeout.
0% Introductory APR for 18 billing cycles for purchases, and for any balance transfers made in the first 60 days. After the intro APR offer ends, 17.99% - 27.99% Variable APR will apply. A 3% fee applies to all balance transfers.
If you're a Preferred Rewards member, you can earn 25%-75% more points on every purchase. That means instead of earning an unlimited 1.5 points for every $1, you could earn 1.87-2.62 points for every $1 you spend on purchases.
Contactless Cards - The security of a chip card, with the convenience of a tap.
This online only offer may not be available if you leave this page or if you visit a Bank of America financial center. You can take advantage of this offer when you apply now.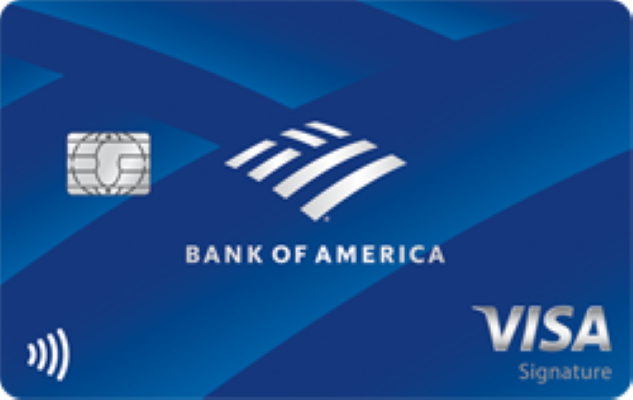 Apply Now
on Bank of America's secure website
Read Card Review
Intro Offer
Earn 25,000 online bonus points after you make at least $1,000 in purchases in the first 90 days of account opening - that can be a $250 statement credit toward travel purchases