One of the toughest parts about traveling is making choices. Where should I travel? Where should I stay? How should I get there? What do I want to do when I get there?
And if you are interested in award travel, the following questions also apply: How do points and miles work? Where should I be focusing my spending to get the most rewards? And should I be collecting airline miles or hotel points?
These questions can be puzzling and even intimidating. As consumers, we all aim for the best bang for our buck while striving toward our travel goals. And deciding where to focus your rewards-earning efforts can help you both save money and seeing the world. So, which kind of credit card should you get — an airline or hotel rewards card?
In this article, I will walk you through the value of airline and hotel points, which of the two is generally worth more, and the information you need to determine where to focus your personal points-and-miles earning efforts.
What there is to love about airline rewards
Airline rewards are an excellent way to help you save on what is typically your largest expense — getting you from where you are to where you want to be. With the average base fare of a domestic round-trip ticket floating around $340 per person, airline rewards can save you big. If you travel as a family, these rewards, along with the benefits that come with co-branded airline credit cards, can quickly add up to save you thousands of dollars.
With co-branded credit cards, you can often earn a sign-up bonus of airline miles and enjoy benefits such as free checked bags, complimentary food/drinks at airport lounges, priority boarding, and in-flight discounts. These benefits may sound small, but they can save you a great amount during your travels.
Additionally, a credit card sign-up bonus can potentially earn you one or more flights completely paid with miles, not counting fees and taxes. Currently, the AAdvantage® Aviator® Red World Elite Mastercard® offers an outstanding sign up bonus where you can earn 50,000 bonus miles after you make your first purchase in the first 90 days. With these 50,000 miles, you are off to a great start.
For example, you could take this flight from Los Angeles to New York City. Using American Airlines miles, the flight will cost just 25,000 miles round trip in economy, plus $11 in taxes (as of Dec. 2019).
If you were to pay cash for this same flight, it would cost $357. That makes each American Airline mile in this booking worth 1.43 cents per point, which is a great value. (Just divide the cost of the ticket by the miles required to book it to find the value: 357 / 25,000 = .01428) So you can easily see that airline miles have the potential to save you a good amount of money.
Another value of having a credit card that collects airline points is that it could save you money on baggage. Delta Air Lines, American Airlines, and JetBlue all charge between $60 to $70 for one checked bag on a round-trip ticket. While $60 may not sound like a large amount, it can grow quickly if you fly as a family. At this rate, you would pay $240 round trip for a family of four people, each traveling with a checked bag. But this cost can be mitigated or completely eliminated by holding a co-branded airline credit card with your favorite airline.
For example, if your preferred airline is American, it may be worth it to have an American Airlines credit card to avoid those bag fees. And the card won't just cover the cardholder. The Citi® / AAdvantage® Executive World Elite Mastercard® gets the first bag checked free for you and up to four of your travel companions.
Additionally, there are other airlines with valuable rewards programs, such as Delta SkyMiles, Southwest Rapid Rewards, and Alaska Airlines. Each of these frequent flyer programs is valuable in its own unique way, but all have one thing in common — they can save you money on flights.
What there is to love about hotel rewards
Hotel rewards are great to help you save on another large expense of traveling — a place to lay your head. In October 2019, the average hotel room in the United States cost $133 per night. That means for a week-long vacation, you would be looking at over $900 to stay in an average hotel. By earning hotel rewards, you can avoid spending this amount on your room and focus your spending on fun activities.
For example, a weekend stay in Los Angeles at the Kimpton La Peer Hotel would cost just under $1,000 for two nights with taxes and fees included. This kind of rate is to be expected in a city like Los Angeles, but it's still a high price for a quick weekend trip.
However, you could choose instead to spend 140,000 IHG points to completely cover the cost of this two-night stay. This may seem like a lot of points, but the value of this redemption is quite good at nearly .7 cents per point. (965.23 / 140,000 = .00689)
As with airline credit cards, hotel credit cards also come with value that goes beyond the redemption value of an individual point. The main perk you can earn is automatic hotel status, which can earn you things like free room upgrades, late check-out, early check-in, free meals, and more. These perks can make your stay more enjoyable and affordable at the same time.
For example, the Hilton Honors American Express Surpass® Card will give you automatic Gold Elite status, access to Priority Pass lounges at airports worldwide (enrollment required), and the ability to earn a Free Night Reward after spending $15,000 in a calendar year.
All information about Hilton Honors American Express Surpass® Card has been collected independently by FinanceBuzz.
Another great hotel reward program is World of Hyatt. Hyatt's rewards program is based on what's known as a "fixed award chart." This means that for each category of their hotels, there is a predetermined set of points needed to book a stay. Other hotel chains, like Hilton, have programs where the number of points needed for a room can fluctuate based on demand. This makes World of Hyatt a very simple rewards program to participate in because you will always know exactly how many points you need to stay in a specific hotel.
You can earn Hyatt points with card like The World of Hyatt Credit Card or transfer points into your Hyatt account from cards like the Chase Sapphire Reserve®.
In addition to Hyatt, Marriott Bonvoy is another great hotel rewards program because of its giant list of properties that range from budget travel at Fairfield Inn to ultra-luxury with Ritz-Carlton. With over 7,000 properties around the world, you will be able to find a property nearly anywhere in the world to use your rewards at.
Check out our full The World of Hyatt Credit Card review.
So, are airline or hotel credit card points more valuable?
While there is subjectivity to this conversation, there is also the objective value of each points system. Keep in mind that none of the brands listed have publicly announced the value of their points. The valuations discussed below are estimated by various reward program experts.
Hotel points are generally worth an average of .075 cents per point. This is a rough average of all the major hotel rewards programs. World of Hyatt points are known for being much more valuable than this figure, while Hilton Honors points are typically less valuable because they are very easy to earn.
Airline points are generally worth an average of 1.3 cents per point. Similar to the value of hotel points above, this is an average of the value of points across the major airlines, of which there are many.
Now, given the math above, it is obvious to say airline points are more valuable. However, just because airline points are worth a piece more doesn't mean you should automatically start earning these. Choosing to earn airline miles or hotel points is a personal decision based on your needs and goals, so avoid jumping to airline miles just because they tend to be more valuable.
Maybe you do not fly and prefer to stay within driving distance of home for your travels. Or maybe you fly so little that paying cash for flights isn't a big issue. If these scenarios sound like you, it could be that you would save a significant amount of money by focusing on free hotel stays rather than free flights.
Additionally, consider that your spending isn't likely to get you great returns with co-branded airline credit cards. For example, the Hilton Honors American Express Surpass Card will give you 12X points on eligible purchases at participating Hilton hotels or resorts; 6X points at U.S. restaurants, U.S. supermarkets, and U.S. gas stations; and 3X points on all other eligible purchases. These categories are broad and therefore quite useful, whereas many co-branded airline cards are limited in their opportunities to earn. The Delta SkyMiles® Gold American Express Card is an example of this as you will earn 2X miles on qualifying Delta purchases, at restaurants worldwide, plus takeout and delivery in the U.S., and at U.S supermarkets; and 1 mile per $1 spent on all other eligible purchases.
These different spending categories are important to note if you want to maximize the points you earn based on the purchases you make.
Check out our full Delta SkyMiles® Gold American Express Card review.

How to choose between airline or hotel rewards
If you are still torn in deciding between airline and hotel points, and you don't want to open more than one credit card right now, here is how you can figure out which is more valuable to you. Simply look at where you are spending the most money and decide what you value more in regards to your travel experience.
If you spend a significant amount of money in categories such as restaurants, gas, or groceries, a hotel credit card with broad spending categories may suit you well.
If you only use credit cards for purchasing flights and don't typically stay in hotels, a co-branded airline credit card could work for your strategy.
If you travel with multiple people, an airline credit card will come in handy to earn miles to cover the cost of tickets. Also, it can save a family a ton in checked bag fees.
If you are primarily a road-trip traveler, a hotel credit card with travel insurance will be perfect to cover your stays along your journey.
Finally, consider what you "need" more. If you need to save money on flight costs, an airline card is best. If you need to save on hotel costs, a hotel card will suit you well.
For myself, I'd much rather fly first class and will happily sleep in a hostel. My perspective is that flying can be a memorable experience, while the primary purpose for accomodations is sleeping. In my mind, a 16-hour flight in economy sounds more miserable than a hostel.
Others argue that a flight is only a short period of time while a hotel stay is a much longer duration of time to enjoy. Or they may be traveling with children and want an upgraded hotel suite so the family isn't all climbing over each other. To reiterate, this decision is personal to your needs and wants.
You don't have to choose between airline and hotel rewards
Thankfully, you don't need to choose between hotel or airline rewards. You can earn both simultaneously or have a credit card that earns transferable points to either airline or hotel programs.
If you want to earn both types of rewards simultaneously, all you need to do is have both a co-branded airline credit card and co-branded hotel credit card in your wallet. To do this, simply pick a card from the airline you prefer to fly and the hotel brand you prefer to stay with. Make sure the cards you select reflect your needs for how much you travel and spend.
For the ultimate in flexibility, using a card that collects either Chase Ultimate Rewards or American Express Membership Rewards will give you the power to transfer these to a variety of both hotel and airline rewards programs. That means you don't have to commit to a certain hotel or airline and you can just focus on earning as many rewards as possible.
The Chase Sapphire Preferred® Card is known among credit card enthusiasts for being one of the best travel credit cards for beginners because of its valuable rewards and simple spending categories. With the Chase Sapphire Preferred, you will earn 5X points on travel purchased through Chase Ultimate Rewards®; 3X points on dining, select streaming services, and eligible online grocery purchases; 2X points on all other travel purchases, and 1X points per $1 on all other eligible purchases. Plus, you can take advantage of a $50 annual credit on hotel stays purchased through Chase Ultimate Rewards. So if you need a few extra miles for a flight or need a few more points for a free hotel room, transferring some of your Chase rewards can get the job done for whatever your needs are.
The American Express® Gold Card is one of my personal favorites as it gives great rewards for those who are "foodies." You will earn 4X Membership Rewards points at U.S. supermarkets (up to $25,000 per year, after that 1X) and at restaurants, plus takeout and delivery in the U.S., 3X on flights booked directly with airlines or on Amextravel.com, and 1X on all other eligible purchases. In addition, you have the opportunity to earn 60,000 Membership Rewards points after you spend $4,000 in the first 6 months of card membership. With these opportunities, you can earn a great amount of rewards on a trip to the grocery store or a night out for dinner. You can then transfer the points to a variety of Amex travel partners. The Amex Gold card does come with a $250 annual fee, terms apply.
However, just because you are earning flexible rewards like Ultimate Rewards or Membership Rewards, doesn't mean you shouldn't have a co-branded credit card as well. Since I primarily fly with Delta, I have a few of their co-branded credit cards in addition to my American Express Gold Card. My favorite co-branded card is the Delta SkyMiles® Reserve American Express Card as having it gives me access to the Delta SkyClub and a free checked bag. So if you have a preferred airline, don't hesitate to apply for a co-branded card.
Bottom line
We know from a sheer value-per-point perspective that airline points are more valuable than hotel points. However, the best choice for you is the choice that fits your lifestyle and travel preferences. If you love luxurious hotel suites, you should earn as many hotel points as possible. If you love to fly and maybe splurge on first-class flights occasionally, airline points will give you a great return for your spending.
There are many strategies to earn points and miles. However, there is only one right way for you — and that is the way that saves you the most money and makes your travels as memorable as possible.
Easy-to-Earn Unlimited Rewards
Earn 25,000 online bonus points after you make at least $1,000 in purchases in the first 90 days of account opening - that can be a $250 statement credit toward travel purchases
Earn 1.5 points per $1 spent on all purchases
Longer intro APR on qualifying purchases and balance transfers
No foreign transaction fees
Earn unlimited 1.5 points per $1 spent on all purchases, with no annual fee and no foreign transaction fees and your points don't expire.
25,000 online bonus points after you make at least $1,000 in purchases in the first 90 days of account opening - that can be a $250 statement credit toward travel purchases.
Use your card to book your trip how and where you want - you're not limited to specific websites with blackout dates or restrictions.
Redeem points for a statement credit to pay for travel or dining purchases, such as flights, hotel stays, car and vacation rentals, baggage fees, and also at restaurants including takeout.
0% Introductory APR for 18 billing cycles for purchases, and for any balance transfers made in the first 60 days. After the intro APR offer ends, 17.74% - 27.74% Variable APR will apply. A 3% fee applies to all balance transfers.
If you're a Preferred Rewards member, you can earn 25%-75% more points on every purchase. That means instead of earning an unlimited 1.5 points for every $1, you could earn 1.87-2.62 points for every $1 you spend on purchases.
Contactless Cards - The security of a chip card, with the convenience of a tap.
This online only offer may not be available if you leave this page or if you visit a Bank of America financial center. You can take advantage of this offer when you apply now.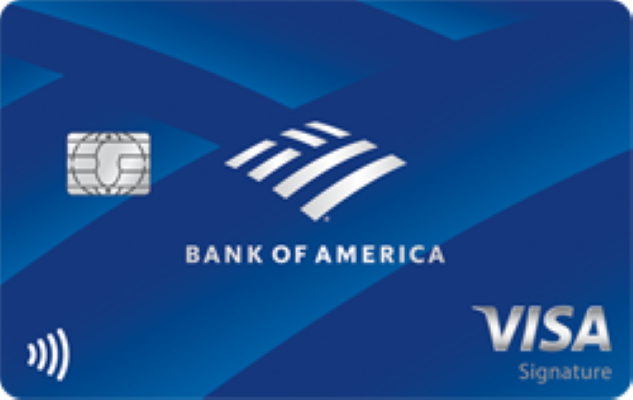 Apply Now
on Bank of America's secure website
Read Card Review
Intro Offer
Earn 25,000 online bonus points after you make at least $1,000 in purchases in the first 90 days of account opening - that can be a $250 statement credit toward travel purchases