You may have looked at Airbnb options for your vacation or as a place to stay if you're on a business trip.
But what if you want to stay longer? Consider a monthly Airbnb if you like working in different places with flexible work-from-anywhere options. Or maybe you just need a break for more than a week.
Check out these cities where a monthly Airbnb rental could be cheaper than the average monthly rent so that you can keep more money in your wallet.
Los Angeles, California
According to Redfin, the median asking price for rent in Los Angeles in April was an eye-popping $3,544 per month.
But you can find a chic studio to live in for a month in the Hollywood Hills area of Los Angeles for less than $2,500 on Airbnb.
Or, check out a one-bedroom apartment in Santa Monica for $2,100 a month if you want a more zen-like space closer to the ocean.
Seattle, Washington
Enjoy the Pacific Northwest with beautiful scenery and a space cheaper to live in for a month than if you were a renter in the area.
Seattle has a median asking price for rent of $2,873, but you can find an Airbnb for less than that for a month.
Check out Airbnb's site for a studio with a dedicated workspace for less than $1,800 in Seattle or a one-bedroom apartment for $2,200.
Pro tip: Airbnb has a sublet section that can help you find places for more extended stays. You can even keep more money in your bank account for booking a reservation through the site.
San Jose, California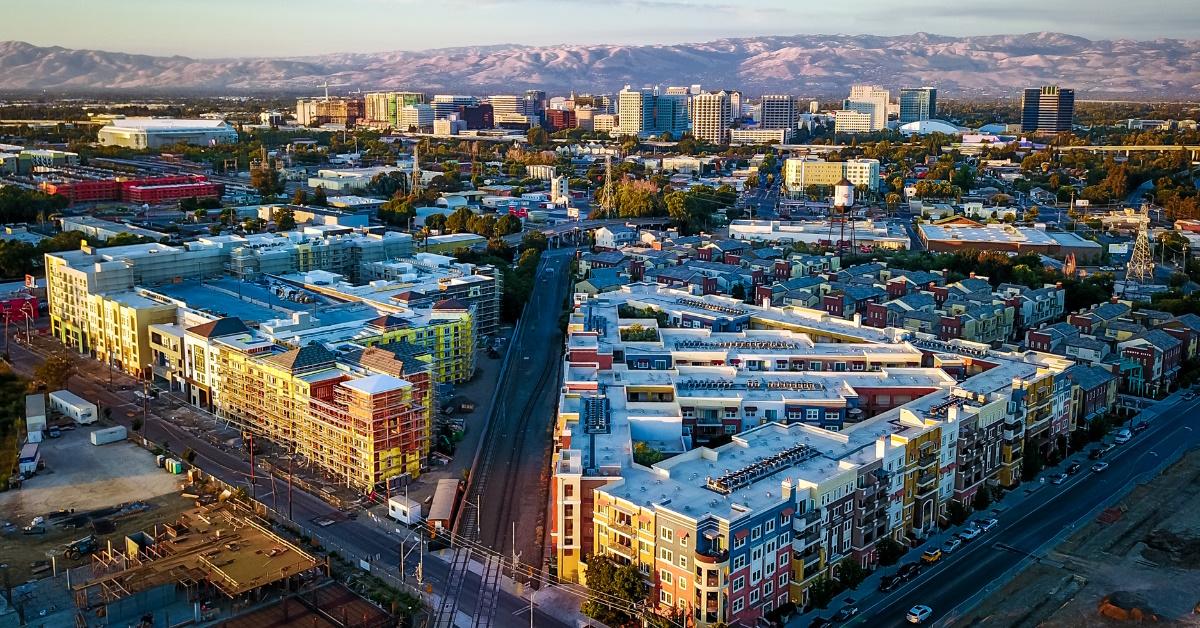 San Jose is close to the top of Redfin's list, with a median asking rent price of $3,690.
Instead, check out Airbnb, where you can enjoy a converted garage into a one-bedroom apartment near San Jose State for $2,500 a month.
You can also try a furnished studio apartment in downtown San Jose for $3,200, which may sound pricey but is still cheaper than the median rent in the area.
Austin, Texas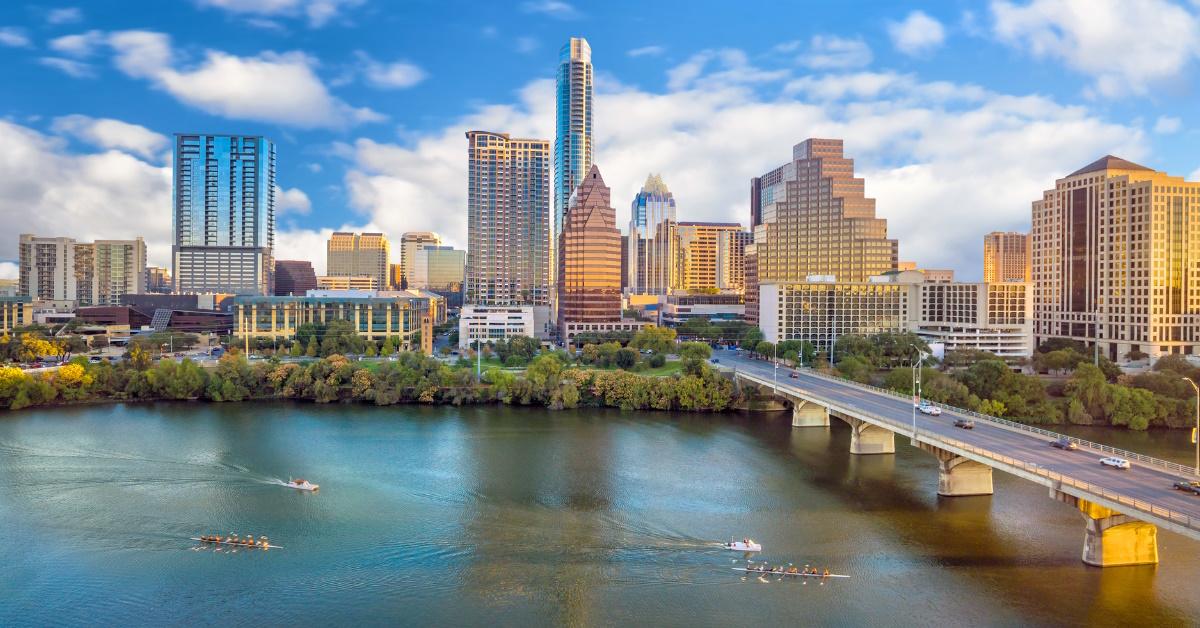 Austin has seen a drop in rental prices, with the median price down 14.3% compared to a year earlier, but it's still expensive at $2,150.
So enjoy the city's and surrounding area's beauty with a studio in Austin for $1,740 with a kitchen and a washer and dryer.
Or you can try out some tiny house living on Lake Travis outside of Austin for $1,300 with a monthly stay discount.
Denver, Colorado
Colorful Colorado can be beautiful any time of the year, depending on what you enjoy doing outdoors.
However, the cost of living there may not put a smile on your face, with a median asking rent of $2,724.
Instead, pick up a one-bedroom cottage close to the University of Denver and the Old Pearl Street District for $2,200.
Providence, Rhode Island
Providence may have some lovely locations to look out on the water or enjoy the spring in New England, but the price tag for a rental in the area may be tough.
The city saw a 16% increase in rent compared to last year, with the median rent at $2,590.
Check out a one-bedroom apartment near Brown University for $1,500 a month to save some summer cash or a townhouse in the Federal Hill area for $2,150 a month.
Miami, Florida
Is there anything better than the sun and beaches of Miami? Your opinion may depend on how much you pay for rent, which is $3,066 in median monthly asking rent.
Grab a one-bedroom apartment with access to a rooftop pool in Miami for $2,550 per month with space to work.
Or you can try a studio apartment in nearby Hollywood with access to the beach for $2,200 a month.
New York City
Do you find beauty in a big, busy city? Then space in New York may be a good option for you. Just be sure to try an Airbnb to beat the median rent of $4,046, the highest on Redfin's list.
Stay in a modern loft in Brooklyn for $2,900 a month, or check out a space on the Upper East Side of Manhattan for $2,550.
Portland, Oregon
Enjoy the west side of Oregon with a stop in Portland, which has a median rent price of $2,511, according to Redfin.
You can enjoy the city instead in a guest suite for $2,000 in Portland's Eliot neighborhood or grab some space in a guest house for $2,100 with a discount for booking it for an entire month.
Salt Lake City, Utah
Utah's capital has gorgeous views of mountains in this town, where it costs $1,982 in median monthly rent. That's almost $2,000 for a place to stay each month.
On Airbnb, you can get an apartment near plenty of restaurants and a park for $1,700, less than if you had to sign a lease now to rent a place.
You can also book a one-bedroom apartment with access to an outdoor space for $1,600 a month.
Tampa, Florida
You'll have to pick up a lease agreement with a median rental ask of $2,255 if you want to live in sunny Tampa, Florida.
So instead, get a two-bedroom apartment on Airbnb for $2,000 with a deep discount if you book it for an entire month.
Or try something unique and stay in a reclaimed shipping container that's only a short drive to nearby Clearwater or St. Petersburg for almost $2,000 a month.
Bottom line
Trying to find ways to pay your rent could be one of the reasons you're struggling financially.
Instead, consider trying an Airbnb if you live in a city with expensive rent. You may have to live more like a nomad, but it can also help you save money.
It's also a good idea to create a budget so you can get a better idea of exactly how much you can afford each month for housing. You'll want to include things like the cost and utilities if you decide to rent or book, as well as cleaning and other fees if you choose to go with an Airbnb.
Easy-to-Earn Unlimited Rewards
Earn 25,000 online bonus points after you make at least $1,000 in purchases in the first 90 days of account opening - that can be a $250 statement credit toward travel purchases
Earn 1.5 points per $1 spent on all purchases
Longer intro APR on qualifying purchases and balance transfers
No foreign transaction fees
Earn unlimited 1.5 points per $1 spent on all purchases, with no annual fee and no foreign transaction fees and your points don't expire.
25,000 online bonus points after you make at least $1,000 in purchases in the first 90 days of account opening - that can be a $250 statement credit toward travel purchases.
Use your card to book your trip how and where you want - you're not limited to specific websites with blackout dates or restrictions.
Redeem points for a statement credit to pay for travel or dining purchases, such as flights, hotel stays, car and vacation rentals, baggage fees, and also at restaurants including takeout.
0% Introductory APR for 15 billing cycles for purchases, and for any balance transfers made in the first 60 days. After the intro APR offer ends, 18.24% - 28.24% Variable APR will apply. A 3% fee applies to all balance transfers.
If you're a Preferred Rewards member, you can earn 25%-75% more points on every purchase. That means instead of earning an unlimited 1.5 points for every $1, you could earn 1.87-2.62 points for every $1 you spend on purchases.
Contactless Cards - The security of a chip card, with the convenience of a tap.
This online only offer may not be available if you leave this page or if you visit a Bank of America financial center. You can take advantage of this offer when you apply now.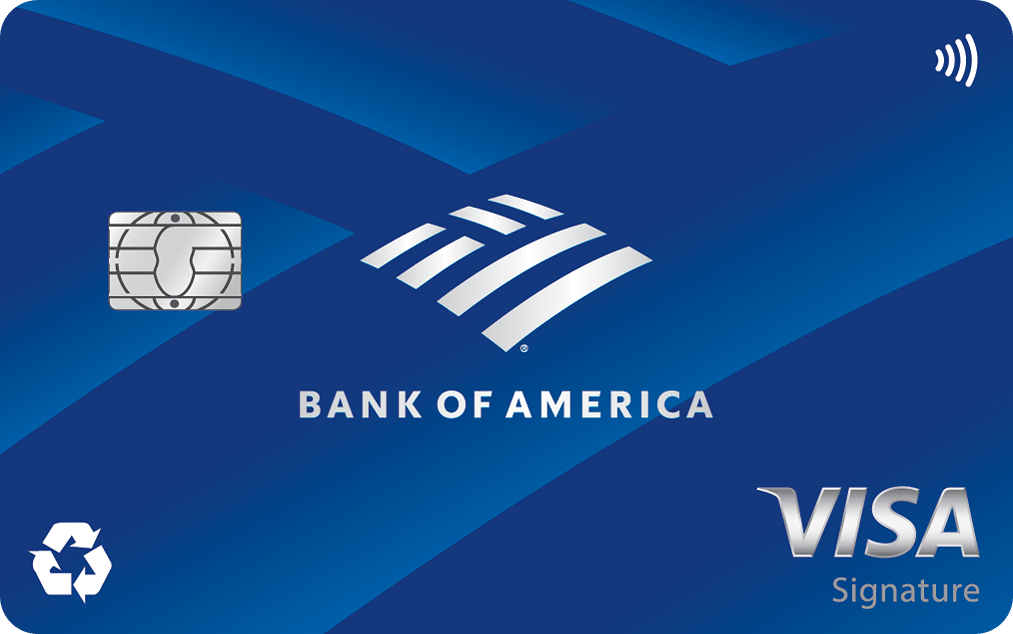 Apply Now
on Bank of America's secure website
Read Card Review
Intro Offer
Earn 25,000 online bonus points after you make at least $1,000 in purchases in the first 90 days of account opening - that can be a $250 statement credit toward travel purchases