If you've done your homework on the best credit cards out there, chances are you have a few ideas about the rewards involved. But have you ever considered getting even more out of your spending by teaming up with your significant other?
Maximizing rewards as a couple has its advantages — and we don't just mean more trips to Disneyland (although that's definitely one of them). You might also be able to snag some special deals for two (like companion fares) or benefit from twice as many sign-up bonuses.
But before you and your partner-in-credit get started, take a minute to make sure it really makes sense for both of you — financially and otherwise. Joint credit cards imply a new level of shared responsibility, and you should only sign up for one if you both feel ready.
Also consider the state of your shared finances: Is taking on another credit card reasonable right now? Are you both in good financial standing? Get these tough financial conversations out of the way before signing up for any shared accounts, and it will make the rewards you earn together that much sweeter.
OK, now are you ready to go over some strategies for maximizing your credit card rewards as a couple? Let's do it!
1. Earn 2X the sign-up bonuses
There are quite a few ways to maximize your returns as a couple with some of the best rewards credit cards, and the first way is probably the most obvious: If you hear about a really great sign-up bonus on a card you both qualify for, consider applying separately to earn double the bonuses.
If these cards have a high minimum-spending requirement involved in earning the reward points, start with just the one card and pool your funds to meet the requirement. Apply for the second card only once you know you have the funds to do so again.
This way, you'll not only earn twice the sign-on bonuses but also twice the rewards as you help each other meet new credit milestones.
2. Refer each other to earn rewards
A number of cards offer significant referral bonuses for anyone you refer who is approved. Assuming both you and your partner have rock-solid credit scores, referring one another should be a cinch.
Be sure to read the fine print and follow your card's guidelines on referrals. There might be a special link your S.O. has to use to sign up for the card or some other secure way to prove the referral. Figure this out in advance to ensure you qualify for the bonus later on. When taking advantage of the Amex Refer a Friend program, you can give your spouse your personal referral code to ensure you both receive the Membership Rewards referral bonus points. 
Once accepted, you'll both be earning twice the bonuses and twice the rewards.
3. Pool your points
Does your credit card allow you to transfer or pool your rewards with family members? You should check because it just might. This can be a great way to double or triple your points in a single transaction and use them toward a joint goal.
So, whether you're eyeballing a fancy cruise or looking to put a down payment on a house, pooling your points can make it possible to cash out on an even bigger sum and help you achieve your #couplegoals faster.
4. Take advantage of companion deals
Companion fares are a great deal if you or your partner travel often. These deals, like the Southwest Companion Pass offered by Southwest Airlines, allow your companion to fly free of airline charges (not including taxes and fees, which start at $5.60 with the Companion Pass) whenever you purchase or redeem points for a flight.  

The only caveat (if you call traveling a lot a caveat) is that you'll need a serious amount of airline points to qualify — specifically 135,000 of them (or 100 qualifying flights). Qualifying points can be earned by purchasing flights, hotels, or car rentals from Southwest or one of its partners, as well as by using a Southwest-branded credit card like the Southwest Rapid Rewards® Plus Credit Card.
So, if either you or your partner already jet-set on the regular, a travel rewards card with a companion deal might end up being a huge savings.
How couples can keep their rewards organized
Once you have all your credit card ducks in a row, it might be a challenge to keep them that way. There's a lot to keep track of for each card, including the balance, payment due dates, and other card-specific details. There are also the rewards themselves to track — and how close you are to meeting your goals with points and other milestones.
Here are a few tips to help you stay organized:
Designate one person as the recordkeeper for each card
You can do this by each taking charge of the credit cards in your name or by assigning cards with similar rewards or due dates to one person. However you choose to organize, having a designated person responsible for each card will help to avoid missed payments or other card details falling by the wayside.
Keep track of all the important information
For this, we recommend using a spreadsheet or a calendar (or both). Whatever your preferred method, you'll want to track the monthly payment due date for each card as well as the time of year you signed up. This is important for understanding your rewards, when they might renew (or expire), and when you owe any annual fees set by your card.
Track your spending on each card, too
This is especially important if you're working toward a certain goal with the reward points. That way, you'll both be able to see at a glance where each of your cards stand and be able to strategize which ones to use for upcoming expenses. It will also help you both to budget for payment due dates, annual fees, and any other expenses associated with your card.
Cards to consider for maximizing rewards with a partner
| | | | | |
| --- | --- | --- | --- | --- |
| Card | Sign-up bonus | Rewards rate | Referral bonus | Annual fee |
| Chase Sapphire Preferred® Card | Earn 60,000 bonus points after you spend $4,000 on purchases in the first 3 months from account opening | 5X points on travel purchased through Chase Ultimate Rewards®; 3X points on dining, select streaming services, and eligible online grocery purchases; 2X points on all other travel purchases, and 1X points per $1 on all other eligible purchases | 15,000 points per friend, for up to five friends per year | $95 |
| Southwest Rapid Rewards® Plus Credit Card | Earn 50,000 bonus points after spending $1,000 on purchases in the first 3 months from account opening | 2X points on Southwest purchases and participating Rapid Rewards hotel and car rental partners; on local transit and commuting, including rideshare; and on internet, cable, phone services, and select streaming; plus 1X points on all other purchases | 10,000 points per friend, for up to five friends per year | $69 |
| Chase Freedom Unlimited® | Unlimited matched cash back. Use your card for all your purchases and at the end of your first year, Chase will automatically match all the cash back you earned (there is no limit to how much you can earn; every dollar in cash back rewards you earn is a dollar Chase will match) | 5% cash back on travel purchased through Chase Ultimate Rewards®, 3% cash back on drugstore purchases and dining at restaurants, including takeout and eligible delivery services and unlimited 1.5% cash back on all other purchases | $100 cash back per friend, for up to five friends per year | $0 |
| Ink Business Preferred® Credit Card | Earn 100k bonus points after you spend $8,000 on purchases in the first 3 months from account opening | 3X points on the first $150,000 spent in combined purchases on travel, shipping purchases, Internet, cable and phone services, advertising purchases made with social media sites and search engines each account anniversary year; and 1X points per $1 on all other purchases | 20,000 points per referral, for up to five businesses per year | $95 |
However you choose to maximize your credit card rewards as a couple, just be sure to do so responsibly. If you find the bills piling up, hit the pause button on your spending and reevaluate your budget. Earning points toward a mutual goal can be a rewarding experience (pun intended) — so long as it doesn't end with one or both of you in serious debt.
Lucrative, Flat-Rate Cash Rewards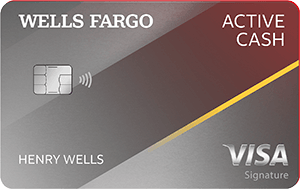 5.0
FinanceBuzz writers and editors score cards based on a number of objective features as well as our expert editorial assessment. Our partners do not influence how we rate products.
Current Offer
$200 cash rewards bonus after spending $500 in purchases in the first 3 months
Rewards Rate
Earn 2% cash rewards on purchases