As with any new hobby, there's a lot to learn about points and miles when you're just starting out.
A question that comes up frequently in our Facebook community FBZ Elite Travel & Points is:
What do all of these abbreviations and acronyms mean?
It's not unreasonable to wonder — in fact, sometimes it feels like reading a foreign language!
To help you on your way, we've compiled this list of commonly used acronyms and abbreviations in the credit cards, finance, and travel rewards spaces.

Jump To
A | B | C | D | E | F | G | H | I | J | K | L | M | N | O | P | Q | R | S | T | U | V | W | X | Y | Z
A+ or AP – Barclaycard Arrival Plus
AA – American Airlines
AAoA – Average Age of Accounts
AF – Annual fee
AGC – Amex gift card
Amex – abbreviation for American Express
APR – Annual Percentage Rate
APY – Annual Percentage Yield
AS – Alaska Airlines
AU – Authorized user
AW – AwardWallet
B6 – JetBlue Airways
BA – British Airways
BB – Best Buy
BB+ – Amex Blue Business Plus
BBB – Better Business Bureau

BCE – Amex Blue Cash Everyday
BCP – Amex Blue Cash Preferred
BGR – Amex Business Gold Rewards
BOA or BofA – Bank of America
BRG – Amex Business Rewards Gold or Best Rate Guarantee

BRM - Branch Relationship Manager (a position at Chase Bank).
CB – Cash back or credit bureau
CBM – Cashback Monitor
CC – Credit Card or Club Carlson
CF – Chase Freedom
CFU – Chase Freedom Unlimited
CIC – Chase Ink Cash Business Credit Card

CIP – Chase Ink Preferred Business Credit Card

CIU – Chase Ink Unlimited Business Credit Card

CK – Credit Karma
CL – Credit limit or credit line
CLI – Credit limit increase
CP – Companion Pass (refers to Southwest Companion Pass)
CPM – Cost per mile
CPC – Chase Private Client
CPP – Centers Per Point, the monetary value of reward redemptions
CR – Credit report
CS – Chase Sapphire or Credit Sesame
CSP – Chase Sapphire Preferred
CSR – Customer Service Representative or Chase Sapphire Reserve
CU – Credit Union
DC – Debit Card or Citi Double Cash
DD – Direct deposit
DL – Delta Air Lines or Driver's license
DOB – Date of birth
Double Dip – combining two benefits or promotions in a single transaction
DP – Data point
Earn/Burn – slang for earning and redeeming reward points
ECON – Economy class (also abbreviated as 'Y')
ED – Amex Everyday
EDP – Amex Everyday Preferred
EK – Emirates Airlines
EQ – Equifax
EY – Etihad Airlines
EX – Experian
F – First class
F9 – Frontier Airline
FA – Fraud alert or flight attendant
FACTA – Fair and Accurate Credit Transactions Act
FB – Facebook
FBZ – FinanceBuzz
FCRA – Fair Credit Reporting Act
FDIC – Federal Deposit Insurance Corporation
FHR - Fine Hotels and Resorts (Amex)
FR – Amex Financial Review
FT – FlyerTalk forums
FTF – Foreign transaction fee
FW – FatWallet
FWIW – For what it's worth
GC – Gift card
GE – Global Entry
HH – Hilton Honors
HP – Hard pull, an inquiry on your credit that affects your score (as opposed to SP)
HSA – Health savings account
HT or H/T – Hat Tip (thanking and/or reporting a source)
HUCA – Hang up, call again (when calling customer service)
IHG – Intercontinental Hotel Group
INK – Chase Ink business credit cards (also see CIC, CIU, CIP)
J – Business class

JB – JetBlue Airways (also 'B6')
JAL – Japan Airlines
KE – Korean Air
KL – KLM-Royal Dutch Airlines
LHRC - Luxury Hotel Resort Collection (Chase)
MC – Mastercard
Metal – Used to describe flying with an airline's own product. For example, flying "AA metal" means you've booked a ticket through American Airlines and are flying on an American Airlines plane instead of a partner airline.
MGC – Merchant gift card
MCGC – Mastercard gift card
MO – Money order
MR – Membership Rewards, Amex's loyalty program
MS – Manufactured spend
MSR – Minimum spend requirement
NFCC – National Foundation for Credit Counseling
NFCU – Navy Federal Credit Union
NK – Spirit Airlines
NSCRPA – Nationwide Specialty Consumer Report Agency
OD – Office Depot
OLCI - Online check-In
OM – OfficeMax
OOP – Out of pocket expense
OP – Original poster (first person to post on a topic)
Open Jaw – A roundtrip ticket with three or more points of departure/arrival
OTA – Online travel agency (like Expedia)
O/W – One-way airfare
PC – Product change or conversion
PO – Post Office
POS – Point of sale
PP – Priority Pass or PayPal
PRG – Amex Premier Rewards Gold
n/a
RC – Ritz-Carlton
Recon – the reconsideration line for credit card companies
Rep – Representative
RR – Rapid Rewards, Southwest's loyalty program
RT – Roundtrip airfare
SD – Slickdeals
SM – Secured message
SP – Soft pull, an inquiry on your credit that does not affect your score (as opposed to HP)
SPG – Starwood Preferred Guest
SSN – Social Security number
SUB – Sign-up bonus

SW – Southwest Airlines
T&Cs – Terms & Conditions
TCB – TopCashback Portal
TIA – Thanks in advance
TR – Travel Rewards or trip report
TSA – Transportation Security Administration
TU – TransUnion
TYP – ThankYou Points, Citi's loyalty program
UA – United Airlines
USB – U.S. Bank
ULCC – Ultra low-cost carrier
US – US Airways
USPS – United States Postal Service
UR – Ultimate Rewards, Chase's loyalty program
VGC – Visa gift card
VS – Virgin Atlantic
VX – Virgin America
WF – Wells Fargo
WOH - World of Hyatt
n/a
Y – Economy class (also abbreviated as ECON)
YMMV – Your mileage may vary (your outcome may differ from others)
YQ – Fuel surcharges
n/a
Easy-to-Earn Unlimited Rewards
Earn 25,000 online bonus points after you make at least $1,000 in purchases in the first 90 days of account opening - that can be a $250 statement credit toward travel purchases
Earn 1.5 points per $1 spent on all purchases
Longer intro APR on qualifying purchases and balance transfers
No foreign transaction fees
Earn unlimited 1.5 points per $1 spent on all purchases, with no annual fee and no foreign transaction fees and your points don't expire.
25,000 online bonus points after you make at least $1,000 in purchases in the first 90 days of account opening - that can be a $250 statement credit toward travel purchases.
Use your card to book your trip how and where you want - you're not limited to specific websites with blackout dates or restrictions.
Redeem points for a statement credit to pay for travel or dining purchases, such as flights, hotel stays, car and vacation rentals, baggage fees, and also at restaurants including takeout.
0% Introductory APR for 15 billing cycles for purchases, and for any balance transfers made in the first 60 days. After the intro APR offer ends, 18.24% - 28.24% Variable APR will apply. A 3% fee applies to all balance transfers.
If you're a Preferred Rewards member, you can earn 25%-75% more points on every purchase. That means instead of earning an unlimited 1.5 points for every $1, you could earn 1.87-2.62 points for every $1 you spend on purchases.
Contactless Cards - The security of a chip card, with the convenience of a tap.
This online only offer may not be available if you leave this page or if you visit a Bank of America financial center. You can take advantage of this offer when you apply now.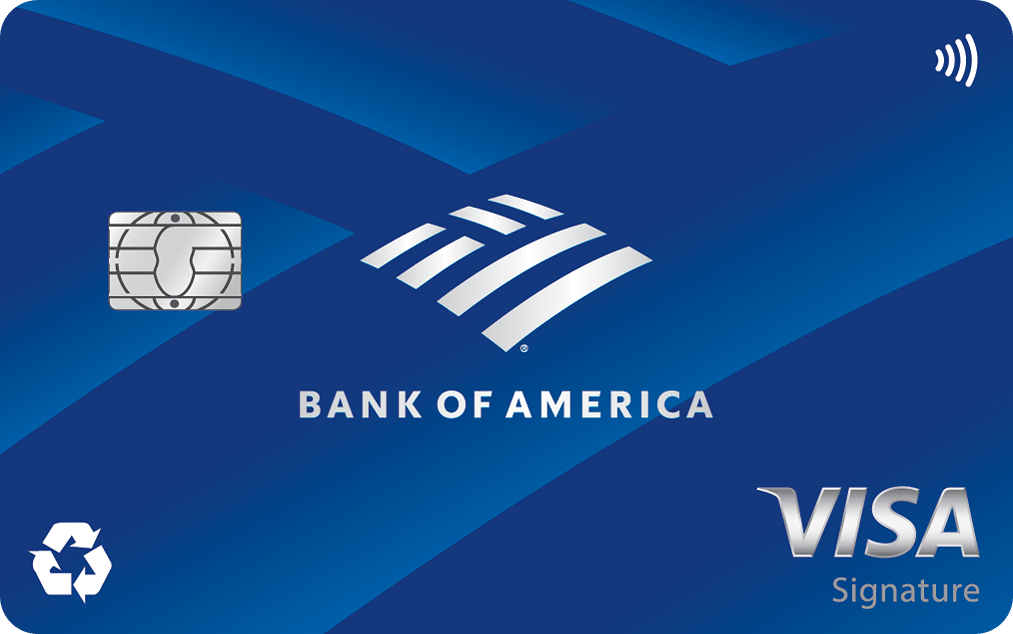 Apply Now
on Bank of America's secure website
Read Card Review
Intro Offer
Earn 25,000 online bonus points after you make at least $1,000 in purchases in the first 90 days of account opening - that can be a $250 statement credit toward travel purchases