A classic dominoes game is generally good for passing the time while having fun with family or friends. But with certain gaming apps, you can play this familiar game from anywhere, as long as you have a compatible mobile device. And if you're good enough, you could win real money with your skills.
With Dominoes Gold, you compete against other players for real prizes, which could include products, gift cards, or money. See how the game works and whether it might be a good fit for you to make some cash on the side.
Quick Summary
Download this wild dominoes game and earn cash when you win
Classic board game with a twist
Play competitive dominoes games for prizes and cash
Great way to de-stress and earn extra money
In this Dominoes Gold review
What is Dominoes Gold?
Dominoes Gold is a gaming app available on iOS devices through the App Store and Samsung Galaxy devices through the Galaxy Store. The game was created by Grey Square Games, a company based out of Philadelphia. Grey Square is also the creator of the Gin Rummy Gold app, a popular gin rummy game available on the App Store.
Dominoes Gold runs on the Skillz platform. Skillz is a mobile games platform that helps connect a worldwide group of players through gaming competitions. Through Skillz, Dominoes Gold is able to provide its players with cash tournaments and the opportunity to win real-world prizes. Overall, Skillz has hosted billions of tournaments and provided its players with millions in prizes. Other popular Skillz games include Blackout Bingo, Solitaire Cube, and Pool Payday.
On the App Store, Dominoes Gold has an overall rating of 4.7 out of 5 with more than 21,000 ratings and reviews. It's listed as one of the top 50 games available in the App Store in the casino category. Dominoes Gold also has over 1,600 user reviews and an overall rating of 4.5 out of 5 stars on the Galaxy Store.
How does Dominoes Gold work?
If you've ever played the classic board game, you'll likely be familiar with the Dominoes Gold features and its gameplay. In the available game modes, you typically face off against a real opponent or the computer. Your goal is to get the highest score possible during your match to beat the score of your opponent. In computer matches, you're actually competing against the score of another player who's also facing a computer — whoever gets the higher score against the computer wins.
Here are the basic rules for playing Dominoes Gold:

Match the ends of dominoes. Apart from the initial domino, you can only place a domino next to an end domino with a matching number. For example, you can place a six next to a six or a five next to a five.
Create a multiple of five. To score points, the ends of the board need to be a multiple of five. This could include five, 10, 15, 20, etc. You receive points equal to the multiple of five you've created. If the ends of the board add up to 15, you would receive 15 points.
Draw from the boneyard. If you still have tiles in your hand but nowhere to place them, you have to draw tiles from your boneyard pile until you have a tile to place.
Get a Domino! You get "Domino!" if you use all the tiles in your hand before your opponent. This allows you to take points from your opponent if they have eligible tiles still in their hand. You also get to start the next round.
Get bonus points: You typically have seven minutes for a Dominoes Gold match. The match will end if the time runs out or someone reaches the required score, which is typically 100, first. Keep in mind that you can receive a time bonus to your final score if you still have time left when the match finishes. You could also receive extra points based on the difference between your and your opponent's scores.
You have different game modes available with Dominoes Gold. All game modes have an entry fee, whether it's Z coins (the in-game currency) or your cash balance. Z coins are typically easy to earn and allow you to play practice games where you can earn more Z coins, tickets, and medals.
To participate in cash modes, you have to have an available cash balance. You can add to your cash balance by depositing your own money or by earning bonus cash. You can typically earn bonus cash by referring friends to play the game and by redeeming tickets in the Skillz Rewards store.
Here are some of the competitive dominoes tournament modes available in Dominoes Gold:
Practice: Use Z coins to compete against another player for prizes, including Z coins, tickets, and Leagues medals.
Head-to-head: Use your cash balance to compete against another player for prizes, including cash, tickets, and Leagues medals.
Brackets: Use your cash balance to compete against multiple other players for prizes, including cash, tickets, and Leagues medals.
Real-time matches: Choose your stakes (Z coins or cash) to compete against another player in a live match for prizes, including Z coins or cash.
Events: Use your cash balance to compete against other players for a piece of a prize pool, which often includes cash and tickets. Events are typically timed and often have no player limit.
After you've completed a sufficient number of games, usually around three, you're automatically included in the Leagues rankings. This places you into Pro or Practice categories (or both) depending on the types of game modes you play. Each set of Leagues rankings offers a prize pool for the highest-ranked participants — Z coins for Practice players and cash for Pro players.
To improve your Leagues ranking(s), you need to earn medals by winning applicable game modes. The more medals you earn, the more you can improve your ranking and the better your chances of winning prizes. Leagues rankings are reset regularly and everyone gets a new opportunity to compete against each other. Prize pools could vary, but it's not unheard of for the first-placed Pro player to win more than $2,000 and the first-placed Practice player to earn over 1,000 Z coins.
Who can use Dominoes Gold?
Since users can deposit and win actual money, Dominoes Gold is rated for individuals 17 and older on the App Store. Skillz rates games on its platform for individuals 18 and older.
Dominoes Gold on the App Store is available in the following languages: English, French, German, Italian, Japanese, Portuguese, Russian, Simplified Chinese, and Spanish.
Depending on where you live, you might not have access to Skillz cash tournaments such as the ones that can be found in the Dominoes Gold app. These cash tournaments are currently unavailable in these locations because of local regulations:
Arizona
Arkansas
Connecticut
Delaware
Louisiana
Montana
South Carolina
South Dakota
Tennessee
Dominoes Gold would likely be a fun game to play for many mobile gamers, but keep in mind that winning (and losing) real money could be addictive. If you have had issues with addiction, this type of game might not be a good fit for you.
How much can you earn with Dominoes Gold?
Playing competitive dominos games isn't likely going to replace your primary income, but it could offer opportunities to earn money on the side. Events often have prize pools of $1,000 or more and the Leagues competition has had prize pools of tens of thousands of dollars. Even playing some of the regular cash modes, you could win upwards of $200 from a single game. But as a skill-based game, there's no guarantee you'll win anything.
To start earning money, you typically have to deposit some of your own money to participate in the cash modes. If you'd rather not deposit any money into the game, your only option is to play using Z coins. Game modes that take Z coins don't offer any cash prizes, but you can earn tickets that can be redeemed for bonus cash and other prizes. But earning enough tickets for some bonus cash could take a while.
It takes 20,000 tickets for $1 of bonus cash. The time limit on a practice game is seven minutes and you'll earn one ticket whether you win or lose. If your average game length is only five minutes, that's still 20,000 games you'd have to play, which equates to 100,000 minutes (over 1,600 hours). You might be able to play quicker games, but the process could still seem too long — especially when you compare it with depositing some cash and immediately gaining access to the cash modes.
You typically need at least 60 cents in your cash balance to participate in the least expensive cash mode, and you'd be competing for a prize of $1. But you can choose more expensive game modes such as paying $120 and competing for $200.
You can't withdraw any bonus cash you earn, but you can withdraw any money you've deposited or won from playing cash modes. For most Skillz games, cashing out is typically as simple as selecting "Withdraw" from the main menu. Any money you've deposited will be returned to you by the original deposit method, including a credit card or PayPal. Any additional earnings will be sent by a mailed check if you're in the U.S. or by PayPal if you live elsewhere.
If you're unsure whether Dominoes Gold is the right fit for you, consider other available options. Check out our list of the best side hustles for more information.
Common questions about Dominoes Gold
Is Dominoes Gold legit?
Dominoes Gold is a legit money making game app that's in the top 50 casino apps in the App Store. It has over 21,000 ratings and an overall rating of 4.7 out of 5. Dominoes Gold is free to download and play, but you also have opportunities to win real cash by participating in the game's cash modes. You typically need to deposit some of your own money to participate in these modes. If you don't want to deposit any of your own money, you can play the practice modes for free using the in-game currency.
What is the minimum cash out on Dominoes Gold?
Dominoes Gold is run on the Skillz platform, which handles deposits and withdrawals. Skillz doesn't have a minimum cashout limit, but you'll be charged $1.50 if your withdrawal is under $10.
Is Dominoes Gold on Android?
Dominoes Gold isn't currently available on Google Play, but eligible Android users can find it in the Galaxy Store. iPhone and iPad users can find it in the Apple App store.
How to get started with Dominoes Gold
Follow these steps and screenshots to get started with Dominoes Gold for the first time:
1. Download Dominoes Gold
2. Open the app and select "Play!"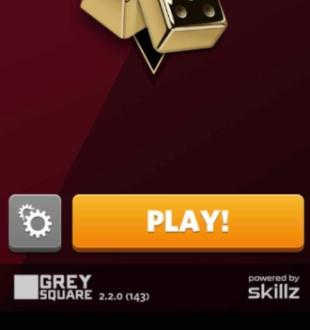 3. Learn how to play in the tutorial or select "Skip"
4. Select an avatar and enter a username
5. Play a few practice games against a bot
6. Play a live match
7. Once you can access the menu, select "Account"
8. Choose "Save Account" to create a new account
9. Enter the required information to register your account
10. Select a game mode to start playing
Other side hustles to consider
If Dominoes Gold doesn't seem like the right app for learning how to make money in your free time, consider games such as Blackout Bingo and Solitaire Cash.
Blackout Bingo is a fast-paced bingo game you can play on your compatible phone or tablet. Similar to classic bingo, you need to quickly find corresponding numbers on your board to increase your score. But it's not all about luck — the quicker and more accurate you are, the more you can score and the better your chances of winning real prizes, including cash. Check out our Blackout Bingo review for more details.
If you prefer classic card games, Solitaire Cash could be a good fit for you. This Solitaire game pits you against other players with the same skill level and the same deck, so you know it's a fair test of your skills. You could also earn cash prizes for winning your games. Read our Solitaire Cash review for more information.