I've been a full-time RVer for over three years now, and it's definitely the life for me. The idea of going back to living in a stationary house makes me restless. And I know a lot of people are exploring RV travel for the first time this summer, imagining a vacation filled with drive-through destinations or a family National Park road trip.
But if you go into RV life thinking it's going to be Instagram perfection, you're likely to wind up frustrated and disappointed. I am a firm believer that if you know the downsides, you'll have a better chance of enjoying RV life and coming back to it again. The truth is, you're going to hate some parts even if you love RV life overall. There are definitely things I still hate.
So let me share some things I've learned over the past few years — here are 14 reasons you might hate RV life:
1. Lack of privacy
We spent a month on Lake Fork in East Texas a couple years ago. Overall, it was a magical experience, with one exception — our next-door neighbor in the RV park. Every time we stepped outside, he'd invite himself over and tell us about his camping adventures in Terlingua. He would say the word "Terlingua" over and over again, sometimes stopping mid-sentence to repeat it.
Terlingua. Terlingua. Try it. It gets strange.
And that's a mild case. If you're RVing to get away from it all, be aware that you're only going to be a few feet from other people in an RV park. Although those people can sometimes be wonderful, they may also be annoying or poorly mannered. (Although, truth be told, "Terlingua" has become a favorite joke in our household that I wouldn't trade away. But I don't feel the same about the intrusive guy with the leaky sewer hose.)
2. RV park closures and capacity
If you're considering RV travel this summer, be aware the last few years of shutdowns heavily impacted RV parks as well. Similar to hotels and restaurants, RV parks may continue to open and close.
Truthfully, this isn't all that different from regular RV life. You can't always predict how far you'll drive or if a government-run park takes reservations. You never know when you might arrive at a campground and have it be full. And, trust me, sleeping in the Walmart parking lot is entertaining only the first few times. If you hate unpredictability, RV life might be rough on you.
3. Strange diseases, creatures, and plants
Chances are if you're traveling in an RV, you're trying to be closer to nature. But it may also be a kind of nature you're not familiar with. Visiting new areas can introduce you to natural things that can run the gamut from endemic diseases to irritating plants to poisonous snakes. During our time on the road, my husband and I have caught West Nile virus and Valley fever between the two of us, and we recently learned about juniper rash (the hard way).
Learning about new places is one of the best parts of RV travel. You get to see the ground truth about an area. But make sure to educate yourself on the area and the necessary precautions to take if you want to stay safe and not hate it.
4. Moving items around 300 times per day
RVs are small. Even the biggest RVs are small compared to most people's apartments or houses. And strangely, RVs are often not designed with much in the way of storage. Typically the cooler-looking your RV, the less functional the space is.
That means anything you need will always be under or behind every single other item you own. That sweater you need for that cool beach breeze? It's in the back of the "closet." And that pot you wanted for the baked beans? You'll find it behind every food item stuffed in that "pantry."
Remember, RV travel is a way to enjoy a minimal life. If you're going on a summer trip, pack light (and maybe don't insist on wearing clean pants every day), and you'll enjoy it more. If you're going full time, you'll need to go full KonMari if you don't want the chaos to overwhelm your joy.
5. Shower issues
I won't even qualify this one. It's not that you have to take short showers or that RV showers are small. It's that showers, in general, are a problem.
Depending on your RV, you've probably stored some stuff in the shower or are using it to keep the cat's litter box from sliding into the living room while you drive. So every time you want to get clean, you have to relocate the cat poop first. It's a super fun sequence to live out.
And, yes, RV showers are small, and you do have to take short ones.
But maybe you're not that dirty? Perhaps RV life is a chance to liberate yourself from daily showers. Or maybe the campfire smell is comforting in your hair when you fall asleep at night. Maybe RV life is a chance to appreciate your home shower more when you return to it.
6. RV park internet connectivity
Never believe an RV park when they say they have WiFi. It's not true. You won't be able to connect to the WiFi most times, and if you do, it will be so slow you can't even check your email. They may even tell you when you check into the park that you're not allowed to use it for streaming.
If you want to keep your kids busy with videos or check your social accounts, you'll need other ways to connect. If you plan to go on extended RV travel and you're going to work from the road, prepare to dump a lot of money into your internet setup.
Our phones and internet equipment are two of our largest expenses, and getting the right equipment put together can feel technically overwhelming. I'm lucky my husband is a gearhead. If you're not, be prepared to throw a chunk of money at this issue.
7. Mail delivery
If you're thinking of full-time RV living, even for just a year, be aware that mail delivery is a major obstacle in RV life. We are residents of South Dakota, but our mail forwarding service is in Texas. Having two different addresses almost made it impossible for us to qualify for a car loan due to post-9/11 regulations.
And pieces of our mail, including packages, disappear pretty regularly. My husband ordered a set of reading glasses that we're pretty sure are still somewhere in the depths of the Kingman, Arizona, post office. You'll learn quickly that ordering things online and not knowing if they're being sent USPS, UPS, or FedEx means you shouldn't even bother. That's because you can't get UPS and FedEx sent general delivery, and some RV parks won't accept USPS. If you love to shop online and get things delivered daily, you're going to hate this part of RV life.
8. Black water
RV life is a little bit like having kids or animals. If you're going to be an RVer, you're going to have to accept that dealing with poop is part of your life. You're basically driving a fully functioning bathroom with tanks you have to empty and hoses you have to touch. It's something many people hate (or fear) at first. Even as comfortable as you get with it, you're never going to love this part.
9. Vehicle repair learning curve
Even if you're going on a short RV trip, you need to understand that your house is actually a vehicle. Vehicles have engines. Vehicles have lots of things that can break. And unlike your regular home, your motorized home might be in the middle of nowhere when it breaks down.
Even if your RV operates pristinely for a long time — which it won't, even if you buy it new — you'll still need to understand how to make it go when it breaks. That involves making the power systems work (like, what's the difference between a converter and an inverter anyway?), checking the tire pressure, knowing how to attach the RV to your vehicle if you're towing a trailer, etc. If you hate mechanical stuff, RV life could literally be a long haul.
10. Your house moves
If your house moves, then everything inside your house moves — sometimes in different directions than the house itself is moving. A lot of things break this way. At this point, I've broken nearly every single sentimental item I used to own.
My trip-preparation motto is "momentum is the enemy." Pack your cupboards in a way that nothing can slide around and pick up speed. And drive carefully — always allow plenty of room to maneuver and plenty of time to brake.
Do not ever believe the Instagram photos of all the open cupboards and glass items left out on counters. Either those people don't actually move their RVs, or they've broken all those things and aren't telling you about it.
11. Lots of extra coffee mugs
On the upside, no matter how many coffee mugs you break, you'll always have plenty to spare. I can't explain why this one happens, but it does. The moment you start RVing, everyone in your life will start buying you cute coffee mugs with kitschy sayings about camping and maybe some line art depicting bonfires and marshmallows.
12. RV misconceptions — Airstream or Class C?
While we're on the topic of what other people think RVing is like, prepare for the fact that nobody else will have any idea what your RV looks like. The world thinks there are exactly two types of RVs: Airstreams and Class C motorhomes. (If you're not sure what a Class C is, just picture an RV in your head — there's a 90% chance you're imagining a Class C.)
Your friends will also start tagging you on videos of million-dollar RVs and telling you how cool your life must be. But you know what? If you're traveling in an RV, then your life is cool, so your friends have the most important part right.
13. Close contact with terrible drivers
We've learned that Sunday mornings are prime times for getting through urban areas. We've also learned you should never drive an RV through El Paso, Texas, ever. Also, driving through Salt Lake City is kind of like being inside a pinball machine. Maybe you're into that. I'm not.
According to a recent FinanceBuzz survey on summer road trips, 38% of those likely to hit the roads in an RV this summer have never driven one before. Whether you're going to RV for a weekend or a year, you have to learn how to be a safe driver for your sake and for everybody else on the road. People will cut you off. People will make rude gestures and yell crazy things at you because you're driving the speed limit (yes, I'm talking to you, white-BMW-just-outside-Phoenix-guy).
As an RV driver, you'll feel pressured to make risky choices, or you'll get stressed and forget your house doesn't turn well or stop quickly. Don't succumb to the pressure or the road rage — the consequences are too great. Smile and wave at the angry people, go your own speed, and you'll enjoy RV life more. Remember that you're literally doing this to live life at your own pace.
14. Can be really expensive
Many people look to RV life as a way to retire affordably or escape from drowning in debt. But if you try to RV like the people on TV and Instagram, you're going to spend a lot of money. Staying at a new park every night and driving hours a day will cost you a lot in reservations and fuel. If you think RV life will be automatically less expensive, you're going to hate how often you have to pull out your wallet.
I save money at RV parks in two ways:
With a couple of credit cards in your pocket, you can save a lot of money, and you'll have a better chance of loving RV life.
If you do choose to chase the RV lifestyle you see on social media, do a little research on how to make money on Instagram to offset some of those costs.
The bottom line
If you're considering RV travel for the first time this summer, I'm genuinely excited for you. And yes, despite these 14 things, I believe you can have a fantastic experience. But it's essential to go into it with a clear mind:
And lastly, but most importantly, remember to have fun. RV life is unpredictable, and it comes with different challenges than other modes of travel. But that's also what has the potential to make your trip a memorable adventure.
Easy-to-Earn Unlimited Rewards
Earn 25,000 online bonus points after you make at least $1,000 in purchases in the first 90 days of account opening - that can be a $250 statement credit toward travel purchases
Earn 1.5 points per $1 spent on all purchases
Longer intro APR on qualifying purchases and balance transfers
No foreign transaction fees
Earn unlimited 1.5 points per $1 spent on all purchases, with no annual fee and no foreign transaction fees and your points don't expire.
25,000 online bonus points after you make at least $1,000 in purchases in the first 90 days of account opening - that can be a $250 statement credit toward travel purchases.
Use your card to book your trip how and where you want - you're not limited to specific websites with blackout dates or restrictions.
Redeem points for a statement credit to pay for travel or dining purchases, such as flights, hotel stays, car and vacation rentals, baggage fees, and also at restaurants including takeout.
0% Introductory APR for 15 billing cycles for purchases, and for any balance transfers made in the first 60 days. After the intro APR offer ends, 18.24% - 28.24% Variable APR will apply. A 3% fee applies to all balance transfers.
If you're a Preferred Rewards member, you can earn 25%-75% more points on every purchase. That means instead of earning an unlimited 1.5 points for every $1, you could earn 1.87-2.62 points for every $1 you spend on purchases.
Contactless Cards - The security of a chip card, with the convenience of a tap.
This online only offer may not be available if you leave this page or if you visit a Bank of America financial center. You can take advantage of this offer when you apply now.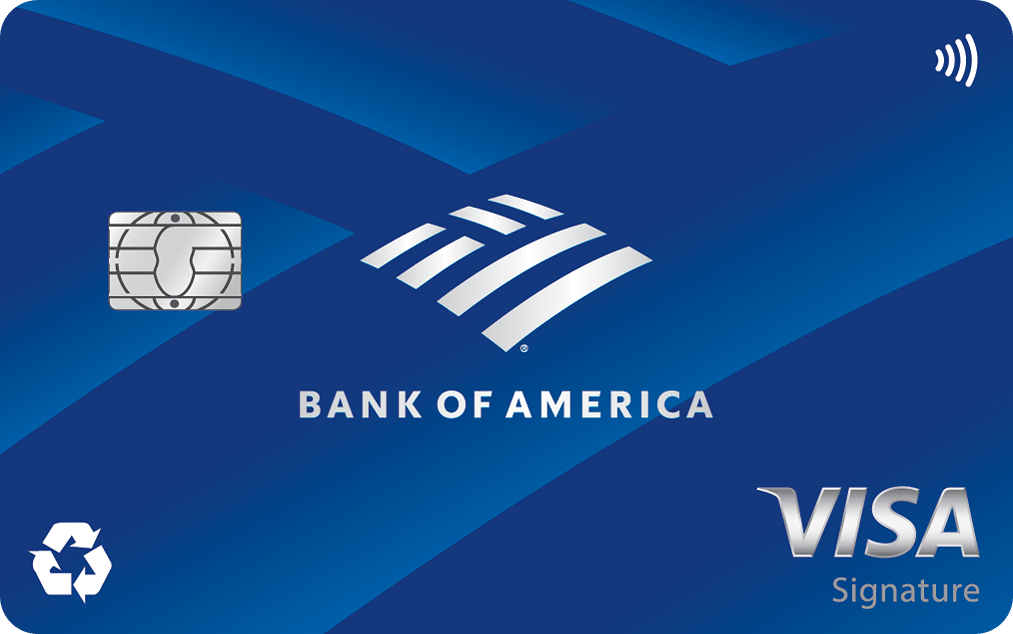 Apply Now
on Bank of America's secure website
Read Card Review
Intro Offer
Earn 25,000 online bonus points after you make at least $1,000 in purchases in the first 90 days of account opening - that can be a $250 statement credit toward travel purchases