When you think of the best BBQ, what comes to mind? Perhaps it's a local joint with a family secret recipe spice rub or where they slow-cook it for hours overnight and run out halfway through the dinner rush the next day.
Succulent BBQ requires a good sauce, the best atmosphere, and the perfect selection of sides. While every region has its own unique taste, only a few can rise to the top of the pack.
If you're looking to step up your travel game and visit the best BBQ joints in the U.S., these are some of the most popular from coast to coast.
Earn a $250 travel bonus with this incredible card
There's a credit card that's making waves with its amazing bonus and benefits. The Bank of America® Travel Rewards credit card has no annual fee and you can earn 25,000 bonus points after spending $1,000 in purchases in the first 90 days of account opening.
You can earn additional points just by using this card for your everyday purchases — unlimited 1.5 points per $1 spent on all purchases. The 25,000 bonus points can be redeemed for a $250 statement credit toward travel or dining purchases.
If you want to travel and dine out more, the Travel Rewards card can help you get where you want to go.
The best part? There's no annual fee.
SPONSORED
Alabama: Big Bob Gibson Bar-B-Q (Decatur)
The pitmasters at Big Bob Gibson have more than 90 years of experience, offering an original BBQ white sauce known worldwide. It's so good they ship their BBQ around the country.
From pork to tender brisket, this BBQ joint in Decatur is a must for those looking for award-winning meats and options like smoked chicken wings and Brunswick stew.
Alaska: Moose's Tooth Pub and Pizzeria (Anchorage)
For the best BBQ in Anchorage, in pizza form, head to Moose's Tooth Pub and Pizzeria, a location built on the owners' love for music, beer, and BBQ.
Here, you can grab some good food — like their mouthwatering Buffalo Chicken BBQ pizza — and listen to local bands on a Friday night.
You may also be tempted by their full menu, with options like smoked salmon sockeye spread or the Amazing Apricot pizza.
Arizona: Little Miss BBQ-University (Phoenix)
The beef rib, one of the biggest and juiciest options on the menu, is just the start of what's available at Little Miss BBQ-University. The brisket is sliced thin and simply falls apart in your mouth.
With a retro vibe, it's not very big and definitely not a fancy location, but the food stands out, making it a superb location.
The Central Texas-style BBQ on the menu allows you to choose food by the plate, tray, or pound, but you absolutely have to save room for Bekke's Smoked Pecan Pie, a personal-sized pecan pie with a smooth, smokey taste.
If you're over 50, take advantage of massive travel discounts and trip-planning resources
Over 50 and love traveling? Join AARP today — because if you're not a member, you could be missing out on huge travel perks. When you start your membership today, you can get discounts on hotels and resorts, airfare, cruises, car rentals, and more.
How to become a member today:
Go here, select your free gift, and click "Join Today"
Create your account (important!) by answering a few simple questions
Start enjoying your discounts and perks!
An AARP membership not only unlocks discounts that could save you hundreds on your next trip, but you'll also have access to deals on vacation packages, guided tours, and exclusive content to help plan your next getaway.
Important: Start your membership by creating an account here and filling in all of the information (do not skip this step!). Doing so will allow you to take up to 25% off your AARP membership, making it just $12 per year with auto-renewal.
Arkansas: Jones Bar-B-Q Diner (Marianna)
Jones Bar-B-Q Diner is a small location, one of the region's more historic restaurants, but the big, bold flavors make it a favorite of many.
It doesn't look like a whole lot, and it is certainly a no-frills type of BBQ joint, but that's what makes it special and the fact that it's won a James Beard Award.
As the oldest black-owned BBQ restaurant in the country, having been established in 1910, it's certainly worth stopping in for the range of pork options on the menu.
California: Bludso's Bar & Que (Los Angeles)
Buldso's Bar & Que in Los Angeles is the creation of Kevin Bludso, a TV personality and James Bard Award Winner.
Make sure you try the LA Rib Tips for an app. Then, dive into the 14-hour slow-roasted meats, including brisket, pork rib tips, Texas red Hot, or even jackfruit.
Colorado: Smokin Yard's BBQ (Denver)
Enjoy a few hours at Smokin Yard's BBQ, and you're sure to go home stuffed. Called "high elevation BBQ," the menu here is exceptional, with a fantastic blend of spices.
As for what to enjoy, you could choose the smoked hot wings or the smoked chicken. For those looking for their tried-and-true best dish on the menu, go with the pulled pork.
Connecticut: Hoodoo Brown BBQ (Ridgefield)
When in Connecticut but looking for an authentic Texas BBQ, there's no better place to go than Hoodoo Brown BBQ, especially if you want a few craft beers and cocktails to go with it.
With an Old West theme throughout, the only thing better than the smoked turkey and sausage here is the Texas poutine, with layers of fries, gravy, brisket, and cheese curds.
Delaware: Bethany Blues BBQ (Lewes)
Bethany Blues BBQ is the best Lewes BBQ place for a family-friendly, comfort meal. Defined by the southern roots of the chefs here, the menu is robust and packed with flavor.
Check out t their casual platters menu with pasta, sandwiches, and salads, along with options like Sage Rubbed Delmarva chicken BBQ and Fiery Pigs on the Wing ribs.
Florida: 4 Rivers Smokehouse (Orlando)
For many, 4 Rivers Smokehouse in Orlando is a tradition when visiting on vacation. It's easy to see why this family-owned BBQ and its slow-smoked meats are good enough to come back to.
The huge menu has plenty of options, but the Happy Herd could be the best since it lets you sample four meats, two sides, and get four pieces of bread for a family of four.
The menu includes smoked turkey, pulled chicken, Texas sausage, and even vegan burnt ends.
Earn a $250 travel bonus with this incredible card
There's a credit card that's making waves with its amazing bonus and benefits. The Bank of America® Travel Rewards credit card has no annual fee and you can earn 25,000 bonus points after spending $1,000 in purchases in the first 90 days of account opening.
You can earn additional points just by using this card for your everyday purchases — unlimited 1.5 points per $1 spent on all purchases. The 25,000 bonus points can be redeemed for a $250 statement credit toward travel or dining purchases.
If you want to travel and dine out more, the Travel Rewards card can help you get where you want to go.
The best part? There's no annual fee.
Georgia: Fox Bros. Bar-B-Q (Atlanta)
The best BBQ in Atlanta has to be at Fox Bros. Bar-B-Q.
The location offers Texas-style style smoked goodness, including pulled pork, beef brisket, and Big Texas — a slice of fatty Prime Certified Angus Beef brisket that comes with a layer of mustard, pickets, and onions on Texas Toast.
Don't overlook the other goodies like a smokey chicken salad and jalapeno cheddar sausage sold by the link.
Hawaii: L&L Hawaiian Barbecue (Honolulu)
L&L; Hawaiian Barbecue is very different than what you'll find anywhere else, but it has everything you could want, including a BBQ Beef Bowl and Barbecue Chicken with a Hawaiian-inspired sauce.
However, L&L; offers much more than that, including kalua pork and chicken katsu. That's good when not everyone in your party is into BBQ.
Idaho: Goodwood Barbecue Company (Boise)
A BBQ joint that specializes in pit-smoked pork and beef, Goodwood Barbecue Company is an easy choice when you're in Boise.
You'll find the menu is packed with scratch-made goodness. Choose the Smoked Prime Rib for a special treat.
Illinois: Smoque BBQ (Chicago)
At Smoque BBQ, you'll find five guys who love BBQ cooking up a storm, including pulled pork, ribs, and brisket, all served in a community table-like setting.
They have all of the favorites, just better, and incredible treats like salmon as well.
Indiana: Hawg Heaven (Kokomo)
A small, hole-in-the-wall type of location, Hawg Heaven is a true treasure with its baby back ribs and pulled pork.
You won't find a lot of frills here, but with the rich, homemade sauce and slow-cooked meats, you will not miss them either.
Iowa: Jethro's BBQ (Des Moines)
Jethro's BBQ in Des Moines is one of seven locations frequented by BBQ lovers for its intensely flavored menu of good food cooked from scratch.
The menu is huge, but some favorites include slow-smoked wings and the slow-smoked baby back pork ribs. Other options, like the Red Beans and Nice Rice and Smokehouse Jambalaya, are the filling meals you need after a long day.
Kansas: Joe's Kansas City Bar-B-Que (Kansas City)
Once just a gas station, today, Joe's Kansas City Bar-B-Que is a local favorite with award-winning BBQ. The menu is impressively long, making the choices hard.
Popular options include The Hogomaniac (two ribs, pulled pork, and sausage served with a side and Texas toast) and the Open-Face Lean 'n' Mean (a smoked turkey sandwich with spiced coleslaw).
Or, save money buying meat by the pound using a top cash back credit card; they'll even tell you how to reheat it to perfection.
Kentucky: Feast BBQ (Louisville)
Founded by a team passionate about the craft of BBQ, Feast BBQ in Louisville has a packed menu of slow-cooked foods.
Start with the Pork Cakes or the Crispy Mac & Cheeseballs. Then get serious with tacos, sandwiches, or a plate of brisket, pulled pork, chopped chicken, crispy smoked tofu, or smoked sausage.
Louisiana: The Joint (New Orleans)
Located in the Bywater neighborhood of New Orleans, The Joint is a popular meeting place. From fantastic cocktails and a brew lineup that's impressive in its own right, the meals here are slow-cooked.
Try the pork sausage or beef brisket on a sandwich. You could choose a healthier option like a salad with pork, chicken, or brisket on top.
Maine: Salvage BBQ (Portland)
With a rustic feel, Salvage BBQ is a fantastic Portland BBQ joint and a simple destination focused on its meats.
Choose from pork, brisket, sausage, or chicken in sandwiches or stacked high on a tray. Finish your meal with sides like collard greens, mac n cheese, and baked beans. It's classic goodness.
Maryland: Chaps Pit Beef (Baltimore)
For the best BBQ in Baltimore, check out Chaps Pit Beef. Mostly known for its BBQ beef, turkey, and pork, the chicken is pretty good, too.
Platter or sandwich, you can't go wrong with options like the Beef Platter served with open-faced beef with fries and gravy or beef sandwich.
Massachusetts: The Smoke Shop BBQ (Boston)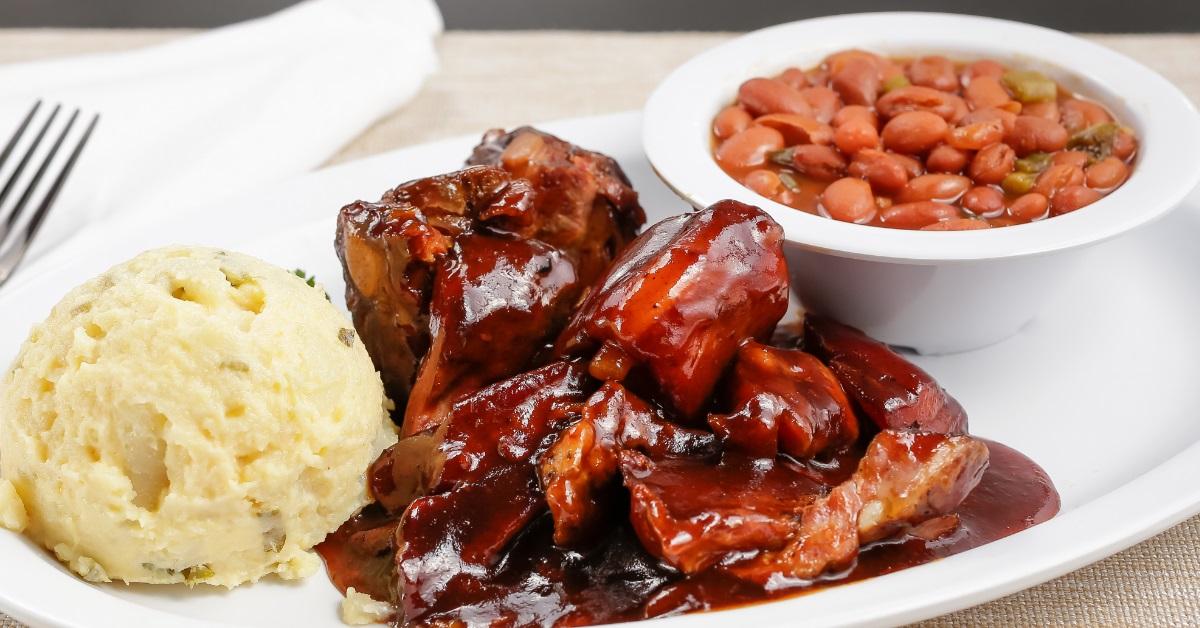 The Smoke Shop BBQ is the creation of Andy Husbands, who has over 20 years on the competitive BBQ circuit to show off.
If you can't choose from the massive menu, aim for the Texas-style brisket, burnt ends, or the first-place ribs they've won with in numerous competitions.
Michigan: Slows Bar BQ (Detroit)
Slows Bar BQ is a fun location initially noted for its craft beer and rustic style. The slow-cooked meats, though, make it a must-stop.
Start with some Slows Pork Rinds and then enjoy The Reason, the sandwich of smoked pork butt with a North Carolina sauce and topped with dill pickles and coleslaw. It's the sandwich they say started the entire menu.
Minnesota: Revival Smoked Meats (Minneapolis)
If you want more than just BBQ, consider Revival Smoked Meats in Minneapolis. It's known for its southern comfort foods, including fried chicken.
For BBQ lovers, though, pair the drop biscuits with the pork shoulder, brisket, or ribs.
Mississippi: The Shed BBQ & Blues Joint (Ocean Springs)
The Shed BBQ & Blues is just that, a local favorite that combines the best of BBQ with the Blues.
A fun night is sure to be a top priority here, at least after enjoying the pecan wood-smoked BBQ, which could include the 16-hour cooked brisket, the locally made sausage, or meaty ribs.
Missouri: Pappy's Smokehouse (St. Louis)
For Memphis-style BBQ in St. Louis, visit Pappy's Smokehouse, a counter-order, tried-and-true location known for its wood-smoked goodness.
Everything is made low-and-slow, fresh, with sauce on the side because they have nothing to hide. They are easily known for having the best ribs in Missouri.
Montana: Notorious P.I.G. BBQ (Missoula)
The Notorious P.I.G. BBQ uses proprietary methods to smoke their meat, which they begin cooking every day at 4 in the morning.
The menu of scratch-made items is made every day, and once they run out of that smoked turkey, pulled pork, or ribs, they have no more. Get there early.
Nebraska: Phat Jack's BBQ (Lincoln)
Phat Jack's BBQ is a counter-service BBQ joint serving Kansas City-style BBQ. You just can't go wrong with the big portions of pork ribs.
The sandwiches are where the flavor is at, though, including the Briskey & Red Hot Sandwich or the Cornhusker Sandwich, which is topped with slaw.
Nevada: Rollin Smoke Barbeque (Las Vegas)
In Vegas, the best BBQ is at Rolling Smoke Barbecue, noted not just for its World Famous Beef Ribs and Smoked Chicken.
You can also buy sides by the gallon if you need them, including Kick'N BBQ Beans and Bacon Potato Salad. For a recommendation, choose the all-you-can-eat menu, which gives you anything you want from the menu.
New Hampshire: Goody Coles Smokehouse (Brentwood)
A tried-and-true establishment serving authentic BBQ for more than a decade, Goody Coles Smokehouse is consistently noted for its high-quality, traditional menu.
The pork ribs are made with a dry seasoned rub that's a secret recipe and then slow smoked with hickory to create a deep, rich flavor.
New Jersey: Local Smoke BBQ (Neptune City)
The cornbread and mac 'n' cheese are made fresh daily at Local Smoke BBQ, but the start of the show is the pulled pork. Choose from the standard or the buffalo version.
Up your game with a multiple-meat platter so you can try out the BBQ chicken, ribs, or beef brisket.
New Mexico: Whole Hog Café (Albuquerque)
With 25 years of experience, 46 awards, and seven exceptional sauces, the BBQ at Whole Hog Café is easily the best in the state.
They offer Memphis-style BBQ, including the Whole Hob Platter, which offers a combination of pulled pork, beef brisket, baby back ribs, beans, coleslaw, potato salad, and a roll to finish it off.
New York: Dinosaur Bar-B-Que (Syracuse)
While it's in New York, the menu at Dinosaur Bar-B-Que is all Southern-style foods and craft brews to match.
The live music, rustic feel in a building that dates back to the 1920s, and the menu that includes everything from fried green tomatoes to Creole deviled eggs is worth the trip to Syracuse.
The BBQ makes it even better, including the prime brisket with jalapenos, ribs, and whole chicken.
North Carolina: Skylight Inn BBQ (Ayden)
Skylight Inn BBQ is a no-frills joint with a downhome location. Established in 1947, it's North Carolina's best BBQ joint for several reasons.
The family-centric atmosphere is exceptional, but the food is even better. Choose from pig or yard bird (or a combination of both), a slice of cornbread, and some baked beans to go with it.
North Dakota: Spitfire Bar & Grill (West Fargo)
Spitfire Bar & Grill is the place to go for a sangria or martini, along with wood-grilled meats. Everything is smoked fresh daily.
This award-winning destination has a range of options, including spit-roasted chicken and pit-smoked ribs, but they also offer wood-fired fish that's the best in the area.
Ohio: Eli's BBQ (Cincinnati)
Eli's BBQ in Cincinnati is the place to go every week for a meal because it's just that good. With two locations (one on Riverside and another on West Elder St.), there's plenty of opportunity.
Choose from pulled pork, smoked turkey, all-beef dogs, wings, and more all hickory smoked. Couple that with some Creamy Southern Cole Slaw or Jalapeno Cheddar Grits.
Oklahoma: Burn Co. Barbecue (Tulsa)
Burn Co. Barbecue makes what they call "real" food without any shortcuts in the grilling and smoking process. Their mustard BBQ sauce is one of their claims to fame.
Choose from a wide range of options, including the smoked pork chop or burned ends. There's often a special of the day giving you even more reason to visit.
Oregon: Podnah's Pit Barbecue (Portland)
Podnah's Pit Barbecue offers original craft, Texas-style barbecue in a rustic, wooden-table, cabin-like atmosphere. The owner's grandfather, Podnah, was a butcher and passed his skills and methods down through the generations.
Some of the best options here include the smoked brisket, chicken, or gringo, a classic crispy shell beef taco.
Pennsylvania: Fette Sau (Philadelphia)
The dry rub at Fette Sau makes this a fantastic option for those looking for a hearty, flavor-packed bike of smoked goodness (go for the ribs).
They're also known for their large beer and whiskey menu and industry-style layout. Even better, they locally source as much as possible, including all their meats.
Rhode Island: Becky's BBQ (Middletown)
Becky's BBQ is a welcoming, country-style destination that offers surprisingly good hickory smoked BBQ, including smoked pork, chicken, and beef.
Promising 100% Southern smoked meats, the destination provides outstanding lunch and dinner plates. Don't forget the sides like cornbread, potato salad, or Becky's baked beans.
South Carolina: Rodney Scott's BBQ (Charleston)
Stop in at Rodney Scott's BBQ for a counter-service, low country-style menu built by a chef who cooked his first hog at just 11 years of age.
It's Rodney Scott's passion that makes this location so vibrant. That, along with a huge selection of options ranging from the Whole Hog Pork Plate to the Smoked Chicken Wings and Catfish King Platter.
South Dakota: Big J's Roadhouse BBQ (Sturgis)
Big J's Roadhouse BBQ is a family-friendly destination offering lunch and dinner specials, including smoked ribs and pork sandwiches, along with ice-cold beer to go with it.
This location has plenty to offer, with big portions and lots of outdoor seating.
Tennessee: Martin's Bar-B-Que Joint (Nashville)
Martin's Bar-B-Que Joint has a lot to live up to in Nashville, but it does a fine job, as it smokes its meat over hickory wood for as long as 24 hours.
They believe BBQ is an extreme craft here, and everything, from the sauces to each side, is scratch-made daily. If you're looking for something unique, try the Big Ole Smoked Bologna, but the ribs and brisket are the best around.
Texas: Franklin Barbecue (Austin)
As the best BBQ in Texas, Franklin Barbecue has it all, including brisket and pulled pork, so head straight here to avoid wasting money on lesser Texas BBQ.
However, you'll miss out if you don't get there early. You may have to wait an hour in line only to be told they're sold out.
Everything on the menu is worth the wait, though, from the pork and beef ribs to the turkey. And don't forget to order a slice of Bourbon Banana Pie for dessert.
Utah: R&R Barbecue (Salt Lake City)
For the best BBQ in Salt Lake City, check out R&R; Barbecue, known for its big portions and the best competition BBQ recipes out there.
If you can't wait until lunch, they also offer a breakfast menu here, a unique option for many BBQ joints.
Vermont: Taste of Texas BBQ VT (Cambridge)
Fall-off-the-bone ribs with a warm, thick sauce make Taste of Texas BBQ VT the best in the state. One of the best options on the menu is the Sam Huston brisket sandwich.
The friendly people and huge portions make this a destination to stop at when you're in the city.
Virginia: ZZQ Texas Craft Barbeque (Richmond)
A cool, relaxed vibe, an open patio, and an industrial setting with garage doors definitely make ZZQ Texas Craft Barbeque the place to be. The food is next level.
The beef brisket is tender and juicy, while the prime rib, pastrami, and bacon ribs, served just one day a week, are the stuff you'll write home about.
Washington: Jack's BBQ (Seattle)
In Seattle, Jack's BBQ offers what it calls "soul-warming BBQ," and it's easy to see why. This Tex-Mex location features recipes that began in butcher shops in the 1800s.
The menu's best options include brisket, port spare ribs, and both beef and pork sausage. Sides like buttermilk hushpuppies make this a full meal.
West Virginia: Dem 2 Brothers and a Grill (Martinsburg)
Dem 2 Brothers and a Grill is the best place to find pulled pork, grilled chicken, and ribs in West Virginia.
The menu has incredible options right off the grill, including pulled pork, ribs, and brisket. Authentic collards, sweet potato casserole, and cabbage are also always on the menu.
Wisconsin: Smoke Shack (Milwaukee)
For award-winning BBQ in Milwaukee, check out Smoke Shake, which slowly smokes meats in small batches throughout the day.
They are known to sell out of their slow-smoked, dry-rubbed meats, with options including pulled chicken and pork, smoked pork belly, and brisket.
Wyoming: HQ BBQ (Evansville)
In Wyoming, visit HQ BBQ, a location that's rather low-key when it comes to the atmosphere but big and bold in the flavor department.
The menu offers it all, including rotisserie, smoked chicken, ribs, and brisket, along with options like shrimp po'boys, chili dogs, and grilled chicken.
Bottom line
Finding great BBQ joints in the U.S. is easy, but it's often the small, local establishments that are capable of offering the best combination of scratch-made foods and outstanding hospitality.
So, grab your best travel credit cards and hit the road for a tour of the nation's best barbeque so you can decide which state has the best BBQ for your taste buds. 
Easy-to-Earn Unlimited Rewards
Earn 25,000 online bonus points after you make at least $1,000 in purchases in the first 90 days of account opening - that can be a $250 statement credit toward travel purchases
Earn 1.5 points per $1 spent on all purchases
Longer intro APR on qualifying purchases and balance transfers
No foreign transaction fees
Earn unlimited 1.5 points per $1 spent on all purchases, with no annual fee and no foreign transaction fees and your points don't expire as long as your account remains open.
25,000 online bonus points after you make at least $1,000 in purchases in the first 90 days of account opening - that can be a $250 statement credit toward travel purchases.
Use your card to book your trip how and where you want - you're not limited to specific websites with blackout dates or restrictions.
Redeem points for a statement credit to pay for travel or dining purchases, such as flights, hotel stays, car and vacation rentals, baggage fees, and also at restaurants including takeout.
0% Introductory APR for 15 billing cycles for purchases, and for any balance transfers made in the first 60 days. After the intro APR offer ends, 18.24% - 28.24% Variable APR will apply. A 3% fee applies to all balance transfers.
If you're a Bank of America Preferred Rewards® member, you can earn 25%-75% more points on every purchase. That means instead of earning an unlimited 1.5 points for every $1, you could earn 1.87-2.62 points for every $1 you spend on purchases.
Contactless Cards - The security of a chip card, with the convenience of a tap.
This online only offer may not be available if you leave this page or if you visit a Bank of America financial center. You can take advantage of this offer when you apply now.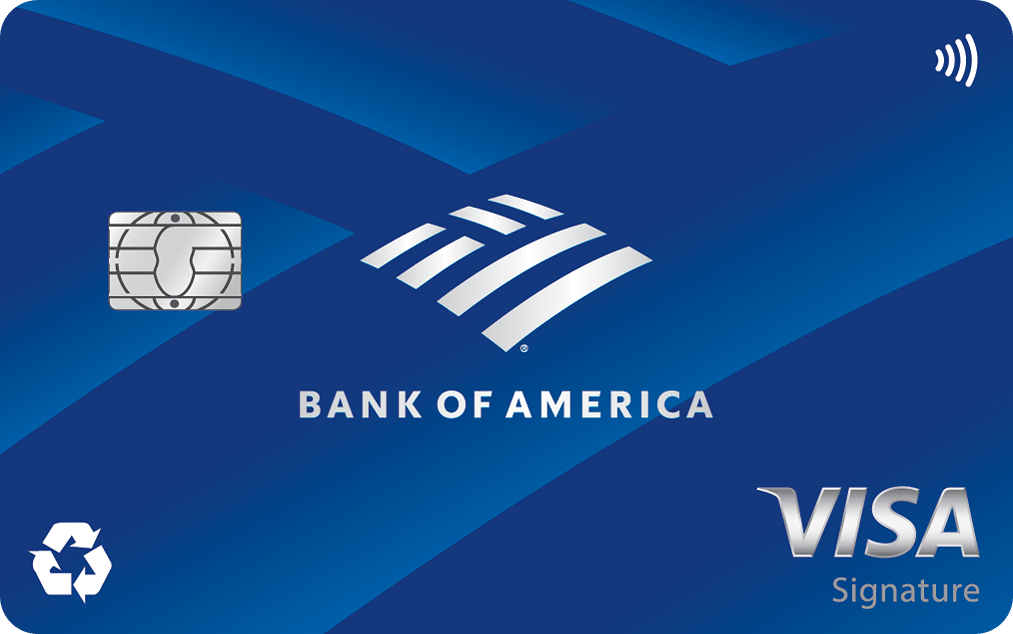 4.1
FinanceBuzz writers and editors score cards based on a number of objective features as well as our expert editorial assessment. Our partners do not influence how we rate products.
Apply Now
on Bank of America's secure website
Read Card Review
Intro Offer
Earn 25,000 online bonus points after you make at least $1,000 in purchases in the first 90 days of account opening - that can be a $250 statement credit toward travel purchases