In the same manner that literacy gauges your understanding of how to read and write, financial literacy gauges your understanding of how to manage your money. You may feel as though you're not very literate when it comes to finances, which may lead to financial stress.
But that doesn't mean you can't learn.
Using insights from the most powerful search engine in existence, we took a look at how Google is helping Americans become more financially literate.
What is financial literacy and why is it important?
The key to building financial well-being is having the tools and knowledge to succeed. It takes an understanding of your day-to-day and month-to-month personal finances. It means knowing which financial products and services best fit your needs.
Financial literacy includes everything from knowing how to write a check to understanding how IRAs work. It also goes beyond just income and credit score and extends to the financial knowledge we teach our children. This overall understanding of how money works is financial literacy.
A lack of financial literacy can have cascading effects on individuals, families, and the U.S. as a whole. Although there is a vast amount of consumer financial resources out there, it's not always easy knowing where to start.
This problem could be easily remedied with something as simple as incorporating personal finance into our school systems. But according to the Council for Economic Education's Survey of the States, only 21 states require students to take a single high school class in personal finance in order to graduate.
Until this changes, one of the most powerful tools we have for educating ourselves is the internet. So let's look at how Google is helping to provide answers to people's financial questions.
7 things Google tells us about our nation's financial literacy
Google Trends is a website that provides insight into the most popular searches typed into Google Search from all around the world. Using this trove of information, we can see how U.S. residents are using Google to find information on different facets of financial literacy — earning money, saving money, managing and investing money, the economy, insurance, and so forth.
We set the clocks back to 2004, the earliest available year on Google Trends, and began our research. In addition to a number of insights for each term you search, Google Trends provides a chart titled "Interest over time." This represents search interest for any given term based on the filters you select for your query. For the purposes of this article, we filtered for "United States," "2004-present," "Finance," and "Web Search."
Using the filter "Finance" instead of "All categories" was important, as it allowed us to focus on getting the data for the right version of the word or phrase we were researching. For example, the search term "how to save money" returns different results if searched under "All categories" than it does if searched under the "Finance" category.
The chart itself ranges in value from zero to 100 along the Y-axis (vertical axis), with 100 signifying the peak popularity for the search term. The X-axis tracks the time period that we are researching. So a value of 50 on a certain date means the term was half as popular at that point in time. A score of zero means there was not enough data to return results for the term.

By researching different components of financial literacy, we narrowed down some of the most popular terms in each category. For example, the search term "how to budget" had more search activity compared to other variations of the search term (like "budgeting tips"), so we focused our attention on "how to budget." You can see the different terms compared in the different colored lines in this chart.
After a handful of searches, we identified the key financial phrases that will help shine a light on what the nation understands — and doesn't understand — about money. Here's what Google tells us about our nation's financial literacy.

Search term: How to budget
Google Trends shows us a growing number of people have been actively searching "how to budget" since its lowest interest level score in August 2005. The search term reached its highest interest level of 100 in January 2014, but has been holding a strong level of popularity since then. As of March 2020, this term has an interest value of 80.

The growing interest in how to budget makes sense because understanding how to best allocate your money is a crucial step to developing financial literacy. And most Americans agree. A recent survey shows that 93% of Americans agree everyone needs a budget, but only 67% of people actually have a budget.
The No. 1 reason cited for not budgeting is not having enough income to warrant a budget. However, the most important part of a budget isn't necessarily your income level but knowing where your money goes. Otherwise, you could fall into patterns of frivolous spending, wasting money, and not having control over your finances. If the popularity of this search term continues to increase, maybe we'll see some of the misunderstandings of budgeting decrease.
Search term: How to save money
More and more people are continuing to search for information on saving money, according to Google Trends. This suggests more people are trying to build the savings they need for the life they want.
Whether it's for an emergency fund, a new house, your kid's college tuition, or retirement, understanding how to be frugal with your money can be the difference between achieving financial well-being and struggling to get by.
A recent Federal Reserve report found that almost 61% of Americans had enough cash to cover a $400 emergency. This number has been on the rise since 2013, increasing by 22% over five years. Although this is great to see, the same report showed nearly 40% of Americans would turn to credit to cover the same $400 emergency.
Although a significant number of people may not be hitting their savings goals yet, Google shows us that interest in the search term "how to save money" is gradually increasing. This hopefully means we'll continue to see this upward trend in the number of people building their savings as well.
Search term: How to invest
Understanding the different types of investments can take time, but Google reveals that a growing number of people are trying to learn. Although interest in the search term "how to invest" maxed out at 100 in December 2017 — which coincides with the cryptocurrency Bitcoin skyrocketing in popularity and value — it's been on an otherwise gradual rise since 2004. In fact, popularity for the term is currently at its second-highest level ever of 66.

At its most basic level, investing is when you buy something that could increase in value. That could be real estate, precious metals, stocks, bonds, mutual funds, or certificates of deposit (CDs). Stocks, in particular, offer investors some of the greatest growth potential for their money over the long haul. Historically, the average annual stock market return is approximately 10%.
Although Google Trends shows a growing number of people are wondering how to invest, a recent Gallup poll shows fewer Americans own stock today than they did between 2001 and 2008. The Great Recession (December 2007 to June 2009) is an obvious culprit, but so too may be a lack of understanding about investing in general.
Advancements in technology have made investing easier than ever — whether it's in stocks or real estate. As a result, people seeking information on investing will at least have a number of easy-to-use available products and services to get started, such as Stash, Fundrise, and Wealthsimple.
Search term: How to pay off debt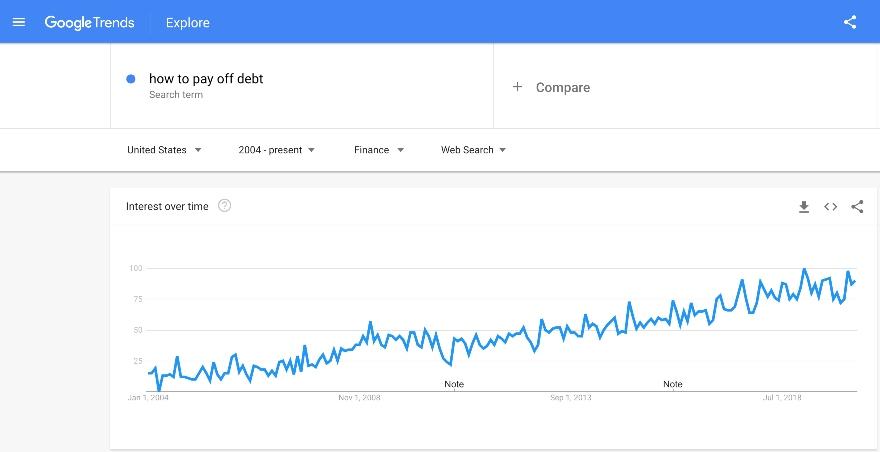 According to Google Trends, use of the search term "how to pay off debt" has risen dramatically since 2004. The phrase hit a high of 57 toward the end of the Great Recession in February 2009, but its popularity has since blown past these levels. The search term reached its peak popularity (100) in January 2019 and has hovered between 70 and 100 ever since.

Unfortunately, the reality is that Americans are drowning in debt. According to the Federal Reserve Bank of New York Center for Microeconomic Data, household debt reached an all-time high in the fourth quarter of 2019, topping out at a whopping $14.15 trillion. This is a 4.24% increase over Q4 of 2018 and a 10.39% increase over the $12.68-trillion high in Q3 of 2008 during the financial crisis.
Although debt continues to be a problem for many, search trends show us that it's a problem a growing number of us are actively trying to combat. Climbing out of debt takes time, and taking the necessary steps can sometimes start with something as simple as a Google search.
Search terms: How to build credit
Google Trends shows overall search interest in building credit has risen significantly since 2004. The search term reached its highest point (100) in July 2017 but remains a popular search term throughout the U.S.

Your credit score plays an important role in determining your financial future. Good credit demonstrates to lenders that you're a responsible borrower. This shows lenders that you pay your debts on time, and this trust can open a variety of doors that can improve both your quality of life and your financial situation. Lower credit card interest rates, better loan approval odds, higher spending limits, and better car insurance rates are some of the many benefits of good credit.
The average credit score in the U.S. is 682, an eight-year high, according to Experian's 2019 State of Credit report. This shows a promising trend in how Americans are managing their credit. According to Shannon Lois, Head of Analytics, Consulting, and Operations at Experian, "Average credit card balances and debt are up year over year, yet utilization rates remain consistent at 30 percent, indicating consumers are using credit as a financial tool and managing their debts responsibly."
If the resources people are finding by Googling this search term have anything to do with these improvements in our nation's average credit score, let's hope this trend continues.
Search term: What is interest
Searches on Google show that curiosity around interest has been on the rise. The term "what is interest" held a score of 10 back in 2004. However, as of March 2020, projections show popularity in the term might soon max out.

Understanding interest and how it can help you save money is an important aspect of developing financial literacy. This includes knowing the difference between the interest you earn on your savings (APY, or annual percentage yield) and the interest you pay on loans, mortgage loans, credit cards, etc. (APR, or annual percentage rate). It also means understanding compound interest, which Albert Einstein reportedly declared to be "the most powerful force in the universe." Compound interest is the interest you earn on your money's interest.
The growth we're seeing in popularity around interest is a good sign. Once you know how interest works, you can better apply this knowledge to maximize other aspects of your finances, such as saving and paying off debt.
Search term: What is inflation
According to Google Trends, the popularity of the search term "what is inflation" is one that generally fluctuates. However, interest around the term has been on a slight upward trajectory since 2004. The tracker projects the term's popularity is heading toward a value of 100 for the first time, but data at this point is incomplete.

Just like understanding investing can feel overwhelming if you're a beginner, economics can feel similar. A great way to begin building your financial literacy is to start with something small like understanding inflation.
Inflation is a measure of the rate of rising prices of goods and services in an economy. As inflation increases, your money's purchasing power decreases. For instance, if the interest rate on your savings account was 1% per year and inflation was 2% per year, you wouldn't be able to buy as much in a year as you could today despite the fact you are earning interest on your money.
If you're one of the many Americans searching for information on inflation, then you're taking a good first step. Understanding inflation will allow you to situate your money to get the most out of it, whether that means moving your money into a high-yield savings account or another savings vehicle that outpaces inflation.
How do we improve financial literacy?
One of the best ways to improve our own financial literacy is to have the curiosity to learn and the drive to improve our financial situations. A simple Google search can return countless results in seconds, and there's no shortage of information out there. Start with the basics, like we discussed here, to help lay the groundwork to build your financial knowledge.
And, as mentioned earlier, financial literacy can have a cascading effect on individuals and families. We can't rely on the education system to prepare our kids to grow more financially literate, so learning proper money management skills and talking to our kids about money is our best shot at improving our nation's financial literacy.
Bottom line on our nation's financial literacy
Being financially literate means understanding how money works. It means knowing how and when to save, how to climb out of debt, and how to prepare for the future. It means knowing which financial products and services best fit the needs of our situations. Being financially literate also means giving our children the resources they need to be financially successful from the very beginning.
It doesn't matter how much you're making or where you're at in your journey. Taking the time to understand money is key to building financial well-being.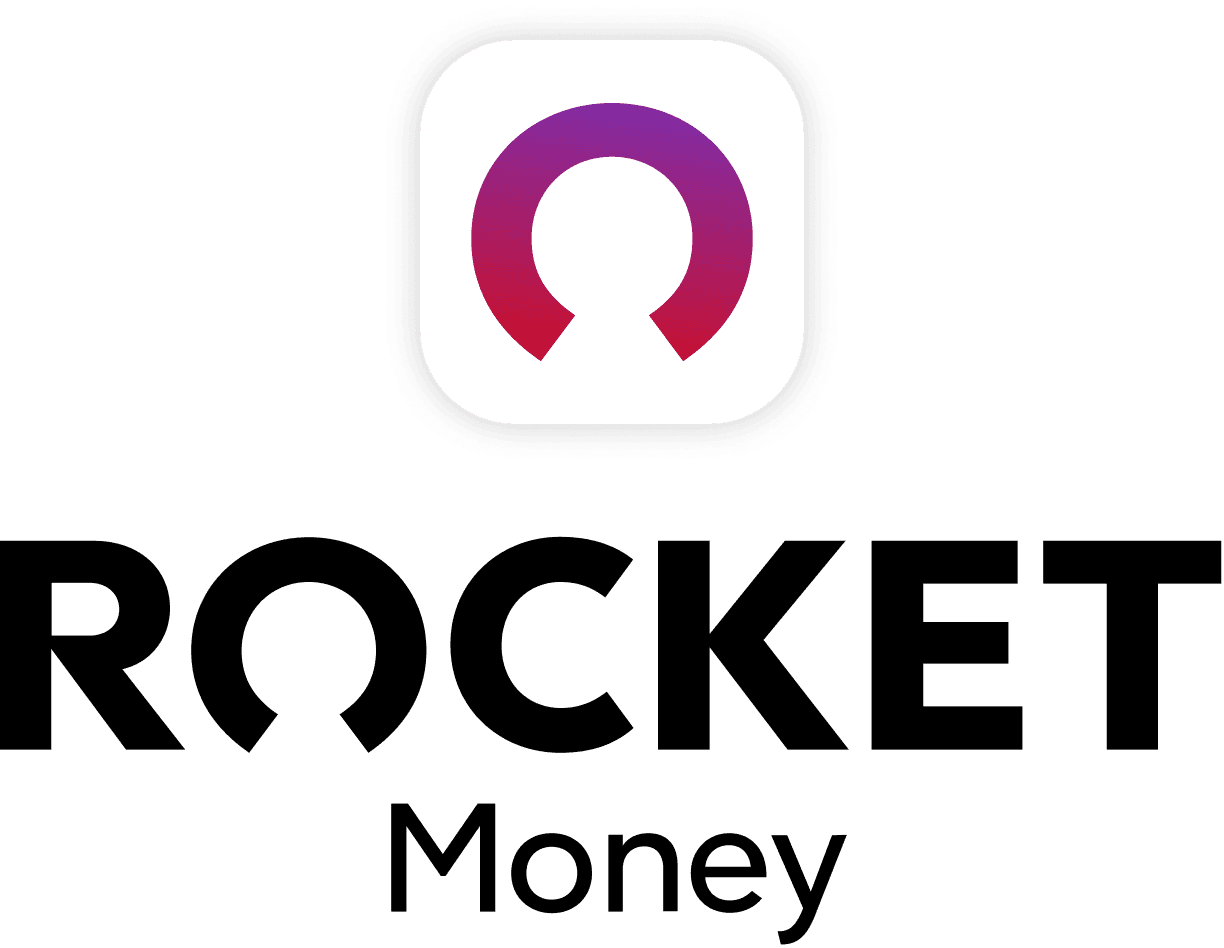 Rocket Money Benefits
Automatically find and cancel subscriptions
Slash your monthly phone, cable, and internet bills
Save an average of up to $720 a year