Are you considering moving to Florida for your golden years? Before you do, there are some essential things about the state that you don't know.
Whether you plan to retire early or sometime later in life, check out the following secrets about living in Florida — both good and bad — before you decide to retire in the Sunshine State.
Resolve $10,000 or more of your debt
Credit card debt is suffocating. It constantly weighs on your mind and controls every choice you make. You can end up emotionally and even physically drained from it. And even though you make regular payments, it feels like you can never make any progress because of the interest.
National Debt Relief could help you resolve your credit card debt with an affordable plan that works for you. Just tell them your situation, then find out your debt relief options.
How to get National Debt Relief to help you resolve your debt: Sign up for a free debt assessment here. (Do not skip this step!) By signing up for a free assessment, National Debt Relief can assist you in settling your debt, but only if you schedule the assessment.
SPONSORED
Taxes are low for retirees
Florida can be a tax-friendly state for retirees, which helps if you're on a fixed income. 
The state doesn't tax Social Security income, and you don't have to pay state taxes on any withdrawals from retirement accounts.
Florida also doesn't have a state income tax, which can help if you or a spouse plan to work a bit during retirement.
All of these factors can lower your financial stress during your golden years.
But you still have to pay taxes
While taxes can be low in Florida, don't expect to live tax-free.
The state has a 6% sales tax on most goods, and counties can add additional sales tax. You can expect to pay an extra 1.5% in sales tax in some counties.
You also face property taxes if you own a home, condo, or other property in the state. This tax can vary from location to location within the state.
Remember that you'll still have to pay federal taxes when you live in Florida.
Seniors are everywhere
Florida is an excellent place for retirees because it caters to seniors, who comprise a large chunk of the state's population.
In fact, 21.6% of Florida's population was over 65 in 2022, according to the U.S. Census Bureau. That percentage increased from 21.3% in the 2020 census.
Living in a place with so many other retirees might make it easier to meet new friends who share similar life experiences.
Don't let home repairs drain your bank account
Did you know if your air conditioner stops working, your homeowner's insurance won't cover it? Same with plumbing, electrical issues, appliances, and more. Not being able to make repairs could leave you in a bad situation — but a home warranty could protect you against surprise expenses.
Whether you're a brand-new homeowner or you've owned your home for years, a plan from Choice Home Warranty could pick up the slack where homeowner's insurance falls short.
If a covered system in your home breaks down, you can call their hotline 24/7 for assistance to get it repaired. They have a network of over 15,000 technicians that can assist you, making sure any issue can be taken care of swiftly — without breaking the bank.
Not sure if it's for you? Rest easy: they were named one of the "Best Home Warranty Companies" by US News 360 Reviews and were awarded Best Company's 2020 Consumer's Choice Award. For a limited time, you can get your first month free when you sign up for a Single Payment home warranty plan.
There are two Floridas
Like other large states, Florida has regions that are very different from one another. So, it's a good idea to check out different places in the state before deciding where you want to live.
North Florida differs from South Florida, for example. Each region has a different culture, and some areas might be more vulnerable to threats like hurricanes and climate change.
Check out different cities in different areas of the state before you move so you can figure out which area is right for you.
Toll roads are a fact of life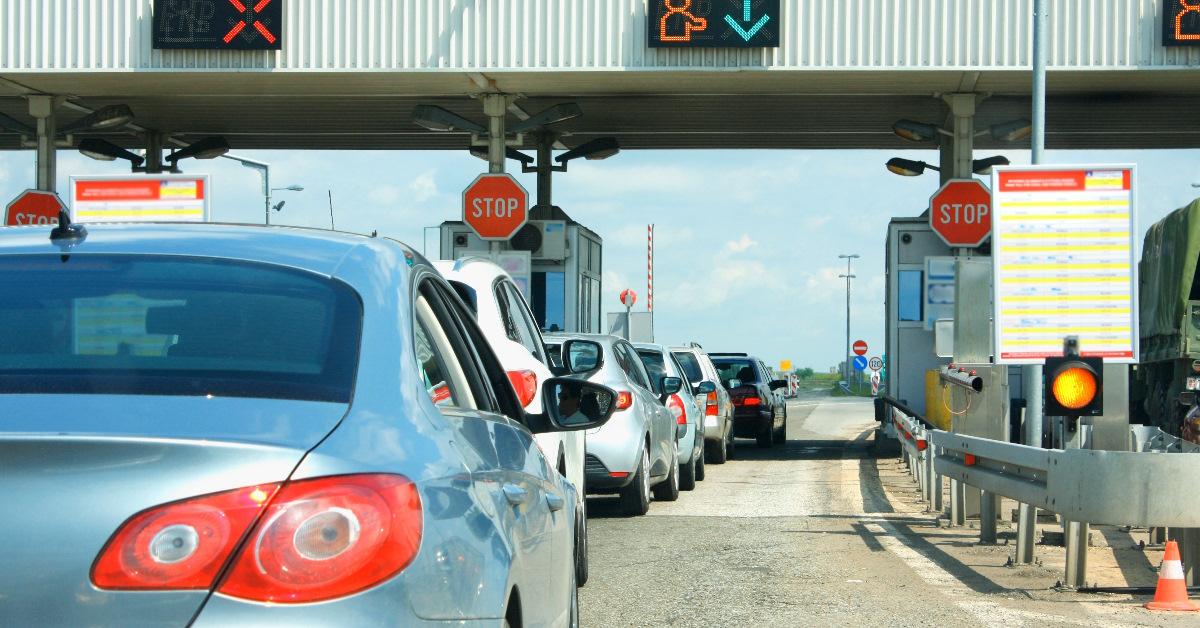 Toll roads can be difficult to avoid in Florida. If you live near sections of the Florida Turnpike, you might have to pay to get to your destination quickly.
In addition, some coastal islands might charge tolls at bridges.
Certain times of the year can be a little crazy
Florida is a great destination for vacationers and snowbirds, but that fact also means it can get a bit crazy during some seasons.
When thinking about where to live, remember that some places may be difficult to get around during spring break and the height of the snowbird season.
For example, restaurant waits can become much longer in the winter than in the summer.
Real estate is relatively affordable
A home or condo in Florida can be more affordable than you might think. However, prices have been rising in recent years.
A single-family home sold for a median sale price of $415,000 in August, which was 2% higher than the year before, according to Florida Realtors. A condo sold for a median price of $324,000 during the same month, marking a 6.2% increase from the year before.
By comparison, the National Association of Realtors found that nationwide, the median listing price for a home was $435,000 in August.
Homes are getting harder to find
The inventory of homes for sale in Florida has improved a bit recently, but finding a home can still be challenging.
Florida housing inventory hit a recent peak of more than 155,000 homes in February 2019 before dropping to a low of 35,590 in February 2022, according to the Federal Reserve Bank of St. Louis.
Things have gotten better this summer, though. August of this year saw 84,883 homes on the market. That number is higher than last year's lows, but you still may have trouble finding a place.
The weather isn't always great
Florida sees its share of extreme weather, from hurricanes and tropical storms to flooding from less robust storms.
In addition, some people find the heat and the humidity of summer to be oppressive. The sun shines much of the time in Florida, but during the summer, frequent afternoon summer thunderstorms are a fact of life.
Local conditions can take a toll on your home
It's not just the hurricanes and tropical storms that can take a toll on your home. The salt air can cause corrosion or damage to your home or car.
Humidity can cause issues such as mold and mildew. You'll also want to factor in sand if you live near a beach.
Insurance can be expensive
Homeowners insurance can deliver one of the biggest hits to your budget. The cost of such coverage has skyrocketed in Florida.
The Insurance Information Institute says Floridians pay $6,000 on average for a homeowner premium in 2023. That compares to an average of just $1,700 nationwide.
Florida also has high auto insurance rates. Insure.com recently found that annual auto premiums average $2,560 in the Sunshine State, the most expensive in the nation and 52% higher than the nationwide average of $1,682.
Scammers love it here
Keep an eye out for scammers if you plan to live in Florida, as the state is one of the more popular places for criminals to prey on residents.
According to the Federal Trade Commission, the state ranks third in the U.S. for identity theft scams and fourth in the nation for fraud and other scams.
Scammers took $556.8 million from Florida residents in 2022. Median fraud losses were $800 compared to a national median loss of $650.
There's a 'halfback' trend
Some retirees who move to Florida soon discover it's not for them.
In fact, there are enough of these folks that they have earned a nickname: "halfbacks," as in residents from northern states who move to Florida and then leave to head "half the way back" and stop in a place like North Carolina.
Florida tops the list of states where residents move from when they head to North Carolina, according to a report by Carolina Demography and the University of North Carolina.
This may be a good reason for you to look at other potential locations outside of Florida before you decide to pick up and move to the Sunshine State.
The state is great for sports enthusiasts
Florida has something for all types of sports enthusiasts, from those who enjoy watching sports to those who participate in them.
The state has plenty of golf courses that can be played year-round due to Florida's great weather. You can also head out on the water for boating, kayaking, and water sports.
Florida is also well-known for hosting plenty of baseball teams during spring training, and you can see many of them for a fraction of the cost of watching them play in their hometowns.
The state also has professional football, baseball, hockey, and basketball teams, and soccer is also becoming more popular.
There are plenty of attractions
You'll never be bored in Florida — and neither will family members who come to visit your new home.
The state is home to amusement parks such as Disney World and Universal Studios. You will also find plenty of beaches for fun in the sun.
Florida hosts major events such as the Daytona 500 and annual music festivals that are sure to attract visitors who want to spend time with you in Florida. Your friends will likely appreciate the opportunity to stay with you and save money on travel.
Bottom line
Florida can be a great option for retirees, but there are several things you should consider before you decide to move there.
So, before you relocate, grab one of the best travel credit cards and book a trip to the Sunshine State. After visiting for a while, you might better understand whether retirement in paradise is the right fit for you.
FinanceBuzz is not an investment advisor. This content is for informational purposes only, you should not construe any such information as legal, tax, investment, financial, or other advice.
National Debt Relief Benefits
No upfront fees
One-on-one evaluation with a debt counseling expert
For people with $7,500 in unsecured debts and up