Like many people, I'm a big fan of Southwest and I diligently follow their plans for expansion. In fact, I booked one of the first flights to Hawaii for 6,616 points when Southwest launched the new routes in March 2019. Yes, I booked our flight the day the new routes launched. Why wait?
That was my sixth trip to Hawaii, so you could say I'm a HUGE fan. It's one of the few places I like going back to over and over again — it's also a great stopover on your way to Australia! My wife and I had actually been to Hawaii just a year earlier, but there was no way we'd turn down such a good deal to go back. So, we headed back to the Aloha State and celebrated Southwest's new Hawaii service. And the best part? Thanks to points and Southwest's Companion Pass, all we had to pay was $22.40 in fees round trip.
Southwest's move to step into the Hawaii market is a win for everyone. Low fares, free checked bags, an incredible cancellation policy (the best in the world, in my opinion), and the Companion Pass are some of the many reasons the airline's new Hawaii service is a jackpot.
Booking our dream vacation to Hawaii took a little planning for my wife and I, but I'm going to tell you exactly what I did — and how you can do it, too.
What you need to know about Southwest's flights to Hawaii
Back in October 2017, Southwest announced it would begin selling tickets to Hawaii in 2018. This was huge for fans of Southwest, as the Hawaii market would have access to everything the airline brings to the table — low fares, two free checked bags, no change fees, and that famous Southwest hospitality.
What took the airline so long to open flights to Hawaii? Federal Aviation Administration (FAA) ETOPS, or Extended Range Twin-engine Operational Performance Standards — a mouthful, I know. But having this certification is required for airlines to make certain trips, including over water where there's nowhere to divert in case of an emergency. Southwest's biggest impediment had been securing FAA ETOPS approval for its fleet.
Southwest finally received the OK from the FAA in February 2019 to begin flights between California and Hawaii. On March 17, 2019, the airline landed its inaugural flight to Hawaii. But, unfortunately, Southwest has had to keep its Hawaii expansion plans on the back-burner following the grounding of the Boeing 737 MAX. It has only recently announced the rollout of its second wave of Hawaii service.
As Southwest continues its Hawaii expansion, we'll hopefully see more and more airports offering direct flights to the islands. Until then, however, you'll need to connect in California — either in Sacramento, Oakland, or San Jose.
How I booked my flight (and how you can do it, too)
I booked my flights direct with Southwest and got a great deal. Southwest points are more or less fixed, and the number of points you need is directly tied to the cost of your flight. Unlike other programs that use distance, segment, or region, the Southwest system is easy. As a low-price hunter, it can really work to my benefit.
Southwest also has a Low Fare Calendar that allows you to search for the most inexpensive fares by month. I love this tool because, again, what was the criterion for choosing my flights? Price!
At the time I flew, there weren't direct flights from Oakland, CA to Kahului on Maui, and I knew I wanted to fly over to Maui as well. Since inter-island flights are limited, I had to plan around that. Other than that one stipulation, though, I aimed to snag whichever flights were cheapest.
I flew out of Portland International Airport (PDX) — my home airport at the time and the best Priority Pass airport in the country, in my opinion — to Oakland International Airport (OAK) to Daniel K. Inouye International Airport (HNL) in Honolulu. I used 6,616 Southwest Rapid Rewards points to fly round trip from PDX to HNL, and another 2,758 Rapid Reward points for my round-trip, inter-island flights from HNL to Kahului Airport (OGG) on Maui.
While most taxes and fees are included in the fare for points redemptions, the $5.60 government-imposed September 11 security fee per one-way trip is not — and this includes passengers using Companion Pass. You'll have to pay this fee at checkout with cash or a credit card. Since I booked through Southwest using Rapid Rewards points, we had to pay this fee for each flight as well. After all is said and done, we used 9,374 points and paid just $44.80 in fees for all of our Hawaii airfare.
Try this Chase Sapphire Reserve travel trick
Now, there's something important I have to point out regarding this $5.60 fee you have to pay on reward travel when you book through Southwest (it's always at least $5.60 within the U.S. but varies with international travel). While you can use Rapid Rewards points for your flight, using a card like the Chase Sapphire Reserve® to pay this fee qualifies you for the card's travel protection coverage for the entire flight.
That's right. Paying the $5.60 fee with your Chase Sapphire Reserve qualifies you to receive the card's travel protection coverages for the entire trip. This includes an often-forgotten benefit of the card — if you book a flight and are delayed overnight or for more than six hours, you'll be covered for up to $500 in expenses for each covered person.
If you don't want to charge this fee to your card but would still like the travel protections of your Chase Sapphire Reserve, you can book your flight using your Chase Ultimate Rewards points. Not only is this fee incorporated into the overall redemption, but when you pay 100% with Chase Sapphire Reserve points, you get the same travel protections extended to you. And since using Ultimate Rewards points to book is seen as a revenue flight and not reward travel, you'll also earn points for the flight. Sort of a double-dip. You'll have to call the Chase Travel Center at 1-855-234-2542 to redeem this way, though.
These tips can help you earn your Companion Pass
As I mentioned earlier, my wife was able to get her ticket to Hawaii for only $11.20 in fees and zero Rapid Rewards points because of my Southwest Companion Pass. Earning your Companion Pass is no cakewalk, but it's not impossible. To get the pass, you must earn 135,000 points or fly 100 qualifying one-way flights in a calendar year. Once you meet this requirement, you'll earn a Companion Pass for the rest of the year and the entire following year.
To get the most out of the pass, you'll want to earn it as early in the year as possible. If your strategy for qualifying for your pass is to build up points with credit card welcome offers, then you'll want to open your card or cards (we'll touch on this in a bit) around October or November. But you'll wait to finish your minimum-spend requirement until January. That way, you'll earn the Companion Pass early on, and you'll have it all of that year and the following year.
If you don't time this correctly and earn your pass in December, you'll lose out on an entire year of the benefit. This is a real bummer that I've seen happen on multiple occasions. Timing is crucial. Wait for the right moment, and you can get the Companion Pass for two years.
The process for adding a companion to your flight is simple. Once you receive your confirmation, you simply click the companion button to add whomever you choose. My wife is already saved to my account as my companion, so with a click, I was able to include her on the itinerary.
What cards you need if you want to earn a Companion Pass
Southwest and Chase credit cards changed things up a bit from the original requirements, so now you can't have two Southwest personal cards. Instead, to earn enough points for your Companion Pass through new credit card welcome offers, you have to open one business card and one personal card.
The Southwest® Rapid Rewards® Performance Business Credit Card is my go-to card on the business side, as you can earn 4X points on Southwest purchases; 3X points on Rapid Rewards hotel and car rental partners; 2X on rideshare, social media and search engine advertising, internet, cable, and phone services; and 1X points on all other purchases. While there's a $199 annual fee, the travel perks that come with this card easily offset that cost. 
This includes 9,000 points on every cardmember anniversary, up to four Upgraded Boardings per year, up to a $100 Global Entry or TSA PreCheck statement credit, inflight Wi-Fi credits, and competitive earning rates on purchases. This is one of the best travel credit cards for business to keep long-term.
The Southwest Rapid Rewards Performance Business Credit Card has a great welcome bonus: Earn 80,000 points after you spend $5,000 on purchases in the first 3 months from account opening. But you'll still need 55,000 more points to qualify for the Companion Pass. Another welcome offer will help get you closer:
These credit cards all let you earn a welcome offer, but each one also has its own unique set of benefits. The best Southwest credit card for you will depend on your situation.
Other strategies for earning points toward the Companion Pass
If welcome offers don't carry you all the way to a Companion Pass or if you already have Southwest cards, there are other things you can do. The most overlooked methods for earning points toward your Companion Pass are the Southwest hotel booking and shopping portals, plus just plain everyday spending on your credit card.
Southwest occasionally offers additional incentives for booking hotels through its portal as well, and this could result in even more points. Additionally, the Southwest Rapid Rewards shopping portal gives you the chance to take advantage of special bonus-point shopping events, as well as stack your points when you use your Southwest Rapid Rewards credit card.
What to watch out for with the Companion Pass
You can only change your companion three times per year. The first time you add someone counts as one of those three, so you'll want to have a good idea of who else you might want as a companion.
If you take multiple trips with various companions, you'll also want to watch out for who's assigned for each flight. For instance, if you have a companion set for a flight three months out but take a trip beforehand with a different companion, that original companion will be replaced automatically. You would then have to go in again and reassign the original companion back to the flight. This is all part of the maximum of three Companion Pass changes you can make each year.
Are you ready to book Southwest to Hawaii now?
Traveling like I did might take a little more work on your end, but just remember to always have a plan. Also be flexible in when you can travel. Having flexibility is one of the best ways to find amazing deals.
Of all the airlines, it's exciting that Southwest's fleet is coming to Hawaii. And while the initial fares to Hawaii were significantly marked down, Southwest's prices are still some of the most affordable and they have some of the best airline credit cards you can find.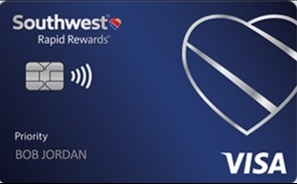 Southwest Rapid Rewards® Priority Credit Card
Current Offer
Earn 50,000 bonus points after spending $1,000 on purchases in the first 3 months from account opening.
Rewards Rate
3X points on Southwest purchases; 2X points on participating Rapid Rewards hotel and car rental partners; local transit and commuting, including rideshare; and on internet, cable, phone services, and select streaming; and 1X points on all other purchases