If you have strong feelings about corn vs. flour, carnitas vs. asada, or two-bite street tacos vs. larger flour tortillas, this list is for you. 
With so many great places to get a taco throughout the U.S., it's not easy to narrow down the list of the best ones in every single state. However, we've been able to help you do just that.
From roadside stops to beloved locations, grab your top travel credit cards and check out these iconic taco joints from coast to coast.
Earn a $250 travel bonus with this incredible card
There's a credit card that's making waves with its amazing bonus and benefits. The Bank of America® Travel Rewards credit card has no annual fee and you can earn 25,000 points after spending $1,000 in purchases in the first 90 days of account opening.
You can earn additional points just by using this card for your everyday purchases — unlimited 1.5 points per $1 spent on all purchases. The 25,000 points can be redeemed for a $250 statement credit toward travel or dining purchases.
If you want to travel and dine out more, the Travel Rewards card can help you get where you want to go.
The best part? There's no annual fee.
Alabama: Taqueria El Cazador (Birmingham)
Taqueria El Cazador is an unassuming spot in Birmingham for Mexican food, where locals go for the food rather than the service.
It's classic Tex-Mex, where you can grab a la carte tacos at a budget-friendly price. There are several other locations throughout Alabama.
Alaska: Lane's Quickie Tacos (Fairbanks)
Lane's Quickie Tacos first debuted at the Tanana Valley Farmers Market, and their six original tacos from those early days are still on the menu.
Order the Alaskan, which is their perennial number-one seller. It's stuffed with pulled pork, diced white onions, cotija cheese, cilantro, and a wedge of lime.
Arizona: El Charro Café (Tucson)
So beloved that they offer nationwide shipping, El Charro Café has been written up by publications including "The New York Times" and "Bon Appetit."
Dating back to 1922, this iconic restaurant is known for its "Charro Style" beef tacos, a staple on the menu since the beginning.
They take a ground beef patty, fold it into a corn tortilla to fry it, then top with peas, radish, and Mexican cheese.
Arkansas: Tacos 4 Life (Conway)
Tacos 4 Life has locations across the Midwest and Southeast, and at each spot, they have the same mission: to donate proceeds from each dish to Feed My Starving Children (FMSC).
This non-profit provides nutrient-packed meals to children in 70 countries. To help the cause, order your favorite from their many taco options, including mango habanero and buffalo chicken.
If you're over 50, take advantage of massive travel discounts and trip-planning resources
Over 50 and love traveling? Join AARP today — because if you're not a member, you could be missing out on huge travel perks. When you start your membership today, you can get discounts on hotels and resorts, airfare, cruises, car rentals, and more.
How to become a member today:
Go here, select your free gift, and click "Join Today"
Create your account (important!) by answering a few simple questions
Start enjoying your discounts and perks!
An AARP membership not only unlocks discounts that could save you hundreds on your next trip, but you'll also have access to deals on vacation packages, guided tours, and exclusive content to help plan your next getaway.
Important: Start your membership by creating an account here and filling in all of the information (do not skip this step!). Doing so will allow you to take up to 25% off your AARP membership, making it just $12 per year with auto-renewal.
California: Taqueria (San Francisco)
Operating in the historic Mission District since 1990, Taqueria is a mainstay in San Francisco.
Their straightforward taco menu offers a simple Regular taco with meat, cilantro, and onions. Or go for the Super with your choice of meat, onions, cilantro, sour cream, cheese, and avocado.
Colorado: La Loma (Denver)
With humble beginnings in a small brick house in Denver, La Loma has been beloved by Coloradoans for generations.
Now residing on 26th Ave, the building is as impressive as the tacos, spanning three Victorian miners' houses from the 1800s. Try classic crispy or soft tacos with fish, chicken, or carnitas.
Connecticut: Agave Grill (Hartford)
Agave Grill in Hartford is known for their signature blue corn tortillas, which taste as close to authentic Mexican street food as you're likely to find in the Northeast.
Order the chicken adobo, spicy beef, grilled vegetables, spicy BBQ pork, or spicy chorizo sausage.
Delaware: El Toro (Wilmington)
Order tacos for brunch, lunch, or dinner at El Toro in Wilmington, where you can enjoy authentic Mexican flavors like Chicken Quesabirria Tacos or Tostada De Tinga.
And since you're by the water, try the Tacos de Tilapia or Tacos de Camaron.
Florida: Coyo Taco (Miami)
With locations in Miami (from Wynwood to Coral Gables), Fort Lauderdale, and more, Coyo Taco promises the freshest Mexican street food you can find.
Sit under their striking blue and white decor and enjoy a gulf shrimp taco.
Don't let home repairs drain your bank account
Did you know if your air conditioner stops working, your homeowner's insurance won't cover it? Same with plumbing, electrical issues, appliances, and more. Not being able to make repairs could leave you in a bad situation — but a home warranty could protect you against surprise expenses.
Whether you're a brand-new homeowner or you've owned your home for years, a plan from Choice Home Warranty could pick up the slack where homeowner's insurance falls short.
If a covered system in your home breaks down, you can call their hotline 24/7 for assistance to get it repaired. They have a network of over 15,000 technicians that can assist you, making sure any issue can be taken care of swiftly — without breaking the bank.
Not sure if it's for you? Rest easy: they were named one of the "Best Home Warranty Companies" by US News 360 Reviews and were awarded Best Company's 2020 Consumer's Choice Award. For a limited time, you can get your first month free when you sign up for a Single Payment home warranty plan.
Georgia: Taqueria del Sol (Atlanta)
Originally founded in Atlanta, Taqueria del Sol has expanded across Georgia and Tennessee. Try Southern-inspired flavors like the Memphis with chopped, smoked pork, brisket, or fried chicken.
Hawaii: Maui Tacos (Multiple locations)
You can find Maui Tacos across Hawaii's islands, and the combination of Mexican and Hawaiian flavors is a favorite of tourists and locals alike.
They've been featured on Food Network, and the best thing to order is the fish or shrimp tacos.
Idaho: Street Taco at Morenita's (Idaho Falls)
You know a taco joint is going to be good when they don't even have a website.
Morenita's Mexican Bakery serves laid-back, huge portions of classic Mexican dishes, including tacos. You can't beat the barbacoa with freshly made tortillas.
Illinois: Big Star (Chicago)
Whether you're looking for a classic al pastor taco with pork and pineapple or craving something vegetarian, you'll find it all at Big Star.
Try the papas con rajas with potatoes and poblano peppers or a Taco de Zanahoria with spiced carrots. It's a great meal that will also help you keep more money in your bank account if you're living in the big city.
Indiana: The Tamale Place (Indianapolis)
Specializing in tamales, The Tamale Place also makes some of the best freshly made white corn tortillas in the Midwest, which means they also make some of the best tacos.
You won't get anything less than the best authentic Mexican food here.
Iowa: La Regia Taqueria (Iowa City)
After two years of operating from a food truck, La Regia Taqueria opened up its brick-and-mortar business.
Order classics like carne asada or al pastor, or go for the delicious and crispy fried shrimp.
Kansas: Tacos El Tio (Kansas City)
This hole-in-the-wall restaurant is serving classic tacos — so classic this place is cash only. Bring your hard-earned dollars and order tacos al pastor or a simple steak with lots of cilantro and onion.
Kentucky: El Mundo (Louisville)
Head to Bardstown in Louisville for Mexican favorites like pulled pork, shredded chicken, sauteed veggie, vegan chorizo, black bean, or ground Kentucky bison tacos.
Founded in 1995, this spot has been a mainstay for Louisville locals for nearly three decades.
Louisiana: Taqueria Corona (New Orleans)
You may not often associate New Orleans with tacos, but you should.
For 20 years, Taqueria Corona has operated on Magazine Street, owned by an El Salvadoran immigrant who found his way to restaurants after a career in hospitality.
Maine: Taco Escobarr (Portland)
Want some hot, spicy food to warm up the long Maine winter? Try out Taco Escobarr, where you can get soft, crispy, and, yes, even the famous puffy taco.
Haven't heard of a puffy taco? It's made with a deep-fried corn tortilla.
Maryland: Taqueria Los Primos (Silver Spring)
If you need taco Tuesday plans, Taqueria Los Primos has you covered. Their Tuesday deal is four tacos for $8 — a great deal if you're in the DC area.
If you're making the trip, consider taking the right credit card with you to earn travel rewards. 
Massachusetts: Taqueria El Amigo (Waltham)
In an unassuming commercial district in Waltham, Taqueria El Amigo is a hole-in-the-wall restaurant serving hot and crispy tortilla chips and mouthwatering street tacos available in orders of four.
Michigan: Taqueria Lupitas (Detroit)
Street tacos with both well-known and lesser-known types of meat in America, like lengua, tripas, cabeza, and pastor, are all served at Taqueria Lupitas.
Owned by second-generation family owners from Guadalajara, this institution prides itself on offering an authentic experience.
Minnesota: Maya Cuisine (Minneapolis)
Since 2012, Maya Cuisine has been serving reasonably priced Mexican food in Minnesota.
Choose from nearly a dozen different meats as a taco base, including pollo entomatado, pollo enchipotlado, tinga de pollo, cochinita pibil, and more.
Mississippi: Taqueria La Guadalupe (Madison)
This tucked-away spot in Madison is known for its authentic Mexican food and other Latin dishes like fried plantains.
Order the Tacos de Birria or the Asada Taco for a burst of vibrant, warm flavors.
Missouri: Mission Taco Joint (St. Louis)
Founded by two brothers from California, Mission Taco Joint was started to bring their love of California street food to the Midwest.
They've combined West Coast street tacos with St. Louis craft beer for a winning combination. Plus, they've committed to paying higher wages and benefits to their employees.
Montana: Taco Montes (Bozeman)
You're not limited to the basic tacos at Taco Montes in Bozeman. There's something new to try every time you go.
Find flavors like Korean tofu, desperado shrimp, and Thai rant shrimp tacos to keep your taste buds guessing.
Nebraska: Maria's Mexican Restaurant (Omaha)
Founded in 1976 and family-owned and operated, Maria's Mexican Restaurant in Omaha is a beloved institution where you can get freshly made, from scratch puffy tacos.
Keep it simple and delicious with beef, fish, chicken, steak, and carnitas.
Nevada: Tacos El Gordo (Las Vegas)
The team behind Tacos El Gordo has been making Tijuana-style tacos in the United States since 1972 and opened their first Tacos El Gordo location in 1998.
They're now in both San Diego and Las Vegas and are known for their big dollop of fresh-made guacamole.
New Hampshire: Hermanos Cocina Mexicana (Concord)
For over thirty years, diners have been flocking to Hermanos Cocina Mexicana for tacos, but there's also something more.
You can have live jazz entertainment while you eat on Sunday through Thursday evenings in this historic building in downtown Concord. Tacos and tunes — what could be better?
New Jersey: Taqueria Downtown (Jersey City)
Taqueria Downtown started as a food truck and now has locations in both Jersey City and Lower East Side Manhattan.
The cilantro-heavy salsa and guacamole are the perfect accompaniments to their authentic taco flavors.
New Mexico: El Parasol (Santa Fe)
It all started with two kids selling their mom's beef tacos in Espanola, New Mexico. Over six decades later, El Parasol is a New Mexico institution. You can still order those iconic beef tacos.
New York: Los Tacos No. 1 (New York City)
Started by three friends from Tijuana, Mexico, and Brawley, California, Los Tacos No. 1 is one of the best places on the East Coast to get authentic Mexican and West Coast taco flavors.
Order the Nopal (grilled cactus) for a unique, authentic experience.
North Carolina: El Tacorriendo (Lenoir)
Operating out of a food truck that parks in either Lenoir or Boone, NC, El Tacorriendo makes homemade corn tortillas and sources all of its ingredients locally.
Their salsas are made in-house, and they pride themselves on making everything from scratch.
North Dakota: Vinyl Taco (Fargo)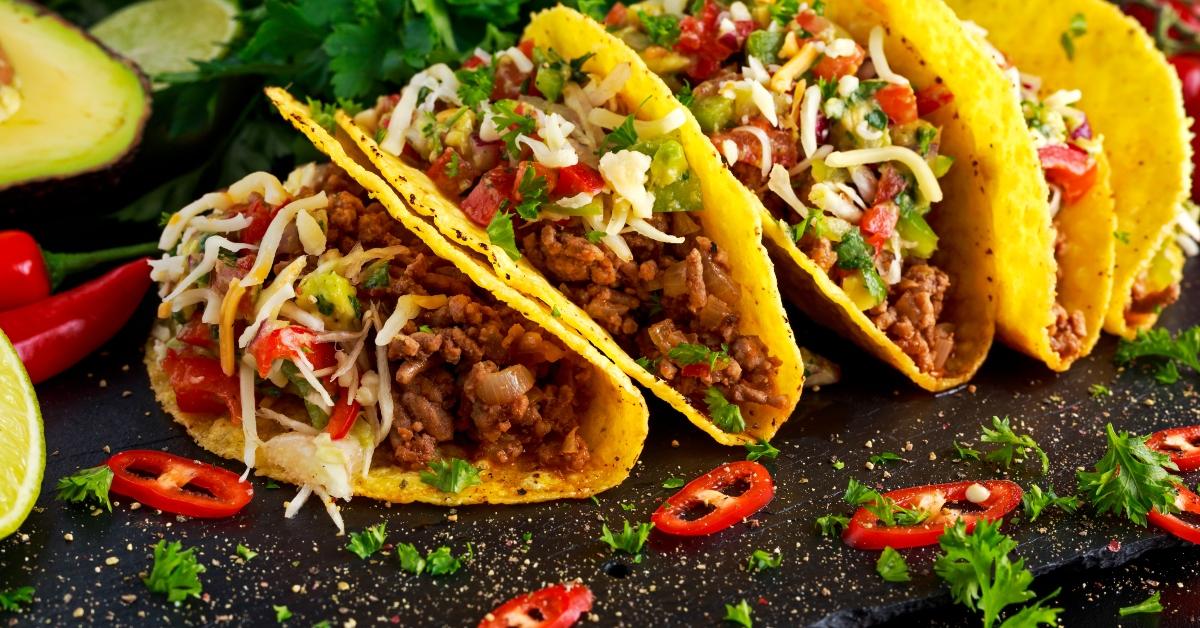 Tacos and music? Sounds like a good combo. Vinyl taco keeps the tunes on all day while also churning out incredible tacos.
Try the chicken tinga with spicy, marinated smoked chicken with pico, cilantro, queso fresco, and blanco crema.
Ohio: Taqueria La Loma (Cincinnati)
Taqueria La Loma specializes in authentic Mexican seafood, freshly baked Mexican breads, pastries, and a Hispanic market.
But, of course, their tacos are also a classic. Their birria tacos are a must-order.
Oklahoma: Big Truck Tacos (Oklahoma City)
Voted America's Favorite Food Truck by Food Network, Big Truck Tacos' reputation extends far beyond Oklahoma City.
They started with just one truck and a small restaurant and have added two more trucks to keep the tacos coming to more people.
Oregon: Por Que No? (Portland)
Bring your dog and nosh on tacos outside at Portland's Por Qué No?
You'll find nearly a dozen different tacos, including staples like carnitas or barbacoa, and unique flavors like venduras (vegetables) and hongos y papas (potatoes and mushrooms).
Pennsylvania: El Vez (Philadelphia)
El Vez prides itself on its vibe as much as its food, and both are top-notch. The vibrant decor always makes things feel like a fun party, and the crisp mahi-mahi tacos and cauliflower tacos al pastor are menu favorites.
Rhode Island: Tallulah's Taqueria (Providence)
Tallulah's Taqueria keeps things simple with its tasty Chicano street food for authentic Mexican perfection.
Each taco comes on a corn tortilla with guacamole, onions, cilantro, salsa, and radishes. You just need to choose meat, seafood, or veggie.
South Carolina: Minero (Charleston)
You know you're in the South when you can get fried catfish tacos on the menu.
If you're not up for that much adventure, the crunchy beef with chihuahua cheese or the charcoal chicken with mole coloradito, cotija cheese, and pickled red onion are also delicious.
South Dakota: Jacky's Restaurant (Sioux Falls)
Sit down for authentic Guatemalan food with a side of tacos at Jacky's Restaurant in Sioux Falls.
Sip on a horchata while you order your birria tacos? That sounds like the recipe for a pretty good meal to us.
Tennessee: Mas Tacos Por Favor (Nashville)
Take a seat on the relaxing outdoor patio at Mas Tacos Por Favor and settle in for an experience far from Broadway's flashy lights. Order an authentic meal with pork tacos, elote, and an agua fresca.
You can also stretch your dollars on your taco trip if you use a credit card that helps you earn cash back. 
Texas: Torchy's Tacos (Austin)
Torchy's Tacos' reputation goes far beyond Texas these days, and for good reason.
Their creative flavor combinations include fried chicken, jalapeno cheddar sausage, smoked beef brisket, and blackened salmon. And for an authentic Texas experience, order the fried avocado.
Utah: Taqueria 27 (Salt Lake City)
Inspired by all the flavors their team brings to the table, Taqueria 27 looks to create tacos that are authentic to them — not any one cuisine.
You'll find achiote-marinated fried chicken breast, grilled pears and roasted beet, and duck confit tacos. There's also a large selection of tequila and mezcal available.
Vermont: Mad Taco (Waitsfield)
A Vermont take on Latin cuisine would, of course, offer a selection of craft beer. And that's exactly what Mad Taco does.
Order the smoked pork and kimchi, roasted yams, or go more traditional with carnitas.
Virginia: Tacos Mexico (Richmond)
This tiny spot serves up big flavors with authentic Mexican tacos, including steak, chicken, and barbacoa. You can go traditional with your toppings, cilantro and onion, or mix it up.
This is the perfect place to grab a quick lunch of tacos and an ice-cold Jarritos.
Washington: Tacos Chukis (Seattle)
When at Tacos Chukis, get the namesake taco. The Tacos Chukis has adobada pork, grilled pineapple, melted cheese, onion, cilantro, salsa, and guacamole on a soft corn tortilla.
But if pork isn't your favorite, you can order steak, beans, or any of the other classics.
West Virginia: Black Sheep Burritos & Brews (Huntington)
Black Sheep Burritos & Brews is an upscale taco spot where you can order almost any inventive combination you can dream up.
Favorites include the seared tuna with Wasabi-Cashew seared, Sesame-Ginger Aioli, Chili-Mirin, Daikon-Carrot Relish, Fried Wonton, and the Bulgogi with Korean BBQ marinated steak, kimchi, dijon sauce, cashews, and cilantro.
Wisconsin: Belair Cantina (Milwaukee)
Belair Cantina is a Milwaukee staple, bringing fresh ingredients and authentic Mexican cooking to Wisconsin.
Try the cochinita pibil tacos, the house-made chorizo, or the ninja pig with crispy pork, hoisin glaze, cucumber salsa, green onions, and jicama slaw.
Wyoming: Taqueria Mexicana Mi Tierra (Cheyenne)
You'll order from a simple walkup counter and have some of the best tacos you've had in a long time at Taqueria Mexicana Mi Tierra in Cheyenne.
Fried pork, carne asada, and other classic taco fillings are even better in their fried taco shells.
Bottom line
You don't need to use your credit card points and travel to Mexico or Latin America for authentic tacos. Instead, you can save money on travel and find the right taco stop in every state. 
From chefs who've brought their home country's flavors to kitchens adding international cuisine to taco shells, there are great tacos from coast to coast — and we'd like to try every one.
Easy-to-Earn Unlimited Rewards
Earn 25,000 online bonus points after you make at least $1,000 in purchases in the first 90 days of account opening - that can be a $250 statement credit toward travel purchases
Earn 1.5 points per $1 spent on all purchases
Longer intro APR on qualifying purchases and balance transfers
No foreign transaction fees
Earn unlimited 1.5 points per $1 spent on all purchases, with no annual fee and no foreign transaction fees and your points don't expire.
25,000 online bonus points after you make at least $1,000 in purchases in the first 90 days of account opening - that can be a $250 statement credit toward travel purchases.
Use your card to book your trip how and where you want - you're not limited to specific websites with blackout dates or restrictions.
Redeem points for a statement credit to pay for travel or dining purchases, such as flights, hotel stays, car and vacation rentals, baggage fees, and also at restaurants including takeout.
0% Introductory APR for 15 billing cycles for purchases, and for any balance transfers made in the first 60 days. After the intro APR offer ends, 18.24% - 28.24% Variable APR will apply. A 3% fee applies to all balance transfers.
If you're a Preferred Rewards member, you can earn 25%-75% more points on every purchase. That means instead of earning an unlimited 1.5 points for every $1, you could earn 1.87-2.62 points for every $1 you spend on purchases.
Contactless Cards - The security of a chip card, with the convenience of a tap.
This online only offer may not be available if you leave this page or if you visit a Bank of America financial center. You can take advantage of this offer when you apply now.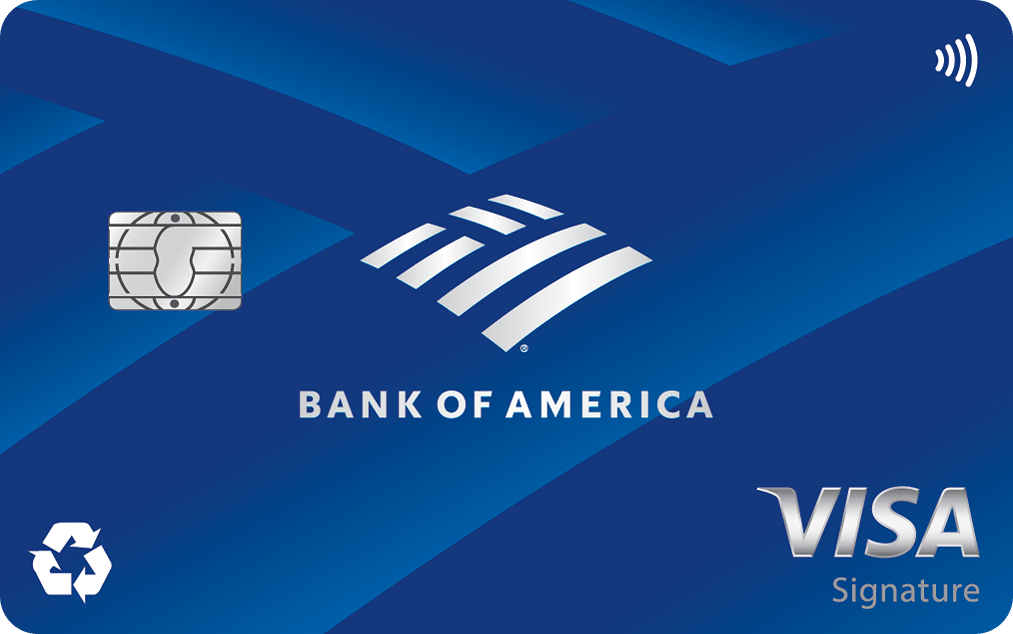 Apply Now
on Bank of America's secure website
Read Card Review
Intro Offer
Earn 25,000 online bonus points after you make at least $1,000 in purchases in the first 90 days of account opening - that can be a $250 statement credit toward travel purchases