Retirement is a long-awaited chapter in life that allows you to explore the world leisurely, whether you dream of seeing natural or manmade wonders. To make the most of your adventures, use the best travel credit cards to unlock benefits and rewards.
There are several popular foreign cities that should be at the top of every retiree's travel bucket list. These destinations have a blend of rich history, vibrant cultures, picturesque landscapes, and retiree-friendly amenities.
Earn a $250 travel bonus with this incredible card
There's a credit card that's making waves with its amazing bonus and benefits. The Bank of America® Travel Rewards credit card has no annual fee and you can earn 25,000 points after spending $1,000 in purchases in the first 90 days of account opening.
You can earn additional points just by using this card for your everyday purchases — unlimited 1.5 points per $1 spent on all purchases. The 25,000 points can be redeemed for a $250 statement credit toward travel or dining purchases.
If you want to travel and dine out more, the Travel Rewards card can help you get where you want to go.
The best part? There's no annual fee.
Reykjavik, Iceland
One thing you'll find at the top of everyone's bucket list is a chance to see the Northern Lights with their own eyes. Reykjavik, Iceland, is an excellent place to do that — just be prepared to go during the cold season.
Beyond that spectacle, Iceland has several natural attractions like volcanoes and geothermal springs. It's also known for its Scandinavian hospitality and senior-friendly accommodations.
Jerusalem, Israel
Few places in the world vibrate with spiritual energy, like Jerusalem, the home of the Wailing Wall, the Dome of the Rock, the Temple of the Holy Sepulchre, and more. Even non-religious people will likely feel awe and wonder in this ancient place.
While there is plenty for seniors to enjoy inside the walled city, including excellent cuisine, we recommend day trips to the Dead Sea and Petra for a true bucket-list adventure.
Tulum, Mexico
Once a camping destination for backpackers, Tulum, Mexico, has become an eco-paradise for travelers of all ages. Spend your days basking on the Gulf of Mexico beaches at resorts that line the flat, navigable beach zone.
If you're in especially good shape, take an excursion and swim in one of the many cenotes in the region. Don't miss out on world-class food, yoga classes, sound baths, and other wellness activities.
Florence, Italy
Who doesn't want the chance to see Michelangelo's "David" in person? That's just one reason to visit Florence, the beating heart of Tuscany. The other art destinations here are not to be missed either, including the Uffizi Gallery and the Duomo.
Naturally, you'll want to spend time outside art galleries to sample this region's famous food and wine. Fortunately, there are ample senior-friendly accommodations where you can hang your hat at night.
La Fortuna, Costa Rica
If you've saved up miles on a top credit card, cash them in for a flight to Costa Rica, one of the most biodiverse countries on the planet. 
Then drive to La Fortuna, the home of the famous Arenal volcano. Active folks will enjoy any number of hiking activities in this lush jungle region.
If you prefer to stay back at the hotel, that's fine; there, you can soak in geothermal pools with volcano views, which does wonders for tired bones.
Lisbon, Portugal
As long as you're able to walk on cobblestone streets safely, Lisbon is an excellent tourist destination for seniors. It's fairly affordable for a Western European city and offers the perfect blend of city delights and countryside sights.
When you tire of walking tours, seeing architectural sites, and visiting museums, you can spend your time lazing on the beach. Or enjoy dining at one of Lisbon's many cafes and restaurants.
Prague, Czech Republic
Does a day of touring castles and museums sound idyllic to you? How about getting half off the price of admission? Head over to Prague, the capital of the Czech Republic. This safe, walkable city (again, mind the cobblestones) is a true gem of Eastern Europe.
If all of that hoofing around is a bit too much for you, there are river cruises and golf packages that you can do instead. There are also gardens that are accessible to all travelers.
Machu Picchu, Peru
Machu Picchu may be an ancient city that's no longer inhabited as it was during the Inca empire, but it's still a bucket list destination not to be missed. 
If walking in sounds too strenuous, the train from Cusco will get you there just fine. Just plan ahead if you're sensitive to altitude because the elevation of Machu Picchu is nearly 8,000 feet.
Seniors will especially benefit from traveling with a guided tour, which allows for socializing and making new friends.
Tokyo, Japan
Tokyo has it all if you're interested in skyscrapers, endless shopping, and some of the world's best cuisine. 
And what better time to visit than during the stunning cherry blossom season, when the trees explode in clouds of pink all over the city? There are plenty of parks for enjoying this annual event, too.
Japan is also navigable for seniors, thanks to its highly efficient train system. And if you get to a point where you need a break, you can decompress by soaking in an onsen.
Cairo, Egypt
If you fell in love with Egyptology as a child, like many of us, a trip to Cairo is a once-in-your-life destination. There you can see its many archeological and architectural sites, as well as the pyramids of Giza (about 20 minutes away). A side trip to Luxor is also a must.
Cairo is a teeming metropolis that attracts travelers of all ages, but some seniors may feel the most comfortable on a guided tour, which takes the guesswork out of the equation.
Paris, France
The City of Light has a lure all its own, thanks to the promise of elegant cuisine, sidewalk cafes, world-class art museums, the Eiffel Tower, and so much more. It's also relatively easy for seniors to navigate with a little bit of planning.
While buses and taxis are more expensive than the Metro, those options will be easier for anyone with mobility issues. That also leaves more time for sipping wine and people-watching.
Sydney, Australia
Safe, easy to navigate, and welcoming to tourists, Sydney is a great destination for seniors. Architecture fans will love the famous Sydney Opera House and Sydney Harbour Bridge. 
Nature fans will no doubt want to visit the Blue Mountains, the outback, or enjoy a day at the beach.
On top of all that, there is a dynamic culinary scene to explore and plenty of hip neighborhoods. If you can swing it, a trip up the coast to snorkel the Great Barrier Reef is an essential stop.
Johannesburg, South Africa
Johannesburg's temperate climate and excellent infrastructure make it an accessible destination for seniors. The city has several notable museums and landmarks, such as the Apartheid Museum and the Nelson Mandela National Museum.
For nature enthusiasts, the nearby Cradle of Humankind and Johannesburg Botanical Gardens are serene spaces to explore. If you can add a safari to the trip, do it.
Agra, India
Home to the Taj Mahal, one of the seven wonders of the world, Agra is a worthy bucket list destination. An essential stop on India's famed Golden Triangle — all of which you should explore if you can — seniors will do best with a guided tour handling the logistics.
Note that India will likely put you out of your comfort zone, just like Cairo and Tokyo, but having a private tour will mitigate travel stress.
San Juan, Puerto Rico
While Puerto Rico is a part of the United States, the jewel of the Caribbean feels like its own island paradise. 
Old San Juan is ideal for exploring on foot, as is the trendy Condado neighborhood with many shops and restaurants. You won't need to bring your passport, either.
Must-do side trips include a trek to some of the brightest bioluminescent bays in the world for a kayak adventure. Take your pick of beautiful beaches, too.
If you're over 50, take advantage of massive discounts and financial resources
Over 50? Join AARP today — because if you're not a member you could be missing out on huge perks. When you start your membership today, you can get discounts on things like travel, meal deliveries, eyeglasses, prescriptions that aren't covered by insurance and more.
How to become a member today:
Go here, select your free gift, and click "Join Today"
Create your account (important!) by answering a few simple questions
Start enjoying your discounts and perks!
You'll also get insider info on social security, job listings, caregiving, and retirement planning. And you'll get access to AARP's Fraud Watch Network to help you protect your money, as well as tools to help you plan for retirement.
Important: Start your membership by creating an account here and filling in all of the information (Do not skip this step!) Doing so will allow you to take up 25% off your AARP membership, making it just $12 per year with auto-renewal.
Bottom line
There's no shortage of amazing cities that retirees can visit, whether you're checking items off of your bucket list or simply seeking affordable, walkable destinations. If you can retire early, you can see them sooner than later, too.
Just remember that you don't always have to go international to have an incredible travel experience, thanks to all the fantastic places you can visit in the U.S. From national parks to thriving metropolises, there's something for everyone.
Easy-to-Earn Unlimited Rewards
Earn 25,000 online bonus points after you make at least $1,000 in purchases in the first 90 days of account opening - that can be a $250 statement credit toward travel purchases
Earn 1.5 points per $1 spent on all purchases
Longer intro APR on qualifying purchases and balance transfers
No foreign transaction fees
Earn unlimited 1.5 points per $1 spent on all purchases, with no annual fee and no foreign transaction fees and your points don't expire.
25,000 online bonus points after you make at least $1,000 in purchases in the first 90 days of account opening - that can be a $250 statement credit toward travel purchases.
Use your card to book your trip how and where you want - you're not limited to specific websites with blackout dates or restrictions.
Redeem points for a statement credit to pay for travel or dining purchases, such as flights, hotel stays, car and vacation rentals, baggage fees, and also at restaurants including takeout.
0% Introductory APR for 15 billing cycles for purchases, and for any balance transfers made in the first 60 days. After the intro APR offer ends, 18.24% - 28.24% Variable APR will apply. A 3% fee applies to all balance transfers.
If you're a Preferred Rewards member, you can earn 25%-75% more points on every purchase. That means instead of earning an unlimited 1.5 points for every $1, you could earn 1.87-2.62 points for every $1 you spend on purchases.
Contactless Cards - The security of a chip card, with the convenience of a tap.
This online only offer may not be available if you leave this page or if you visit a Bank of America financial center. You can take advantage of this offer when you apply now.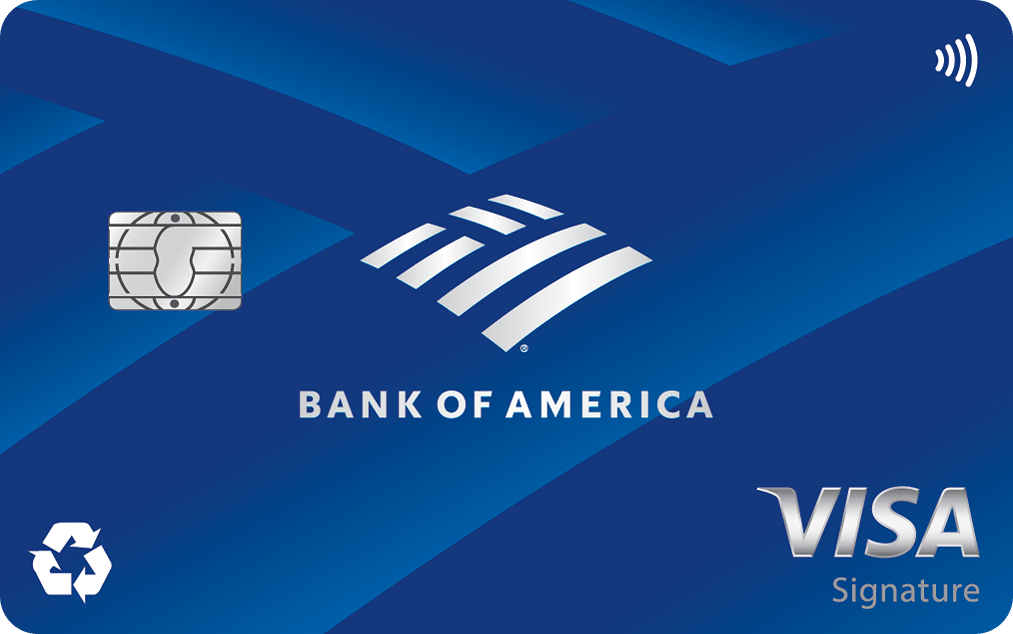 Apply Now
on Bank of America's secure website
Read Card Review
Intro Offer
Earn 25,000 online bonus points after you make at least $1,000 in purchases in the first 90 days of account opening - that can be a $250 statement credit toward travel purchases