The James Beard Foundation (JBF) recently announced its 2022 award winners, and this year's so-called "culinary Oscars" honored diverse chefs from every region of the country who are creating dishes that represent a full spectrum of America.
If you're tired of buying groceries and cooking for yourself, many of the restaurants here, like Mister Jiu's in San Francisco, may be destination dining. But not all of them will bust the budget. Some of these restaurants bestowed with the industry's highest honor, like the humble barbacoa taco joint in South Philly, are very affordable.
With each restaurant, we've included the average price of appetizers and entrees, plus an estimate for dinner for two (starters or sides plus main courses for both people, but minus beverages, desserts, tax, and tip) to give you an idea of the cost.
The Grey, Savannah, Georgia
Bestowed with JBF's highest honor of Outstanding Chef, Mashama Bailey creates elegant and ultra-seasonal southern food in her sleek restaurant — a restored 1930s-era Greyhound bus terminal. 
The menu may change nightly but diners can expect port city-inspired dishes like vermillion snapper in pea shoots and ham-mushroom broth, scallop crudo with pickled okra, and lamb heart with molasses and pomegranate.
Small plates and appetizers are in the $8-$15 range while entrees are in the $22-$35 range. We estimate dinner for two to be around $80.
Owamni, Minneapolis, Minnesota
Dedicated to preserving and revitalizing Indigenous food systems and cooking techniques, Owamni — awarded Best New Restaurant of 2022 — has designed a decolonized menu (meaning no wheat, cane sugar, or dairy products) centered around local game, plants, grains, and Native fare. 
Chef Sean Sherman, Oglala Lakota, is the culinary artist behind dishes like cedar-braised bison tacos with chili and maple vinegar, smoked Lake Superior trout with a white bean spread, and hand-harvested wild rice with root vegetables.
Sides and small plates are in the $8-$10 range while entrees average $16. Estimated dinner for two is $50.
Mister Jiu's, San Francisco, California
In a historic building in San Francisco's Chinatown, Brandon Jew — Best Chef: California — serves up cuisine that bridges Chinese home cooking and Bay Area culture. 
It's known for classic dishes, like smoked and aged duck served with house-made pancakes and peanut hoisin sauce, as well as more contemporary dishes, such as steamed daikon in oxtail broth with Meyer lemon and Arthur's nettles.
Prices of main plates vary widely, from $18-$140; appetizers and small plates range from $8-$18. Estimated dinner for two is $130.
Nixta Taqueria, Austin, Texas
Edgar Rico — honored with JBF's Emerging Chef award — is the creator behind this first-come, first-served, counter service taqueria. Although they prefer to be called homey and not fancy, this taqueria blends old with new, creating fusions like beet tartare or cured yellowfin tuna tostadas, or refried beans cooked in duck fat.
Tacos run $8-$12 and they recommend ordering two to three for dinner, so patrons can expect to spend around $50 for two people.
Virtue Restaurant & Bar, Chicago, Illinois
This upscale restaurant prides itself on its unpretentious and thoughtful vibes, but don't be fooled. Erick Williams — Best Chef: Great Lakes region — is using heritage techniques to put a spin on Southern American cooking. The lamb T-bone is served with sorghum grains and chermoula and the green tomatoes are served with Gulf shrimp and remoulade.
Entree prices range from $22-$42, and sides are $9-$12. Estimated dinner for two is around $100.
Annette, Aurora, Colorado
Drawing inspiration from not only different American culinary regions but also different farm regions, Caroline Glover's "scratch to table" gastropub secured her spot as the Best Chef: Mountain region in the JBF awards. 
Start with a butter lettuce, pickled shallots, sunflower seed, ricotta, and tarragon salad. For the main course, try grilled beef tongue on marrow toasts.
Shareable plates range from $13-$44. We estimate dinner for two to cost around $85.
South Philly Barbacoa, Philadelphia, Pennsylvania
Cristina Martinez — Best Chef: Mid-Atlantic region — is originally from Capulhuac, Mexico, and has garnered accolades for her lamb barbacoa tacos. There's no need to reinvent these simple tacos; the beauty is in their sauce and authentic tortilla. Just get there early, because the line is often out the door and it closes when food runs out.
Tacos are $4 each, so we estimate that lunch for two will run you around $25.
Automatic Seafood and Oysters, Birmingham, Alabama
Adam Evans — Best Chef: South — is elevating Gulf Coast seafood, but not in an ostentatious way. It's part raw bar, part restaurant, serving clean and locally sourced fare in an elegant, classic space. 
Try duck fat-poached swordfish with morels, spear-caught snapper crudo with nectarine and pickled guajillo chili, or grilled oysters with kale and pecorino.
Starters are in the $10-$16 range, while main plates are in the $22-$40 range. We estimate dinner for two to be around $100.
The Diplomat, Milwaukee, Wisconsin
Sleek, fun, and a little retro, The Diplomat takes the term "neighborhood restaurant" to a whole new level. 
Dane Baldwin — Best Chef: Midwest region — sometimes reinvents the American household favorites he grew up with, like Chicken a la King, now a confit chicken leg with Mirepoix biscuit, chicken liver mousse, and charred-leek cream. It's a seasonal menu, taking inspiration from all around the globe, and it changes often.
Entrees are in the $18-$64 range, while appetizers and sides are in the $7-$18 range. Estimated dinner for two is $70.
Sazón, Santa Fe, New Mexico
Originally from Mexico City, chef Fernando Olea — Best Chef: Southwest — brings authentic cuisine from his homeland to Santa Fe. Mole is king, of course, but there are reinventions and fusions like corn truffles over mini tortillas, yellowfin tuna crudite with corn chips, and lamb-stuffed chile poblanos in a walnut cream sauce.
Appetizers are in the $15-$28 range, while main courses range from $32-$55. Estimated dinner for two is around $130.
Dhamaka, New York, New York
Chintan Pandya — Best Chef: New York State — makes food from "the forgotten side of India" with eats like braised goat neck biryani, and murgh kofta, with chicken mince, egg, and poppy seed. The "unapologetically Indian" restaurant is housed in New York's famed Essex Market on the Lower East Side.
Appetizers and small plates range from $11-$19, with entrees in the $33-$43 range. We estimate dinner for two to cost around $105.
Fête, Honolulu, Hawaii
At Fête, chef Robynne Maii — Best Chef: Northwest and Pacific — creates island-inspired and sourced dishes, but with a New York brasserie twist. Try Kualoa Pork ragu, with local whey-braised pork, kale, and house ricotta, or Mahiki Ranch veal schnitzel, with lilikoi shrub and sautéed local greens.
Starters and sandwiches are in the $10-$16 range, while main courses range from $22-$52. Estimated dinner for two is $75.
Saap, Randolph, Vermont
Housed in a Victorian mansion in small-town Vermont is Saap restaurant, where Nisachon Morgan — Best Chef: Northeast — serves up dishes from her native northern Thailand, often using family recipes that have been handed down for generations. 
One of Morgan's specialties is Khao Man Ghai Tod, crispy fried chicken prepared on a wood-fired grill and served with a ginger dipping sauce.
Entrees, soups, and rice dishes are all in the $15-$20 range. We estimate dinner for two to be around $55.
Saltbox Seafood Joint, Durham, North Carolina
Taking his inspiration from waterfront seafood shacks, Ricky Moore — Best Chef: Southeast — believes incredible food doesn't need to be overly complicated; it just needs to be fresh. 
So, what's on the menu? It could be bay scallops, southern flounder, mackerel, or oysters, depending on what the North Carolina fishermen catch that day. All plates come with fish or shellfish, either fried or spice griddled, with house slaw, seasoned fries, and peppers.
Plates are typically in the $17-$21 range; we estimate dinner for two to be around $40.
El Naranjo, Austin, Texas
At her upscale, mostly Oaxacan-style eatery, Iliana de la Vega — Best Chef: Texas — infuses tradition and balance in everything she creates. She imports heirloom corn from Mexico to be stone ground into tortillas every day, and bake fresh bread in-house. 
There are street food specialties, like pastel azteca, which are corn tortillas filled with spinach, almonds, and goat cheese topped with tomato chipotle sauce. For main courses, there are traditional moles made with 30 different ingredients and other laborious dishes, like cocoa and dry chile-rubbed lamb chops served over a sweet orange rind reduction.
Appetizers are in the $10-$18 range, while mains range from $24-$45. The estimated dinner for two here is around $80.
Chai Pani, Asheville, North Carolina
The five-times nominated chef of Chai Pani, Meherwan Irani, was awarded JBF's highest honor this year, Outstanding Restaurant. Irani serves up bright and tangy Indian street food and traditional home-cooked family fare in this simple but hip eatery. 
In addition to the tasty snacks one would find at carts all over India, there are slider-style sandwiches, like Vadav Pav, which are spicy potato dumplings fried in chickpea batter, topped with tamarind chutney, and served on a toasted bun. There are also savory crepes made from a rice and lentil batter, and thalis, which are homestyle platters with daal and rice.
Snacks and appetizers here are in the $4-$8 range, while sandwiches and main courses are in the $9-$11 range. Estimated dinner for two is $35.
Bottom line
The James Beard Foundation awards have always been the guide for keeping track of the most inventive chefs in America, and this year's list is truly unique.
Even though some of the restaurants on this list are budget-friendly, you might be wondering how you can save money at some of the pricier ones. The easiest way to stay within your budget at a restaurant is to skip the alcohol. 
Other options are visiting a restaurant for lunch instead of dinner, or sharing an entree with your dinner partner, instead of ordering two.
But if you're set on splurging and have worked it into your budget, go for it, we say. Just be sure to use one of the best travel credit cards, which often have extra rewards for dining.
Easy-to-Earn Unlimited Rewards
Earn 25,000 online bonus points after you make at least $1,000 in purchases in the first 90 days of account opening - that can be a $250 statement credit toward travel purchases
Earn 1.5 points per $1 spent on all purchases
Longer intro APR on qualifying purchases and balance transfers
No foreign transaction fees
Earn unlimited 1.5 points per $1 spent on all purchases, with no annual fee and no foreign transaction fees and your points don't expire.
25,000 online bonus points after you make at least $1,000 in purchases in the first 90 days of account opening - that can be a $250 statement credit toward travel purchases.
Use your card to book your trip how and where you want - you're not limited to specific websites with blackout dates or restrictions.
Redeem points for a statement credit to pay for travel or dining purchases, such as flights, hotel stays, car and vacation rentals, baggage fees, and also at restaurants including takeout.
0% Introductory APR for 15 billing cycles for purchases, and for any balance transfers made in the first 60 days. After the intro APR offer ends, 18.24% - 28.24% Variable APR will apply. A 3% fee applies to all balance transfers.
If you're a Preferred Rewards member, you can earn 25%-75% more points on every purchase. That means instead of earning an unlimited 1.5 points for every $1, you could earn 1.87-2.62 points for every $1 you spend on purchases.
Contactless Cards - The security of a chip card, with the convenience of a tap.
This online only offer may not be available if you leave this page or if you visit a Bank of America financial center. You can take advantage of this offer when you apply now.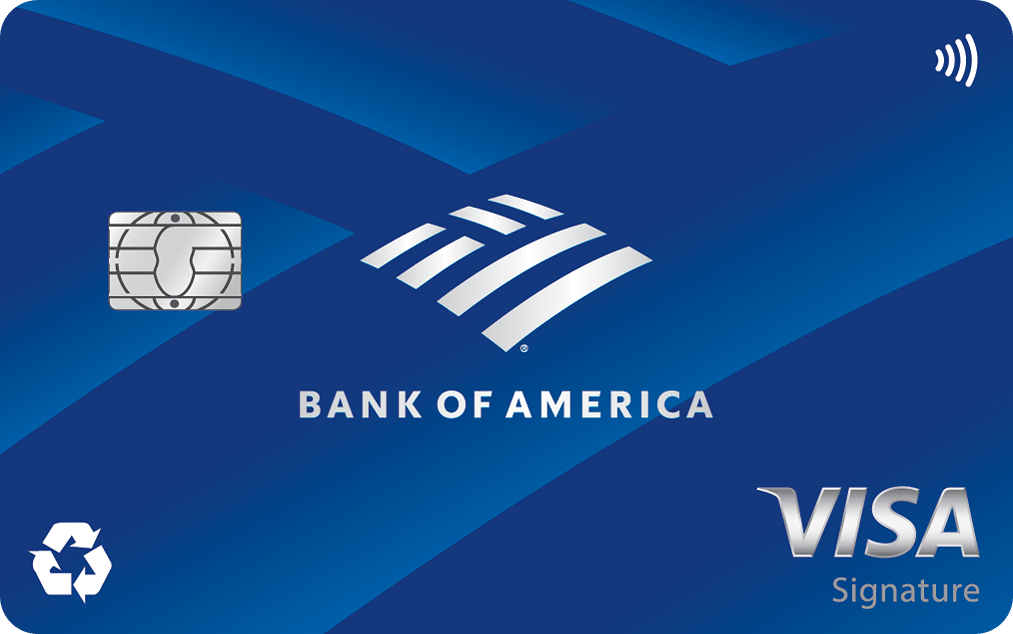 4.1
FinanceBuzz writers and editors score cards based on a number of objective features as well as our expert editorial assessment. Our partners do not influence how we rate products.
Apply Now
on Bank of America's secure website
Read Card Review
Intro Offer
Earn 25,000 online bonus points after you make at least $1,000 in purchases in the first 90 days of account opening - that can be a $250 statement credit toward travel purchases