Traveling with hotel points is a great way to save money — but not all points are created equal. It pays to know how many points will get you a hotel stay on different credit cards before you spend time earning them. With this knowledge, you could book hotel stays for a fraction of the cost.
How many points equal a hotel stay on a credit card
We'll dive into the details of each hotel loyalty program in a minute. But first, here's a quick overview of the brands each hotel chain operates and the range of points needed to book a free night.
| | | |
| --- | --- | --- |
| Loyalty program | Hotel brands | Points for standard room |
| World of Hyatt | Park Hyatt, Miraval, Andaz, Alila, Joie de Vivre, and more | 5,000 to 40,000 |
| Hilton Honors | Waldorf Astoria, Conrad, Curio Collection, Embassy Suites, Hilton Garden Inn, and more | 5,000 to 95,000 |
| IHG Rewards | Holiday Inn, Kimpton, Hotel Indigo, Crowne Plaza, InterContinental, Even Hotels, and more | 10,000 to 70,000 |
| Marriott Bonvoy | The Ritz-Carlton, St. Regis, W Hotels, JW Marriott, Sheraton, Residence Inn, and more | 7,500 to 85,000 |
| Wyndham Rewards | Wyndham Grand, TRYP by Wyndham, La Quinta, Wingate, Days Inn, and more | 7,500 to 30,000 |
| Best Western Rewards | Best Western Plus, Vib, BW Signature Collection, Sadie, SureStay Collection, and more | 8,000 to 36,000 |
| Choice Privileges | Ascend Hotel Collection, Cambria Hotels, Comfort Suites, Sleep Inn, Quality Inn, Econo Lodge, Rodeway Inn, and more | 6,000 to 35,000 |
| Radisson Rewards | Radisson Blu, Radisson Red, Park Plaza, Park Inn, Country Inn & Suites, and more | 9,000 to 70,000 |
World of Hyatt redemptions
World of Hyatt is one of the most popular hotel loyalty programs in the travel community. Elite members love the perks, which include guaranteed suite upgrades and free breakfast.
Hyatt hotels to stay at
Hyatt offers some of the most sought-after hotels in the world, such as the Park Hyatt Sydney (Australia) and Park Hyatt Paris-Vendome (Paris, France). These hotels can cost upwards of $1,000 per night, but you can book them starting at 30,000 points per night.
Although Hyatt has many high-end hotels, there's great value at the low end as well. For example, you can book a room at the Hyatt Regency Kuantan Resort in Malaysia for 5,000 points per night. Beautiful beaches and lush vegetation await you at this tropical paradise.
If you like wine tasting, consider the Hyatt Regency Sonoma Wine Country. At only 15,000 points per night, it's a wonderful getaway to enjoy the delicious wine and restaurants neighboring this eight-acre retreat.
How to earn World of Hyatt points
The hotel's credit card is The World of Hyatt Credit Card from Chase. You'll automatically receive mid-tier status and one free category 1-4 hotel night annually. Each year that you spend $15,000 on the card, you'll receive another Category 1-4 hotel night.
The World of Hyatt Credit Card comes with a generous welcome offer: Earn up to 60,000 bonus points: 30,000 points after you spend $3,000 on purchases in your first 3 months from account opening, plus up to 30,000 more bonus points by earning 2 points total per $1 spent in the first 6 months from account opening on purchases that normally earn 1 bonus point, on up to $15,000 spent.
Another option is to transfer Chase Ultimate Rewards points to Hyatt. There are several credit cards that earn Ultimate Rewards, such as the Chase Sapphire Reserve® and the Ink Business Preferred® Credit Card. Their points transfer at a 1:1 ratio, so there's no complicated math to worry about.
Hilton Honors redemptions
Hilton is one of my favorite hotel brands when I travel. The Hilton Honors program benefit I love the most is that members get their fifth night free when redeeming points for hotel stays. And if you don't have enough Hilton Honors points for your stay, you can pay with a combination of points and cash.
A few years ago, Hilton switched to dynamic pricing for award redemptions. This means the price to book a room changes based on demand, occupancy, and the time of year. If you have your heart set on a luxurious suite, Hilton allows guests to book premium rooms at a higher point value per night.
Hilton hotels to stay at
There are 14 brands with almost 5,000 hotels around the world to choose from. One of my favorite Hilton stays was at the Rome Cavalieri Waldorf Astoria. It's a beautiful hotel with amazing amenities. We had fresh honeycomb at the breakfast buffet, and there was a pillow menu in our room with 13 choices. Rooms are available for as few as 66,000 points per night.
The Parc 55 San Francisco is a great mid-range hotel that offers tremendous value. It's located in the heart of San Francisco's Union Square and is within walking distance of many popular attractions. Free nights start at 50,000 per night.
How to earn Hilton Honors points
Hilton offers three versions of its personal credit cards to choose from, and any should be one of the best hotel credit cards to add to your list. As a family man, I like the Hilton Honors American Express Surpass® Card because it offers bonus points in common categories. This includes 12X points on eligible purchases at participating Hilton hotels or resorts; 6X points at U.S. restaurants, U.S. supermarkets, and U.S. gas stations; and 3X points on all other eligible purchases.
All information about Hilton Honors American Express Surpass® Card has been collected independently by FinanceBuzz.
Cardholders automatically receive Gold elite status and can earn Diamond status after spending $40,000 on the card each year. Plus, you earn Free Night Reward you can use at almost any Hilton property after spending $15,000 on the credit card.
The card's current welcome bonus is generous: Earn 150,000 Hilton Honors Bonus Points after spending $2,000 on purchases in the first 3 months. With award nights starting at 5,000 points per night, you could stay up to 26 nights at a Category 1 hotel.
IHG Rewards redemptions
Holiday Inn is the best-known brand in the IHG Rewards family. However, my favorite brand is Kimpton Hotels because of the unique style and character of its properties.
No matter where you stay, pay attention to the quarterly PointBreaks list of hotels, where you can book a discounted room for as few as 5,000 points per night.
IHG hotels to stay at
Take the family on an all-inclusive vacation to Jamaica and stay at the Holiday Inn Resort Montego Bay All-Inclusive. Experience the white sand beaches, lush tropical gardens, and five on-site restaurants for only 50,000 points per night. Unlike other hotel chains, two adults and two children can stay without increasing the price of the room.
For a romantic adventure, book a room at the Hotel Indigo Phuket Patong in Thailand. Enjoy the modern elegance of the decor, then slip into the lap pool adjacent to your room's patio. Rooms are available for 35,000 points per night.
How to earn IHG Rewards points
IHG partners with Chase to offer the IHG One Rewards Premier Credit Card. Cardholders automatically receive Platinum Elite status upon approval, and each year, you'll receive a free night worth up to 40,000 IHG points. A unique benefit of this credit card is that you'll earn a free reward night when redeeming points for your stay of four consecutive nights at an IHG hotel.
New cardmembers can earn 140,000 bonus points after spending $3,000 on purchases in the first 3 months from account opening.
Marriott Bonvoy redemptions
The Marriott Bonvoy loyalty program is popular with their elite members, offering over 6,700 hotels to choose from. Over time, you can earn Lifetime Silver, Gold, or Platinum Elite status based on the number of hotel nights you've stayed with Marriott.
Marriott hotels to stay at
The Courtyard Pilsen in the Czech Republic is a great way to stretch your points while enjoying an international vacation. These Category 1 rooms are only 7,500 points per night.
Or take a stroll in Central Park just outside the doors of The Ritz-Carlton New York, Central Park. A night at this luxury hotel in the city that never sleeps can be yours for 85,000 points per night, compared to cash prices that often top $1,000 a night.
How to earn Marriott Bonvoy points
Marriott is unique because two different banks offer its credit cards. Chase offers the standard personal credit card, while American Express offers the business and luxury personal cards. I like that all three cards offer an annual free night after you renew your account.
My favorite is the Marriott Bonvoy Brilliant® American Express® Card because its annual free night award is worth up to 85,000 points. The annual fee of $650 is higher for this premium credit card, but it's offset by a credit of up to $300 ($25 per month) that you can use at worldwide restaurants.
Earn two 85K Free Night Awards after spending $6,000 in purchases in the first 6 months (redemption level at or under 85,000 Marriott Bonvoy points for each award; offer ends 11/1/2023).
Wyndham Rewards redemptions
Wyndham recently updated its Wyndham Rewards loyalty program to introduce three tiers of award night redemptions. You can book rooms for 7,500; 15,000; or 30,000 points per night, per bedroom.
Wyndham hotels to stay at
The Wyndham Grand Clearwater Beach in Florida is the perfect location for a coastal getaway. It's right on the water and is only a short drive from Tampa. Rooms are available for 30,000 points per night.
Hawaii is a perennial favorite vacation destination. Rooms at the Waikiki Marina Resort at the Ilikai are 15,000 points per night, which could make your dream of a Hawaiian vacation come true.
How to earn Wyndham Rewards points
Barclays offers two Wyndham credit cards: one with an annual fee and one without. Confusingly, both versions are named the Wyndham Rewards® Visa® Card. The annual-fee version offers a higher sign-up bonus (30,000 vs. 15,000 points), which could be good for up to four free nights.
If you like Wyndham and stay with them frequently, the annual fee might be worth it for the higher sign-up bonus and ability to earn 5X points on each Wyndham reservation.
Best Western Rewards redemptions
This rewards program may not be as popular with the travel community, but it offers great value to its members. There are over 4,000 Best Western hotels worldwide, and Best Western will instantly match any elite status you have with other hotel chains.
Best Western hotels to stay at
When visiting the Queen of England, consider the Best Western London Queens Crystal Palace Hotel. This Victorian structure was built in 1854, and award nights are available for 16,000 points per night.
If you'd prefer to stay stateside, the Hotel Arya is the perfect setting for your Miami vacation. It offers a rooftop pool with gorgeous views of Biscayne Bay. Rooms are available for 36,000 points per night.
How to earn Best Western Rewards points
First Bankcard offers the Best Western Rewards credit cards. The Best Western Rewards® Premium Mastercard® comes with an annual fee of $89, provides automatic Platinum status, and has a lucrative sign-up bonus. 
When you pay for your room with this credit card, you'll earn 20 points per dollar spent on Best Western stays (10 points as a Best Western Rewards member and 10 points for using the card), and 2 points per dollar spent everywhere else.
Applicants can also earn 80,000 bonus points after you spend $3,000 in first 3 billing cycles, and another 20,000 points after spending $5,000 annually.
Choice Privileges redemptions
The Choice Privileges program offers discounted rates for members and extra perks when you stay during the week. There are over 7,000 locations around the world to choose from when planning your vacation.
Choice hotels to stay at
The Comfort Hotel Bolivar is near the Colosseum in Rome. It's an ideal location for exploring this historic city. You can book it for only 20,000 points per night.
Although Japan is notoriously expensive, you can book a room at the Comfort Hotel Tokyo Kanda for only 8,000 points per night. It's in the center of Tokyo and close to major attractions like the Imperial Palace, The National Museum of Modern Art, and Tokyo Dome City amusement park.
How to earn Choice Privileges points
Barclays partners with Choice to introduce the Choice Privileges® Visa Signature® Card. It has no annual fee and offers automatic Gold status upon approval. Cardholders receive 50,000 points as a sign-up bonus after spending $1,000 within the first 90 days — enough points for up to six free nights.
Radisson Rewards redemptions
The Radisson Rewards program offers the chance to earn points at more than 1,100 global properties. Members can save up to 10% when booking their stays via Radisson's mobile app or website, plus you can earn perks like room upgrades, early or late check-in or checkout, welcome gifts, and free breakfast.
Radisson hotels to stay at
In my experience, international Radisson properties offer tremendous value for travelers. I especially like the Radisson Blu hotel properties, which tend to be more luxurious.
When traveling with my family, we enjoy staying at Country Inn & Suites. The rooms are comfortable and come with a complimentary hot breakfast each morning. Recently, we stayed at the Country Inn & Suites by Radisson, Asheville Downtown Tunnel Road for only 38,000 points per night. It was in the middle of everything we wanted to see and only a couple miles from the Biltmore Estate.
I also stayed at the Park Plaza Westminster Bridge London a few years ago. It offered amazing views of Big Ben and is just across the bridge from Westminster Abbey. Rooms are available for 70,000 points per night in the heart of London.
How to earn Radisson Rewards points
U.S. Bank offers personal and business versions of the Radisson Rewards credit cards. The Radisson Rewards Premier Visa Signature Card offers immediate Gold status and up to 85,000 bonus points — 50,000 points after your first purchase and another 35,000 points when you spend $2,500 in the first three months, which could net you as many as nine free nights.
You'll also receive 40,000 bonus points each year that you renew the card and up to three free nights based on your spending.
A world of free hotel stays awaits you
Now that you know how many points equal a hotel stay on a credit card, you can build toward a free vacation. Remember, each hotel credit card earns points differently and offers unique perks to the cardholder. Pick the best travel credit card and you can receive benefits like elite status, bonus points every time you use the card, and a free hotel night each year.
If you're unsure whether hotel points will work for you, you can still save money on your next hotel stay. Simply book your room as you normally would, then let Pruvo work its magic to rebook your same hotel for less if the prices drop.
Easy-to-Earn Unlimited Rewards
Earn 25,000 online bonus points after you make at least $1,000 in purchases in the first 90 days of account opening - that can be a $250 statement credit toward travel purchases
Earn 1.5 points per $1 spent on all purchases
Longer intro APR on qualifying purchases and balance transfers
No foreign transaction fees
Earn unlimited 1.5 points per $1 spent on all purchases, with no annual fee and no foreign transaction fees and your points don't expire.
25,000 online bonus points after you make at least $1,000 in purchases in the first 90 days of account opening - that can be a $250 statement credit toward travel purchases.
Use your card to book your trip how and where you want - you're not limited to specific websites with blackout dates or restrictions.
Redeem points for a statement credit to pay for travel or dining purchases, such as flights, hotel stays, car and vacation rentals, baggage fees, and also at restaurants including takeout.
0% Introductory APR for 15 billing cycles for purchases, and for any balance transfers made in the first 60 days. After the intro APR offer ends, 18.24% - 28.24% Variable APR will apply. A 3% fee applies to all balance transfers.
If you're a Preferred Rewards member, you can earn 25%-75% more points on every purchase. That means instead of earning an unlimited 1.5 points for every $1, you could earn 1.87-2.62 points for every $1 you spend on purchases.
Contactless Cards - The security of a chip card, with the convenience of a tap.
This online only offer may not be available if you leave this page or if you visit a Bank of America financial center. You can take advantage of this offer when you apply now.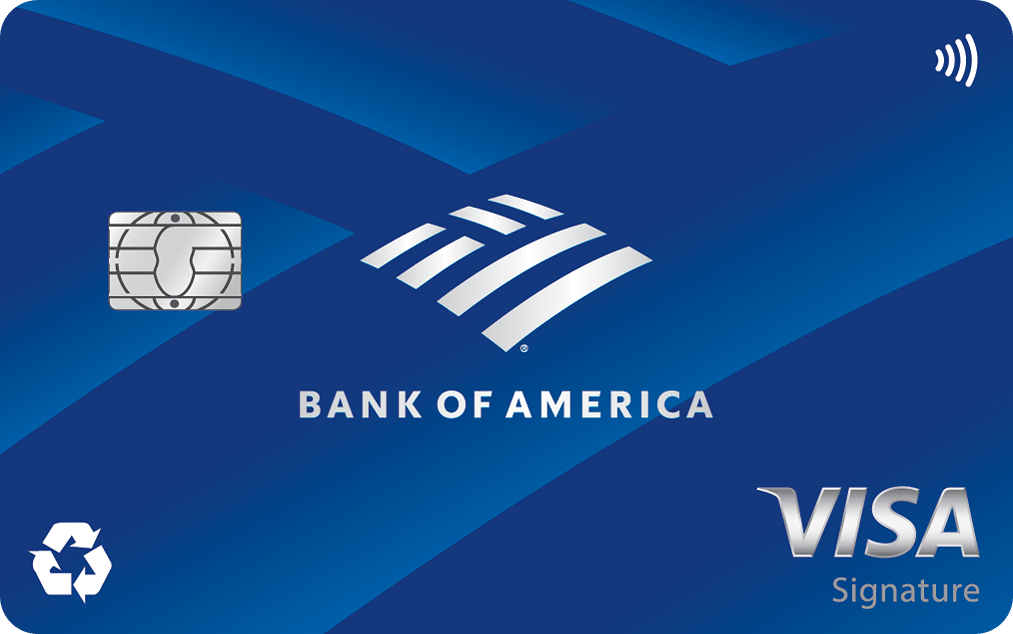 Apply Now
on Bank of America's secure website
Read Card Review
Intro Offer
Earn 25,000 online bonus points after you make at least $1,000 in purchases in the first 90 days of account opening - that can be a $250 statement credit toward travel purchases