Wyndham Rewards is a hotel loyalty program that allows you to score perks such as free WiFi at Wyndham hotels and preferred room choice. As with most loyalty programs, the specific benefits depend on your membership level. The good news, though, is that Wyndham offers something unique: Wyndham Status Match.
With Wyndham Status Match, your status with other hotel loyalty programs earns you a higher status within the Wyndham Rewards program. This means you can get Gold, Platinum, or even Diamond Level benefits without fulfilling all the requirements within the Wyndham Rewards program.
Not only are there tons of loyalty programs that could allow you to qualify for a higher Wyndham Rewards status, but you can also match your Wyndham status to other programs too. 
Recently, I went live with a video demonstrating how to match Hyatt Status to Mlife and then Mlife to Total Rewards. Well, now we have more good news: We figured out a way to get the same perks and comped hotel nights mentioned in the video without needing to have status with Hyatt.
Here's how to get free nights at the Atlantis Hotel using Wyndham Status Match. 
How the Status Matching Works
First, you'll want to match your hotel status to Wyndham from one of seven other hotel chains.
Once that's done, you can match your status from Wyndham to Total Rewards. Your status with Total Rewards will earn you some amazing benefits, including 3-nights at the Atlantis Hotel in the Bahamas (valued around $1,500) if you're a Diamond or above.
The fine print of this comped stay is that you will need to pay the resort fees and gratuity which come out to about $40 per day. Not bad for a $400-$500 per night hotel!

Many of these statuses are easily obtained by openings some of the best travel credit cards such as:
These credit cards grant you status that can be matched to Wyndham Diamond status, which then matches to Total Rewards Diamond.
Wyndham is Making It EASY
Since many of the statuses listed below can be obtained by opening a co-branded hotel credit card, this is a relatively quick and easy process. If Wyndham wasn't your pick for the best hotel credit card, you can still get the rewards you want with this program. Simply opening a new card, submitting two matches, and booking a hotel room can get you an amazing return on your efforts.
Here's a breakdown of the matching opportunities.
To Earn Wyndham Rewards Gold status:
ANY loyalty account with ANY other hotel chain (so EVERYONE should get gold status). This is good and bad since we can see this causing issues since it carries almost no level of exclusivity.

To Earn Wyndham Rewards Platinum status:
Choice Privileges Gold / Platinum

Hilton Silver

Hyatt Discoverist / Explorist

IHG Gold

Marriott Silver

Radisson Silver

To Earn Wyndham Rewards Diamond status:
Best Western Diamond

Choice Privileges Diamond

Hilton Gold / Diamond

Hyatt Globalist

IHG Platinum / Spire

Marriott Gold / Platinum / Platinum Premier

Radisson Gold / Platinum

The Status Match Won't Last Forever
With the match, you will earn status for 90 days from the day the status is granted, so that's something to be aware of.
To maintain this status beyond the 90 days, you will need to stay at a Wyndham. You can book at an eligible rate for 7-nights to maintain Platinum, or 14-nights to maintain Diamond status. Once you do this, you will get to enjoy your status through the following year. 
If you're matching to Gold, your status will remain good through the following year no matter how many nights you book at a Wyndham property. 
Here's a full list of benefits with Wyndham.
FAQs
How long does Wyndham Status Match take?
To request a higher Wyndham Rewards status based on your membership in another loyalty program, you'll need to sign in to your Wyndham Rewards account and complete and submit a Status Match Request form. You'll also need to show proof of your status in that program.
Within five to seven days, Wyndham will verify your status in the other program and send you an email confirming your upgraded Wyndham Rewards status.
What are the levels of Wyndham Rewards?
There are four membership levels in the Wyndham Rewards program, each with their own perks. They include:
Blue: You'll start at this level just for becoming a member and will be able to earn points for free nights. You'll also have free WiFi at Wyndham resorts. And when you book a "go free" award night, you'll get a discount to a local experience.
Gold: This comes with all the perks of Blue status as well as dedicated member services, preferred room choice, late checkout, and accelerated points earning opportunities.
Platinum: This status provides all of the perks of Blue and Gold Membership but adds early check-in, Caesars Rewards Status Match, and free upgrades when you rent a car with Budget or Avis.
Diamond: With this status, you get all the perks of the lower membership levels plus suite upgrades and a welcome gift at check-in.
How do I get Wyndham status normally?
You can get Blue Status automatically by signing up to be a Wyndham Rewards member. For Gold Status, you'll need to spend five nights at a Wyndham property. Platinum Status is available after 15 nights and Diamond Status is available after 40 nights.
How many points does it take to get a free night at Wyndham?
The number of points depends on the resort you choose. There are three Wyndham property tiers. The least expensive resorts offer free nights starting at 7,500 points per bedroom, while mid-range properties offer a free night for 15,000 points and luxury properties offer free nights at 30,000 points per bedroom.
How to Get Free Nights at the Atlantis Hotel
Having this status gains you access to limited time comped rooms all over the place, so if you like to travel, it's well worth the effort.

If you want to snag the comped nights at Atlantis – great! But act fast. The stay needs to be completed by January 31, 2019, and it may take 5 to 7 days for your match to process so the sooner you start the process, the better.
Here's information on the package from Total Rewards.
Here's the link to book your stay at the Atlantis.
Maybe I'll see you there? 
Easy-to-Earn Unlimited Rewards
Earn 25,000 online bonus points after you make at least $1,000 in purchases in the first 90 days of account opening - that can be a $250 statement credit toward travel purchases
Earn 1.5 points per $1 spent on all purchases
Longer intro APR on qualifying purchases and balance transfers
No foreign transaction fees
Earn unlimited 1.5 points per $1 spent on all purchases, with no annual fee and no foreign transaction fees and your points don't expire.
25,000 online bonus points after you make at least $1,000 in purchases in the first 90 days of account opening - that can be a $250 statement credit toward travel purchases.
Use your card to book your trip how and where you want - you're not limited to specific websites with blackout dates or restrictions.
Redeem points for a statement credit to pay for travel or dining purchases, such as flights, hotel stays, car and vacation rentals, baggage fees, and also at restaurants including takeout.
0% Introductory APR for 15 billing cycles for purchases, and for any balance transfers made in the first 60 days. After the intro APR offer ends, 18.24% - 28.24% Variable APR will apply. A 3% fee applies to all balance transfers.
If you're a Preferred Rewards member, you can earn 25%-75% more points on every purchase. That means instead of earning an unlimited 1.5 points for every $1, you could earn 1.87-2.62 points for every $1 you spend on purchases.
Contactless Cards - The security of a chip card, with the convenience of a tap.
This online only offer may not be available if you leave this page or if you visit a Bank of America financial center. You can take advantage of this offer when you apply now.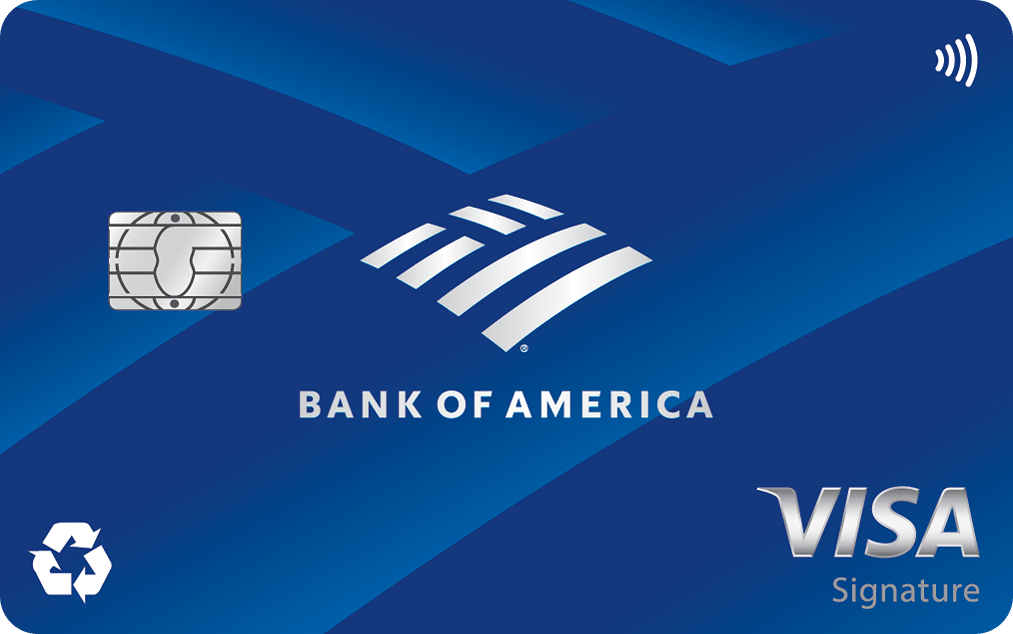 Apply Now
on Bank of America's secure website
Read Card Review
Intro Offer
Earn 25,000 online bonus points after you make at least $1,000 in purchases in the first 90 days of account opening - that can be a $250 statement credit toward travel purchases