Since I first got into using points and miles for travel over 10 years ago, I've visited 30 countries across the globe.
I'm not the most seasoned traveler. I haven't visited the most countries. But I've traveled a fair amount, and often for extended periods of time. And many of my travels have been fueled by, and continue to be fueled by, credit card rewards.
I barely knew anything when I started, but I dove right in and got to where I am today. And I think just about anyone can do the same thing.
Best Travel Credit Cards of 2023

My first travel credit card
From what I can remember, I applied and was approved for my first "real" credit card in 2012. A travel credit card called the Blue Sky from American Express®.
(I technically already had a credit card from Wells Fargo, but I don't remember ever applying for it or really using it.)
The Amex Blue Sky attracted me with its Blue Sky Points that could be redeemed for travel, cash back, gift cards, and merchandise. In particular, I wanted to use points to cover past travel purchases.
Unfortunately, it wasn't easy to earn points, as the rewards rate was only 1 point per dollar spent. You could then redeem 7,500 points for a $100 statement credit. Essentially, spend $7,500 to earn $100.
Not a bad redemption rate, even if the earning potential was mediocre (not that I knew that at the time). But it made a lot more sense to me to earn something from my purchases rather than the nothing I'd been earning using cash and my debit card.
And if I treated my credit card like a debit card — only paying for what I could afford and never carrying a balance — it made even more sense. I could continue making my everyday purchases, not fall into debt, and earn valuable rewards.
It seemed like a no-brainer to me back then, and it still does today.
6 Ways to Build a Life Where You Can Travel Any Time You Want

The travels begin
Over the years, card issuers started releasing much more attractive rewards credit card offers. I was approved for a few different cards from companies such as American Express, Barclays, Chase, and Discover.
Rewards from these and other cards helped me frequently make trips back to where I grew up in New York. I also went on a backpacking trip around Europe with a few of my friends. And then down to Mexico with one of the same friends.
I was slowly getting better at using credit cards for travel redemptions by learning the ins and outs of different credit card rewards programs. I still wasn't an expert by any means, but I could now say I'd traveled to different parts of the world, largely thanks to points and miles.
Note that I wasn't necessarily doing anything special with my credit card rewards. For the most part, I was simply booking flights with a certain credit card and then covering those flight purchases later with points.
Some of my travel highlights during this period of time include:
Doing a solo hike in Cinque Terre along the Italian Riviera coastline
Exploring the Paris catacombs (and scaring a few tourists in the dark)
Going to an FC Barcelona game at Camp Nou (they beat Mallorca 5-0)
Riding scooters to a secluded Mexican beach and having a fresh red snapper meal at sunset
Eating gelato in Venice, and Florence, and Rome, and … you get the picture
9 Nearly Secret Things To Do If You Fly Southwest
Bigger and better travels
Then, in 2016, Chase came out with the Chase Sapphire Reserve® and a mind-blowing welcome offer that was bigger than anything I'd ever earned. Just in time for me to get married and go on a monthlong honeymoon to Europe with my wife.
We used the Sapphire Reserve for many of our honeymoon expenses, including food, petrol, and attraction purchases while in the U.K. and Amsterdam. The Sapphire Reserve is a Visa card, so we had no issues with it working wherever credit cards were accepted. It also has no foreign transaction fees, which came in handy for making purchases abroad.
Aside from taking advantage of different card benefits, the key lesson to learn here is that we were going to have those honeymoon expenses no matter what. So being able to work toward earning a lucrative welcome offer at the same time was an added bonus. 
In general, it doesn't make sense to spend more than you already have planned to earn credit card rewards.
Highlights during this period of time include:
Exploring castles in Scotland
Driving on the opposite side of the road and car in the U.K.
Riding bicycles in the countryside outside Amsterdam
Taking a tour of the Emirates Stadium in London
Walking the city walls of Chester
In the two years after, we also went to Costa Rica and Mexico. We rented cars on both trips (and earned points on the purchases!) so we could experience the surrounding areas at our own pace, exploring cloud forests, volcanoes, cenotes, beaches, and more.
We had managed to accrue loads of points and miles during this period, even though we were still traveling and using rewards. And while many credit card gurus will tell you to "earn and burn" your rewards, or quickly use them as they're earned, I think it's fine to store them at times if you're prepping for a big trip.
In 2019, we traveled (in this order) to Peru, Hong Kong, Vietnam, Cambodia, Thailand, Indonesia, Malaysia, Singapore, Portugal, Germany, the Czech Republic, Poland, Hungary, Slovakia, Austria, Italy, Slovenia, Croatia, and Scotland.
If you include a stop in Bosnia and Herzegovina on a bus ride through Croatia, that's 20 countries we visited in nearly 5.5 months. Our main flights were paid for with points and miles. We also covered multiple hotel stays with points, including a memorable 5-night stay at a Marriott in Bali.
And then, in 2022, we spent nearly 5 months in the U.K., visiting our Scottish family and friends while also enjoying visits from my parents, in-laws, and a close group of childhood friends.
We ended up redeeming hundreds of thousands of Chase Ultimate Rewards points for Airbnb stays that covered nearly our entire trip to the U.K. (this was a limited-time redemption offer using Pay Yourself Back). That was easily thousands of dollars we didn't have to pay for lodging for our family.
There are too many highlights to recount from these trips, given their length and the number of places we visited. But a few highlights include:
Seeing my son take his first steps in Scotland
Visiting loads of major European cities with a monthlong Eurail pass
Exploring night markets in Hong Kong
Meeting up with friends and family in the U.K.
Chasing waterfalls in Bali
A few things I learned along the way
There's a learning curve
It can seem like a firehose of information hitting you face first when you start learning about credit card rewards. But, trust me, it gets easier as you take small steps, stay open-minded, and learn as much as possible.
And don't worry about making mistakes. It happens. Just learn from them and move on to the next redemption.
Keep in mind that there are loads of helpful resources available in this points and miles world, including online forums and groups where you can safely lurk and learn and then chime in once you feel comfortable. I'm slightly biased, but I recommend joining the FBZ Elite group on Facebook.
Beware of credit card closures
Card issuers don't generally like it if you have credit cards sitting around that you never use, especially if they don't have annual fees. In some cases, a card issuer might close a credit account if you don't use it enough.
It happened to me when I was first starting out and simply moving on to the next credit card. It wasn't a huge deal for me, but it could impact your credit history, and you might lose out on any unused rewards.
So consider using your credit cards at least once every few months, even for small charges of $5 or less. To be even safer, you might want to put a small recurring monthly bill, such as a streaming subscription, on your credit card.
That way, you have an automatic charge every month that you can set and forget, especially if you have your card set to be paid off automatically from a linked bank account each billing cycle.
Understand points and miles values
Not every credit card rewards currency holds the same value. For example, 100,000 points with one rewards program could be worth at least $1,000 toward travel. But 100,000 points with another program might be worth closer to $500.
That means you have to be careful if you're comparing credit cards and trying to decide which card might provide more value to you. This is where resources like the FBZ Elite group can help answer specific questions.
There's no one right way to do this
Riddle me this, which of these strategies is the best way to earn credit card rewards?
Use multiple rewards cards to maximize your earning potential by using the card that earns the most rewards for each specific type of purchase. For example, use a card that earns increased rewards on groceries when you go to the grocery store. And then use a card that earns increased rewards on restaurant purchases when you buy takeout.
Use a card with a flat rewards rate that earns the same amount on all eligible purchases. This makes it so you don't have to worry about different rewards categories and can carry just one card in your wallet if you want to.
Always make sure your spending is going toward a generous welcome offer on a new credit card so you're really maximizing how much you're earning on everyday expenses.
It's a bit of a trick question because I don't think there's a best way for everyone. Rather, each person has their own unique take on money and finances that they've grown up with or have learned over the years.
So if you want to maximize your earning potential in one way or another, that's fine. If you would rather use one credit card for everything because that's easier for you, that's also fine. There's no judgment here.
I personally tend to lean toward maximizing my earning potential with multiple cards, but I also find it's often easier to only use one or two cards when I'm traveling abroad.
Find a player two
Some people get married out of love, but I married my wife because I wanted her credit history and more access to credit cards and their rewards. Just kidding!
But having another person to share credit card rewards experiences and successes with has been amazing. I'm not saying it's necessary to be able to use credit card rewards, but it's felt like I've doubled the amount of fun it's been for me since we got married.
Annual fees aren't the end of the world
If you have it instilled in your very essence that you should always have a no-annual-fee credit card (as in, never have a credit card with an annual fee), that's not a bad move.
But I would suggest having an open mind about rewards credit cards, especially travel credit cards, if you're a frequent traveler. That's because many exceptional travel cards have annual fees, and I think they can be well worth applying for depending on your situation.
For example, paying $400 or more for an annual fee seems like a lot (and it is). But what if you travel enough to take advantage of the card's travel benefits, and those alone are worth more than $400 before you factor in a welcome offer, everyday earning potential, and built-in card protections?
Just note that paying an annual fee doesn't have to come off as some shady move by credit card companies. In many cases, you could actually profit from the value you receive from a card's perks and benefits, and that's after paying an annual fee.
Some of my favorite credit cards
I'm a big fan of the Chase Ultimate Rewards ecosystem and the cards that earn Chase Ultimate Rewards. I also generally like other flexible credit card currencies, including American Express Membership Rewards, Capital One miles, and Citi ThankYou Points.
Keeping that in mind, here are some of my favorite credit cards.
Name
Why I like it
Annual fee
Earns Chase points and provides a simple rewards rate
$0
Earns Chase points and provides elevated earning rates on rotating categories
$0
Earns Chase points and provides useful bonus categories for everyday business expenses
$0
Earns Chase points and is an excellent beginner travel card
$95
Earns ThankYou Points and provides useful everyday earning categories
$95
Earns Amex Membership Rewards and is my go-to card for U.S. supermarkets and restaurants
$

250

(Terms apply)
Earns Capital One miles, has a simple rewards rate, and provides premium travel benefits
$395
Provides complimentary Hilton Honors Diamond status and an annual free night award among other premium travel benefits
$450 (Terms apply)
Earns Chase points and provides premium travel benefits
$550
---
Earn a $250 travel bonus with this incredible card
There's a credit card that's making waves with its amazing bonus and benefits. The Bank of America® Travel Rewards credit card has no annual fee and you can earn 25,000 points after spending $1,000 in purchases in the first 90 days of account opening.
You can earn additional points just by using this card for your everyday purchases — unlimited 1.5 points per $1 spent on all purchases. The 25,000 points can be redeemed for a $250 statement credit toward travel or dining purchases.
If you want to travel and dine out more, the Travel Rewards card can help you get where you want to go.
The best part? There's no annual fee.
---
Bottom line
You don't have to be a financial expert to learn about credit cards and how to take advantage of credit card rewards in your life. I started learning about points and miles in college, but I wish I had been introduced earlier.
There are far more valuable card options available today than when I started learning, which makes it a great time to jump in.
To get started, check out our list of recommendations and compare credit cards to find the right offer for you. There are plenty of different options depending on what you're looking for.
Easy-to-Earn Unlimited Rewards
Earn 25,000 online bonus points after you make at least $1,000 in purchases in the first 90 days of account opening - that can be a $250 statement credit toward travel purchases
Earn 1.5 points per $1 spent on all purchases
Longer intro APR on qualifying purchases and balance transfers
No foreign transaction fees
Earn unlimited 1.5 points per $1 spent on all purchases, with no annual fee and no foreign transaction fees and your points don't expire.
25,000 online bonus points after you make at least $1,000 in purchases in the first 90 days of account opening - that can be a $250 statement credit toward travel purchases.
Use your card to book your trip how and where you want - you're not limited to specific websites with blackout dates or restrictions.
Redeem points for a statement credit to pay for travel or dining purchases, such as flights, hotel stays, car and vacation rentals, baggage fees, and also at restaurants including takeout.
0% Introductory APR for 15 billing cycles for purchases, and for any balance transfers made in the first 60 days. After the intro APR offer ends, 18.24% - 28.24% Variable APR will apply. A 3% fee applies to all balance transfers.
If you're a Preferred Rewards member, you can earn 25%-75% more points on every purchase. That means instead of earning an unlimited 1.5 points for every $1, you could earn 1.87-2.62 points for every $1 you spend on purchases.
Contactless Cards - The security of a chip card, with the convenience of a tap.
This online only offer may not be available if you leave this page or if you visit a Bank of America financial center. You can take advantage of this offer when you apply now.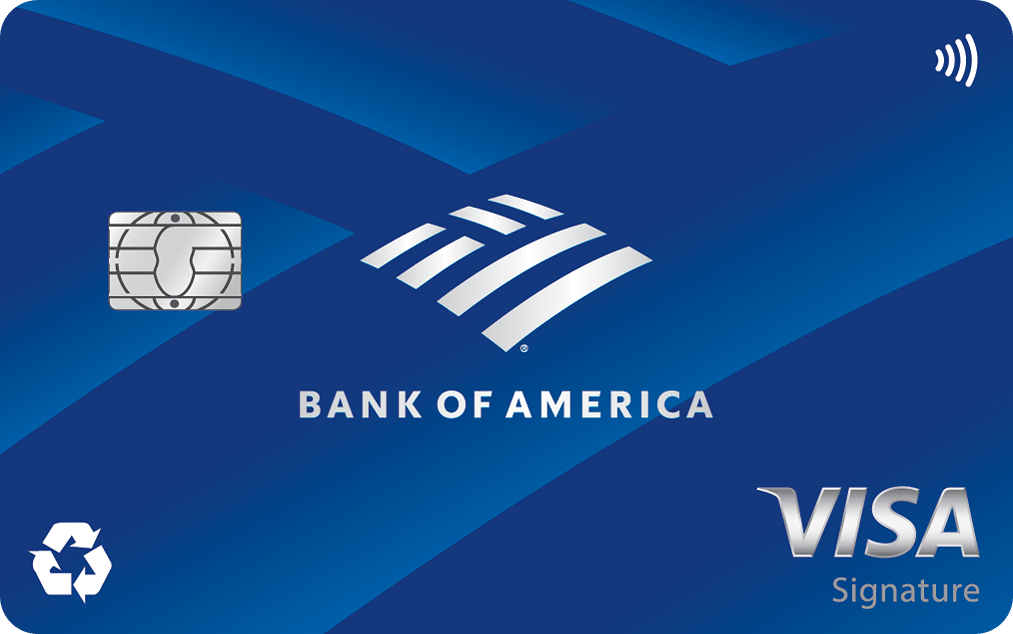 Apply Now
on Bank of America's secure website
Read Card Review
Intro Offer
Earn 25,000 online bonus points after you make at least $1,000 in purchases in the first 90 days of account opening - that can be a $250 statement credit toward travel purchases