Traveling solo can be a wonderful experience. You don't have anyone bogging you down, so you can be more spontaneous. You can also indulge your whims, such as spending all day perusing museums.
However, solo travelers need to avoid key mistakes if they want to enjoy their adventure. If you're a senior citizen who wants to travel, grab one of the best credit cards, book your trip, and be sure to avoid these mistakes.
Overextending yourself
Trying to see and do everything is a common mistake. The end result is often a very long, exhausting trip. That can be especially true for seniors who do not have as much energy as they once did.
Consider avoiding the foolish mistakes of solo travelers before you and plan your trip so it realistically reflects your energy levels and matches your interests. 
If you find long treks tiring, avoid walking tours. If you don't particularly want to see a tourist destination, leave it off your itinerary.
Skipping travel insurance
Comprehensive travel insurance isn't always necessary, but it can be a lifesaver for solo travelers.
If you're in another country and you hurt yourself, you don't want to be left without health coverage. If something pops up and you must suddenly cancel your trip, it would be nice to receive reimbursement for nonrefundable costs.
Comprehensive travel insurance can cover you in both of those instances and many others.
Expecting a repeat visit to mirror the original
Perhaps you visited a foreign country during your 20s and now you want to return to repeat the experience in your 60s. If you aren't careful, you might be disappointed.
Places change over the years — and especially over the decades. That old travel spot could be denser with tourists, more dangerous, or simply not the same as it was all those years ago.
Do your research before booking a plane ticket, and don't let past experiences dictate this trip.
Picking the wrong place to vacation
Similarly, just because you used to be able to hike the sides of cliffs at your favorite coastal destination doesn't mean you can still do that now.
Maybe a city with great public transportation and walkable sidewalks is a better option now. If you're more susceptible now to the downside of extreme climates, perhaps a tropical trip or icy tundra tour should not be on your agenda.
Not budgeting ahead of time
Traveling can often be cheaper in a group setting, whether you split the cost of a hotel room or save money with a group tour bundle. On the other hand, traveling solo will likely involve a bit more cash, so plan accordingly.
If you've never budgeted for a trip by yourself, take the time to do so now. Aside from your basic plane ticket and hotel fees, you'll also need to consider the costs of food, entertainment, shopping, last-minute emergencies, and travel insurance.
Not being aware of the single supplement
A single supplement is an additional charge single travelers pay when using a room that normally serves two people. Hotels and cruise ships may require you to pay this fee.
Seek out vacation rentals that explicitly waive the single supplement.
Failing to brush up on technology
Technology is at the center of modern life. That means you will likely use your smartphone a lot when you travel.
These days, travel can be more difficult if you don't know how to scan a QR code, or how to check in for your flight directly from your phone. Learn to use your phone and travel will become smoother and more pleasant.
Posting about your travels
It can be tempting to rush to social media and tell everyone about the gorgeous sites you're seeing. Or, perhaps you simply want to boast about your solo travel accomplishment.
But try to refrain from doing this, especially if you are a senior traveling solo. Someone who lives in your city might see your post, realize you are not around, and use that fact as an opportunity to break into your home.
Or, a stranger could see you're traveling alone and identify you as a potentially vulnerable target. Odds are that everything will be just fine, but there is no need to tempt fate.
Making yourself an easy target for scammers
Scammers and pickpockets are crafty. Always stay on your guard, and do not assume that you are an expert at detecting fraudulent or potentially dangerous situations.
Try to avoid appearing vulnerable. Know where you're going at all times before you step foot from your hotel so you don't appear lost. Keep your shoulders straight and stay alert.
A small crossbody purse can help you hold valuables flush against you.
Not having a contact or point of reference
Enjoy your alone time, but be sure to check in with people at home so they know you're OK.
If something happens — such as a medical emergency, losing your documents, or another mishap — you want the peace of mind of knowing someone at home knows where you are and can help make the situation safer and less stressful.
Doing too much at once
Without other people slowing you down, you may feel the urge to see everything you can. But don't feel like just because you can do everything that you have to. Instead, try pacing yourself.
Also, if this is your first solo venture, try visiting someplace closer to home that you've always wanted to see. That way, if you need to leave early for whatever reason, you're somewhere familiar.
Isolating yourself
One of the perks of traveling solo is that you don't have to deal with people. But it can be a mistake to isolate yourself.
Consider booking a group tour or two. Take advantage of senior-oriented activities and try to make friends. Don't close yourself off to new opportunities and people. Remember, there is safety in numbers.
Traveling at night
Traveling at night can be dangerous for any solo traveler, but especially for senior citizens. The dark allows pickpockets and scammers to operate in the shadows.
Try scheduling flights to arrive and depart during the day, and don't stray far at night.
Packing too heavy
If you're a bit of a homebody, it can be difficult to know how much to pack when you travel. Resist the urge to take everything with you. Instead, make your trip easier and less complicated by just taking what you need.
Pack the basics, and don't fret if you forget something. After all, you can always buy whatever is missing when you get to your destination.
Avoiding solo travel
In some ways, the ultimate mistake you can make is being afraid to travel solo at all.
As long as you're prepared and stay smart about things, there is no reason to be scared. You don't need the presence of others to enrich your life through travel. That is something you can do entirely on your own.
Pro tip: Take advantage of as many discounts as you can along the way. Additionally, consider using a credit card where you can earn cash back or other rewards to cut down on your overall costs.
Bottom line
Life is too short not to do what you want, especially when you reach a stage where you have the time and resources to explore the world.
Planning well and avoiding some common mistakes can help you keep more money in your wallet and stay safe on your next trip. If you want to spend your time traveling, get out there and start sightseeing.
Easy-to-Earn Unlimited Rewards
Earn 25,000 online bonus points after you make at least $1,000 in purchases in the first 90 days of account opening - that can be a $250 statement credit toward travel purchases
Earn 1.5 points per $1 spent on all purchases
Longer intro APR on qualifying purchases and balance transfers
No foreign transaction fees
Earn unlimited 1.5 points per $1 spent on all purchases, with no annual fee and no foreign transaction fees and your points don't expire.
25,000 online bonus points after you make at least $1,000 in purchases in the first 90 days of account opening - that can be a $250 statement credit toward travel purchases.
Use your card to book your trip how and where you want - you're not limited to specific websites with blackout dates or restrictions.
Redeem points for a statement credit to pay for travel or dining purchases, such as flights, hotel stays, car and vacation rentals, baggage fees, and also at restaurants including takeout.
0% Introductory APR for 15 billing cycles for purchases, and for any balance transfers made in the first 60 days. After the intro APR offer ends, 18.24% - 28.24% Variable APR will apply. A 3% fee applies to all balance transfers.
If you're a Preferred Rewards member, you can earn 25%-75% more points on every purchase. That means instead of earning an unlimited 1.5 points for every $1, you could earn 1.87-2.62 points for every $1 you spend on purchases.
Contactless Cards - The security of a chip card, with the convenience of a tap.
This online only offer may not be available if you leave this page or if you visit a Bank of America financial center. You can take advantage of this offer when you apply now.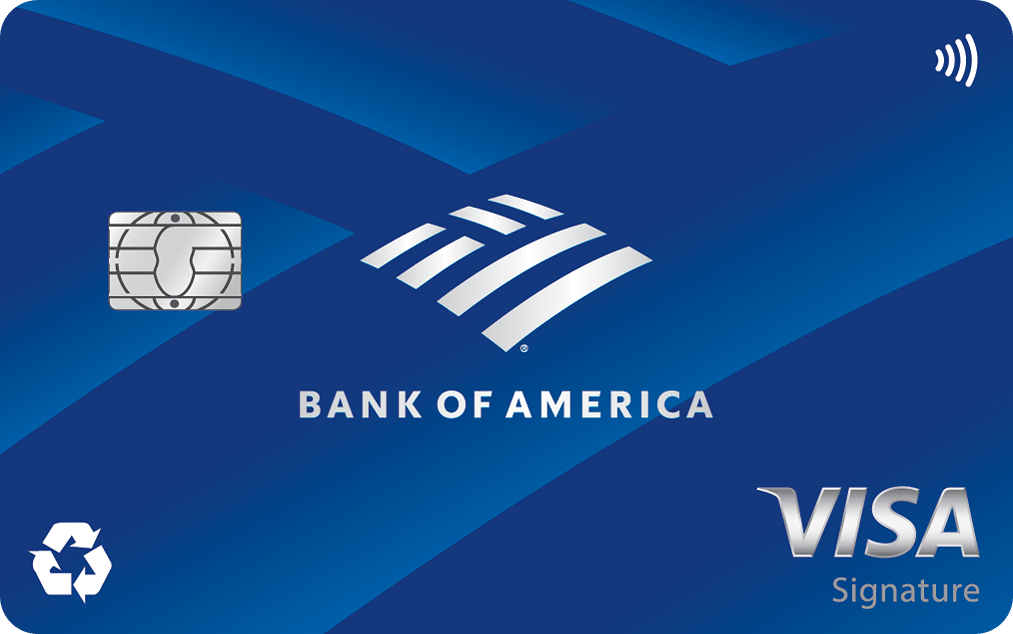 Apply Now
on Bank of America's secure website
Read Card Review
Intro Offer
Earn 25,000 online bonus points after you make at least $1,000 in purchases in the first 90 days of account opening - that can be a $250 statement credit toward travel purchases