Many customers count on Target for one-of-a-kind deals and products. This popular store has many items perfect for keeping your pantry stocked — all while you save on groceries.
Consider this one-stop shop when you're looking for snacks, staples, and easy dinners this month. The following items will fill even the pickiest pantry.
Editor's note: Prices are subject to change and may vary by location.
Get a protection plan on all your appliances
Did you know if your air conditioner stops working, your homeowner's insurance won't cover it? Same with plumbing, electrical issues, appliances, and more. Not being able to make repairs could leave you in a bad situation — but a home warranty could protect you against surprise expenses.
Whether you're a brand-new homeowner or you've owned your home for years, a plan from Choice Home Warranty could pick up the slack where homeowner's insurance falls short.
If a covered system in your home breaks down, you can call their hotline 24/7 for assistance to get it repaired. They have a network of over 15,000 technicians that can assist you, making sure any issue can be taken care of swiftly — without breaking the bank.
Not sure if it's for you? Rest easy: they were named one of the "Best Home Warranty Companies" by US News 360 Reviews and were awarded Best Company's 2020 Consumer's Choice Award. For a limited time, you can get your first month free when you sign up for a Single Payment home warranty plan.
Zone Perfect Protein Bars
Price: $10.49
Take your protein on the road with these delectable bars.
Zone Perfect offers a range of flavors, like chocolate chip cookie dough and oatmeal chocolate chunks. Make this your breakfast or post-workout snack for a boost of energy.
Kraft Mac & Cheese Cups
Price: $4.99
Make this simple late-night snack at a cost-effective price.
Kraft's mac and cheese cups can be made in a jiffy with just water. Heat them up and enjoy a classic meal that everyone will love.
Lay's Potato Chips
Price: $4.29
Choose your favorite Lay's chips in shareable sizes.
You can even try limited-edition flavors like BLT or Cuban Sandwich for the summer. Stock up your pantry with this party favorite for a variety of bold tastes.
Stop overpaying when you shop online
Shopping online has its perks. It's super convenient, but it can be time consuming to find the best deals. Instead of hunting for coupon codes (that don't always work!) and opening tons of browser tabs comparing prices, you can try Capital One Shopping.
Capital One Shopping makes saving money effortless. Just add the browser extension and when you check out, it'll scour the internet for coupon codes to help you save cash. And before you check out at 25+ major retailers, Capital One Shopping will notify you with a friendly pop-up if the item you're buying is available cheaper somewhere else.
Capital One Shopping is free to use and won't show you ads. Add it today and stop overpaying!1
Annie Chun's Pad Thai Noodle Bowls
Price: $3.19
Are you looking for a handy meal for those busy summer days?

Then try out these noodle bowls. Annie Chun's has many flavors, like this pad Thai, that make for a simple but delicious lunch or dinner.
Good & Gather Canola Oil
Price: $3.89
With summer cooking and grilling, make sure you stock up on this pantry staple.
Target's canola oil comes at an affordable price. You can fry, bake, and cook with this versatile ingredient.
Quaker Chewy Mini Dipps S'mores
Price: $3.39
Want the taste of s'mores on the go?

These miniature Chewy Dipps have bite-sized marshmallow pieces and chocolate chips inside a base of graham cracker oats. Enjoy a bit of your campfire favorite anytime and anywhere.
Frito Lay Chips Party Size Classic Mix
Price: $16.99
Here's a mix of all the classic Frito Lays flavors.
You get 28 single-serve bags per box at an affordable price. Bring this on your road trip, or stock up your pantry for the season.
Market Pantry Peanut Butter Filled Pretzels
Price: $11.99
You may want to add this value-sized product to your Target shopping list.
Savor salted pretzels packed with creamy peanut butter for a sweet and salty snack. And here's a tip: Pack this on your summer road trip for an easy on-the-go treat.
Good & Gather Probiotic Fruit & Yogurt Trail Mix
Price: $6.49
You can add this trail mix to your hiking bag.
This tasty trail mix offers dried cranberries and blueberries for a sweet taste. And the yogurt chips add richness alongside the salty almonds.
Earn 2% cash rewards at grocery stores and Costco
The Wells Fargo Active Cash® Card(Rates and fees) is a powerful rewards card that allows you to earn unlimited 2% cash rewards on purchases — including on groceries, even at warehouse stores like Costco.

New cardholders can also earn a one-time cash rewards bonus — $200 cash rewards bonus after spending $500 in purchases in the first 3 months!
If you're looking for a powerful rewards card that offers an extended intro APR period, look no further, the Wells Fargo Active Cash® Card checks that box too!
This card also offers an intro APR of 0% for 15 months from account opening on purchases and qualifying balance transfers (then 20.24%, 25.24%, or 29.99% variable). Which is great for someone who wants a break from high interest rates, while still earning rewards.
The best part? There's no annual fee.
Click here to apply for the Wells Fargo Active Cash® Card now.
Muddy Bites Waffle Cone Snacks
Price: $3.99
Try these waffle cone bites if you're craving your favorite ice cream snack on the go.
Muddy Bites lets you put a frozen favorite on your pantry's shelf for easy snacking. Enjoy milk or dark chocolate centers in a waffle cone bite. You might wind up buying a few bags on your Target trip.
Favorite Day Mini White Fudge Dipped Sandwich Cookies
Price: $2.99
These fun cookies bring the party to your pantry.
Enjoy a bite-sized snack covered in white fudge chocolate and confetti sprinkles. These are perfect for serving as a sweet dessert at your next gathering or barbecue.
Goodles Protein Mac and Cheese
Price: $2.99
Here's a mac and cheese that packs the protein.
Goodles comes in a range of flavors, like creamy cheddar and parmesan. Buy a few boxes for a quick summertime meal the whole family can appreciate.
Good & Gather Double Chocolate Chunk Granola
Price: $4.59
This low-cost granola is big on taste.
This double-chocolate-chunk treat pairs wonderfully with yogurt, smoothie bowls, or even on its own as a cereal. You also get a nice dose of protein, fiber, and whole grains with each serving.
Lipton Black Tea Bags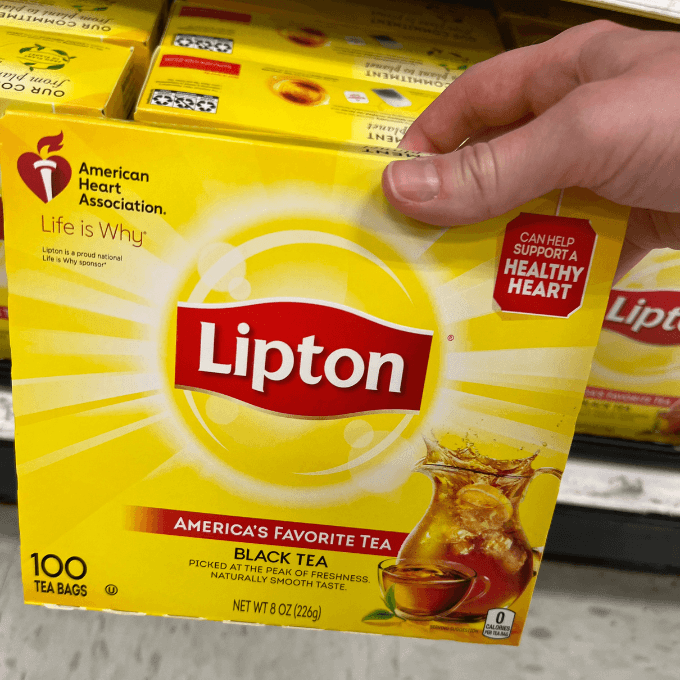 Price: $4.59
It's officially summer, which means longer days and refreshing iced tea.
You get a hundred bags per box for a full season of your favorite beverage. You can even make your own Arnold Palmers with fresh-squeezed lemonade.
Favorite Day Honey Graham Crackers
Price: $2.19
You can't forget this summer staple on your next shopping trip.
When it's time to make s'mores, grab a few boxes of these value graham crackers. Target's brand has a sweet honey taste that complements your campfire treat.
Good & Gather Organic Three Cheese Pasta Sauce
Price: $2.39
Add a few bottles of this inexpensive pasta sauce to your pantry for a convenient meal.
Use this on pasta, pizzas, and more this summer when you've got to make dinner in a pinch. You get the flavors of parmesan, romano, and ricotta in this hearty sauce.
McCormick Perfect Pinch Cajun Seasoning
Price: $4.99
This July, inject a little Cajun spice into your chicken, soups, and more. You can add a little heat when making your crab or seafood boil.

Little Debbie Red, White, and Blue Brownies
Price: $2.79
This is one dessert you won't want to miss for the season! Just make sure you buy enough boxes for all your party guests.
Good & Gather Organic Honey Barbecue Sauce
Price: $3.49
No barbecue is complete without barbecue sauce.
This honey barbecue gives you more bang for your buck. Marinate your meats or add this to your baked beans for a sweet and savory kick.
Bottom line
Bargain shoppers can trust that Target will have great discounts and deals to help them beat the high cost of groceries.
And when you're a Target Circle member, they offer exclusive coupons to save even more at checkout.
You should also swing by their discount aisles to see what's been marked down further. You could find your next go-to product on your visit.
Lucrative, Flat-Rate Cash Rewards
Current Offer
$200 cash rewards bonus after spending $500 in purchases in the first 3 months
Rewards Rate
Earn 2% cash rewards on purchases