Many summer activities and gatherings can benefit from a sweet treat.
And with Trader Joe's, you can buy one-of-a-kind desserts to keep your home stocked for the season and still keep more money in your wallet. Your sweet tooth will thank you for these delicious sweets.
Editor's note: Prices are subject to change and may vary by location.
Get a protection plan on all your appliances
Did you know if your air conditioner stops working, your homeowner's insurance won't cover it? Same with plumbing, electrical issues, appliances, and more. Not being able to make repairs could leave you in a bad situation — but a home warranty could protect you against surprise expenses.
Whether you're a brand-new homeowner or you've owned your home for years, a plan from Choice Home Warranty could pick up the slack where homeowner's insurance falls short.
If a covered system in your home breaks down, you can call their hotline 24/7 for assistance to get it repaired. They have a network of over 15,000 technicians that can assist you, making sure any issue can be taken care of swiftly — without breaking the bank.
Not sure if it's for you? Rest easy: they were named one of the "Best Home Warranty Companies" by US News 360 Reviews and were awarded Best Company's 2020 Consumer's Choice Award. For a limited time, you can get your first month free when you sign up for a Single Payment home warranty plan.
Sea Salt Brownie Bites
Price: $2.99
Try these sea salt brownie bites for an unforgettable and affordable treat, while you save on groceries.
These brownies mix salty and sweet for a flavorful dessert. Warm them up and top them with ice cream for an elevated after-dinner delight.
Root Beer Float Bars
Price: $3.49
Here's a summer classic treat.

These frozen bars take the taste of root beer floats for an icy dessert. And you get six bars of creamy, soda-flavored delights in this affordable package.
Dark Chocolate Cookie Sticks
Price: $1.99
This is a snack-sized dessert anyone can enjoy.
These cookie sticks are made with Belgian dark chocolate for a rich, crispy bite. You can even dip these in your favorite milk or top ice cream with this unique treat.
Stop overpaying when you shop online
Shopping online has its perks. It's super convenient, but it can be time consuming to find the best deals. Instead of hunting for coupon codes (that don't always work!) and opening tons of browser tabs comparing prices, you can try Capital One Shopping.
Capital One Shopping makes saving money effortless. Just add the browser extension and when you check out, it'll scour the internet for coupon codes to help you save cash. And before you check out at 25+ major retailers, Capital One Shopping will notify you with a friendly pop-up if the item you're buying is available cheaper somewhere else.
Capital One Shopping is free to use and won't show you ads. Add it today and stop overpaying!1
Gluten-Free Mini Cupcakes
Price: $3.99
Even gluten-free dieters can enjoy delicious Trader Joe's cupcakes.
These mini cupcakes offer a combined dozen of chocolate and vanilla bites. You can serve these at your summer party or birthday celebration.
Banana Pudding Flavored Ice Cream
Price: $3.79
Want to cool off from the summer heat?

This ice cream gives you a classic summer dessert in a pint! Enjoy the flavors of banana pudding in this creamy, cool treat.
Double Chocolate Wafer Cookies
Price: $3.49

Satisfy your sweet tooth with these crunchy wafer cookies filled with chocolate creme.
These chocolate wafer cookies have double the chocolate! They also add a dash of hazelnut flavor for a powerful bite.
Cinna-Dragons Gummy Candy
Price: $2.29
Here's a gummy candy that packs some heat.
This cinnamon candy is dragon-shaped with a sweet and fiery kick. This resealable bag is handy for those summer movie nights.
Mini Hold the Cone! Chocolate Ice Cream Cones
Price: $3.99
This miniature frozen treat is a bite-sized dessert anyone can appreciate.
Enjoy ice cream flavors like chocolate or chocolate chip wrapped in a chocolate shell. You'll even want to eat the sweet and crispy ice cream cone!
Dark Chocolate Almond Butter Filled Pretzel Nuggets
Price: $3.79
Not every dessert has to be super sweet.
These snacks mix salty and sweet with almond butter, pretzels, and dark chocolate. They make a great road trip snack or post-dinner treat.
Earn 2% cash rewards at grocery stores and Costco
The Wells Fargo Active Cash® Card(Rates and fees) is a powerful rewards card that allows you to earn unlimited 2% cash rewards on purchases — including on groceries, even at warehouse stores like Costco.

New cardholders can also earn a one-time cash rewards bonus — $200 cash rewards bonus after spending $500 in purchases in the first 3 months!
If you're looking for a powerful rewards card that offers an extended intro APR period, look no further, the Wells Fargo Active Cash® Card checks that box too!
This card also offers an intro APR of 0% for 15 months from account opening on purchases and qualifying balance transfers (then 20.24%, 25.24%, or 29.99% variable). Which is great for someone who wants a break from high interest rates, while still earning rewards.
The best part? There's no annual fee.
Click here to apply for the Wells Fargo Active Cash® Card now.
S'mores Bars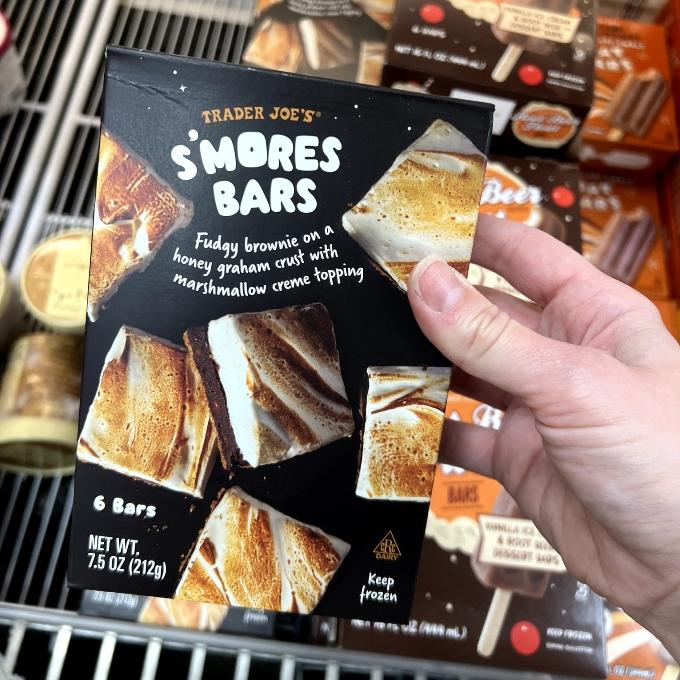 Price: $4.99
There's no need for a campfire with this dessert.
These s'mores bars are ready to be enjoyed right out of the package. And it's an affordable way to enjoy a classic summer treat without bringing out the fire pit.
Dark Chocolate Sunflower Seed Butter Cups
Price: $3.49
Here's a dessert option perfect for anyone who can't have nut butter.
These sunflower seed butter cups are enveloped in rich dark chocolate. This may just become your new favorite sweet.
Greek Yogurt Guava Passion Fruit
Price: $0.99
Enjoy this cup of yogurt for a versatile dessert option.
Eat it on its own, with fruit and granola, or even freeze it for a summery treat. The guava and passion fruit flavors will send your taste buds to the tropics.
Blondie Bar Baking Mix
Price: $3.49
Want to make your own dessert?

This blondie mix can offer you delicious bars in almost no time. Make and bake these for your summer gathering or family reunion.
Tres Leches Cake
Price: $7.99
Snag this limited-edition cake before it's gone!

Enjoy authentic Latin-American flavors in this tres leches cake. Top it with your favorite fresh fruit to elevate the taste.
Crispy Crunchy Peanut Butter Cookies
Price: $4.49
This versatile dessert is one bargain you may want to try.
Add them to pudding, ice cream, and more for a crunchy bite full of peanut butter taste. These also make a great school lunch treat for your kids' lunch boxes.
Organic Açai Bowl
Price: $3.99
Add a healthier dessert to your freezer with this açai bowl.
This smoothie bowl has fresh fruit, coconut chips, and coconut milk. Just defrost it and top it with granola for a hearty and sweet treat.
Vegan Cookies and Creme Vanilla Bean Bonbons
Price: $3.99
This non-dairy dessert can help cool off even the hottest days.
Enjoy a creamy cookie flavor wrapped in chocolate with these frozen bonbons. Just grab them and go for a quick but delightful treat.
Pro tip: Consider using a credit card as you shop that helps you earn rewards, like cash back, and you could find yourself saving even more money. 
Bottom line
Trader Joe's has many seasonal dessert offerings, so you can keep more money in your bank account while you satisfy your sweet tooth.
Often, these are limited edition flavors or only on shelves for the month, so be sure to see what your local store has in stock before it's gone!
Lucrative, Flat-Rate Cash Rewards
Current Offer
$200 cash rewards bonus after spending $500 in purchases in the first 3 months
Rewards Rate
Earn 2% cash rewards on purchases