Charcuterie boards are more than just a fast way to please a hungry crowd waiting for a holiday meal. They also capture the spirit of Thanksgiving in miniature by bringing everyone together around a small spread to share a communal, bite-sized feast. And now that it's November, you can finally start putting together a grocery list for this year's board.
Looking for flavorful, affordable treats to bedeck your board with? There's no better place to search than Trader Joe's. Check out our recommendations below to start assembling a charcuterie board your friends and family members will feel grateful for when they reach your house on Thanksgiving Day.
Meats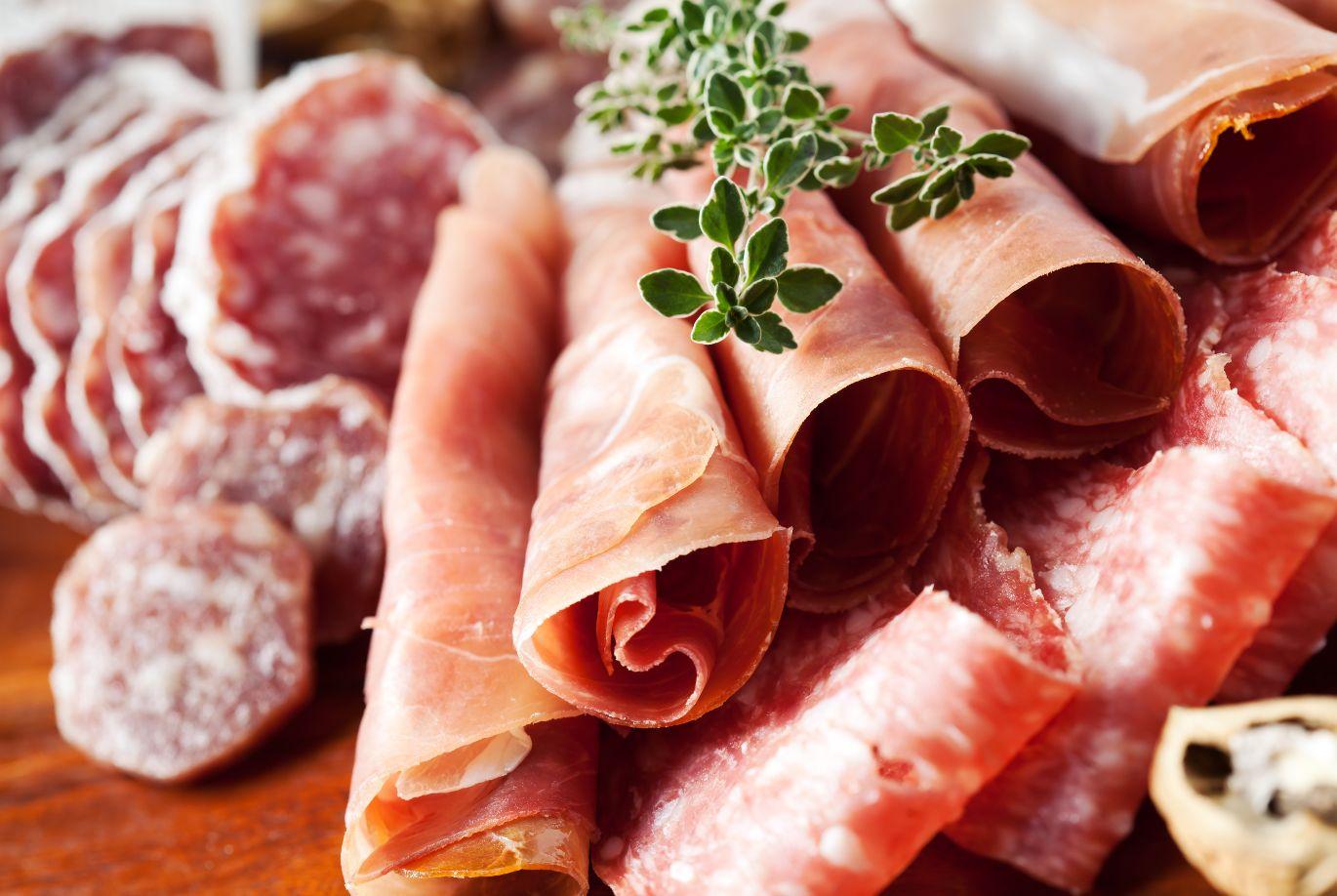 Meat and cheese are the stars of a charcuterie board, so don't skimp on either of these essential charcuterie purchases. You want a thorough, varied spread of meats that your guests can choose from — plan on buying no fewer than two meat options, and make sure to get enough of each type so guests can have at least two or three slices of meat each.
Since Trader Joe's has a wide selection of high-quality meats, it's easy to mix tried-and-true charcuterie board staples like salami with less traditional (but no less affordable) meat choices:
This Truffle Salami ($4.99) adds the earthy flavor of truffle mushrooms to the spicy, satisfying taste of hard salami.
Prosciutto is a must for any charcuterie board, so snag Trader Joe's Sliced Prosciutto ($3.99) along with the salami.
If your guests are the adventurous type, help them branch out with spicy coppa, sopressa, and capicola from Trader Joe's Spicy Uncured Charcuterie Selection ($8.99).
Cheeses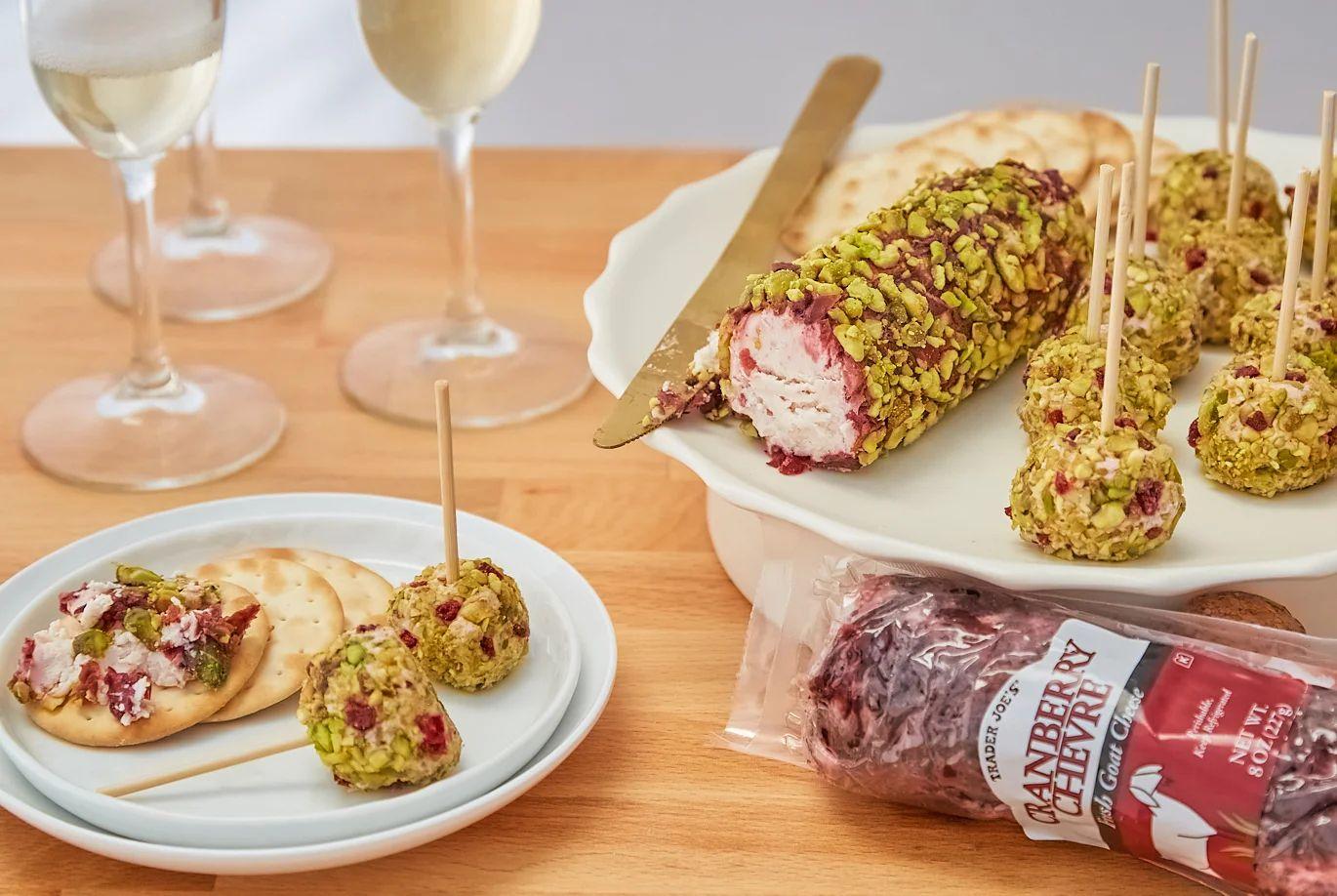 Your charcuterie board's cheeses should perfectly complement the meats. If you opted for mostly spicy meats, for instance, stick with creamier, more neutral cheeses like brie instead of pepper jack. You also want a range of different cheese sizes, textures, and tastes. Aim for three or four different cheeses to appeal to everyone in the crowd.
Fruit
Meat and cheese bring just the right amount of salt, fat, and spice to your board. Next, you want to balance out your board's savory meat and dairy with the sweetness of fruit.
Don't go overboard — sweetness shouldn't overshadow your charcuterie board's savory elements (especially if you have pies cooling on the counter to enjoy at the end of the night). Fortunately, many of the fall season's fruits are more sedate than their sweeter summery counterparts. Sticking with what's in season should help you find milder fruits for your board.
Fuyu Persimmons ($0.79 each) have a subtler taste than apples and a slightly firmer texture than pears. Their bright-orange coloring brings festive fall color to your board.
A dollop of Fig Butter ($2.99) can satisfy guests who prefer just a bit of sweetness with their meat and cheese.
Fresh Cranberry Orange Relish ($3.99) is a seasonal Trader Joe's product that easily adds the holiday favorite of cranberries to your Thanksgiving table without the mess of homemade cranberry sauce.
Crackers
Crackers aren't the main attraction of a good charcuterie board. Instead, they're the backbone holding the entire operation together. Try for hearty crackers that support the standout flavors from your meat, cheese, and fruit choices instead of competing with them.
Organic Naan Crackers ($3.29) are the perfect size for scooping up dips and stacking meat and cheese.
Rosemary Sfogliette Crackers ($1.69) are thin enough to melt in your mouth. Even better, the rosemary and parmesan seasoning nicely complements the flavors of the fruit and meat on the board.
Seasonal Pumpkin Cranberry Crisps ($3.99) are the crispiest, crunchiest cracker choice on our list, making them the perfect counterpoint to soft goat cheese and Toscano dip.
Nuts and seeds
The fall season has plenty to offer in terms of crunchy, protein-packed nuts. Pre-game your post-dinner pecan pie by adding these hearty snacks to your charcuterie board, and your guests can enjoy them by the handful.
Rosemary is the perfect pairing for the meats, cheeses, and fruits you've picked out. If you've foregone the rosemary crackers above, keep the herb in your spread with Trader Joe's Nuts About Rosemary Mix ($6.99).
If you haven't brought enough spice to your board yet, we recommend these Thai Lime & Chili Cashews ($7.99). Keep them far enough away from the rest of the board that those who want to skip this super-spicy zest can do so — and that those who want to indulge can snap up as much as they want.
Olives
Savory sides are a must for any charcuterie board worth its salt. Anything brined can suit as a side, but olives are often the most popular option for charcuterie boards (they're probably the most finger friendly, after all).
It's honestly hard to go wrong with a basic Jumbo Pitted Greek Kalamata Olive ($2.99). They're pleasantly meaty, brined in red wine vinegar, and super easy to snack on.
Looking for something as far from a basic black olive as possible? These Garlic & Jalapeño Stuffed Olives ($3.99) are bursting with flavor.
If your guests want more than just standalone olives, this Cracked Olive Salad ($3.49) is an easy dip that mixes black olives, green olives, capers, and diced pickled veggies like cauliflower.
Drizzles and spreads
Not everyone favors a garlic-stuffed olive or zingy lime and chili cashew. Some charcuterie-board feasters prefer to top their cheese, crackers, and meat with a mildly sweet sauce or dip. Trader Joe's can help you oblige.
This mild Multi-Floral & Clover Honey ($3.99) makes a perfect drizzle for goat cheese, cinnamon-dusted Toscano, and other soft, nutty cheeses.
If some of your guests prefer their honey with a kick, we're guessing they'll favor this Organic Spicy Honey Sauce ($2.69).
Any fall feast (no matter how small) is incomplete without at least one pumpkin-based food. Trader Joe's Pumpkin Spread ($2.99) is a not-too-sweet, not-too-tart match for goat cheese and rosemary crackers alike.
Bottom line
Trader Joe's has a reputation for sourcing interesting, delicious, one-of-a-kind food products from across the globe and bringing them back to customers who won't settle for less than the best. Adding these Trader Joe's favorites to your charcuterie board can transfer that reputation to you — and best of all, Trader Joe's will help you send your guests home happy and full while keeping your wallet happy too.