Trader Joe's offers many seasonal items at bargain prices to help you beat the high cost of groceries. But once they leave the shelf, you may have to wait a year until they return.
Some of these fleeting deals include sweet snacks and desserts that take classic summer fruits and favorites to create exciting new flavors.
Stopping by your local Trader Joe's to see what they offer may lead you to your next must-have item.
Editor's note: These are the prices as of June 9. Prices are subject to change and may also vary by location.
Get a protection plan on all your appliances
Did you know if your air conditioner stops working, your homeowner's insurance won't cover it? Same with plumbing, electrical issues, appliances, and more. Not being able to make repairs could leave you in a bad situation — but a home warranty could protect you against surprise expenses.
Whether you're a brand-new homeowner or you've owned your home for years, a plan from Choice Home Warranty could pick up the slack where homeowner's insurance falls short.
If a covered system in your home breaks down, you can call their hotline 24/7 for assistance to get it repaired. They have a network of over 15,000 technicians that can assist you, making sure any issue can be taken care of swiftly — without breaking the bank.
Not sure if it's for you? Rest easy: they were named one of the "Best Home Warranty Companies" by US News 360 Reviews and were awarded Best Company's 2020 Consumer's Choice Award. For a limited time, you can get your first month free when you sign up for a Single Payment home warranty plan.
Strawberry and Rhubarb Hand Pies
Price: $4.49
Take the taste of summer with you anywhere with Trader Joe's strawberry and rhubarb hand pies.
They're a great on-the-go dessert option for picnics, days at the beach, and more. But you may want to hurry, as this seasonal flavor won't be available long!
Chocolate Brooklyn Babka
Price: $5.99
Trader Joe's has a special chocolate babka packed with chocolate chips to elevate this braided bread.
This mini-sized babka is a handy, sweet treat. Pair it with coffee or tea for a tasty break to start your summer day.
Molasses Cookies
Price: $4.99
These "sweet as molasses" cookies may be your new favorite.
You get twelve cookies in this pack, making it a great bargain for cookies that taste like Grandma's. Serve them at your next summer party or hangout.
Stop overpaying when you shop online
Shopping online has its perks. It's super convenient, but it can be time consuming to find the best deals. Instead of hunting for coupon codes (that don't always work!) and opening tons of browser tabs comparing prices, you can try Capital One Shopping.
Capital One Shopping makes saving money effortless. Just add the browser extension and when you check out, it'll scour the internet for coupon codes to help you save cash. And before you check out at 25+ major retailers, Capital One Shopping will notify you with a friendly pop-up if the item you're buying is available cheaper somewhere else.
Capital One Shopping is free to use and won't show you ads. Add it today and stop overpaying!1
Dark Chocolate Ganache Mini Sheet Cake
Price: $4.99
Try this chocolatey delight for a rich cake in a compact size.
With its dark chocolate ganache icing, this is a handy treat for dessert or to cut into bites for book club.
You may want to buy a few, though, since this is on many customers' lists of favorites.
Mini Orange Cranberry Tea Scones
Price: $4.49
Who said you can't have a sweet treat for breakfast?

These scones work well as a delicious morning meal or post-dinner dessert. To complete this small feast, you can even buy some crème fraîche and jam from Trader Joe's.
Peanut Butter Brookie
Price: $4.49
If you can't choose between cookies or brownies, the brookie was made for you.
Trader Joe's made a peanut butter option for those PB-lovers, with the texture of a gooey brownie. Their website even recommends warming up a slice and scooping some ice cream on top for extra decadence.
Gluten-Free Strawberry Muffins
Price: $5.99
Gluten-free customers can rejoice over these seasonal muffins!
This four-pack of strawberry pastries will only be available during the summer. And once you have a bite, you may want to go back and buy more.
Aussie-Style Chocolate Crème Sandwiches
Price: $2.99
Here's a snack that brings a bit of Australia to your pantry.
These chocolate crème sandwiches offer a nice, light dessert option for anyone craving something sweet. You can even dunk these cookies in milk for a classic treat.
Strawberry Shortcake Sandwich Cookies
Price: $3.49
It's strawberry season at Trader Joe's, and these strawberry shortcake sandwich cookies are worth checking out.
Trader Joe's cookies pack a classic dessert into a bite-sized delight. And at this price, it's worth how many you get per box.
Earn 2% cash rewards at grocery stores and Costco
The Wells Fargo Active Cash® Card(Rates and fees) is a powerful rewards card that allows you to earn unlimited 2% cash rewards on purchases — including on groceries, even at warehouse stores like Costco.

New cardholders can also earn a one-time cash rewards bonus — $200 cash rewards bonus after spending $500 in purchases in the first 3 months!
If you're looking for a powerful rewards card that offers an extended intro APR period, look no further, the Wells Fargo Active Cash® Card checks that box too!
This card also offers an intro APR of 0% for 15 months from account opening on purchases and qualifying balance transfers (then 20.24%, 25.24%, or 29.99% variable). Which is great for someone who wants a break from high interest rates, while still earning rewards.
The best part? There's no annual fee.
Click here to apply for the Wells Fargo Active Cash® Card now.
Donuts Forever! Chocolate Truffles
Price: $4.49
Go nuts for these donuts… we mean donut truffles.
These chocolate truffles are shaped and designed like donuts, and they come in white, dark, and milk chocolate.
Online reviewers suggest grabbing a few boxes while they're still stocked on shelves.
Trio of Soft Licorice Twists
Price: $2.49
Here's another internationally inspired treat that saves you from some summer travel.
These Trader Joe's New Zealand licorice twists come in summertime raspberry, mango, and green apple flavors. It's a great option for family movie nights and road trip snacks.
Mini Banana Bread Biscotti
Price: $4.49
This limited-edition biscotti flavor may be worth the trip to Trader Joe's.
With the taste of banana bread, this dunkable treat takes a classic and makes it crunchy. It can also be paired with some TJ favorites, like seasonal ice creams or hot coffee.
Ube Ice Cream
Price: $3.79
Help cool off this summer with this surprising ice cream treat.
Ube is a popular summertime staple at Trader Joe's, and this ice cream tastes like coconut, pistachio, and vanilla. Plus, the bright purple makes it a fun dessert the kids may want to try.
Peaches and Cream Tarte
Price: $5.99
Trader Joe's peaches and cream tarte is anything but tart.
The flaky, buttery crust and creamy peach filling make this a sweet seasonal item you may want to hurry and snag.
One great way to share this is at your 4th of July party with a bit of whipped cream on top.
Watermelon and Peach Macarons
Price: $5.49
Trader Joe's took this French delicacy and added a Southern spin.
These popular summer flavors are a fun way to add some "fresh fruit" and flair to your next gathering. And they're easy to serve, only needing one hour to thaw before eating.
Tres Leches Cake
Price: $7.99
Trader Joe's has another limited-edition find that brings the flavor of another culture right to your freezer.
This Latin-American dessert uses three different kinds of milk to make it rich, and the sponge adds a light, airy quality. You can even add your favorite summer fruits to it for some freshness.
Vanilla Meringues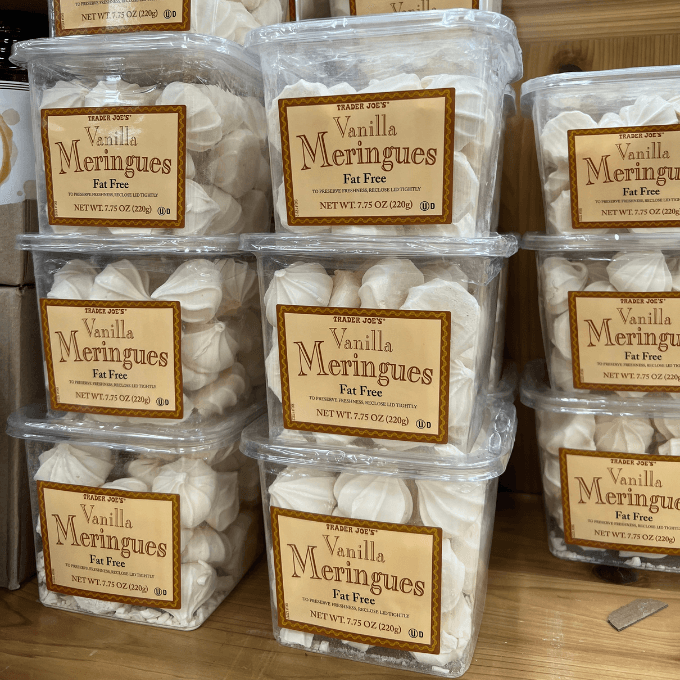 Price: $3.99
Whether you want to eat them by themselves or add them to your favorite cake or pie, meringues are a versatile treat.
These desserts melt in your mouth and come in a sweet vanilla flavor. Plus, they're fat-free, low-calorie, and gluten-free, making them an excellent option for anyone.
Bottom line
Many bargain shoppers frequent Trader Joe's to save on groceries and snag unique foods to fill their pantries.
With so many health-conscious foods at affordable prices, there's something for everyone at this store.
And since their seasonal items become pretty popular, it's worth stopping by to see what's new. You may just find the perfect road trip or travel snack for your big summer vacation.
Lucrative, Flat-Rate Cash Rewards
Current Offer
$200 cash rewards bonus after spending $500 in purchases in the first 3 months
Rewards Rate
Earn 2% cash rewards on purchases