Trader Joe's has increased in popularity over the years, with customers turning to this grocery store to stock up on new and unique foods.
There are many reasons why many have bought into the Trader Joe's hype, thanks to the store's healthy options and affordable prices that help you keep more money in your wallet.
And with their vast section of frozen foods, you can easily fill your freezer with quality, low-cost items.
Editor's note: Prices are subject to change and may also vary by location.
Get a protection plan on all your appliances
Did you know if your air conditioner stops working, your homeowner's insurance won't cover it? Same with plumbing, electrical issues, appliances, and more. Not being able to make repairs could leave you in a bad situation — but a home warranty could protect you against surprise expenses.
Whether you're a brand-new homeowner or you've owned your home for years, a plan from Choice Home Warranty could pick up the slack where homeowner's insurance falls short.
If a covered system in your home breaks down, you can call their hotline 24/7 for assistance to get it repaired. They have a network of over 15,000 technicians that can assist you, making sure any issue can be taken care of swiftly — without breaking the bank.
Not sure if it's for you? Rest easy: they were named one of the "Best Home Warranty Companies" by US News 360 Reviews and were awarded Best Company's 2020 Consumer's Choice Award. For a limited time, you can get your first month free when you sign up for a Single Payment home warranty plan.
When Life Gives You Lemons, Make Ice Cream
Price: $3.79
This seasonal ice cream will cool you off during those long summer days.
With a burst of lemon in every bite, you also get shortbread cookie bits throughout this pint. It's as if lemon bars were turned into your favorite frozen treat.
Trader Joe's Fruit Frenzy Bars
Price: $2.99
Here's another frozen goodie that'll taste just like summer.
This "fruit frenzy" includes raspberry, lemon, and strawberry for a fresh juice fusion perfect for those days in the sun. And this four-pack under $3 is hard to beat.
Classic Naples Style Sfogliatella Pastry
Price: $4.49
If you're not able to travel abroad this summer, bring "abroad" to your freezer.
This sfogliatella pastry is Naples-style, giving you a taste of Italy no matter where you are with its light pastry, orange filling, and ricotta.
Plus, it will be at Trader Joe's for a limited time, so snag one while you can!
Stop overpaying when you shop online
Shopping online has its perks. It's super convenient, but it can be time consuming to find the best deals. Instead of hunting for coupon codes (that don't always work!) and opening tons of browser tabs comparing prices, you can try Capital One Shopping.
Capital One Shopping makes saving money effortless. Just add the browser extension and when you check out, it'll scour the internet for coupon codes to help you save cash. And before you check out at 25+ major retailers, Capital One Shopping will notify you with a friendly pop-up if the item you're buying is available cheaper somewhere else.
Capital One Shopping is free to use and won't show you ads. Add it today and stop overpaying!1
Stir-Fried Garlicky Cabbage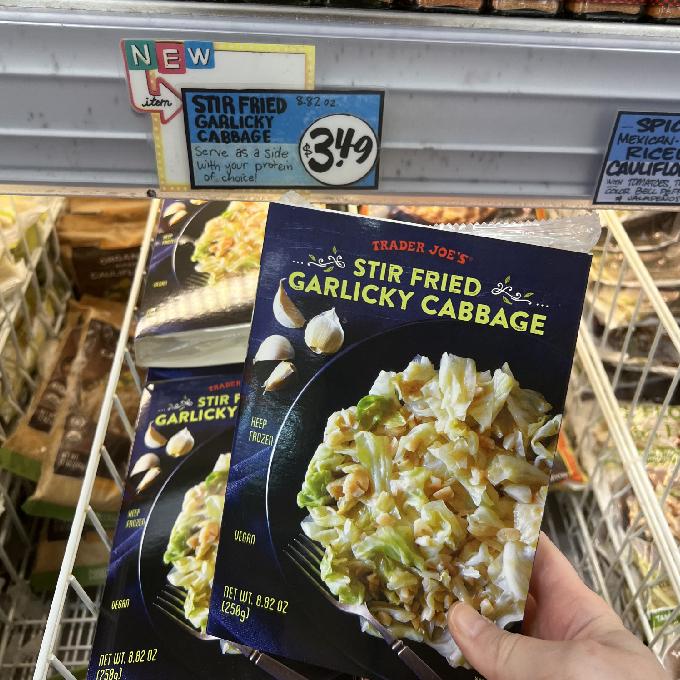 Price: $3.49
This frozen food works great as a side or in some homemade egg rolls.
Since it's vegan, you can easily pair it with any quick meal for a delicious veggie option. All you have to do is heat and eat, and you have an easy dinner in no time.
Pão D' Água Portuguese Rolls
Price: $2.29
These classic Portuguese dinner rolls take only ten minutes from oven to table.
Easily add this ready-made roll to your meal by dipping it in olive oil or using it as a slider bun. It's a fun way to incorporate new food into your dinners while helping you save on groceries.
Garlicky Pasta
Price: $4.29
Take Italian pasta and add an Asian twist with this frozen garlicky pasta!
The Italian pasta combines umami and garlic flavors for a truly unique experience. Mix it in with your favorite seafood, or simply top it with sesame seeds and veggies for a meal that's as tasty as it is fast.
Perfectly Pickled Pups
Price: $4.99
It's no secret Trader Joe's loves to try out different flavor combos, and these corn dog bites are no exception.
You get uncured beef franks wrapped in pickle-flavored breading for every pickle lover's dream snack. You can also buy the seasonal pickle seasoning to sprinkle on your side of fries.
Gluten Free Battered Plant-Based Fish Fillets
Price: $4.99
Here's a simple dinner or snack option great for Meatless Monday.
This "catch of the day" is vegan-friendly and gluten-free while still tasting like your favorite fish sticks. Try it with sweet potato fries for a healthier alternative to fish and chips.
Vegetable Fried Rice
Price: $2.99
Trader Joe's freezer section has a ton of foods from different corners of the world, like this vegetable fried rice.
Have a hibachi-themed dinner night with this scrumptious side. Snag a few other freezer favorites, like orange chicken or the kung pao chicken (mentioned below), to complete your meal.
Earn 2% cash rewards at grocery stores and Costco
The Wells Fargo Active Cash® Card(Rates and fees) is a powerful rewards card that allows you to earn unlimited 2% cash rewards on purchases — including on groceries, even at warehouse stores like Costco.

New cardholders can also earn a one-time cash rewards bonus — $200 cash rewards bonus after spending $500 in purchases in the first 3 months!
If you're looking for a powerful rewards card that offers an extended intro APR period, look no further, the Wells Fargo Active Cash® Card checks that box too!
This card also offers an intro APR of 0% for 15 months from account opening on purchases and qualifying balance transfers (then 20.24%, 25.24%, or 29.99% variable). Which is great for someone who wants a break from high interest rates, while still earning rewards.
The best part? There's no annual fee.
Click here to apply for the Wells Fargo Active Cash® Card now.
Kung Pao Chicken
Price: $5.99
This kung pao chicken comes with veggies and nuts, too.
This protein is packed with spicy soy-ginger sauce and adds flavor and heat to your lunch or dinner. You can cook it in the microwave, skillet, or stovetop for an on-the-go meal that'll keep you satisfied.
Butter Chicken with Basmati Rice
Price: $4.49
It's hard to choose just one frozen meal from Trader Joe's Indian foods, but you can't go wrong with a classic butter chicken.
No matter your spice tolerance, this is a milder choice that still offers tons of delicious taste. Be sure to grab some naan bread in the frozen foods to pair with this easy dinner.
Wild-Caught Chilean Hake Fillets
Price: $4.99
This is another limited-time offering at Trader Joe's great for grilling out this summer.
Hake is similar to cod or haddock and is a versatile fish with a light flavor. And this frozen pack is easy to prepare when your summer days get too busy for meal planning.
Bambino Pepperoni Pizza
Price: $4.49
These personal pizzas are artisan-made so that your pizza night feels elevated.
Pop these in the oven or air fryer for something speedy yet scrumptious. This is a fun choice for your kids' summer movie nights or slumber parties.
Ratatouille Bites
Price: $4.29
Disney helped put ratatouille in the mainstream for many, and this snack takes the meal and makes it bite-sized.
Serve it as an appetizer or side with your favorite meal, and dip it in some of Trader Joe's homemade marinara. You can even have a Ratatouille-themed dinner night with the kids and have them enjoy their veggies with this fun snack.
Fruits and Greens Smoothie Blend
Price: $3.99
This June, you may be spending more time in the great outdoors, so why not have ready-made smoothie blends to keep your energy levels up?
This fruit and greens smoothie blend is packed with nutrients and greens for a smoothie on the go that tastes like it came from your favorite smoothie café. Having a few of these bags on hand in your freezer saves time and money.
Maple Poffertjes
Price: $3.49
These pancake puffs are a Dutch favorite, and you may soon see why.
With their bite size, maple flavor, and easy-to-eat form, breakfast is about to become much simpler and fun. However, you better hurry because this is only at Trader Joe's for a limited time.
Mexican Style Roasted Corn
Price: $3.79
When you want Mexican-style corn but don't want to fuss with the cob, this is a great alternative.
Trader Joe's frozen roasted corn has all the spices and cotija cheese in one bag. This can be a side or part of a burrito or taco bowl for Taco Tuesday.
Quinoa Cowboy Veggie Burgers
Price: $3.99
This freezer section offers plenty of vegan and vegetarian options, like these quinoa cowboy veggie burgers.
Made with black beans, corn, and other delicious ingredients, you may never return to beef again. This spicy and savory meat alternative can be made like a regular burger, or you can add Tex-Mex toppings like avocado or salsa.
Cauliflower Gnocchi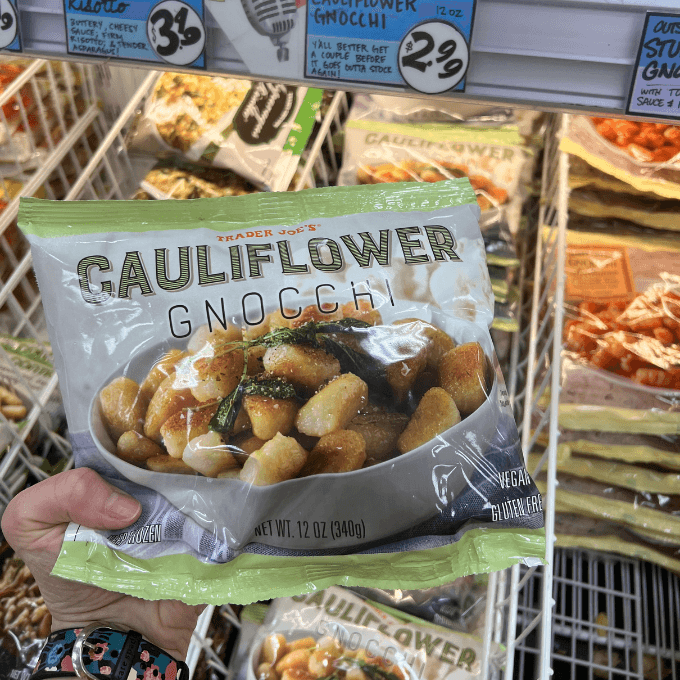 Price: $2.99
This is one item that Trader Joe's has trouble keeping in stock!
The cauliflower gnocchi spins a classic Italian dumpling and transformed it with this popular veggie. Serve it in your favorite sauce or incorporate it into a creamy soup for a hearty meal.
Jamaican Style Beef Patties
Price: $4.49
If you like Hot Pockets or savory turnovers, try these Jamaican beef patties.
Spicy ground beef in a flaky pastry makes this an easy and quick snack that can be microwaved, air-fried, or oven baked. You get two patties per box, which is quite the steal for such a robust flavor.
Bottom line
Since there are limited and seasonal items that are hard to keep in stock, you may want to stop by your local store soon to be sure you don't miss out on any of these treats!
After all, they won't be back for a while once they're gone.
Trader Joe's has even more frozen items that fit every diet and budget, helping you beat the rising cost of groceries.
Lucrative, Flat-Rate Cash Rewards
Current Offer
$200 cash rewards bonus after spending $500 in purchases in the first 3 months
Rewards Rate
Earn 2% cash rewards on purchases