Small businesses are the heart and soul of the U.S. economy. If you're looking at how to start a business, you're embarking on an exciting adventure that will hopefully allow you to figure out how to make money doing something you love — and perhaps even create a legacy you can hand down through the generations.
To maximize the chances that your new business will flourish, it's essential to have clear goals and objectives, as well as some ideas on how to achieve profitability.
A business plan will help you get the details you need down on paper. This is important, both for your own sake and to help potential lenders better understand what your fledgling new company can do.
The good news is, writing a business plan doesn't have to be complicated. This step-by-step guide will show you how to write a killer business plan that helps set your company up for success.
Writing a business plan: what to include
Before you start writing your business plan, it's helpful to know the kinds of information you'll want to include in it. Here are some of the key components of a comprehensive business plan:
An executive summary: This is a high-level overview of what your business will do. You'll want to provide details about the product or service you'll offer; about who is running the business and where it will be located; and about what your company's mission is.
A description of your company's purpose: Get into the specifics here about who your potential customer base is, what problems you plan to solve for them, and how your business will serve them.
Insight into the services or products you'll provide: In this section of your plan, you'll explain why your business exists by painting a clear picture of your product or service. This should include research and development you've done, whether you have patents or copyrights to protect your intellectual property, and how your products or services will meet an unfilled need for your customer base.
Details on your company's structure: Specify what type of legal entity you'll organize your business as and who will be running things. An organizational chart showing the leadership team and what each person brings to the table is helpful in this section.
Information about your competitive advantages: With this, you'll show why you and your company are best suited to serve customers. You can boast about the expertise of your leadership here or explain why you believe you've got the ideal location for your new business.
A market analysis: You'll want to do some research into the market you'll be entering so you can understand your competitors and get a big-picture view of the industry. In this section, you'll analyze what your competitors are doing right and wrong — and explain how you can do things differently to better serve your potential customers.
Insight into your marketing and sales strategy: Here, you'll explain how you'll get your product into customers' hands — and how you'll convince them they want it in the first place.
Financial projections: This section will highlight costs you'll face, how you'll price your products or services, and insight into how and when your business is likely to become profitable.
If you are asking for funding, you'll also want to include a section detailing how much money you need and what the funds will be used for.
And most good business plans have an appendix as well. It most often includes supporting documentation like a copy of your patent or other legal documents, or resumes for members of your leadership team.
Eight steps for writing a business plan that delivers results
When you're ready to write a business plan, here are the key steps you should take.
1. Fine-tune the company details
Your business plan should answer all the key W's: Who is starting the company, where will the business be located, what will the business do, and why will the business exist?
Start by identifying where your company will operate, including the full address. You'll also want to nail down who will be on your leadership team so your plan can outline their relevant business backgrounds and experience in the industry.
By taking the time to get the basics right, you'll ensure you have your ducks in a row before you get ready to open your doors. And you can reassure any lender or investor reviewing your report that there are competent people at the helm.
2. Determine your goals and objectives
When you're writing a business plan, you'll want to think about why you are producing the document and who your audience is.
If your plan is meant to be an internal roadmap, your focus and the information you include will be different than if your plan is meant for outside consumption by potential investors.
By thinking about what you hope to get out of creating your plan, you'll be able to concentrate your attention and efforts on the subjects and issues that matter most.
3. Know what you're selling — what is your product or service?
Knowing what you're selling isn't as simple as just identifying the product or service your company will offer. You want to get as detailed as possible in figuring out how you'll add value to customers by offering something different than what's already on the market.
Your product or service will be a major determining factor in the success of your company, therefore this section will need a lot of attention. Detail the research and development you've done; provide patents, trademarks, or copyrights; and explain how your product will be made or service will be performed.
4. Understand how your product fits within the market
You not only need to know your product but you also need to know how the items or service you're selling will fit into the big picture.
In almost all cases, there's an existing market with similar products or services to yours — unless you're in totally uncharted territory with a completely new product. You need to know who the current and potential customers are, how your product will fit with what they need, and how your offering will compare to what's already available.
Also, think about how large your market is. Do you have a niche product that will be of interest to a very small group? If so, you may want to aim to capture the bulk of the market. But if your product or service will be one of many, cornering the market may be impossible. In that case, you'd want to figure out how to capture the largest possible market share by carving out a space for yourself within the field.
5. Get to know your competitors
Competitors who are already offering similar products, services, or solutions to your customer's problems can be a great source of information to guide you.
You want to look carefully at what competitors are doing that works and areas where they are falling short. The more you understand about who your competition is, the better the chances you'll be able to offer something more attractive to customers than what's currently available.
6. Think about how you'll attract customers — and keep them coming back
No matter how great your product or service is, your company can't become successful if you don't have a customer base. You'll need to develop a marketing strategy that helps you to reach people who might be interested in using your service or buying your product. And you'll also want to think through how the sales process will work so you can make sure you meet customer needs in an efficient way.
Attracting new customers is much harder than keeping existing ones, so it also pays to think about how you'll keep your clients coming back once they've done business with you the first time.
7. Take a hard look at your finances
As you continue learning how to start a business, you usually need at least a little money.
To make sure you have the capital you need, consider how much money is required and assess your current financial capabilities. If you need to borrow money or want investors to contribute, be ready to provide clear details about how much cash you need and what you'll do with it if you get it.
If you don't need a lot of capital to get started, consider applying for a business credit card with a 0% introductory APR. Some cards offer up to 15 months of no interest, which can help you expand your spending power as you're establishing your business. Just be sure you can repay the card's balance before the 0% introductory period ends; otherwise, you could end up spending a lot more on interest payments than you intended.
You also have to think about what your company's future financial situation will be. It can take some time for a company to be profitable, so you'll want a timeline for when this might happen. Also, be as detailed as possible about what you need to do to start turning a profit in terms of both controlling costs and making sales.
8. Refine — view your plan as a living document, not a static one
Writing your business plan isn't a once-and-done proposition. While you will definitely devote a lot more time to writing your first business plan than to future updates, it's still essential to treat your planning as an ongoing project.
Schedule time to check in on your business plan, see how you're doing in accomplishing your objectives, and make any necessary modifications.
If your company's leadership is changing, you're developing a new mission, or you hope to expand your target market, always update your business plan and sketch out your objectives on paper before moving forward. This will ensure every decision you make is a practical one, guided by the research you need to maximize your chances of being successful.
Getting your business set up — 4 helpful hints
A killer business plan is just the start of what your company needs to get on the road to success. There are a few other key things you'll also want to do, including the following:
Decide how your business will be structured. The choice of business entity can make a big difference in terms of your personal liability, who can own your business, and how you're taxed.
Learn about the legalities: If you need a business license, apply for one. Also, check the zoning rules where you hope to operate to ensure it's legal to run your business in your desired location.
Separate your business and personal expenses: Using a business credit card is a great way to do this and there are plenty of great card options for every business, including the American Express® Business Gold Card, Brex Credit Card, Capital One Spark Cash Plus, and Ink Business Preferred® Credit Card. Here's a quick look at how these cards compare:

Card name
Welcome offer
Rewards rate
Annual fee
American Express® Business Gold Card
Earn 70,000 Membership Rewards points after spending $10,000 on eligible purchases in the first 3 months
4X Membership Rewards Points on purchases in the two categories with the most spend each billing cycle (up to $150,000 in combined purchases each calendar year, after that 1X), 3X Membership Rewards points on flights and prepaid hotels booked at amextravel.com, and 1 point per $1 spent on other eligible purchases
$

295

 ($375 if application is received on or after 2/1/24) (Terms apply)
Brex Credit Card
Earn 10,000 points for spending your first $3,000 in the first 3 months, and an additional 20,000 if you link payroll to your Brex account, for a total 30,000 points
7X points on rideshare, 4X on Brex Travel, 3X at restaurants and on eligible Apple products, 2X on software subscriptions, and 1X on all other purchases with Brex Exclusive
$0
Capital One Spark Cash Plus
Earn a $1,200 cash bonus after spending $30,000 in the first 3 months
2% cash back on every purchase, every day; plus 5% cash back on hotels and rental cars booked through Capital One Travel
$150
Ink Business Preferred® Credit Card
Earn 100k bonus points after you spend $8,000 on purchases in the first 3 months from account opening
3X points on the first $150,000 spent in combined purchases on travel, shipping purchases, Internet, cable and phone services, advertising purchases made with social media sites and search engines each account anniversary year; and 1X points per $1 on all other purchases
$95

Look into the business insurance you need: You may want a liability protection policy, among other types of coverage.
The bottom line: your business plan is essential to success
Writing a good business plan takes some time, as you can see by the different steps you have to take. But creating a solid plan is one of the key steps you'll need to take to start your business on the right foot, along with getting the right insurance coverage, choosing the right business structure, and applying for a business credit card.
By putting in the effort at the beginning to make a detailed plan, you'll be able to make strategic operational choices as your company opens its doors, grows, and hopefully thrives.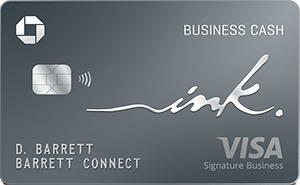 4.8
FinanceBuzz writers and editors score cards based on a number of objective features as well as our expert editorial assessment. Our partners do not influence how we rate products.
Current Offer
Earn $900 bonus cash back after you spend $6,000 on purchases in the first 3 months from account opening
Rewards Rate
5% cash back on the first $25,000 spent in combined purchases at office supply stores and on internet, cable and phone services each account anniversary year; 2% cash back on the first $25,000 spent in combined purchases at gas stations and restaurants each account anniversary year; and 1% cash back on all other purchases