In the travel rewards world, most of the attention goes to frequent flyer programs and hotel loyalty programs. However, renting a car is something many people do while traveling. And if we don't look to maximize the value of rental car rewards programs, we're missing out on a big opportunity.
One of the most valuable rental car loyalty programs is called Avis Preferred. In this article, we'll show you why you need to become a member of Avis Preferred, how to earn its valuable rewards, and what the best ways are to use elite status with Avis Preferred to your benefit.
What is the Avis Preferred program?
Avis Preferred is the rental car loyalty program for Avis Car Rentals. This program is designed to reward people who rent cars from Avis and want to receive benefits for their loyalty.
As you gain status for renting more often, you'll earn complimentary vehicle upgrades, additional points for every dollar you spend on car rentals and accessories, and exclusive offers. I'll talk more in detail about the status levels, how to achieve them, and what you gain with each later in this guide.
The Avis Preferred program is free to join and it only takes a few minutes to enter your personal information and complete your profile. Additionally, when you join and complete your first rental within three months, you'll receive a bonus of 100 points.
To get the most benefits from the Avis loyalty program, you need to rent 25 cars or spend $7,000 per year. That will get you to the top-tier elite status where you can earn the most benefits. However, even if you only occasionally rent from Avis, I still recommend you join the Avis Preferred loyalty program. This way your car rental activity will still earn you points toward free rental car days on a future trip.
One of the best things about redeeming Avis points for rental cars is there are no blackout dates. So, these points can come in handy during busy travel periods like holidays and spring break or when large conventions or popular sporting events are happening in the same town.
Reward days start at 700 points and go up to 3,500 depending upon the standard daily rate of the vehicle you've chosen (indicated by the different levels in the image below). The standard daily rate excludes discounts, coupon codes, special rates, or any other offers. Renting accessories (like SiriusXM Radio, GPS, child seats, and roadside assistance) starts at 250 Avis points per day.
How to join Avis Preferred
Registering for the Avis Preferred rental car loyalty program is quick and easy to do. I'll walk you through the steps so you can easily follow along.
1. Join the Avis Preferred loyalty program
Go to Avis.com and click on the "Sign Up" link in the top-right corner of the page.
2. Create your account
Avis will ask which country you live in, name, email address, postal address, and to create a password. Additionally, you can opt-in to receive email offers and electronic receipts when you rent vehicles. Because some of the best promotions are reserved for loyalty program members, I recommend that you opt-in for both emails.
3. Provide credit card information
Avis requires you to provide credit card information to create your loyalty account. You may notice a small charge of $1.50 on your statement, but this will only be temporary while Avis verifies your credit card is valid. The charge will be reversed within a few days.
Avis accepts Visa, Mastercard, American Express, and Discover. But there are plenty of others that work, including Sears, Diners Club, and Carte Blanche. I use the Chase Sapphire Reserve® as my default credit card for renting cars. Not only do I receive 3X points on other travel and dining purchases, but this credit card also provides primary collision insurance when renting cars in the US and internationally.
4. Enter Your Driver's License
Avis requires your driver's license information when creating your account. Select the country and state that issued your driver's license and enter the number and your date of birth. This protects Avis when you rent a car and speeds up the process for you when picking up a vehicle.
You can also provide your mobile phone number and select "yes" to opt-in for text messages about your rentals. I like doing this so I'll be reminded of my reservation details as I'm getting off the plane and headed toward the rental car facility. It just simplifies things for me.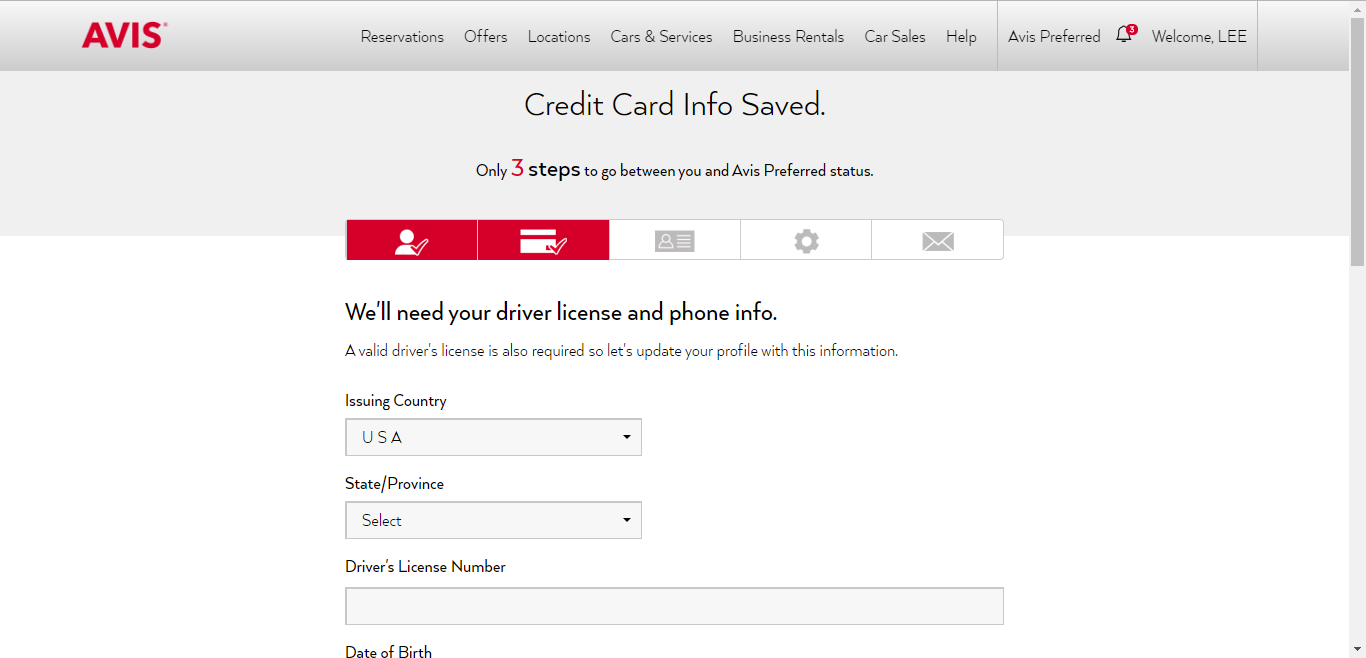 5. Set Defaults for Protections and Coverages
Your Avis Preferred profile allows you to set defaults for your insurance protections when renting a vehicle. There are four insurance protections and coverages to make decisions about:
LDW: covers the car due to an incident
PAI: covers medical expenses for you and your passengers in case of an accident
PEP: pays out up to $1,800 in personal belongings during your trip
ALI: protects you from claims others make against you
I generally decline all these coverages by default. But even if you choose these defaults, you can change your mind on any of these items for each reservation you later make.
6. Agree to Avis Preferred Terms and Conditions
Before your account is created, you must agree to the Avis Preferred loyalty program's terms and conditions. Check the two boxes to acknowledge your acceptance and click continue.
7. Choose Which Rewards You Want To Earn
With Avis, you have two options when it comes to earning rewards for your rental car reservations. You can earn Avis Preferred Points and Discounts that will allow you to reach elite status and redeem points for free car rental reservations. Or you can choose an airline or hotel loyalty program to earn airline miles or hotel points, respectively. Avis has 60+ airline partners and a variety of hotel partners to choose from. Some of the programs you can earn rewards with are Air Canada Aeroplan, American Airlines AAdvantage, and World of Hyatt.
However, keep in mind you can only enroll in one program at a time – Avis Preferred, an airline partner, or a hotel partner. You'll need to make the choice of which rewards program is most valuable to you.
8. Verify Your Email To Complete Enrollment
Once you've finished all the first seven steps to sign up for your Avis Preferred loyalty account, you'll just need to confirm your email address to complete your enrollment.
The Avis Preferred status levels
There are four levels in the Avis Preferred loyalty program. All members start out as Avis Preferred. You will move up in status level from there based on the number of times you rent or how much you spend each year. Once you reach 12 rentals or $5,000 in spending with Avis, you'll be promoted to Avis Preferred Plus. A second tier of Preferred Plus is reached after 25 rentals or $7,000 spent in a calendar year.
Two additional status levels are available by invitation only — President's Club and Chairman's Club. How to earn these status levels is not public information but fellow travelers have shared some of the perks. President's Club members receive guaranteed availability when booking a car and a two-class upgrade on their vehicle. Chairman's Club travelers get their pick of the best car at a location when reserving a mid-size vehicle or higher. Additionally, Chairman's Club members can use free valet returns where available.
Status level
How to qualify
What you get
Avis Preferred
Create an account

Expedited service
Keep preferences on file
Exclusive email offers

Avis Preferred Plus, Level 1
Complete 12 rentals or spend $5,000 within a calendar year
Everything above and:

Complimentary upgrades (when available)
25% more points earned on rentals and accessories
Dedicated phone number for elites

Avis Preferred Plus, Level 2
Complete 25 rentals or spend $7,000 within a calendar year
Everything above except:

50% more points earned on rentals and accessories
That said, there's a much quicker way to status with Avis — all it takes is one step, in fact. If you have a World Elite Mastercard, you'll receive complimentary elite status. Visit this Avis Preferred Plus website to register your credit card. Examples of World Elite Mastercards include the Citi Prestige® Card and Capital One Savor Cash Rewards Credit Card.
How to earn Avis points
When setting up your account, choosing to earn Avis points will allow you to earn higher tiers of elite status and redeem your points for free rental cars and accessories. You'll earn points based on how much you spend on your rental car as well as your status level.
Earning points on car rentals and accessories
Base level Avis Preferred members earn 1 point per dollar on rentals and 2 points per dollar on accessories. The first tier of Preferred Plus earns 25% more points per dollar spent and the second tier of Preferred Plus earns 50% more. Every rental earns at least 100 points. This minimum comes in handy when you find inexpensive rentals or only need a car for a day or two.
Points earnings for every $1 spent
Car rentals
Accessories
Avis Preferred
1 point
2 points
Avis Preferred Plus, Level 1
1.25 points
2.5 points
Avis Preferred Plus, Level 2
1.5 points
3 points
Avis points promotion for new accounts
Choose to earn Avis Preferred Points on your rentals when you set up your account, and you'll receive 100 bonus points when you rent within three months of creating that account.
Earn Avis points on accessories
Renting a car from Avis is not the only way to earn points. When you rent accessories like car seats and GPS devices or use premium services like Sirius XM, you will also earn points. Accessories earn double the rewards of a rental car, and the bonus multiplier from holding higher status also applies to the points earned from renting these accessories.
What to do if you're missing points
You must use your Avis Preferred loyalty number on your reservations to earn points. If you don't see a vehicle rental in your account history, click on "Add Miles/Points" inside your account and enter your rental information. If you didn't attach your Avis number to your reservation, click on "Request Miles/Points" from the Customer Service menu at the top of the page.
You won't receive Avis points on these rentals
When you book through an "opaque" online travel agency (like Hotwire or Priceline) where the offer is based on price, rather than the company, you will not earn Avis points. Additionally, some Avis discount codes for government rates, corporate accounts, or friends-and-family offers will not earn points.
How to earn airline and hotel points with Avis Preferred
Some people value airline miles and hotel points more than points for a rental car. For those travelers, Avis allows you to earn airline miles or hotel points for a huge variety of loyalty programs.
To start earning airline miles or hotel points instead of Avis points, go into your profile, click "Rewards" and edit your preferences. Once you click "Earn Travel Partner Miles & Points" you'll be presented with a drop-down tool and search functionality so you can find your preferred loyalty program. After finding the program you want, select it, enter your member number, and click save. You're now ready to earn those rewards.
Keep in mind that not all programs participate. Notable exceptions include Delta SkyMiles and United MileagePlus. That said, there are many, many programs to choose from. Here is just a sampling of the participating airline and hotel loyalty programs.
Avis hotel partners
Hotel name
How much you earn per qualifying rental
Best Western Rewards
1,000 points
Choice Privileges
1,000 points
Radisson Rewards
750 points
World of Hyatt
500 points
Avis airline partners
Airline name
How much you earn per qualifying rental
Air Canada Aeroplan
500 miles at participating airport locations

250 miles at participating off-airport locations

Alaska Airlines Mileage Plan
50 miles per day

500 miles on rentals of 5 days or more

KLM Flying Blue
Up to 600 miles

Free upgrades for Gold and Platinum members
A word of caution regarding the "frequent flyer tax"
Earning miles and points with airlines and hotels can be valuable, but there is one major caveat on going this route — these rewards do not come free. Avis charges a fee known as the "frequent flyer tax" for your ability to earn these rewards. Here is a sampling of what these fees can look like:
| | |
| --- | --- |
| Partner | Fee |
| Alaska Airlines | $0.75 per day |
| American Airlines | $1.00 per day |
| Southwest Airlines | $1.00 per day |
These fees are typically charged on a daily basis. In some cases, the fees are so high the cost will outweigh the bonus miles or points you're earning.
For example, Alaska Airlines miles are generally considered to be worth approximately 1.8 cents in the points-and-miles community. You'll earn 50 miles per day when renting a car through Avis, so that gets you miles worth approximately 90 cents. However, Avis charges you $0.75 per day to give you those miles. In this situation, you're only earning 15 cents worth of Alaska miles after the fee. You're probably better off earning Avis points toward a free rental, especially when Avis gives a minimum of 100 points per rental.
On longer rentals, the situation could be even worse. Alaska actually caps your rewards at 500 miles per reservation. At 1.8 cents per point, that is $9 in value. With a fee of $0.75 per day, if your reservation was longer than 12 days, you'd be losing money by choosing to earn Alaska miles.
Many other airlines and hotels have the same quirks. Before deciding to earn those miles or points, always run the numbers to determine which earnings situation will pencil out best for you.
How to double dip and earn even more points and miles
Instead of choosing between Avis points and hotel or airline rewards, there is a way to have both. Choose to earn Avis points through its reward program, then pay for your rentals with a rewards credit card that earn your favorite miles or points.
Some of the best travel credit cards even give cardholders bonus rewards for travel expenses. This is an opportunity to earn even more rewards off a purchase you were going to make anyway. Here is a list of credit cards we recommend for stacking your rewards potential. 

| | |
| --- | --- |
| Card name | Earnings rate |
| Chase Sapphire Preferred® Card | 5X points on travel purchased through Chase Ultimate Rewards®; 3X points on dining, select streaming services, and eligible online grocery purchases; 2X points on all other travel purchases, and 1X points per $1 on all other eligible purchases |
| Capital One Venture Rewards Credit Card | 2 miles per dollar on every purchase, every day and 5 miles per dollar on hotels and rental cars booked through Capital One Travel |
| Citi Premier® Card | 3X points at restaurants, supermarkets, gas stations, air travel and hotels; and 1X points on all other purchases |
| Southwest Rapid Rewards® Priority Credit Card | 3X points on Southwest purchases; 2X points on participating Rapid Rewards hotel and car rental partners; local transit and commuting, including rideshare; and on internet, cable, phone services, and select streaming; and 1X points on all other purchases |
| Hilton Honors American Express Aspire Card | 14X points on eligible purchases within the Hilton portfolio, 7X points on qualifying travel purchases made directly with airlines/select car rental companies or Amextravel.com, 7X points at U.S. restaurants, and 3X points on all other eligible purchases |
| Ink Business Preferred® Credit Card | 3X points on the first $150,000 spent in combined purchases on travel, shipping purchases, Internet, cable and phone services, advertising purchases made with social media sites and search engines each account anniversary year; and 1X points per $1 on all other purchases |
| CitiBusiness® / AAdvantage® Platinum Select® Mastercard® | Earn 2X miles per dollar on all eligible American Airlines purchases and on purchases at telecommunications merchants, cable and satellite providers, car rental merchants and at gas stations; plus 1X miles on other purchases |
All information about Amex EveryDay® Preferred Credit Card has been collected independently by FinanceBuzz.
Special benefits with the British Airways Visa Signature® Card
Although the Chase British Airways Visa Signature® Card does not earn bonus points for rental cars, there are reasons you may want to focus on this airline loyalty program.
When paying for your Avis car rental, you'll earn 250 bonus British Airways Avios with every reservation. This bonus is in addition to the one Avios per dollar spent that you will earn with your rentals, along with a minimum of 500 Avios per rental. Plus, after four rentals in a calendar year, you will earn an additional 750-point bonus. With British Airways flights starting at 7,500 Avios, you can earn free flights in a hurry with this partnership.
Learn more about this card with our full British Airways Visa Signature review.
Special benefits with Amazon
When you link your Avis Preferred account to your Amazon account, you'll receive some great benefits. You'll save up to 30% off Avis base rates. Once the rental is complete, you'll also get 10% back from Amazon as a gift card to use on Amazon.com. You can use any credit card you like with this promotion, so this is an opportunity to triple-dip with Avis points, credit card rewards, and an Amazon gift card.
How to earn more points and miles AND get insurance coverage
Insurance coverage on rental cars can be expensive. But many credit cards eliminate this expense for you by providing complimentary insurance protection for the vehicle when you decline the car rental company's coverage.
Most credit cards offer what is known as "secondary coverage," typically in the form of collision damage waivers. Secondary insurance covers the vehicle after your auto insurance has paid its share of the claim. In most cases, the amount covered by your secondary coverage is the deductible associated with your primary coverage. If you are traveling internationally where your policy doesn't cover you or don't have auto insurance, the secondary insurance will become primary.
Also, be aware that collision damage waiver does not provide full insurance protection to the vehicle, its occupants, and their belongings. Instead, it only covers damage and theft to the vehicle. If you get into an accident and someone gets hurt or you damage a vehicle or other property, that will not be covered. In that case, your vehicle insurance will need to cover you.
Some credit cards do offer primary rental car insurance, though. This primary rental car insurance will step in to cover damage or theft to the rental car before your personal insurance has to pay any claims. Some cards that offer primary insurance are the Chase Sapphire Preferred® Card, Chase Sapphire Reserve®, United℠ Explorer Card, and Ink Business Preferred® Credit Card.
American Express doesn't provide primary or secondary insurance on its credit cards. However, American Express offers premium rental car protection for fee. You'll pay a flat fee per vehicle for a maximum of 42 days. For longer reservations, purchasing this protection is a no-brainer when using an American Express card to pay your bill.
Our 3 favorite credit cards for Avis rentals
The best credit cards are those that provide benefits in multiple ways. Ideally, you'll earn valuable rewards while receiving additional coverage that saves you money and helps you sleep at night. When it comes to which credit cards to use with Avis, here are our three picks.
| | | | | |
| --- | --- | --- | --- | --- |
| Card | Welcome bonus | Reward details | Annual fee | Special benefits |
| British Airways Visa Signature® Card | Earn 75,000 Avios after you spend $5,000 on purchases within the first three months of account opening | 3X Avios on purchases with British Airways, Aer Lingus, Iberia, and LEVEL; 2X Avios on hotel accommodations (when booked directly with the hotel); and 1X Avios on all other purchases | $95 | Receive an additional 250 Avios on every rental and be covered under secondary rental car protection |
| Chase Sapphire Reserve® | Earn 60,000 bonus points after you spend $4,000 on purchases in the first 3 months from account opening | 5X points on flights and 10X points on hotels and car rentals when you purchase travel through Chase Ultimate Rewards® immediately after the first $300 is spent on travel purchases annually; 3X points on other travel and dining & 1X points per dollar on all other purchases | $550  | Offers primary rental car insurance |
| Capital One VentureOne Rewards Credit Card | Earn a bonus of 20,000 miles once you spend $500 on purchases within 3 months from account opening | 1.25 miles per dollar on every purchase, every day and 5 miles per dollar on hotels and rental cars booked through Capital One Travel | $0 | Offers secondary rental car insurance |
Frequently asked questions about Avis Preferred
How much is it to join Avis Preferred?
There is no cost to join the Avis loyalty program. Simply follow the instructions outlined earlier in this guide and your new account will be created in just a few minutes.
Does Avis Preferred match other rental car elite status?
Yes, it is possible to match your status with other rental car loyalty programs but this may vary depending upon the program you are trying to match from and the elite status you currently have. Visit StatusMatcher.com for the latest results from travelers trying to get their elite status matched. An easier way to be granted Avis elite status is to simply have the right credit card, as mentioned above.
Do Avis Preferred points expire?
Yes. Avis Preferred points expire 60 months from the date you earned them. There is no way to extend the life of these points, so make sure you redeem them for free car rentals. 
Additionally, if your account is deemed "inactive" your points could expire within 12 months. Your account is considered inactive if, during the prior 12 months, you have not completed a rental from Avis, have not earned or redeemed Avis points, or your account has been canceled.
Is the Avis Preferred loyalty program worth it?
Yes, joining the Avis Preferred loyalty program is worth it. It is free to join and you can earn either Avis points, airline miles, or hotel points simply by renting a car. However, remember to keep your account active and points from expiring so your rewards do not go to waste.
Can I use my Avis points for someone else?
No. Avis does not allow the sale, barter, or transfer of Avis Preferred points to anyone else.
The bottom line on using Avis Preferred to maximize your points and miles
The Avis Preferred loyalty program offers travelers the ability to earn rewards when renting cars and accessories from Avis. You can choose between earning Avis points, airline miles, or hotel points. Avis points can be used for free car rentals, upgrades, and accessories. But because of the daily fees Avis charges, choosing airline or hotel rewards is generally a bad deal. There is no charge to sign up for the Avis loyalty program, so you should register to earn rewards and receive special offers to save money on future car rentals.
Certain credit cards, like the Citi Prestige, provide complimentary elite status with Avis. This way you can enjoy status benefits on every rental with Avis. Other credit cards offer excellent benefits that pair well with Avis elite status, like primary rental car insurance and bonus earnings points from the Chase Sapphire Preferred.
So, before you book your next Avis car rental, sign up for their rewards program and then use a rewards credit card that boost your bonus points and benefits.
Easy-to-Earn Unlimited Rewards
Earn 25,000 online bonus points after you make at least $1,000 in purchases in the first 90 days of account opening - that can be a $250 statement credit toward travel purchases
Earn 1.5 points per $1 spent on all purchases
Longer intro APR on qualifying purchases and balance transfers
No foreign transaction fees
Earn unlimited 1.5 points per $1 spent on all purchases, with no annual fee and no foreign transaction fees and your points don't expire.
25,000 online bonus points after you make at least $1,000 in purchases in the first 90 days of account opening - that can be a $250 statement credit toward travel purchases.
Use your card to book your trip how and where you want - you're not limited to specific websites with blackout dates or restrictions.
Redeem points for a statement credit to pay for travel or dining purchases, such as flights, hotel stays, car and vacation rentals, baggage fees, and also at restaurants including takeout.
0% Introductory APR for 15 billing cycles for purchases, and for any balance transfers made in the first 60 days. After the intro APR offer ends, 18.24% - 28.24% Variable APR will apply. A 3% fee applies to all balance transfers.
If you're a Preferred Rewards member, you can earn 25%-75% more points on every purchase. That means instead of earning an unlimited 1.5 points for every $1, you could earn 1.87-2.62 points for every $1 you spend on purchases.
Contactless Cards - The security of a chip card, with the convenience of a tap.
This online only offer may not be available if you leave this page or if you visit a Bank of America financial center. You can take advantage of this offer when you apply now.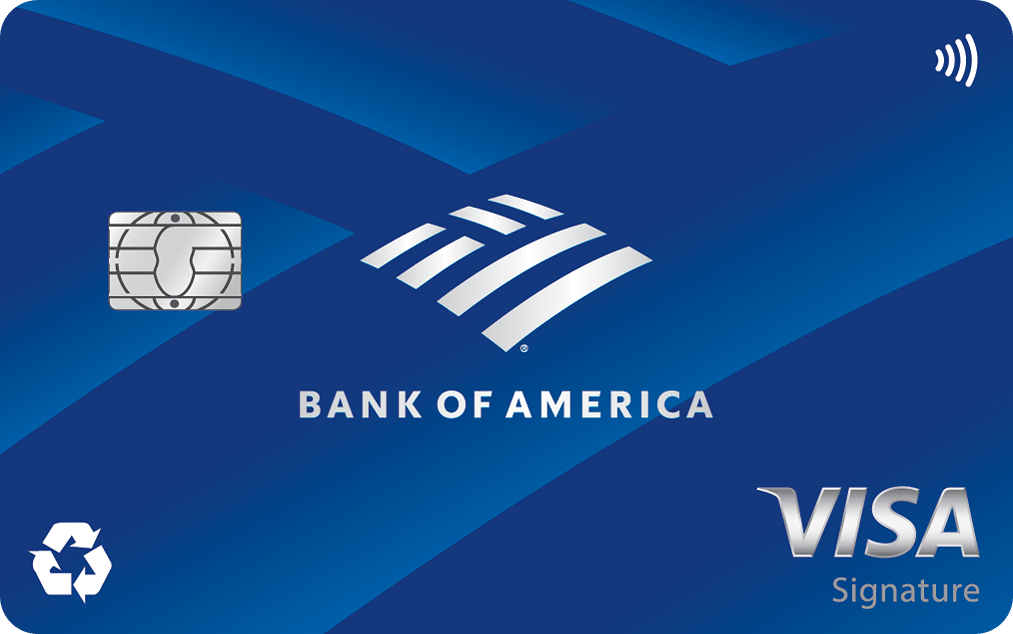 4.1
FinanceBuzz writers and editors score cards based on a number of objective features as well as our expert editorial assessment. Our partners do not influence how we rate products.
Apply Now
on Bank of America's secure website
Read Card Review
Intro Offer
Earn 25,000 online bonus points after you make at least $1,000 in purchases in the first 90 days of account opening - that can be a $250 statement credit toward travel purchases