If you're already a Chase credit cardholder, you know how simple it is to log into your online account and view all your essential information. And if you add one of the Chase business cards into the mix, you'd expect the process to be just as easy and painless. It is, but there's also one small catch.
When you already have Chase consumer credit cards and then you add a Chase business card to your wallet, you end up with two different online accounts: One for your personal cards and one for your business cards. Fortunately, you can simplify things by merging the two accounts together to view your Chase credit cards in one place. It's simpler than you think. Here's how to make it happen.
The benefits of viewing your Chase business and personal cards together
Putting all your Chase cards together in one place can make a world of difference. Not only is it more convenient for you but it also makes it easier to manage your finances.
1. Easier to track spending
Although it may be an efficient use of time to check how your daily spending is adding up in one account, you lose efficiency when you have to navigate between two different accounts. And because you'd have to log out of one account to log into the other, it becomes difficult to track spending on multiple credit cards at the same time.
With all your Chase cards in one account, you can switch between each card with ease to see exactly how much you're spending and in which categories. This is especially useful if you're trying to take advantage of specific card benefits. For instance, using the Ink Business Preferred for purchases on internet, cable, or phone services to earn increased rewards.
2. You're less likely to miss a payment deadline
Any additional step in the process of making sure your credit cards are paid off can be an additional reason you might miss a deadline. With two online accounts, you have to check your card payments two separate times to ensure you're staying on top of things. With all your cards under one account, it's much easier to view your balances and payment due dates.
3. Ability to view and combine rewards in one place
The Chase Ultimate Rewards program is a favorite among travelers, and it's easy to understand why. It offers valuable travel rewards and flexible redemption options. For instance, with the Chase Ink business cards, your rewards can be redeemed for cash, gift cards, travel, and more.
If you haven't combined your Chase consumer and business cards into one account yet, it can be difficult to view your rewards and pool them, if you so desire. Having easy access to all your cards and rewards in one place makes it easy to pool Chase Ultimate Rewards points together and use them how you see fit.
4. Easy mobile view
If you use the Chase mobile app, you may run into the same issues that non-mobile users face when trying to access their Chase consumer and business card accounts. You'll have to log out of one account and then log into another.
If you combine both into one account, though, you'll be able to easily switch between the two in the app. Just tap on the "Personal" tab to see your personal cards and the "Business" tab to see your business cards.
How to view your Chase business and personal cards together
If you're looking to combine your Chase business and personal cards into one Chase account, follow these steps. Note that it does not matter whether you sign up for a business or personal card first; in both cases, you'll need to call Chase to combine the two.
For the purposes of this example, we'll assume you already had a Chase consumer credit card account. Here's how to get your business card associated with your personal account:

Navigate to Chase.com and click on the link to sign up for a new account.
Complete the enrollment form and create a login for your business card(s). Make sure you click on the button for a Business account. You will need to have important information such as your application, card, or account number and Social Security number handy.
Call Chase at 1-877-CHASESPC (1-877-242-7372) and ask them to associate your personal cards with your business login.
Log into your business card account, you should be able to see all your cards in one place.
FAQs
How do you link your Chase personal and business accounts?
There are two ways you can link your Chase personal credit cards and business accounts.
You can contact Chase via phone using the number on the back of your credit card. Or you can sign in to your online account and choose the option to send a secure message requesting the company link your account or username. You should do this from the account with the sign-in information you want to continue using.
Before you can link your accounts, you'll be asked to provide the account type and username and to confirm you are the owner of both accounts and that they're registered under your Social Security number. It typically takes several days for Chase to complete the linking process, but once it does, you will no longer need separate logins.
Which business credit cards does Chase offer?
Chase offers a number of business cards, including the following cards:
Eligibility for Chase business credit cards depends on your credit score and other factors. It is possible for a sole proprietor to qualify for a new Chase business card in certain circumstances.
Does Chase business credit card activity show up on your personal credit?
Some credit card companies report information about business cards on your personal credit report. Chase is one of those companies. However, Chase reports only negative information on your personal credit history. This means if you default or are late on payments, it could potentially affect your personal credit.
The final word on Chase business and personal cards
Signing up for a Chase business credit card in addition to a personal card can help you maximize your rewards. If you're looking for the best business credit cards, Chase offers multiple cards that can fit a variety of situations and needs. If you're interested in earning rewards on every purchase, then the Chase Ink Business Unlimited card might be right for you. Or if you think a card that offers generous cashback rewards on office supply store purchases would be a good fit, then the Chase Ink Business Cash Credit card is worth a look.
The best credit card for you is the one that aligns with your financial needs and spending habits. But if you're applying for a Chase business card, combining your Chase personal and small business accounts will make it much easier to manage and track your spending.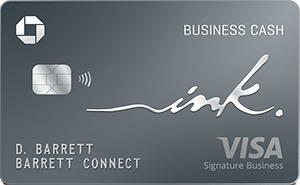 4.8
FinanceBuzz writers and editors score cards based on a number of objective features as well as our expert editorial assessment. Our partners do not influence how we rate products.
Current Offer
Earn $900 bonus cash back after you spend $6,000 on purchases in the first 3 months from account opening
Rewards Rate
5% cash back on the first $25,000 spent in combined purchases at office supply stores and on internet, cable and phone services each account anniversary year; 2% cash back on the first $25,000 spent in combined purchases at gas stations and restaurants each account anniversary year; and 1% cash back on all other purchases