Many people dream of starting their own business, but you may fail if you make mistakes. That could change your small business from a venture that you thought would eliminate some money stress to something that causes you more stress.
If you want to know how to start a business or find yourself struggling with an existing one, it's wise to know why so many small businesses never make it. 
Here are the things to avoid doing if you want your small business to succeed.
Not having a business plan
Jumping into a new business venture without a well-thought-out plan will most likely end in failure. You can know everything there is to know about your product or service, but that means little if you don't know how to run the business properly.
Entrepreneurs without a good business plan can make poor decisions, such as trying to grow too fast and missing out on better opportunities for growth.
Trying to do it all by yourself
Some business owners have difficulty trusting others to help with daily tasks, but it's usually best to enlist the help of qualified professionals. This will free up your time and attention so you can focus on the big picture rather than every little detail.
Besides, it's unlikely even the most skilled entrepreneurs are best qualified to perform all necessary tasks. As your business grows, consider growing your pool of talented workers too.
Making poor hiring decisions
Hiring unqualified workers could damage your business more than trying to go it alone. Companies don't intentionally hire the wrong candidates, but it happens. It's your responsibility to determine which qualifications your employees need and how to appeal to the right workers.
Offering low salaries while requiring extensive experience or education isn't likely to land many qualified applicants. Some job seekers may also make false claims or overstate their experience. Checking their qualifications and references is essential to the screening process.
Not adjusting to a changing market
During the pandemic, businesses that didn't have a website were hurt severely as in-person shopping and dining stopped. Successful business owners need the ability to adapt when market conditions change. And a changing market is only one of the many circumstances that will require an adjustment. Customer demand could change and result in the need for a new or altered product.
The economy can also impact your business. Inflation might cause consumers to reduce spending, and business owners will need to find new and innovative ways to attract customers.
Not focusing on customer orientation
Customer orientation is essential for business success. If you do not focus your business on customer needs and wants, you will struggle to make a profit.
Some business owners may try too hard to make their product or service appeal to the customer when they should adjust their offering to meet customer needs instead.
Not having enough financing
Running a business costs money, and not having enough cash to cover required operating expenses can lead to failure. Business owners should thoroughly understand all the costs associated with the business.
It's also essential to receive timely payments from customers. Maintaining a good cash flow will help your business succeed. To increase profits, compare vendors and providers to keep your costs as low as possible.
Not having a good marketing strategy
No one will purchase goods or services from your company if they don't know it exists. An effective marketing strategy tells your target market why they should purchase from you rather than from another company.
You'll need to determine how best to reach your target market and your customer acquisition cost. Spending too much or too little on marketing can devastate your business.
Managing finances poorly
Managing your finances poorly can create big problems for your business, just as poor financial decisions can in your personal life.
It's a good idea to continuously monitor your business expenses, revenue, and cash flow. You may discover areas for improvement, and you can adjust your processes accordingly.
Not considering the competition
Your business is probably not the only one offering the particular product or service. You'll need to identify what sets you apart from the competition and communicate this difference to your target market.
But differentiating yourself in the beginning is not enough. To remain successful, you should continue evaluating the competition. As competitors expand and change and new ones appear, you may find you need to adjust your strategy or offerings.
Having unrealistic expectations
Having unrealistic expectations for your business can set you up for failure. Building a successful business takes time and commitment. Some people start a business thinking it's one of the easiest ways to make extra money. But it's not likely you'll see profits right away.
Conducting extensive research and formulating a good business plan can help you know what to expect. When your expectations align with your plan and goals, you're more likely to see your business succeed.
Fearing that your business failing
Fear of failure could hold you back from success. You may need to take calculated risks to bring your business to the next level, which requires confidence in yourself and in your business.
It's easy to have this fear when the reality is so many small businesses do fail. But taking the time and following the necessary steps to launch your business effectively can allay your fears. If you're prepared to succeed, you will have the confidence to move forward.
Not wanting it bad enough
Running a business is no easy task and will require extreme commitment and passion. If you don't want the business to succeed badly enough, you'll likely see it fail.
Before spending time and money turning your business idea into a reality, consider whether your commitment to this particular business is strong enough to overcome all the challenges you will face along the way.
Bottom line
Every decision you make can impact your business. While there are never any guarantees for success, understanding why most businesses fail can help you make your vision a reality. Even the best side hustles require a business mindset, so consider these mistakes whether or not you run a business full-time.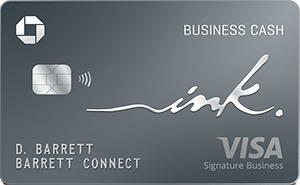 4.8
FinanceBuzz writers and editors score cards based on a number of objective features as well as our expert editorial assessment. Our partners do not influence how we rate products.
Current Offer
Earn $900 bonus cash back after you spend $6,000 on purchases in the first 3 months from account opening
Rewards Rate
5% cash back on the first $25,000 spent in combined purchases at office supply stores and on internet, cable and phone services each account anniversary year; 2% cash back on the first $25,000 spent in combined purchases at gas stations and restaurants each account anniversary year; and 1% cash back on all other purchases