When your credit isn't perfect or you're just starting to build a credit history, getting a credit card can be a challenge. Secured cards — which require you to put down a deposit that serves as your credit limit — are often the easiest to get. Traditional unsecured credit cards that approve those with low credit scores are few and far between.
Credit One's Unsecured Platinum Visa is one of them and could be a good option if you're trying to build your credit. What's more, it offers you 1% cash back, which is a perk you don't often see in a credit-building card. Here is our review of the Credit One Unsecured Platinum Visa and what you need to know before applying.
Who should get this card?
The Credit One Unsecured Platinum Visa is a good option for someone who ranks as having poor or fair credit. This means your FICO scores are likely in the 300 to 669 range, and you may have some collections, defaults, or even bankruptcy on your record. It could also be useful to students and those who are new to building a credit history.
This card is specifically designed to help you build good credit by reporting your payments to credit bureaus. By using the card and paying on-time, your credit line can also increase, which will also help boost your credit score — so long as you don't use up too much of that credit line. Keeping your credit card balances low can have a positive impact on scoring.
This card is also a good option for people who are also looking to earn cashback rewards while building credit or who don't want to put down a deposit like you would with a secured card.
Card Basics
| | |
| --- | --- |
| Annual Fee | $0-$99 |
| Recommended Credit Score | Bad, Poor |
| Foreign Transaction Fee | Either $1 or 3%, whichever is greater |
Top Card Benefits
Simple rewards: The rewards program for Credit One's Unsecured Platinum Visa is pretty simple. You earn 1% cash back on all eligible purchases, paid in the form of statement credits.

You could be approved even with poor credit: Because this card is designed for those with limited or poor credit, your chances of being approved could be pretty good. You can fill out a pre-approval application on the website to estimate what kind of offer Credit One may make you. This application will not show up on your credit report as a hard credit pull. If you want to move forward to the full application, you can do so after seeing what you qualify for; this will count as a hard inquiry on your credit reports.
Free credit score: As a Credit One customer, you'll have access to your Experian credit score and credit report summary online for free. This can be a useful way to track your score's improvement over time.
Regular credit review: Your account will be reviewed regularly. This is a good thing because if you're spending and paying responsibly, you could be approved for increases to your credit limit. This can have a positive impact on your scores.
Earning and Redeeming
The Credit One Unsecured Platinum Visa offers 1% cash back on all eligible purchases, including gas, groceries, and cell phone, internet, and cable expenses. Use your card when making purchases to fill up your gas tank, getting your weekly groceries from the supermarket, or paying your internet or cable bills.
| | |
| --- | --- |
| Categories | Rewards rate |
| Gas Station | 1% |
| Grocery Store | 1% |
| Mobile phone, internet, and cable services | 1% |
Unfortunately, your options to redeem your cash back is pretty limited. You can only access your rewards in the form of automatic statement credits to your account.
Common Questions
Is Credit One Bank a legitimate company?
Yes, Credit One Bank is a legitimate company. It is a technology and data-driven financial services company based in Las Vegas and has more than 10 million cardmembers.
Are Credit One and Capital One the same company?
No, these are two different companies with different credit card offerings. Capital One primarily serves customers in the average to excellent credit range. Credit One serves mostly those with poor to fair credit.
Does Credit One increase your credit limit?
Yes, if you are eligible. Credit One will review your account regularly to see if you're making responsible choices with your card. If they find you are, your credit limit may be increased.
What is the max credit limit for Credit One?
Credit One doesn't publish information about the maximum limit available, but there is a minimum credit line of $300 on new accounts. Your limit may increase thereafter as a result of regular reviews of your account and good credit performance.
Is there an annual fee for the Credit One Unsecured Platinum Visa?
The Credit One Platinum Visa comes with an annual fee of $0 to $95 in the first year (up to $99 from the second year on). The amount you pay will be determined when you apply and will be automatically deducted from your overall credit limit when your account is opened. So if you're approved for a $300 credit limit and a $95 annual fee, your limit will be $205 until you've paid the annual fee in full.
Other Cards to Consider
While the Credit One Unsecured Platinum Visa is a decent choice for an unsecured credit card you can get with less-than-stellar credit, here are a few other options to consider before completing an application.
Capital One® QuicksilverOne® Cash Rewards
The Capital One QuicksilverOne Cash Rewards card is pretty comparable to the Credit One Unsecured Platinum Visa, with a few extra perks. You get unlimited 1.5% cash back on every purchase, an annual fee of $39, unlimited access to your credit score, and a chance to increase your credit limit after making five on-time monthly payments.
You can use your cash back as statement credits, to cover the cost of a recent purchase, or purchase gift cards. All this is steps ahead of what Credit One offers, but you do have to have what Capital One defines as average credit to be approved.
Discover it Secured
The Discover it Secured card is the bank's credit-building card, designed for those with limited or poor credit. You can earn 2% cash back on purchases at restaurants and gas stations (up to $1,000 quarterly), and 1% cash back on all other purchases. Plus, Discover will match those earnings up to $1,000 in the first year, which is an extra bonus. There is a $0 annual fee and you will get monthly reviews after your eighth month of being a cardholder to determine if you can be moved into an unsecured card.
This is a secured card, which works differently than the Credit One Unsecured Platinum Visa. You will have to put down a deposit, which will serve as your credit limit. The deposit is refundable if you close the account in good standing.
Credit One Bank Unsecured Platinum Visa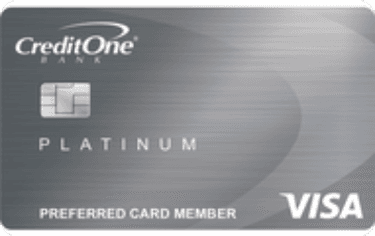 Credit One Bank Unsecured Platinum Visa
Special Offer
Opportunities to increase your credit line
See how these cards compare:
Capital One® QuicksilverOne® Cash Rewards Credit Card
1.5% unlimited cash back on every purchase, every day
Access to a higher credit line after you make your first 5 monthly payments on time
CreditWise to monitor your credit score
Discover it Secured
2% cash back at restaurants and gas stations
Refundable security deposit
Cash back match at the end of first year
FICO Credit Score monitoring