Cruises are a great way to visit different ports on one vacation, as well as partake in any onboard fun like rock climbing, or daily trips to a pool or spa. And of course, there is plenty of yummy food and delicious drinks to enjoy.

But there are also a few secrets the cruise lines may not tell you that can bump up your enjoyment on the ship and relieve some money stress. Check out a few tips and tricks that could make your next cruise extra special.
Email newsletters can contain great deals
As soon as you consider leaving land and begin planning your trip, sign up for email newsletters from several cruise lines and read them whenever they show up. You might catch a deal specifically for subscribers, or a quick pick that can save you money if you pounce on it before it expires.
Ships might not wait for you at port
When a cruise ship sails into port, there are plenty of options for you to explore. Perhaps you want to sign up for an excursion organized through the cruise line. Or maybe you want to try something a little different on your own.
Be aware that if you're part of an organized cruise trip and you're running late, the ship will wait in port for you. But if you choose to do something on your own instead, you may watch your cruise sail away with you on shore if you don't make it back in time.
Pro tip: Book your cruise with one of the best credit cards with travel insurance to get rescued if you're stranded at port.  
Hidden cruise costs can sink your budget
There are many hidden cruise costs that may surprise you. For example, soda may be a daily expense you didn't factor into your budget. Excursion costs also can add up. And there may be extra fees for Wi-Fi.
Cruise lines are counting on you having too much fun to notice the bill you're running up until it's time to get off the ship. So, try and keep track of these things.
The daily onboard newsletter might contain more savings
Cruise lines may include a newsletter under your door each night about the next day's activities. Such newsletters often include information about excursions or details about which restaurants will be open and when.
But cruise lines may also include small notes about freebies, special events, or discounted items. Read up on the news and see if you can find out about those little secrets that your fellow passengers may not be paying attention to.
The main dining room isn't always the best option
One of the common cruise mistakes people make is to head to the main dining room the first night on the ship. But with so many people going in that direction, some of the specialty restaurants on board may be close to empty.
That could give you the perfect chance to get a seat and enjoy a special selection for a quiet dinner. Do this early in the cruise, because if the restaurant is good, word will get around. Then, you might have to fight for a reservation at the same restaurant later in the trip.
Bad behavior can put in you jail
Have fun on your cruise, but be aware that you can have too much fun — and it might cost you. If you do something illegal, the cruise line may throw you in the jail that is on their ship.
When the cruise arrives at the next port, they might hand you over to the authorities. So, try to moderate your fun, or your cruise might be over much sooner than you expect.
You can get a deal on a repositioning trip
Sometimes, cruise lines want to move their ships from one group of ports to another. Perhaps an Alaskan cruise goes south to Hawaii for the winter, or a ship may simply go to a different set of ports to cruise around for a few months. Book one of these repositioning trips and it might save you some cash.
Pro tip: You could save even more when you book your trip with one of the best credit cards for cruises. 
The drink package isn't always a bargain
Whether you're a first-time cruiser or a veteran, you might think it's great to pick up the drink package for your trip. But before you do that, make sure you do some calculations and check with the cruise line on their policies.
Some cruises may include wine at dinner or might allow you to bring a few bottles on the ship that you can open and have your waiter re-cork for your nightly meals. If so, those factors can be an argument against getting the drink package.
You aren't limited to one menu option
When you go to dinner in the main dining room, you may be given a menu with several items to choose from that night. This might include a few appetizers, main courses, or even some desserts.
But don't think you have to limit yourself to one of each. If you see two entrees that sound delicious for the night, try both of them. Or get a few desserts to share among your group instead of limiting yourself to just one. Any additional plates you order often are included in your dinner, so why not indulge while on vacation?
Bottom line
A cruise can be a fun way to see the world and get away from the daily grind for a few days. And if you know the secrets that the cruise lines may not share, you can increase your holiday fun.
Try to find cruise lines and itineraries that fit your level of fun and head out on the water for a good time. And don't forget to book your voyage using one of the best travel credit cards for more potential savings.
Easy-to-Earn Unlimited Rewards
Earn 25,000 online bonus points after you make at least $1,000 in purchases in the first 90 days of account opening - that can be a $250 statement credit toward travel purchases
Earn 1.5 points per $1 spent on all purchases
Longer intro APR on qualifying purchases and balance transfers
No foreign transaction fees
Earn unlimited 1.5 points per $1 spent on all purchases, with no annual fee and no foreign transaction fees and your points don't expire.
25,000 online bonus points after you make at least $1,000 in purchases in the first 90 days of account opening - that can be a $250 statement credit toward travel purchases.
Use your card to book your trip how and where you want - you're not limited to specific websites with blackout dates or restrictions.
Redeem points for a statement credit to pay for travel or dining purchases, such as flights, hotel stays, car and vacation rentals, baggage fees, and also at restaurants including takeout.
0% Introductory APR for 18 billing cycles for purchases, and for any balance transfers made in the first 60 days. After the intro APR offer ends, 17.99% - 27.99% Variable APR will apply. A 3% fee applies to all balance transfers.
If you're a Preferred Rewards member, you can earn 25%-75% more points on every purchase. That means instead of earning an unlimited 1.5 points for every $1, you could earn 1.87-2.62 points for every $1 you spend on purchases.
Contactless Cards - The security of a chip card, with the convenience of a tap.
This online only offer may not be available if you leave this page or if you visit a Bank of America financial center. You can take advantage of this offer when you apply now.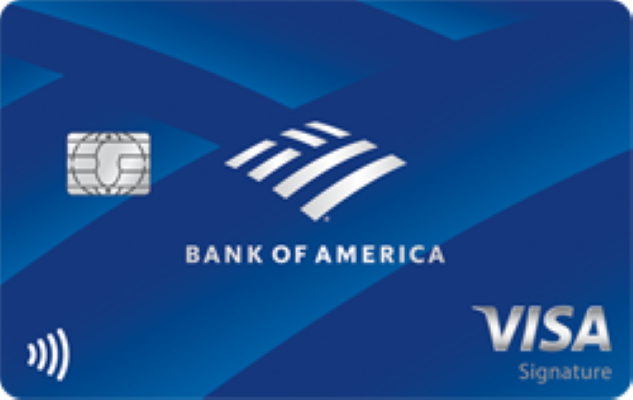 Apply Now
on Bank of America's secure website
Read Card Review
Intro Offer
Earn 25,000 online bonus points after you make at least $1,000 in purchases in the first 90 days of account opening - that can be a $250 statement credit toward travel purchases