No matter where you're flying, the average domestic plane flight now costs hundreds of dollars — and that's just for the ticket.
Everything from checking a bag to accessing Wi-Fi costs extra these days, which can put a comfortable flight way out of your budget.
But even in an age where airlines seem to charge for the simplest convenience, most companies still offer a handful of items for free. All you have to do is ask.
So the next time you fly, consider asking your flight attendant if you can claim any of these free perks.
Individually wrapped blankets
Flight attendants used to distribute individually shrink-wrapped blankets before takeoff that could offer an (admittedly flimsy) extra layer of comfort during the flight.
Few airlines follow this practice now, though some still distribute blankets to first-class passengers. But some flights might carry some blankets for flyers who ask for them.
You'll probably need to leave the blanket behind once you land, so ask your flight attendant for clarification. And don't be surprised if the attendant tells you that blankets are for first class only. On some airlines, you can only get pillows or blankets on international flights.
Extra snacks
Don't want to choose between a small package of Biscoff cookies, a tiny bag of pretzels, or a handful of peanuts to tide you over for the duration of the flight?
When the food and beverage cart comes around, ask if you can snag an extra packet or two.
Not every passenger wants a snack, so there should be a few leftover treats that will simply roll over to the next flight if you don't eat them yourself.
A full can of soda
Remember the good old days when flight attendants would hand out not just cupfuls of soda but the entire can?
Nowadays, most airlines split cans between passengers to save money, but you can always ask for the full can along with your cup and see what happens.
There's no guarantee that your flight attendant will say yes, but you won't know if you don't ask.
Earn a $250 travel bonus with this incredible card
There's a credit card that's making waves with its amazing bonus and benefits. The Bank of America® Travel Rewards credit card has no annual fee and you can earn 25,000 points after spending $1,000 in purchases in the first 90 days of account opening.
You can earn additional points just by using this card for your everyday purchases — unlimited 1.5 points per $1 spent on all purchases. The 25,000 points can be redeemed for a $250 statement credit toward travel or dining purchases.
If you want to travel and dine out more, the Travel Rewards card can help you get where you want to go.
The best part? There's no annual fee.
Water for your water bottle
Speaking of hydration, did you pour out your water at the start of the security line and run out of time to fill it back up before boarding? Ask a flight attendant if they can fill the bottle up for you.
Traveling at a high altitude can dehydrate you quickly, so try to drink eight ounces of water an hour while you're in the air.
More than a matter of convenience, it's about your health. Your flight attendant should be happy to help you travel safely.
Hot cocoa
If a cup of coffee or a soda doesn't sound like it would hit the spot, ask your flight attendant if they have any hot chocolate on hand.
Like coffee shops and restaurants, airlines usually carry non-caffeinated alternatives to hot coffee for passengers who want to relax with a hot drink without getting too wired.
Earbuds
If you want to enjoy high-quality, noise-canceling headphones on your flight, you're going to have to bring your own. But most airlines have free wired earbuds you can use during the flight.
And if the airline doesn't offer you a set of earbuds upfront and you're worried it's rude to ask for a set, remember that it actually benefits the airline to distribute them for free.
After all, some premium airline entertainment costs money. So if you don't have a way to listen to the most recent blockbuster, you're obviously not going to pay to watch it in flight.
Hand sanitizer, alcohol wipes, and face masks
Masks aren't required on most planes at the moment, but airlines are going out of their way to ensure passengers feel safe to fly. They're also making an extra effort to clean the cabin between flights.
If you request sanitizer for your hands, armrests, tray table, or screen, your flight attendant will almost certainly have something you can use.
A different seat
If your flight is sold out and every passenger shows up, there's not much to do about your seat assignment beyond asking another passenger to switch with you.
But if the flight has some extra seats and you're uncomfortable where you are, it doesn't hurt to ask your flight attendant if you can change your seat.
Use this genius trick to save money on flights
Travel can be pricey. But this new extension could make your travel plans way cheaper than you thought possible.
Capital One Shopping can help you find lower prices on flights, hotels, and other travel necessities. It can automatically apply available coupons and compare prices across sites — if there is an available deal on a flight or hotel, it'll show it to you. It also works with Amazon and other websites to find you even more deals.
Download the extension now before you go to book your next flight. It only takes a few seconds to install, but if you don't get it you could be missing out on hundreds of dollars of savings the next time you travel.
A snack for your dietary needs
If you have a medical condition that restricts your diet or if you eat vegan or gluten-free, you can politely ask your flight attendant if they have snacks to accommodate your needs.
Hopefully, your flight can offer at least one snack option without gluten or animal products. Just be aware that this might not be the case on a short domestic flight.
Basic first aid supplies
Planes are required to travel with fully stocked first aid kits. If you need a bandaid, sanitizing wipe, or some basic medications, you can ask your flight attendant if they have what you need.
Some airlines also offer sanitary pads and tampons as part of their medical supplies, but you can't count on it.
Wing pins
Not all airlines have brought back the once-common practice of handing out branded wing pins to kids and first-time flyers. Others, like Delta, are restoring the process.
You might need to ask directly for a wing pin if you aren't offered one. Be careful not to ask in front of your little one — pins might not be available, and no one wants to start off their flight with a disappointed little traveler.
An application for an airline credit card
If you've been in the market for a new credit card with travel benefits you can actually use, talk to your flight attendant.
Popular airlines like Delta and United have branded credit cards with plenty of travel-based rewards. Depending on the card, you might get a better intro offer by signing up in flight.
So if you've been eyeing those SkyMiles, a flight attendant can help you submit a credit card application that starts to earn you benefits mid-air.
Bottom line
If you ask for any of these free perks and get a polite but apologetic no, just shrug and let it go — there's no harm in asking as long as you can accept the answer with good grace.
But in an age of expensive, inconvenient air travel, it's worth seeing if you can get some extra items and amenities for free.
Even if you cashed in points on your best travel credit card, you paid a lot for your travel experience. You might as well make the most of it without compromising your budget.
Easy-to-Earn Unlimited Rewards
Earn 25,000 online bonus points after you make at least $1,000 in purchases in the first 90 days of account opening - that can be a $250 statement credit toward travel purchases
Earn 1.5 points per $1 spent on all purchases
Longer intro APR on qualifying purchases and balance transfers
No foreign transaction fees
Earn unlimited 1.5 points per $1 spent on all purchases, with no annual fee and no foreign transaction fees and your points don't expire.
25,000 online bonus points after you make at least $1,000 in purchases in the first 90 days of account opening - that can be a $250 statement credit toward travel purchases.
Use your card to book your trip how and where you want - you're not limited to specific websites with blackout dates or restrictions.
Redeem points for a statement credit to pay for travel or dining purchases, such as flights, hotel stays, car and vacation rentals, baggage fees, and also at restaurants including takeout.
0% Introductory APR for 15 billing cycles for purchases, and for any balance transfers made in the first 60 days. After the intro APR offer ends, 18.24% - 28.24% Variable APR will apply. A 3% fee applies to all balance transfers.
If you're a Preferred Rewards member, you can earn 25%-75% more points on every purchase. That means instead of earning an unlimited 1.5 points for every $1, you could earn 1.87-2.62 points for every $1 you spend on purchases.
Contactless Cards - The security of a chip card, with the convenience of a tap.
This online only offer may not be available if you leave this page or if you visit a Bank of America financial center. You can take advantage of this offer when you apply now.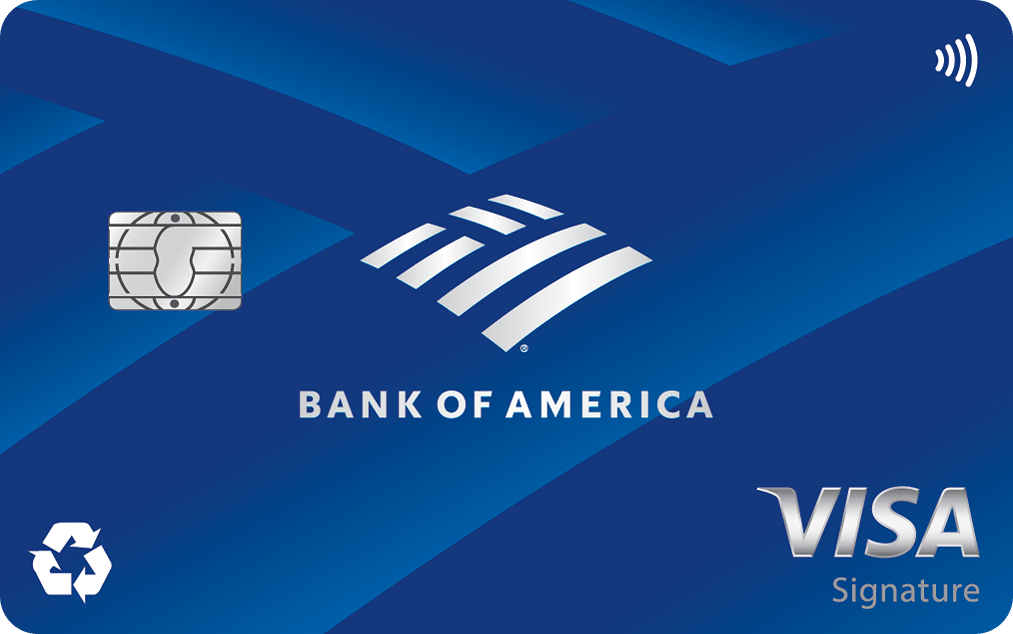 4.1
FinanceBuzz writers and editors score cards based on a number of objective features as well as our expert editorial assessment. Our partners do not influence how we rate products.
Apply Now
on Bank of America's secure website
Read Card Review
Intro Offer
Earn 25,000 online bonus points after you make at least $1,000 in purchases in the first 90 days of account opening - that can be a $250 statement credit toward travel purchases