Applying for a new business credit card often requires your Employer Identification Number (EIN) and your Social Security number (SSN). However, there are some types of business credit cards that you may be able to get using only an EIN.
These types include corporate business cards, corporate gas cards, and secured business cards. If you're wondering how to get a business card using an EIN only, here's what you need to know. 
What types of business credit cards can you get with only an EIN?
Although many credit card issuers require an SSN for a business card, there are some cards on the market that only require an EIN.
Corporate business credit cards
Corporate business credit cards are accessible to businesses that have demonstrated annual revenue in the millions. As the name suggests, these cards feature corporate liability, meaning no one person is responsible for non-payment on the account.
 Similarly, since the business is solely responsible for charges on the account, it's also the entity that benefits from earned rewards and other card perks. This type of credit card can help improve your business's credit score with business credit bureaus. These aren't always the same as personal credit bureaus, which report on personal credit card activities.
Some corporate business credit card issuers may have partnerships that can provide additional benefits and discounts. For example, a card may offer discounts on travel or office supplies when you use it to purchase from certain partners.

The reporting associated with a corporate credit card is also more robust. A company's accounting department will have access to business finance analytics and reporting tools to monitor how the cards are being used and can set limits for individually-issued employee cards as a way to track spending.
What you need for a corporate business credit card
If you're considering a corporate credit card that only uses an EIN, you'll need to:
Have a business that operates as a separate legal entity
Have a good business credit score with bureaus such as Dun & Bradstreet or Experian Business

Meet the business credit card issuer's required revenue threshold
Meet other requirements the card issuer may have
This makes corporate credit cards challenging to access if you're a small business owner or a sole proprietor.
The Brex Credit Card
Silicon Valley startup Brex is reinventing the traditional corporate card. While a traditional corporate card requires million-dollar revenue, Brex uses an underwriting algorithm to determine your eligibility and to set your line of credit limit, which may give startup businesses better opportunities.
Brex links to your company's bank account and uses data, like your cash flow, spending patterns, and your company's investors, to make its decision. It also boasts 10-20X higher limits, automated expense management, and seamless integration in accounting systems. The company currently offers the Brex Credit Card.
Learn more in our Brex Credit Card review.
Corporate gas credit cards
If your business requires frequent fuel fill-ups, a corporate gas card that only requires an EIN, like the Shell Small Business Card, might be useful. Corporate gas cards give you the advantage of issuing multiple cards to your employees as well as setting fuel limits (and sometimes even location limits).
Like regular corporate credit cards, corporate gas cards provide reporting on the card's activity and require good business credit to get approved. On the downside, they can't be used for just any type of business purchase.
Corporate gas cards are used specifically for fuel purchases at the pump and sometimes for vehicle maintenance purchases.
Secured business credit cards
Although there are a number of reasons you might be looking for an EIN-only business credit card, a secured credit card could be a good alternative if your main reason is a poor personal credit score or bad credit for your business.
Some secured credit cards for businesses may only require you to share your EIN, while other secured business cards as well as secured personal cards may still require your SSN. The benefit of a secured card is that, unlike a prepaid card, it slowly helps improve your business or personal credit report as you use the card responsibly. 
Prepaid business cards: An Alternative option to business credit cards
You can opt for a prepaid business card. Since prepaid cards are considered low risk, you won't need to supply your SSN. This option gives you the flexibility and benefits of a credit card when cash payments aren't feasible — for example if you need to book travel or order supplies online. It's also safer than cash because in the event you lose your card, you might be able to get the funds back. However, keep in mind that these aren't credit cards.
Once you have the prepaid business card, simply fund it with a set amount and use the card as you would a typical debit card. For example, if you load the prepaid card with $500, you'd have access to $500 on the card. Once your card's $500 balance is used, you'll need to reload it with more funds.
This could be a good option if you don't meet the revenue requirements that corporate cards expect. The main disadvantage of a prepaid business card is that isn't a credit card, so it doesn't help your business credit score because issuers typically don't report activity to the credit bureaus.
What is an EIN?
An EIN is a unique number that the IRS assigns to your business as a tax ID, like on business tax returns. This nine-digit number is used by different types of businesses, including sole proprietorships, corporations, small businesses, private employers, nonprofit organizations, and other business entities.
Although your Individual Taxpayer Identification Number (ITIN) or Social Security number (SSN) are also nine-digit numbers, they serve different purposes. An ITIN is used for tax purposes by people who can't get an SSN, while an SSN is issued by the Social Security Administration and it's used to track your personal wages. SSNs are also used to identify and track Social Security benefits when you claim them.
Why do business credit cards typically require your SSN?
During the business credit card application process, giving lenders, banks, or other card issuers your SSN gives them access to your personal credit profile. Credit card companies use your SSN to assess whether you're a strong candidate for the card for a few reasons:
Your business hasn't demonstrated its creditworthiness yet. If your business is new or has zero or minimal credit history, the issuer of the card will use your SSN to run a personal credit check and determine your risk level as a borrower.
You'll be personally liable if the business fails. The reality of owning a business is that not all businesses make it. If your business folds but you've supplied your SSN, you can be held liable to repay the balance on the business credit card.
Getting a small business credit card with no personal guarantee might make sense if you'll solely be using the account for business expenses. But card issuers may want to verify the creditworthiness of a primary individual who will ultimately be responsible for the charges.
Why would you want to get a business card only using your EIN?
Getting a business credit card using your EIN is advantageous in a few ways. For example, it allows you to build business credit and get the benefits of using a credit card, like greater purchasing flexibility and earning cashback rewards or travel rewards, without positioning yourself as a guarantor of the amount owed if your business is unable to pay.
Additionally, using an EIN helps you get access to a business credit card account if:
You have poor or no personal credit. If you don't have a strong personal credit history, it might be harder to get approved for a business credit card using your SSN.
You want to avoid personal liability. As noted above, by using an EIN for your business card, you're not using yourself as a personal guarantor of the balance through your SSN, so you can't be held accountable if the business goes under.
You don't have an SSN. If you aren't a U.S. resident and used an Individual Taxpayer Identification Number to request an EIN through the IRS, a business credit card using an EIN can help open the doors to the benefits of a credit card.
FAQ about EIN-only business credit cards
What is the easiest business credit card to get?
A secured business credit card will likely be the easiest business credit card to get. This is because secured credit cards don't typically require good or excellent credit for approval. Secured business cards such as the First National Bank of Omaha Business Edition Secured Mastercard Credit Card don't require good credit because you have to make a minimum deposit to qualify for either card.
Can you get a business credit card with only an EIN?
Yes, it's possible to get a business credit card with only an Employer Identification Number, but the choices are few and far between. For example, the Brex card doesn't require you to provide your Social Security number when you apply. However, business credit cards from most card issuers will require you to provide your Social Security number at some point during the application process.
Do you need an EIN to get approved for a business credit card?
No, you don't necessarily need an EIN to get approved for a business credit card. You may be able to get approved using your Social Security number without an EIN. In these cases, you're typically applying for a business credit card as a sole proprietorship, which requires only your Social Security number.
What do you need to qualify for a business credit card?
To qualify for the best business credit cards, you'll need to be a business owner. Owning a business doesn't have to involve running a large corporation or even a brick-and-mortar location. If you do any number of side hustles that earn you income and aren't part of your typical employment scenario, you could be considered a business owner. This may include consulting services, selling items online, or doing freelance design work on the side.

In addition, most business credit card applications will require you to provide information about your business, such as your annual business revenue, the number of employees at your business, how many years you've been in business, and more. You'll also need to provide personal information, including your name, birthdate, address, total gross annual income, and Social Security number.
Can an EIN help you build your business credit?
Obtaining an EIN is a useful step for establishing your business credit as it's used to identify business entities. However, simply having an EIN won't build your business credit. You'll need to use your EIN to apply for business credit and then use your business credit to make transactions. Your eligible credit transactions will be reported to business credit reporting agencies and your business credit will improve as long as you're managing your credit responsibly.
EIN-only business credit cards: bottom line
While an EIN-only business credit card can make sense in some cases, if you're open to using your SSN to apply for a business card, you'll likely have more options available to you. Since credit issuers often request both an EIN and SSN, consider shopping around for a new card if you've recently improved your credit score and you're willing to use your SSN on a business credit card application.
For business owners open to this option, here are more credit card options on top of our previous recommendations:
The Blue Business® Plus Credit Card from American Express: Enjoy a $

0

annual fee and access to one of the most popular credit card rewards programs out there, the Amex Membership Rewards program. With this card, you get 2X Membership Rewards points on everyday eligible business purchases up to $50,000 each year, and 1X points on eligible purchases after that. Terms apply.
U.S. Bank Business Triple Cash Rewards World Elite Mastercard®: This card offers 5% cash back on prepaid hotels and car rentals booked directly in the Rewards Center; 3% cash back on eligible purchases at gas stations and EV charging stations, office supply stores, cell phone service providers, and restaurants; and 1% cash back on all other eligible purchases. 
Ink Business Cash® Credit Card: Cardholders earn 5% cash back on the first $25,000 spent in combined purchases at office supply stores and on internet, cable and phone services each account anniversary year; 2% cash back on the first $25,000 spent in combined purchases at gas stations and restaurants each account anniversary year; and 1% cash back on all other purchases and enjoy a $0 annual fee. It also offers an introductory purchase APR of 0% for 12 months (then 18.49% - 24.49% Variable).
If you'd like to explore even more options, check out our picks for the best business credit cards for your small business.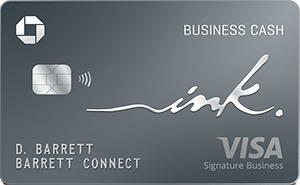 4.8
FinanceBuzz writers and editors score cards based on a number of objective features as well as our expert editorial assessment. Our partners do not influence how we rate products.
Current Offer
Earn $900 bonus cash back after you spend $6,000 on purchases in the first 3 months from account opening
Rewards Rate
5% cash back on the first $25,000 spent in combined purchases at office supply stores and on internet, cable and phone services each account anniversary year; 2% cash back on the first $25,000 spent in combined purchases at gas stations and restaurants each account anniversary year; and 1% cash back on all other purchases