Thinking of starting a business or expanding your side hustle? You're in good company. The Small Business Administration reported there are 31.7 million small businesses in the U.S., and over 80% of them have no employees. Instead, they're completely run by solopreneurs.
Starting or growing a business takes money. A credit card can be a convenient way to finance your goals and help with cash flow, but it can be hard to know which credit card is right for you. If you're trying to decide between a business credit card vs. a personal card to pay for your business expenses, it's important to understand the differences between these two options.
In this guide, you'll learn the important ways that business cards differ from personal cards in terms of credit reporting, credit card rewards, and bookkeeping.
9 important differences between business vs. personal cards
1. Credit card application info
Credit card companies typically decide whether to issue you a personal card solely based on your personal creditworthiness and income.
When you apply for a personal credit card, the card issuer will ask you for your personal information. You usually have to provide your legal name, Social Security number, income, and contact information.The issuer will then typically run a hard credit check so it can see your credit score or FICO score.
The application process for a small business credit card could be more intensive. Besides your personal information, a business credit card issuer might also request the following information:
Business name
Industry
Number of years your business has been in operation
Number of employees, if applicable
Annual business revenue
Federal tax ID, either an employer identification number (EIN) or your Social Security number
2. Credit reporting
Whenever you open a credit card account, your activity — including your payment history and balance — is reported to the major credit bureaus. However, the type of card you have affects which agencies get your information.
For personal credit cards, credit card companies report to Equifax, Experian, and TransUnion. These are the consumer credit bureaus that create your personal credit report from which your personal credit score is generated.
By contrast, the three credit reporting agencies for businesses are Dun & Bradstreet, Equifax, and Experian. The information these agencies record is where your business credit score comes from.
3. Credit limits
Your credit card's limit is how much you can spend on your card. Once you reach its limit, you can't charge any more purchases until you pay down the balance.
With personal cards, credit card companies decide your credit limit based on your personal finances. They will look at things like creditworthiness, existing debt, and income. With business credit cards, the credit limit is based on several factors, potentially including your business' revenue, number of employees, and business credit history.
In general, business credit cards tend to have higher credit limits than personal cards. In a study of business owners' credit management habits, Experian found that consumers have an average credit limit of $26,900, whereas business credit cardholders have an average credit limit of $56,100.
4. Rewards programs
Many credit cards have valuable reward programs. You might be able to earn cash back or travel rewards for your routine expenses. You might then redeem those rewards for cash, gift cards, airline tickets, hotel stays, or even merchandise. Both personal and business cards might also offer travel or cashback rewards as part of a sign-up bonus
Personal rewards credit cards tend to have different rewards programs than business cards, though. With personal credit cards, common categories in which your spending could earn you bonus points might include groceries, online shopping, gas, and purchases at wholesale clubs.
With business rewards credit cards, the bonus categories tend to be focused on common professional transactions. For example, typical bonus categories include shipping and postage costs, internet and phone services, office supply stores, and advertising expenses.
5. Intro APR periods
Although both business and personal cards may have promotional introductory 0% APR offers, it's less common for business cards, and the available offers vary in length.
With some personal credit cards, you can enjoy a 0% interest rate for six to 18 months after account opening on purchases and balance transfers. After the promotional period ends, the annual percentage rate will be the standard purchase APR. You can see our list of the best 0% APR credit cards for examples.
With business credit cards, the promotional period is generally shorter. Most cards offer 0% intro APR for only six to 12 months, and it will likely apply only to new purchases. Business credit cards that offer 0% APR on balance transfers are rare. You can see what's available on our list of best 0% APR business credit cards.
6. Rates and fees
When you apply for either a personal card or a business credit card, the credit card company will review your credit report and credit score to determine your eligibility and your APR. The APR you receive depends on your creditworthiness, but business credit cards typically have higher APRs and fees compared with personal cards.
7. Business perks
Business credit cards tend to offer extra benefits and perks that are specifically designed for businesses rather than consumers. For example, these are some benefits a business credit card may offer:
Technology credits: Some companies offer statement credits when you purchase computers or other devices with your card.
Airport lounge access: Because business travel can be so time-consuming and frequent, many business cards offer complimentary airport lounge access.
Employee cards: Business cards allow you to get additional cards for your employees, and you can designate spending limits or allow spending in certain categories.
Software and apps: Business credit card companies usually offer programs, apps, or technology partnerships to help you manage your business' finances more effectively. For example, you could use available apps to pay vendors, sync your card with your accounting software, or manage business receipts with a mobile app.
8. Bookkeeping benefits
Using a business credit card over a personal card for your professional expenses is smart, and your accountant or tax preparer will likely be grateful.
It's a good idea to keep your personal expenses and business purchases separate. Not only will it make it easier to prepare your taxes that way, but it also protects you in case of a tax audit. If the IRS audits your business tax return and your finances aren't separated, they can audit both your professional and personal records.
9. Consumer protections
Personal credit cards and business credit cards have very different protections. Personal credit cards are legally covered by the Credit Card Accountability Responsibility and Disclosure Act of 2009 (also known as the Credit CARD Act of 2009). However, that act only applies to consumer cards, not business cards.
Top credit card companies that issue business cards may offer the same protections as consumer cards to attract and retain customers, but it's smart to double-check the fine print to make sure you understand the card's terms. In general, business cards' APR can change quickly, and you may be subject to additional fees.
How to pick the right business credit card for you
There are a lot of business credit cards out there, so how can you know which is the best credit card for you? When shopping for a business credit card, pay attention to the following:
Requirements: Although some business credit cards are available to new business owners, others require businesses to have been in operation for several years before they're eligible. If your business is just starting out, you may have to get a secured business card such as the BBVA Secured Visa Business Credit Card until you establish your company's credit history.
APR and fees: Some business credit cards have very high annual fees, and APRs can vary by card. Before signing up for a card, review the APR and fee disclosures and compare them to the card's rewards and benefits. For example, the American Express® Business Gold Card has a $

295

annual fee ($375 if application is received on or after 2/1/24), but it may be worth the cost to you because of its many perks and the ability to earn bonus Membership Rewards points in certain spending categories.
Rewards: With business credit cards, you can earn cash back, miles, or points. Pay attention to how you can earn rewards and your redemption options. Some cards specialize in travel redemptions, whereas others offer better deals on cash back. A popular option for frequent travel is the Chase Ink Business Preferred® Credit Card. With this card, you can earn Chase Ultimate Rewards, and you can often increase their value when you strategically transfer them to one of Chase's airline or hotel partners.
Added benefits: The type of benefits you usually use can also impact your decision. If you're a frequent business traveler, a card that offers airport lounge access, TSA PreCheck application fee credits, and allows you to earn airline miles may be valuable. If you don't travel much for work then you might prefer business-related benefits such as free employee cards or software discounts.
FAQs
Do business credit cards have higher limits?
Your credit limits depend on your creditworthiness. But in general, business credit cards do have higher credit limits than personal cards because the issuer considers your business' financial health and revenue rather than just your personal income.
Is it illegal to use a personal credit card for business?
It's not illegal to use a personal credit card for business purposes, but it's probably not the best idea. Mixing your personal and business finances will make completing your taxes more complicated, and you have a higher risk of running into issues if the IRS audits your tax returns.
Is business credit linked to personal credit?
How your business credit impacts your personal credit is based on your business' structure and credit card company. If you're a sole proprietor and apply for a line of credit for your business, the inquiry will likely affect your personal credit.
Some business credit cards report to personal credit bureaus as well as the business credit bureaus, so any late payments or high balances could also affect your personal credit.
Bottom line
If you're a small business owner deciding between a business credit card and a personal card, consider the difference in eligibility requirements, protections, fees, and rewards. When you compare credit cards, the types of purchases you make most often and what redemption methods you'll utilize should play a major role in your decision.
If you need help finding a card, check out our selections for the best business credit cards.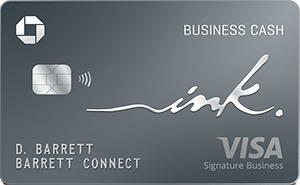 4.8
FinanceBuzz writers and editors score cards based on a number of objective features as well as our expert editorial assessment. Our partners do not influence how we rate products.
Current Offer
Earn $900 bonus cash back after you spend $6,000 on purchases in the first 3 months from account opening
Rewards Rate
5% cash back on the first $25,000 spent in combined purchases at office supply stores and on internet, cable and phone services each account anniversary year; 2% cash back on the first $25,000 spent in combined purchases at gas stations and restaurants each account anniversary year; and 1% cash back on all other purchases