With much of the world opening borders to tourists again after varying degrees of shutdown due to the coronavirus pandemic, plenty of people are planning to finally scratch their traveling itches in the coming months.
Perhaps you've been saving for a big trip overseas throughout the course of the pandemic or have just recently been struck by an urge to expand your horizons and see other parts of the world. If you see an international trip (or two) on the horizon, it's worth it to look into how to best budget for travel.  

With the tourism industry (and prices to travel) picking up again, any little bit helps when it comes to budgeting for a trip. That includes understanding your credit card's foreign transaction fees and dynamic currency conversion (DCC). Every time you swipe your credit card in a foreign country, you'll encounter a simple question that can have big implications on your vacation budget. Knowing how to answer the answer as to whether you want to pay in U.S. dollars or the local currency can result in big savings.
What is dynamic currency conversion (DCC)?
DCC is a credit card feature that allows you to use the currency of your home country (like U.S. dollars) when paying with your card in a foreign country. One of the benefits of using DCC is that you will not have to figure out currency conversions yourself. If you are visiting France, for example, and an item is listed as costing 25 euros, paying in DCC will allow you to immediately see how much it will cost you in USD.
Merchants will not automatically charge you using the DCC feature. They have to ask you first if you prefer to pay in the currency of your home country or local currency. While paying with DCC may seem transparent and easier to understand, it often comes with extra fees that may end up costing more than if you simply paid in local currency.
Why might paying with DCC be more expensive?
If you do opt to use your card's DCC feature, the exchange rate will include a markup to the merchant or service provider that will likely make the rate higher than if you simply paid in local currency. Depending on which credit card you use, there may also be additional fees tacked onto the conversion, including a foreign transaction fee.
There are many credit cards that will waive these, but if you do not have one of those, you could end up paying way more for an item in the long run if you choose the DCC option.
How is a foreign transaction fee different?
If you make a purchase or withdraw from an ATM with your U.S.-issued card in a foreign country, the card issuers may charge a foreign transaction fee. These typically add about 2-3% to the purchase price.
If you've ever taken a close look at your bank statement after traveling overseas, you've likely seen how these fees can quickly add up every time you swipe your card or take some cash out. The credit card processor may also tack on an additional 1% of your purchase price to convert the purchase from the foreign currency into USD.
How much you are charged will depend largely on your bank and the type of card you have. For example, many credit companies offer credit cards with no foreign transaction fees. These could be specific travel credit cards or just an added bonus to entice customers.
Are there benefits to using DCC?
Aside from the fact that you may understand a price better when it is in your home currency, there is another potential financial benefit to paying with DCC. When you pay in this manner, the exchange rate is locked in.
If you pay with a credit card, the exchange rate is not locked in until the transaction is processed, which could take a few days. If the exchange rate goes up in the time between the purchase and the payment processing, you could be paying that higher rate. Using DCC locks in the exchange rate at the moment you purchase the item or service.
What should you say when asked if you'd like to pay in DCC?
When given the option in a foreign country, it is almost always going to save you money to pay in local currency.
Plus, even though you'll be able to see a price in your home country's currency, that does not mean you are getting complete transparency when paying with DCC. This is because vendors are not required to disclose the markup above the current market exchange rate when you are paying in this way.
There are plenty of apps, like My Currency Converter & Rates, that can help you to look up and understand exchange rates yourself, without having to pay using DCC.
It's also important to remember that unless you have a credit card that waives foreign transaction fees, these will be tacked onto your payment as well.
So, unless you are really invested in knowing the exact amount of cash you are paying up front and would prefer not to try to figure it out yourself or using an app, it's typically a wise financial choice to reject the DCC option.
Since vendors do have to ask how you would like to pay before going with the DCC option, it should be pretty easy to avoid when traveling. Keep in mind that not all vendors are going to call this option dynamic currency conversion or DCC; they will likely ask if you'd like to pay in local currency or your home currency. In this case, go local.
Bottom line
Since it's so rare that you will be making out better financially by choosing the DCC option, it's a good idea to make a habit of choosing to pay in local currency no matter where you are traveling.
Travel is expected to spike in 2022 as people across the world begin to venture out again. The International Air Transport Association, which represents nearly 30 airlines, projects that 150% more passengers will fly in 2022 than 2021.
If you are one of the many planning to take to the skies for an overseas trip, it's a great idea to get acquainted now with how to best manage your money while traveling. It also couldn't hurt to look into the best rewards credit cards, many of which have travel incentives, before you head out.
Easy-to-Earn Unlimited Rewards
Earn 25,000 online bonus points after you make at least $1,000 in purchases in the first 90 days of account opening - that can be a $250 statement credit toward travel purchases
Earn 1.5 points per $1 spent on all purchases
Longer intro APR on qualifying purchases and balance transfers
No foreign transaction fees
Earn unlimited 1.5 points per $1 spent on all purchases, with no annual fee and no foreign transaction fees and your points don't expire.
25,000 online bonus points after you make at least $1,000 in purchases in the first 90 days of account opening - that can be a $250 statement credit toward travel purchases.
Use your card to book your trip how and where you want - you're not limited to specific websites with blackout dates or restrictions.
Redeem points for a statement credit to pay for travel or dining purchases, such as flights, hotel stays, car and vacation rentals, baggage fees, and also at restaurants including takeout.
0% Introductory APR for 18 billing cycles for purchases, and for any balance transfers made in the first 60 days. After the intro APR offer ends, 17.99% - 27.99% Variable APR will apply. A 3% fee applies to all balance transfers.
If you're a Preferred Rewards member, you can earn 25%-75% more points on every purchase. That means instead of earning an unlimited 1.5 points for every $1, you could earn 1.87-2.62 points for every $1 you spend on purchases.
Contactless Cards - The security of a chip card, with the convenience of a tap.
This online only offer may not be available if you leave this page or if you visit a Bank of America financial center. You can take advantage of this offer when you apply now.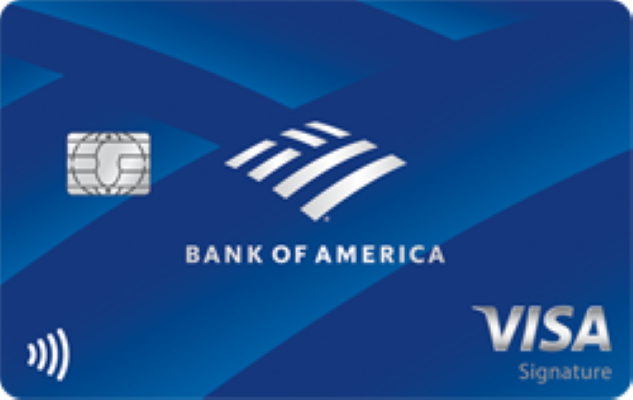 Apply Now
on Bank of America's secure website
Read Card Review
Intro Offer
Earn 25,000 online bonus points after you make at least $1,000 in purchases in the first 90 days of account opening - that can be a $250 statement credit toward travel purchases