If you've got some extra time on your hands due to the coronavirus pandemic, you might consider using that time to explore additional ways to make money. It could feel great to pour your energy into creating a product that will bring joy to others. And if you're one of the millions of unemployed Americans, picking up a side hustle right now could be necessary to your financial well-being.
The best side hustles allow you to do something you're passionate about and create your own schedule. Starting your own Etsy shop allows you to be your own boss, work flexible hours, and develop a product that means something to you — and you can do all the work from home.
Even if you don't consider yourself an artist or creator, there are myriad ways you can learn how to make money on Etsy. Half the battle is choosing a product or products people want to buy. Anyone can string a few beads onto a piece of yarn and call it a keychain, but there's not likely to be much demand for such a product. Think about what people are likely to need or enjoy in the current environment as you explore ideas for your shop.
In case you need some inspiration, we've rounded up a list of ideas for great products you can make and sell on Etsy. No experience necessary!
Face masks
Since the onset of the pandemic in the U.S., face masks have been in high demand, and many existing and new Etsy shops have jumped on the mask-making bandwagon. That means there's a lot of competition, but you could still be successful if you create a mask that stands out from the rest. For example, these tie-dye face masks are particularly trendy, and these custom face masks add a personalized touch to personal protective equipment.
Decorative pillows
It's easy to create decorative pillows, even if you don't have much experience with a sewing machine. And given that many of us are spending more time lounging these days, a good pillow could be particularly appealing.
You can create your own design or offer custom pillows to customers. For example, these cotton song lyric pillows add personality to your home decor, and the unique fabrics and designs of Linen & Ivory set them apart from other shops.
Craft projects
Crafting is making a comeback as quarantine has us all looking for ways to de-stress during our free time. Help cater to the trend by selling craft kits that customers can complete at home. You just put together the materials needed and include a pattern or video tutorial to ensure your customer's success.
We love the simple cross stitch kits provided by Velvet Pony Design, and these sock creature kits from SockCreaturesUK are as cute as can be.
Adult coloring books
If you have a talent for drawing, you can compile prints of your work into an adult coloring book. Some sellers even sell PDFs of their drawings, which eliminates printing and shipping costs on your end.
To set yourself apart, put together a coloring book with a specific theme. For example, we love this Sheroes of Our Time Coloring Book.
Managing your Etsy business expenses
Getting your creative business off the ground will involve materials, supplies, and more. Here's an excellent business credit card we recommend:
Ink Business Unlimited® Credit Card
This card offers unlimited 1.5% cash back on every purchase, so you're rewarded for every purchase. Its $0 annual fee makes it an affordable option, and its welcome offer allows you to earn $900 bonus cash back after you spend $6,000 on purchases in the first 3 months from account opening.
Another unique feature of this card is that it has a 0% intro APR for 12 months on purchases (then 18.49% - 24.49% Variable). Businesses and side hustles can be expensive to get up and running, and the intro APR can help you get started on the right foot (and you could earn the welcome offer for an extra boost).
Apply now for the Ink Business Unlimited® Credit Card
Find out more in our full Ink Business Unlimited credit card review.
Watercolor artwork
Whether you're an experienced painter or just starting to mess around with watercolors, you may be able to sell your pieces on Etsy. Even simple paintings, such as this Eucalyptus Branch Watercolor Painting Set, can sell very well.
To maximize your success, create prints of your work and provide plenty of options for sizes, materials, and framing. You can also sell your originals at a higher price.
Food
If you've been cooking or baking more than you can possibly eat yourself, consider packaging some fun and healthy foods to sell on Etsy. You could jar preserves, make your own homemade pickles, or even put together a kit for people to cook or bake at home.
For example, Dee's Delicious Delights makes some pretty spectacular cookie doughs, and this sourdough kit is ideal for bakers looking for a challenge.
Spice mixes
As you experiment with different spice blends in your own cooking, consider purchasing bulk spices and packaging your own spice mixes. Spice sets have always made excellent gifts, and now that more people are cooking at home, they can be incredibly useful for novice chefs.
This personalized gift set of gourmet popcorn spices makes an ideal gift for movie-lovers, and Gusto Spice has sold thousands of its barbecue rubs.
Green cleaning products
Many environmentally conscious shoppers are looking for clean products to replace typical household cleaners. What's more, shortages of cleaning products from major brands have left many consumers seeking alternatives.
Thankfully, for the aspiring Etsy shop owner, it's easier than you think to mix green cleaning products at home. Go the extra mile by adding essential oils blends and using environmentally friendly packaging. Check out these plant-based cleaning products from HumbleSuds for inspiration.
Wellness and beauty products
Makeup sales are on the decline as people forgo their morning beauty routines, but skin care products are becoming even more popular amid the pandemic. And with many consumers focused on buying all-natural products, launching your own line of homemade skin care products could be a lucrative choice if you're wondering what business you should start.
You could mix up and package your own clay masks, experiment with soap-making, or simply buy essential oils in bulk and create your own special blends. St. Louis shop Treesnail Skin Care has been successful selling a range of products on Etsy, from lip balms to skin serums.
Care packages
Many of us know someone who could use a little TLC right now. But options for care packages are limited outside of traditional gifts like flowers and chocolate. That's why some Etsy sellers have put together their own boxes of self-care products and quarantine essentials.
You might include things such as:
Snacks
Activities
Wellness products
Face masks
Tea and coffee
Succulents
Include the option for a personalized gift message, and choose decorative packaging to make your care package stand out. For example, Lizush offers a selection of spa gifts, and Natural Succulents has been successful providing plant-themed gift boxes.
Knits
Now could be the perfect time to take up knitting. Even if you've never picked up a pair of knitting needles before, you can arm-knit a gorgeous scarf in just 30 minutes. And chunky knits are all the rage; just check out the sales for Cheery Little Sheep, a knit and crochet product Etsy shop featuring blankets, scarves, and rugs.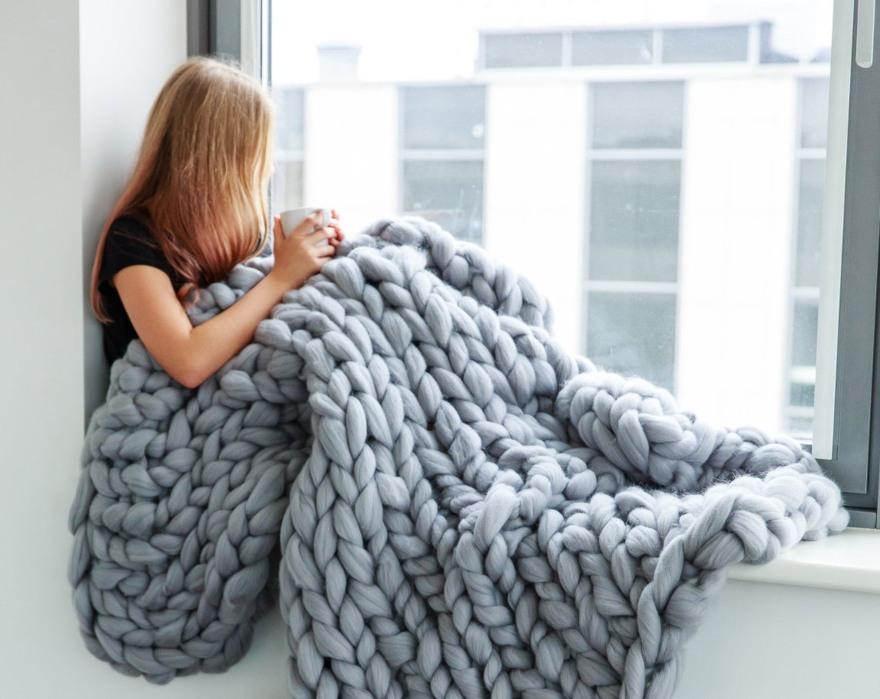 Candles
It's easier than you think to make jar candles at home with wax, wicks, and essential oils. Just keep in mind that there are already hundreds of thousands of candle products on Etsy, so you'll need to think outside the box if you want your product to sell.
You might offer custom designs, use special scent blends, or gear your products toward a specific audience or occasion. The Eternal Flame takes a humorous approach with pop culture-inspired prayer candles, and The Shabby Wick offers candles with messages made for gifting.
Pet items
People love doting on their pets, and it's relatively easy to create toys for dogs and cats, even if you don't have much sewing experience. You can also bake your own pet treats, offer custom pet portraits, or bottle your own pet shampoo. You can even personalize pet items, such as these popular embroidered dog toys from Hither Rabbit.  

Camera straps
Decorative camera straps are actually quite popular, and some customers will use them as purse straps or guitar straps as well. The key to success with this one is quality craftsmanship and a creative design.
You might offer straps featuring prints of popular characters or music groups, or embroider your own distinct design. Check out ShutterSpeedStraps for inspiration.
Vintage graphic tees
If you have a knack for finding gems at thrift stores, you may be able to use Etsy to become a reseller — in this case, a reseller of vintage clothing. Vintage tees featuring old shows and movies, musical groups, and classic brand logos all seem to be popular.
You could even upcycle or reinvent vintage items to make them your own. For example, Urban Warfare offers cool band tees that have been tie-dyed for one-of-a-kind appeal.
Bottom line
Keep in mind that there are certain Etsy guidelines you'll need to follow for your business, whether you're creating items yourself, designing items that others produce, or reselling items. For example, you're required to disclose your production partners as a designer, and you are prohibited from reselling in the handmade category. Make sure to read through any rules that apply to you and the product you are selling. Also check out Etsy's prohibited items list to ensure you don't violate any restrictions.
Once you have an idea for a product you want to sell, do some research on your competitors. This will help you identify what it takes to be successful in your product category. And don't just copy what other sellers are doing. Find ways to be creative and offer a truly unique product.
Finally, pick a business venture you'll enjoy working on. That way, you'll be motivated to keep trying even if you're not an instant success, and it won't feel so much like work! If your Etsy business is a success, you might even consider adding more items, building your own ecommerce site, or starting a blog so you can sell more products in the future.
We hope this helps inspire your entrepreneurial spirit, and we wish you luck with your new business venture!