Building a good credit score is a necessity in a world where borrowing to fund vehicles, homes, education, and other essential expenses is the norm. However, getting a loan can be difficult if you don't have any credit history or have a low credit score.
Lenders and credit card issuers are reluctant to extend credit in these circumstances, which creates a vicious cycle: you can't get credit until you have a good credit history, but you can't create a history without first being extended credit. This is a common challenge for young adults who are new to credit, people who have not really borrowed money in their lives but suddenly need to, and those who have a not-so-great credit history.
Self Lender is trying to do something about this dilemma with their credit-builder loans. This fintech company is all about helping people improve their credit score while they save money at the same time. And they make it all easy to manage with their smartphone app.
Sound like a good fit for you? Here is a closer look at Self Lender and what you need to know before applying for one of their credit builder loans.
Is Self Lender legit?
Self Lender is a financial technology company that has formed partnerships with Lead Bank, Sunrise Bank, and Atlantic Capital Bank to offer easy-to-open credit-builder loans. Their goal is to help customers build both positive credit histories and create savings as a result of taking a loan with their company.
They do this by offering loans secured by savings. That means the loan money is not given to the customer right away. Instead, the funds are kept in a 12- or 24-month certificate of deposit (CD) while the customer makes monthly payments. When the loan is "paid off," the money is given back to the customer, minus interest that is charged and any applicable fees.
These types of loans have historically been offered by regional community banks and credit unions. Self Lender is the first company to make credit-builder loans accessible to people in all 50 states.
The company has been in business since 2014 and received Better Business Bureau accreditation in 2016. Though the company is incorporated in Delaware, operations are headquartered in Texas. As of 2018, Self Lender claims to have worked with over 175,000 customers.
What does Self Lender do?
Self Lender provides credit-builder loans. This is a unique type of loan that doesn't really look or act like a loan. What happens when you take out a credit-builder loan is you make monthly payments to the lender for a specific period of time. However, you don't get any money until you have made all the payments. You're basically creating savings and building credit at the same time instead of getting a chunk of money upfront and paying down what you owe.
In the case of Self Lender, you pay a $9 administrative fee to open a credit-builder account. From there, one of the FDIC-insured banks they partner with (Lead Bank, Sunrise Bank, or Atlantic Capital Bank) agrees to loan you a certain amount of money. Instead of giving you the loan money upfront, the bank puts that money into a CD account and you begin making your monthly payments. This helps demonstrate you know how to manage your money.
A CD is a special type of account where you make a one-time cash deposit and agree to keep the money in that account for a specific term: 6 months, 12 months, 24 months, etc. During that time, the money will earn interest, usually at a higher rate than it would if it were sitting in a savings account.
Self Lender's career-builder loans are for 12- or 24-month terms. And every time you make a payment, Self Lender reports it to all three credit bureaus: Equifax, Experian, and TransUnion. This creates a payment history that will have a positive impact on your scores if you make your payments on time each month.
If you miss or make late payments, that, too, is reported to the bureaus, which can negatively impact your scores. Ending up with bad credit can mean you may need to look into credit repair companies. You can keep track of your credit progress using tools in the Self Lender app. They also have an extensive collection of resources to learn about how credit works.
At the end of your loan term, the CD is considered to have "matured," and the money is cashed out and sent to you, plus any interest that was earned (APY). However, like with a regular loan, Self Lender also charges you interest, and this will be deducted from the final amount you receive.
Charging fees and interest is common with credit-builder loans. The lender is providing you a service by managing your payments, servicing the account, and reporting your payments to the credit bureaus. In exchange for this, they charge interest on the amount you deposit as well as administrative fees.
On their website, Self Lender shows how this could work (with APRs and APYs as of Jan. 17, 2020):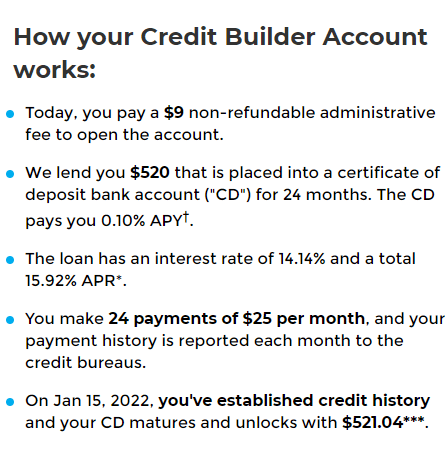 How does Self Lender raise my credit score?
According to FICO, a positive payment history accounts for 35% of your credit score. Vantage is not as clear about how much your payment history impacts your score other than to say that making on-time payments every month has the strongest influence. Either way, the message that paying your bills on time and letting the credit bureaus know about it is very important to improving your credit score.
Self Lender gives you the opportunity to do just this. At the end of every month, the bank that issues your loan reports your on-time payment to all three bureaus. Payments usually shows up on your credit report within 60 days of your first payment due date, but it may vary with each credit bureau.
If you make your payments on time, positive information gets added to the scoring formula. If you skip or make late payments, negative information gets added to the scoring formula. Whether your score goes up or down is completely in your hands.
Another thing to note, though, is that Self Lender credit-builder loans don't require a hard credit check for you to be approved. There may be a soft inquiry made to your credit reports to verify your identity and to set up credit monitoring tools, but no hard inquiries that may bring down your credit score sare performed.
Who is Self Lender a good fit for?
Self Lender is a good option for those who are new to building credit or are looking to improve existing credit scores. Maybe there have been late or missed payments in the past. This person is looking to establish a good, or any, credit history and possibly wants to create some savings too.
How to sign up for Self Lender
To open a Self Lender credit-builder account, you'll need to be at least 18 years old and either a U.S. citizen or permanent resident. During the application process, Self Lender will use your Social Security number to verify your identity, so make sure you have it ready.
Start by creating an account through the Self Lender website or smartphone app. You can sign up using your Facebook account or by providing your name and email address. After that, you'll be asked to choose a password for your account, then provide your address, phone, Social Security number, and date of birth.
From there, you'll be asked to choose how much you want to pay per month. Your options are limited to $25 or $35 for 24 months and $48 or $150 for 12 months. As you select a dollar amount, you'll see what your loan terms are. If you agree, move forward with your application, review the terms and conditions, and set up your payments. Be sure to have your bank information for the account you'll make payments from available.
Common questions about Self Lender
Can Self Lender hurt your credit?
Self Lender doesn't perform a hard inquiry on your credit report, only a soft inquiry that will not affect your score. Since a Self Lender loan is considered a term loan, your payments will be reported to all three credit agencies. Paying on-time should have a positive effect on your credit scores and late payments will have a negative impact.
Can I pay Self Lender off early?
Yes, Self Lender allows customers to pay off their loans early. However, they discourage customers from doing this, as it reduces the number of positive payment reports to their credit reports. The purpose of the loan is to provide a consistent payment history, which would result in a positive effect on credit scores. Reducing the number of payments reported lessens the impact.
How long does it take for a Self Lender to report?
Self Lender reports your credit information to the three credit bureaus at the end of each month. You can expect to see your payments recorded on your reports within 60 days of making your first payment.
When do I receive the money from my Credit Builder Account?
After your loan has matured (has reached the full length of time you agreed to at the beginning) and all your payments are made, your account is considered completed. Self Lender will deduct any unpaid fees and interest, and then send you the money either by check or through an electronic transfer. You should get your money within 10 to 14 business days.
Can two people share a Credit Builder Account?
Self Lender doesn't offer this as an option. If a friend or family member wants to build their credit with a Self Lender account, they would have to open one in their name.
The bottom line
If this type of loan doesn't seem like the right fit for your situation, there are some other things you can do to help build your credit. First, look into getting credit for paying your rent and utility bills using a service like Experian Boost, Rental Kharma, or RentTrack.
Another thing you can do is apply for a secured credit card. These cards usually have low credit limits and you will have to provide a deposit. Your spending limit will only be as high as the money you've deposited. But you can use the card to make everyday purchases, then make your monthly payments on time so you start creating a positive payment history.
However, if a credit-builder loan sounds like the solution you've been searching for, now you know a reliable place you can get one. Once you've made the decision to apply, you'll be taking steps toward a healthier financial future.
All rates and fees are accurate as of Jan. 17, 2020.
Experian Boost Benefits
Get credit for making on-time payments for your phone and utility bills.
100% free and new credit scores take effect immediately
Get your credit scores for free