It's easy to put off traveling when you expect it to cost an arm and a leg, but you don't need thousands of dollars to get yourself on the road. In fact, all you need is a little originality, an open mind, and some good ideas to get you started.

Traveling for free — or as close to free as you can get — isn't really all that far-fetched. People do it all the time. Of course, it may require you to break the mold a bit and try something new. But when the travel bug bites, anything that might help you get to where you want to go might be worth considering. 
So, here are five original ways to satisfy your wanderlust without having to spend a lot of money.
Rent out your home or house-swap with someone
Renting your home can be a great option for how to make extra cash to save for your next trip or vacation. By using an online platform, you can easily rent out your entire house, apartment, or extra room to travelers. Most of these companies provide property owners with property damage insurance and accident insurance too, so you shouldn't have anything to worry about. This could be a great way to make some extra money for your travels while giving others a place to stay for theirs. 

Sites such as Home for Exchange are similar in that you can also offer up your house but for a house-swap instead. You would host travelers in your house who are visiting your area, and they would host you in theirs.
Whichever you choose, accommodations like these have many perks that will help you save money. Things like a fully-equipped kitchen, internet access, and more space to spread out can go a long way.
Couchsurf
If you're adventurous and love meeting new people on your travels, couchsurfing can be an excellent idea. You'll be able to see the world, have an authentic experience, and hang out with the locals. 
Sound good? Then you'll want to check out Couchsurfing. This social networking site focuses on connecting members with a global community of travelers and people willing to give them a place to crash when they visit.

Not sure how you feel about couchsurfing? First thing, that's completely understandable, and it isn't for everyone. However, if you think you might be open to giving it a shot, it may surprise you how easygoing it is. The thing to remember about couchsurfing is that it's different from staying in a free hostel and your host will definitely vary (and probably affect your experience). Also, couchsurfing doesn't necessarily mean you'll always be sleeping on a couch. Some hosts offer private bedrooms and guest houses, while others can only provide an air mattress or sleeping bag, so flexibility is key.
Housesit
As a housesitter, you'll watch over someone's house while they're away — giving you the opportunity to visit places without having to pay for accommodation. You might be expected to do some chores though. This can include things like walking the homeowner's dog, watering their plants, and running some errands. After caring for the home, you should have plenty of time to explore your surroundings and enjoy the area.

Dalene and Pete from Hecktic Travels have been housesitting for years and started a blog to share their experience. They both agree that not only does housesitting keep costs low, it also allows them to have an intimate experience in a new place with complete immersion in a local neighborhood.  
A great resource for learning about housesitting is TrustedHousesitters.

Under 30? Get a working holiday visa!
Many countries around the world offer opportunities for people under 30 to live and work there for up to one year. This could allow you to visit countries such as Australia, New Zealand, Canada, England, Norway, and other awesome locations.
By working while on holiday, you'll earn money as you go to cover expenses, and in some cases, even return home with some extra money in your pocket. This is probably the easiest way to get a chance to travel, experience a new culture, and earn money as you go.
Do volunteer work
Volunteering on your next trip is a win-win situation; not only would you be giving back to the community, but you'd also be creating great relationships with people and immersing yourself in the local culture. So while it doesn't necessarily pay, you'll save money by receiving room and board for free in exchange for helping. Check out Workaway for more information on finding these types of opportunities.  
Use credit card rewards
If the other options feel like you'd be sacrificing your desired travel experience, rewards from credit cards might be a way to travel with autonomy and still not spend a fortune. Many of the best travel credit cards come with a welcome offer for new cardholders after certain requirements are met, and this can often be enough to kick off your travels. 

To consistently travel on points, you'll want a credit card that best aligns with your spending habits so you can maximize the points you can earn. If you are new to the travel rewards hobby, don't worry — there are travel rewards credit cards for beginners that can get you started.
Easy-to-Earn Unlimited Rewards
Earn 25,000 online bonus points after you make at least $1,000 in purchases in the first 90 days of account opening - that can be a $250 statement credit toward travel purchases
Earn 1.5 points per $1 spent on all purchases
Longer intro APR on qualifying purchases and balance transfers
No foreign transaction fees
Earn unlimited 1.5 points per $1 spent on all purchases, with no annual fee and no foreign transaction fees and your points don't expire.
25,000 online bonus points after you make at least $1,000 in purchases in the first 90 days of account opening - that can be a $250 statement credit toward travel purchases.
Use your card to book your trip how and where you want - you're not limited to specific websites with blackout dates or restrictions.
Redeem points for a statement credit to pay for travel or dining purchases, such as flights, hotel stays, car and vacation rentals, baggage fees, and also at restaurants including takeout.
0% Introductory APR for 18 billing cycles for purchases, and for any balance transfers made in the first 60 days. After the intro APR offer ends, 17.74% - 27.74% Variable APR will apply. A 3% fee applies to all balance transfers.
If you're a Preferred Rewards member, you can earn 25%-75% more points on every purchase. That means instead of earning an unlimited 1.5 points for every $1, you could earn 1.87-2.62 points for every $1 you spend on purchases.
Contactless Cards - The security of a chip card, with the convenience of a tap.
This online only offer may not be available if you leave this page or if you visit a Bank of America financial center. You can take advantage of this offer when you apply now.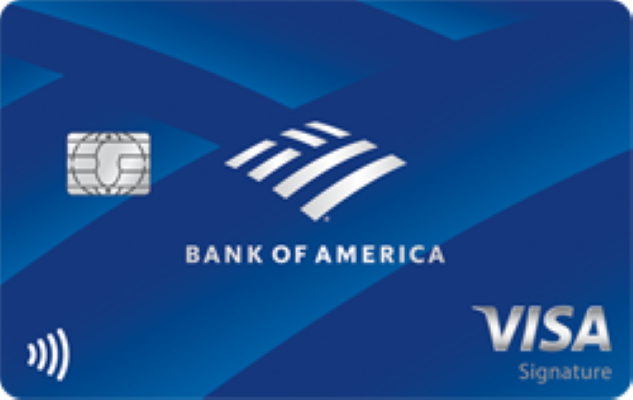 Apply Now
on Bank of America's secure website
Read Card Review
Intro Offer
Earn 25,000 online bonus points after you make at least $1,000 in purchases in the first 90 days of account opening - that can be a $250 statement credit toward travel purchases