In video games, two-player mode often allows you and another person to work together as a team against the computer. In the travel rewards world, however, there's no common enemy to be beaten. Instead, going "two-player mode" makes it possible to double the amount of travel rewards you earn and score more free trips.
Before you do, however, here's what you need to know about the possibilities, as well as some best practices to consider as you work together to achieve your travel dreams.
Why you should team up with your partner
If you share finances with your spouse or partner, adding them as an authorized user on your credit cards is usually a good idea. Not only does this allow you to earn rewards on both of your purchases, but it also simplifies the repayment process.
When you're looking to rack up free travel opportunities, though, having a partner who's willing to take on two-player mode with you can allow you to travel more often without shelling out thousands of dollars every time you do.
It's especially worth considering if you both have different preferences. For example, maybe you can't wait to view the Mona Lisa with your own eyes at the Louvre, and your partner wants to spend a week on the beach in Hawaii. Neither option is objectively better than the other, but working together to earn more travel rewards can make both possible.
Most importantly, you don't have to wait as long between trips because you're earning twice as many rewards. This way, you're able to travel more frequently.
Finally, working together with your spouse can give you access to credit card perks that may not extend beyond the primary cardholder. With some airport lounge perks, for example, you have to pay to bring a guest with you. But when you both have the same perk, you can each get in for free.
Convincing a cautious partner
Not everyone is enthusiastic about using credit cards to earn travel rewards, especially when multiple credit cards are involved. Just like anything else, there are both pros and cons to using credit cards, and some of the drawbacks can be a roadblock to two-player mode.
If you're not in this situation with your spouse or partner, skip this section. But if you're facing objections from your significant other, here are some things that can help you allay potential concerns.
Talk about credit
The question I get most frequently when I tell people about my credit card rewards hobby is, "But how's your credit?" It's a valid question, especially if that person has made some credit missteps in the past. And here's my answer: "My credit score is in the high 700s or low 800s, depending on the month."
Virtually every time you apply for credit, the lender runs a hard inquiry on your credit report. Usually, one inquiry temporarily knocks less than five points off your credit score, if anything. But having multiple inquiries in a short period can have a compounding effect.
While that may give some reason for pause, there are a few important things to understand:
The lion's share of your credit score is still dependent on your payment history and how much you owe. As long as you pay your bills on time and keep your card balances relatively low, credit inquiries aren't going to wreck your credit score.
Most credit card issuers don't run a hard inquiry on all three of your credit reports. Instead, they'll check just one or two. So it's possible to have fewer credit inquiries with one report than another. This will impact your credit score differently, depending on which report is used to generate it. (Note: Capital One is a rare case that does check all three.)
Credit inquiries fall off your credit report after two years. So unless you're applying for an inordinate amount of credit cards, you likely won't see a major impact from inquiries on your credit score.
Another potential concern is that every new credit card account lowers your average age of accounts, which impacts your length of credit history. But again, payment history and how much you owe are far more important than your length of history. Also, this factor considers your oldest accounts as well, so it can balance out if you've been using credit for a while.
Make a plan based on comfort levels
Your spouse or partner may possibly be interested in teaming up to earn travel rewards but might want to limit their involvement. This can be frustrating if you're hoping to maximize the value of two-player mode. But let's be honest: Your relationship is more important than rewards. And if it's not, there may be bigger problems you need to discuss.
If you find yourself in this position, talk about your partner's comfort levels and allow them to decide how involved they want to be. While their experience may warm them to doing more, it may not. Be open to allowing them to make their own choices regarding the process.
Don't try to force it
Remember that although you're together, your spouse or partner has the ultimate say as to how their credit history is used. Applying for credit cards in their name without their permission is not only a breach of trust, it's also considered fraud.
Also, remember the purpose of two-player mode — if the process creates frustration and resentment, it will be a lot harder to enjoy those free trips.
How to team up with your spouse to earn more rewards
If both you and your spouse or partner are on board, here are some tips to help you leverage your relationship to get more free travel.
Tag-team on sign-up bonuses
If you have your eye on a new credit card sign-up bonus, plan to both apply so you can effectively earn it twice.
Some things to keep in mind:
Avoid applying at the same time: Most travel credit cards require you to spend a few thousand dollars in the first three months to qualify. Unless you can afford to do that with two cards simultaneously, take turns applying.
Check your credit before you apply: Your credit score can fluctuate over time. If it has dipped slightly — maybe your credit utilization is high or you've applied for more cards recently — consider having your partner apply first to give your score time to bounce back.
Add each other as authorized users: Remember, authorized user purchases count toward the minimum-spend requirement and also generate rewards. Just keep in mind that authorized user accounts are included in Chase's 5/24 rule. So if you're hoping to maximize the number of Chase cards you can get, stick to one-player mode in this area. Also, note that some cards charge an annual fee on authorized user cards.
As an example, let's say you apply for the Chase Sapphire Reserve®, which lets you earn 60,000 bonus points after you spend $4,000 on purchases in the first 3 months from account opening. Make sure you can spend that amount before you apply, then give yourself time between your and your partner's applications to reach the minimum-spend threshold. And in this particular situation, there's a fee for each authorized user, so it might not make sense to add your partner — this is especially the case if they're planning on applying for the card on their own in a few months.
Refer each other
Some credit cards offer bonuses when you refer someone to apply and that person is approved. As a couple, you don't have to worry about trying to convince friends and family members to apply. Instead, whoever applied for the card first can simply share their referral link with their partner and get the bonus if their partner is approved.
Here are some examples of some of the best travel credit cards that offer referral bonuses:
All information about Hilton Honors American Express Aspire Card has been collected independently by FinanceBuzz.
Note that referral offers aren't available for all travel credit cards. Also, the amount you can receive from a referral isn't set in stone. Finally, you can only refer someone to the specific card you have.
If you're planning to take advantage of this option, wait until you're ready for the second card before you provide the referral link. Also, know that you may receive a 1099 tax form in the mail for the value of the referral bonuses you receive. Unlike a sign-up bonus or everyday rewards, which are considered rebates and are generally not taxable, referral bonuses don't require you to spend any money and may be treated as taxable income.
Take advantage of companion deals
Some airline credit cards either provide companion tickets as a perk or make it possible to earn a companion pass. For example, the Southwest Airlines Companion Pass requires you to earn just 110,000 points in a calendar year, which you can often do by applying for a business and personal card in a short period and earning their welcome offers.
Once you have the pass, it's good through the end of the next calendar year. This means if you plan this right, you and your spouse can fly for nearly free on Southwest (you with points and your partner with the Companion Pass) for up to two whole years.
Here are some other credit cards that offer a companion certificate, either as a first-year incentive, included with your annual fee each year, or earned after you spend a certain amount each year:
Pool credit card points with your partner
Some credit card rewards programs allow you to pool your points with one other person. Here are a few card issuers that allow it:
American Express: You can't transfer your Membership Rewards points to another Amex account. But you can, however, move your points to a transfer partner account held by your spouse or partner, as long as they've been an authorized user on your card for at least 90 days. Once you add their frequent-flyer or hotel rewards program number, you can submit the transfer request through the Membership Rewards portal.
Capital One: You can share your rewards with anyone else who has a Capital One account. To do so, you'll need to call the number on the back of your card.
Chase: You can both rack up rewards with any card that offers Ultimate Rewards points and then combine them in the same Ultimate Rewards account. To qualify, you need to be married, domestic partners, or joint business owners. You can also transfer your points to a loyalty account with one of Chase's travel partners if the person holding the loyalty account lives with you and is an authorized user on the Chase card being used. You can process the request online.
Citi: If you have Citi ThankYou Rewards, you can share them with someone else who has a ThankYou Rewards account. The only drawback is that any points you share with someone else expire in 90 days, so it's best to do this only when you're ready to use the points to book. Also, you're limited to sharing up to 100,000 points per year. You can submit a share request online.
Be aware that some cards will charge a fee to transfer points. Do the math and make sure the fee you're paying doesn't diminish the value of your points by too much.
Pool hotel points with your partner
If you have hotel points instead of general travel points, you may be able to transfer your rewards to your spouse's rewards account to create a bigger balance. Here are the terms of some of the more popular hotel programs:
Hilton Honors: You can transfer up to 500,000 points per year to a family member or friend through your online account with the Hilton Honors hotel loyalty program. Keep in mind, though, that you can only submit six transfer requests per year, so avoid making it a habit.
IHG Rewards Club: You can transfer points to any IHG member in 1,000 increments, but you'll be charged $5 for every 1,000 points you transfer. Given that IHG points are worth roughly half a cent apiece on average — giving you $5 worth of value for every 1,000 — it's pointless to pool points unless you need just a couple thousand to complete a big redemption.
Marriott Bonvoy: You can share up to 100,000 points per year with another member; there's a minimum of 1,000 points per transfer. You'll need to call customer service to process the request.
World of Hyatt: You can transfer any amount of points from the Hyatt loyalty program to another member. But there are two catches: First, you have to complete and either email or mail a paper form to file the request. And second, you can only submit the request if you're planning to use the points for a specific redemption.
Remember, like IHG, there may be other hotel brands that charge a fee to pool points, so check the terms and conditions before you start the process.
Pool airline points with your partner
If you're working with airline credit cards, be aware that some airlines charge a fee to transfer points to someone else, but others don't. Here's what you need to know:
| | | | |
| --- | --- | --- | --- |
| | Cost to transfer miles/points | Transfer minimum/maximum | Processing fee |
| Alaska Airlines | $10 per 1,000 miles | 1,000 to 30,000 miles | $25 |
| American Airlines | Varies, but starts at $35 for 1,000 miles with the rate per mile decreasing the more you share | 10,000 to 50,000 miles per transfer; 200,000 miles per year | $15 |
| Delta Air Lines | $0.01 per mile | 1,000 to 30,000 miles per transfer; 150,000 miles per year | $30 |
| Hawaiian Airlines* | $0.01 per mile | 2,000 minimum | $25 |
| Southwest Airlines | $5 per 500 points | 2,000 to 60,000 per day | None |
| United Airlines | $7.50 per 500 miles | 500 to 100,000 miles | $30 |
*Note: If you have the Hawaiian Airlines® World Elite Mastercard® or Hawaiian Airlines® Business Mastercard®, or are a Hawaiian Airlines Visa credit card-Japan or check cardholder, there are no fees to share and no minimum.
JetBlue is unique in that it allows all of its TrueBlue members to pool their points with up to six other people (seven in total) with no fees. You automatically contribute 100% of your earned points to the pool, which you can leave whenever you want while retaining your unused points.
If you're paying to transfer miles, however, keep in mind that you're going to lose a lot of value in the process. So it's not worthwhile to do this on a grand scale. If, however, you need a few thousand miles to book a trip, losing a bit of value could be worth getting the redemption you want.
The bottom line to making the most of teaming up with your partner
Teaming up with your spouse or partner can elevate your travel rewards game far beyond what you can do yourself. As you consider these tips as well as the pitfalls that come with paying to transfer points, create a strategy that works best for you as a couple.
And as you work with your partner toward earning more travel rewards, here are some final tips to ensure your success:
Always pay your balances in full every month
Keep track of your spending so you always meet your minimum-spend requirements
Pay attention to relevant time frames on limited-time offers
Communicate often to stay on the same page
Adjust your strategy as you go to maximize your progress together
Easy-to-Earn Unlimited Rewards
Earn 25,000 online bonus points after you make at least $1,000 in purchases in the first 90 days of account opening - that can be a $250 statement credit toward travel purchases
Earn 1.5 points per $1 spent on all purchases
Longer intro APR on qualifying purchases and balance transfers
No foreign transaction fees
Earn unlimited 1.5 points per $1 spent on all purchases, with no annual fee and no foreign transaction fees and your points don't expire.
25,000 online bonus points after you make at least $1,000 in purchases in the first 90 days of account opening - that can be a $250 statement credit toward travel purchases.
Use your card to book your trip how and where you want - you're not limited to specific websites with blackout dates or restrictions.
Redeem points for a statement credit to pay for travel or dining purchases, such as flights, hotel stays, car and vacation rentals, baggage fees, and also at restaurants including takeout.
0% Introductory APR for 18 billing cycles for purchases, and for any balance transfers made in the first 60 days. After the intro APR offer ends, 17.99% - 27.99% Variable APR will apply. A 3% fee applies to all balance transfers.
If you're a Preferred Rewards member, you can earn 25%-75% more points on every purchase. That means instead of earning an unlimited 1.5 points for every $1, you could earn 1.87-2.62 points for every $1 you spend on purchases.
Contactless Cards - The security of a chip card, with the convenience of a tap.
This online only offer may not be available if you leave this page or if you visit a Bank of America financial center. You can take advantage of this offer when you apply now.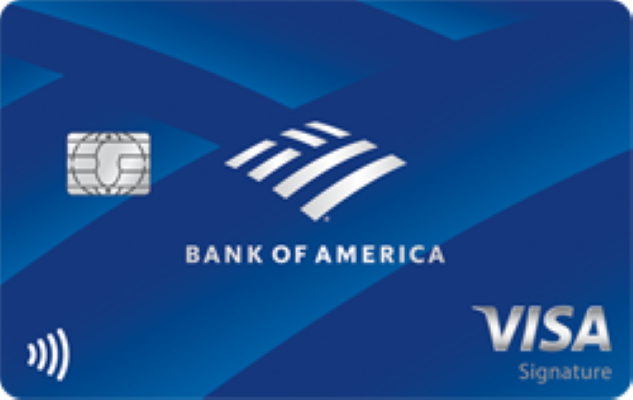 Apply Now
on Bank of America's secure website
Read Card Review
Intro Offer
Earn 25,000 online bonus points after you make at least $1,000 in purchases in the first 90 days of account opening - that can be a $250 statement credit toward travel purchases