Editor's note: The Barclaycard Arrival® Plus World Elite Mastercard® is no longer available. 

If you already have the Chase Sapphire Preferred®, then you know you have one of the best travel credit cards is worth its weight in gold. And, while there's certainly a lot to love about the Preferred®, after a while, you may start to wonder... what's next?

My recommendation: get the Barclaycard Arrival Plus® World Elite Mastercard®.

This top travel card remains one of my favorites because of its high rewards rate, flexible reward options, and awesome sign-up bonus.
But I know you're probably looking for more than that, so I broke it down. Here's why you should consider getting it next.
Score another awesome sign-up bonus  You'll earn 70,000 bonus miles after you spend $5,000 on purchases in the first 90 days – that's enough to redeem for a $700 travel statement credit!

Earn rewards FAST  You'll earn 2x miles on all purchases

Rewards keep on giving  You'll get 5% miles back to use toward your next redemption, every time you redeem (a perk the Sapphire Preferred® does not offer).

Rewards are incredibly flexible  You'll be able to redeem rewards for travel or cash back statement credits, gift cards, and merchandise. Note: redemptions may vary.

Miles never expire  Miles don't expire as long as your account is open, active, and in good standing.
NO foreign transaction fees  A "must" if you plan on traveling abroad.

$0 annual fee for the first year. After that, it's $89.
Why It's a No-Brainer

1. It's super flexible
When it comes to booking a trip, flexibility is key, and the Barclaycard Arrival Plus® World Elite Mastercard® has a lot of it. In fact, it's one of the most flexible travel credit cards available right now.

Once you're ready to redeem, there are several ways rewards can be booked - whether it be directly from an airline or hotel, travel agent, or travel website. Barclaycard Arrival Plus® World Elite MasterCard® will then reimburse your travel expenses with the reward miles in your account.
This option is especially great for budget travelers since it allows you to snag the best deals whenever they become available. I personally love that I can book an airfare deal on JetBlue or Southwest Airlines and use my Barclaycard Rewards to cover the costs. It really makes traveling a breeze.
Here are a few examples of how easy the reimbursement process is:
Example 1: Jumping on an Airfare Sale
Let's say JetBlue has an incredible sale on airfare and you quickly book a $100 roundtrip ticket to San Diego using your Barclaycard Arrival Plus.

As soon as the purchase shows up on your statement, you would simply select and submit the expense for reimbursement using your miles. When the transaction clears, you'll see it on your statement and can pack your bags for San Diego for free thanks to your rewards!
Example 2: Using a Travel Agent
Planning a trip with a group of friends and making reservations through a travel agent? You can use your miles to reimburse your travel plans, thanks to your card's insane redemption flexibility.
All you'd have to do is use your card to pay for your travel reservations, log into your account, pull up your statement, and tag the expense for reimbursement. Once it's been processed, you'll see a credit on your statement for the amount covered by your reward miles.

2. The sign-up bonus is GENEROUS
When you sign-up for a new travel rewards credit card, you want to sign-up bonus to be so good you can't resist it. Thankfully, the Barclaycard Arrival Plus® World Elite Mastercard® doesn't disappoint. You'll earn 70,000 bonus miles after you spend $5,000 on purchases in the first 90 days of opening an account.

To put that into perspective, 70,000 miles is valued at $700 in travel statement credits!
$700 towards travel could mean:
Roundtrip airfare + 5 nights in a highly rated hotel in Cancun 
Roundtrip flight NYC to Paris for $1
Four (4) weekends in Vegas (with points left to spare!)

3. Rewards are easy to earn and add up FAST
Building a stockpile of rewards with this card is easy - you'll earn 2 miles for every dollar spent on this card.
Each mile is worth 1 cent, and when you redeem, you'll get 5% miles back to use towards your next redemption. I love seeing this automatic rewards rebate hit my account – it gets me excited to book my next trip with rewards! 
It's good to note that most credit card reward rates are 1%, so this high rate of rewards is a keeper.
4. No need to worry about hidden terms and conditions
As with all rewards credit cards, worrying about blackout dates, mileage caps, and reward expirations are common. However, you won't need to worry about that with this card.

There's no cap on the amount of award miles you can earn, no blackout dates, and as long as your account is open, miles don't expire.
Another great redemption tip: redeem miles for your entire trip or just a portion - you decide what's best for you.
5. Traveling couldn't be easier or more secure
This card carries no foreign transaction fee, making it a must-have for traveling abroad. Also, its chip-and-PIN enabled capabilities make it an ultra-secure choice to use while traveling abroad and not many cards offer it yet.
6. There's a built-in support network
Another undeniable reason to love this card is the emphasis on customer experience.
When you sign-up for the card, you not only receive a powerful travel rewards card, but you also gain access to the Barclaycard Travel Community which connects travelers across the globe and rewards them with bonus miles for sharing their travel stories.
Let's Not Forget The World Elite Benefits
In addition to the benefits above, you'll also qualify for World Elite Mastercard benefits which include:

24/7 Complimentary Concierge 
Like having your very own personal assistant

they'll help you locate hard-to-find items

make restaurant reservations, and more!

Luxury Travel Benefits
On-call personal travel advisor

Global VIP access to 

Luxury amenities and benefits (which include complimentary room upgrades, early check-in, late check-out, etc.)

World Elite air – get upgrades, savings, and discounts on both domestic and international flights

World Elite cruise – exclusive benefits and discounts on cruises 

World Elite tours and vacations – special packages to help you maximize your time at any destination

World Elite car rental – complimentary elite status, upgrades, and savings on rentals

World Elite chauffeured car service – for when you don't want to drive yourself

World Elite private jet – exclusive benefits and discounts 

Trip cancellation insurance, travel protection, emergency assistance

Priceless Experiences
Priceless Cities – access to unique experiences and exclusive discounts (shopping, sports, entertainment, culinary)

Priceless Golf – access to Golf Concierge Services and exclusive offers for the PGA TOUR
Identity Theft Protection
24/7 access to experts who can help guide you through what to do

ID Theft Alerts – detects and notifies you if your personal info is in jeopardy

Emergency card replacement – get a replacement ASAP

Other
Fuel Rewards Network – save more money on fuel

Zero Liability – you won't be held responsible for unauthorized purchases

Extended Warranty – doubles the original manufacturer's warranty and service contract (where each is 24 months or less)

Price Protection  – be reimbursed the difference of an eligible new item if you find a lower price within 120 days of purchase
Seriously, that's amazing!
How Barclaycard Arrival Miles Work
Miles earned with your card are worth 1 cent each and you'll get 5% of your miles back each time you redeem them as an automatic rebate to your account. 

This effectively means the card is a 2.1% back card when you redeem rewards miles for travel.
Miles can be redeemed for travel-related purchases made within the previous 120 days when the purchase is over $100 or equal to 10,000 miles.
Travel-related purchases can include:
Airlines

Hotels, motels, Airbnb

Car rentals

Travel agencies

Discount travel sites (like Expedia or Kayak)

Cruises

Ferries

Taxis, Limos, Uber

Trains, Buses

Timeshares

Campgrounds

Insider Tip: Earn even more miles by shopping through the Barclaycard RewardsBoost Portal. You'll earn extra rewards at 700+ stores!
But the Annual Fee...
This card does have an annual fee but with all the aforementioned benefits and a generous sign-up bonus, it's easy to justify keeping this card in your wallet. 
Plus, you'll pay $0 for the first 12 months, as the $89 annual fee is waived for the first year.
Is There Another Option?
As good as this card is, no credit card is perfect for everyone. If you fall into one of the categories below, it may be best to consider a different option.
You prefer cash back. A high rewards rate is only good if it fits your lifestyle, so if traveling isn't really your thing and you'd prefer a cash back rewards card, the  Citi® Double Cash might be better for you. You'll get 1% cash back when you use the card to make a purchase and another 1% when you pay it off. Plus, there are no limits to the amount you can earn, and no annual fee, making it a solid choice for a cash back rewards card. Keep in mind, the effective cash back rate of 2% is still just slightly below the Barclaycard Arrival Plus® World Elite MasterCard®'s 2.1%.
You don't plan to travel abroad. If you typically stick with domestic travel, the Capital One Venture Rewards may be a better match for you. With a similar sign-up bonus and earning structure, the Venture Rewards Card features chip-and-signature technology (vs. chip and PIN) which is standard all around the US, and has a lower annual fee - $0 for the first year, then $95.
You're loyal to a specific airline. Belonging to an airline loyalty program isn't a deal breaker for getting The Barclaycard Arrival Plus® World Elite MasterCard® by any means, but if you're able to get more value from an airline card, it may make more sense for you. For example, the Jetblue Plus Card may be a better option if you tend to book all of your travel with JetBlue Airways. With it, you'll earn 6 points per $1 on JetBlue purchases, 2 points per $1 at restaurants and grocery stores, and 1 point per $1on all other purchases. Plus, you'll save 50% on in-flight purchases (hello 1/2 off snack boxes!). This card does have a $99 annual fee.

Bottom Line
If you're looking for a rewards card to serve as a powerful travel companion around the globe, the Barclaycard Arrival Plus® World Elite Mastercard® is it. With so many incredible benefits and a ton of flexibility, you'll be booking for your first rewards trip in no time.
70,000 bonus points when you spend $5,000 on purchases in the first 90 days of account opening (equivalent to a $700 travel statement credit)

Earn 2x miles on any and all purchases

5% rebate on rewards redemptions

0% Intro APR for 12 months on balance transfers made within 45 days of account opening

No foreign transaction fees

Annual fee: $0 for the first year, then $89

Learn more and apply for the Barclaycard Arrival Plus® World Elite Mastercard®
Disclaimer: This content and the opinions expressed here are the author's alone and have not been provided, commissioned, or endorsed by the credit card issuer. All information was accurate at the time of this post but card terms and conditions may change at any time.
Easy-to-Earn Unlimited Rewards
Earn 25,000 online bonus points after you make at least $1,000 in purchases in the first 90 days of account opening - that can be a $250 statement credit toward travel purchases
Earn 1.5 points per $1 spent on all purchases
Longer intro APR on qualifying purchases and balance transfers
No foreign transaction fees
Earn unlimited 1.5 points per $1 spent on all purchases, with no annual fee and no foreign transaction fees and your points don't expire.
25,000 online bonus points after you make at least $1,000 in purchases in the first 90 days of account opening - that can be a $250 statement credit toward travel purchases.
Use your card to book your trip how and where you want - you're not limited to specific websites with blackout dates or restrictions.
Redeem points for a statement credit to pay for travel or dining purchases, such as flights, hotel stays, car and vacation rentals, baggage fees, and also at restaurants including takeout.
0% Introductory APR for 15 billing cycles for purchases, and for any balance transfers made in the first 60 days. After the intro APR offer ends, 18.24% - 28.24% Variable APR will apply. A 3% fee applies to all balance transfers.
If you're a Preferred Rewards member, you can earn 25%-75% more points on every purchase. That means instead of earning an unlimited 1.5 points for every $1, you could earn 1.87-2.62 points for every $1 you spend on purchases.
Contactless Cards - The security of a chip card, with the convenience of a tap.
This online only offer may not be available if you leave this page or if you visit a Bank of America financial center. You can take advantage of this offer when you apply now.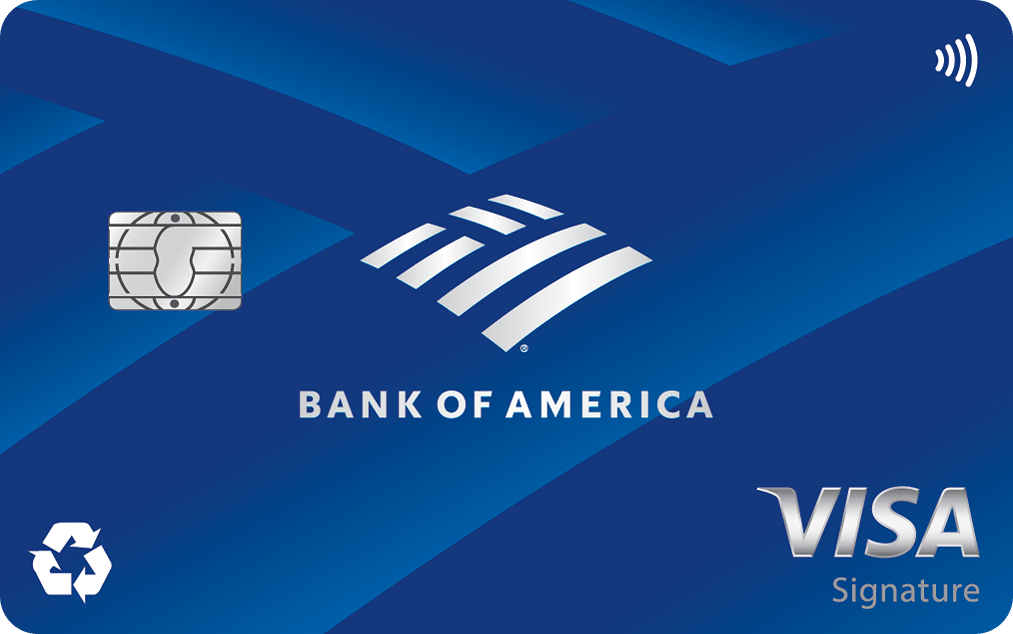 4.1
FinanceBuzz writers and editors score cards based on a number of objective features as well as our expert editorial assessment. Our partners do not influence how we rate products.
Apply Now
on Bank of America's secure website
Read Card Review
Intro Offer
Earn 25,000 online bonus points after you make at least $1,000 in purchases in the first 90 days of account opening - that can be a $250 statement credit toward travel purchases